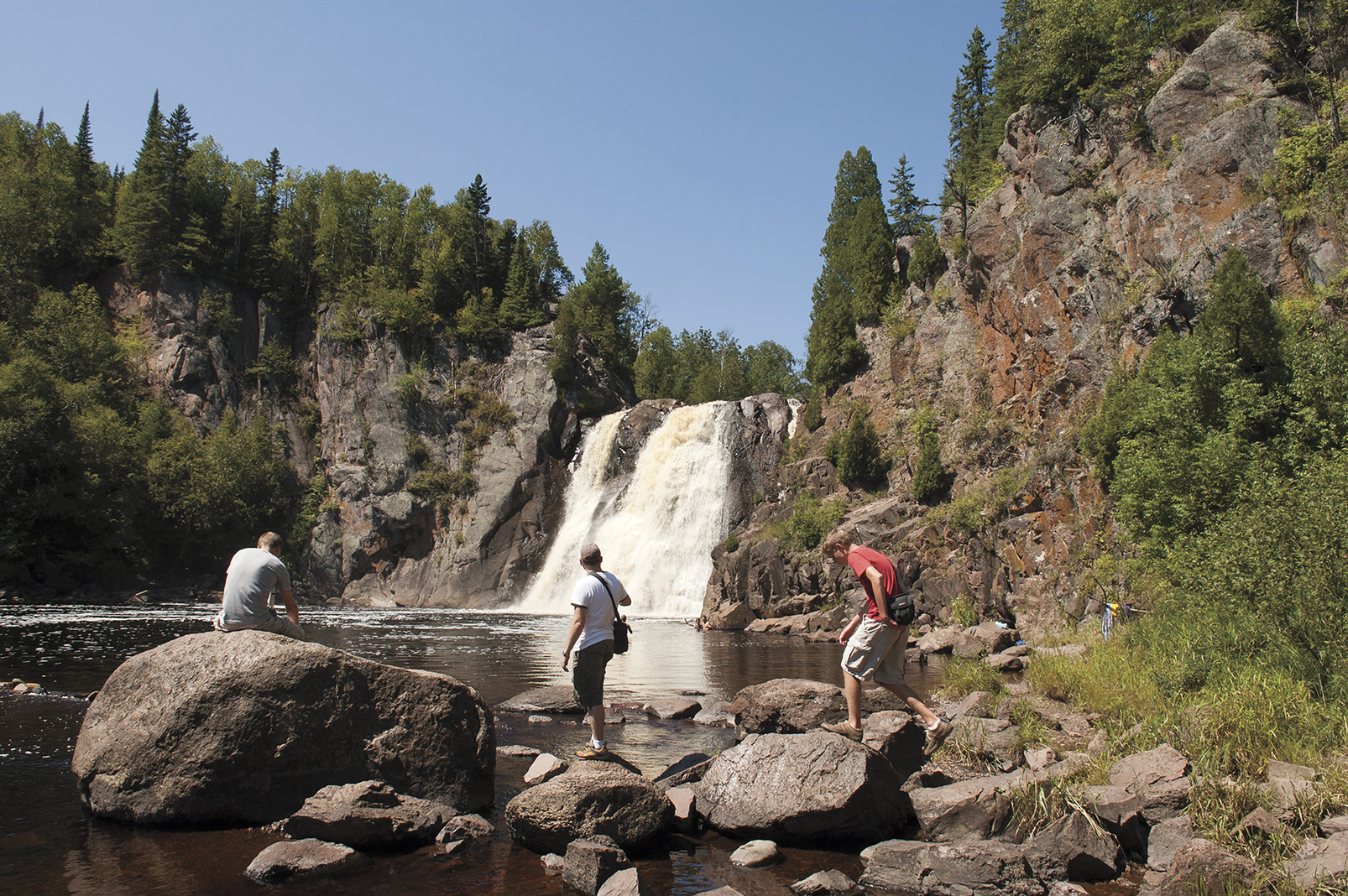 For as long as I can remember, I've always been planning trips, my passport becoming my most valuable possession. My life was about heading elsewhere, exploring the big, wide world. Cue COVID-19 and a time during which I was unable to leave my house, let alone the state or country. Having moved back in with my parents in Wayzata, we spent the first few weeks hunkered down, venturing out for nothing more than a quick stroll or grocery shop.
As restrictions loosened, I began venturing farther afield, to places within Minnesota I'd never previously visited or, in some cases, known existed, despite growing up in the Twin Cities. I cycled various trails. I kayaked the Mississippi and the St. Croix Rivers. I canoed the Boundary Waters and wandered the North Shore (having been to Antarctica, but never Lake Superior). I frequented farmers markets, ice cream shops, and apple orchards. I fly fished. I hiked.
What started as a respite became an unexpected dedication to—and newfound passion for—my home state. Every pursuit gifted me insight into yet another aspect of what makes Minnesota truly magic: its access to the outdoors; its delicious food and diversity of activities; the sense I've done so much while more remains to be uncovered. The explorations helped me rediscover Minnesota's essence.
For those popping in for a long family weekend or who have lived here for decades—for those eager to experience for the first time or to finally rediscover the Land of 10,000 lakes—here's what you can't afford to miss:
A Visit the North Shore
North of Duluth, along the shores of Lake Superior, you will find multiple state parks worth your time and explorations. Tettegouche State Park has some more rigorous hikes, leading to a series of stunning waterfalls. Gooseberry Falls State Park offers a few paved paths, as well as trails, that take you above and below the water source after which it is named. Split Rock Lighthouse State Park affords visitors unforgettable views of a lighthouse atop a cliff and a spot from which to swim, should the lake's chilly waters not dissuade you. You might even consider a sunset stop at the Palisade Head to appreciate the evening light as it hits the shoreline.
To Do in Summer 2022: Split Rock Lighthouse State Park opened a new campsite, called the Shipwreck Creek Campground, on June 1. It is the first in the park to offer vehicle accessibility, plus electricity, making it easier for you and your family to enjoy a night under the stars. It is open through late October.
Also, pick blueberries. Mid-July to early August is considered peak gathering season, during which you can wander any public land on the lookout for the ripened berries. Over 90% of Cook County is considered public, meaning you have plenty of terrain to navigate. Weather permitting, you can even enter the Gunflint Trail's annual Biggest Blueberry Contest.
Wander Farmers Markets 
Minnesota's ample farmland results in incredible markets, the largest of which is the Minneapolis Farmers Market. With more than 100 vendors, you'll find all imaginable produce. Plus, there's often live music and multiple on-site food vendors. The Mill City Farmers Market, also in Minneapolis, offers great pastries and beautiful flowers. With your goodies in hand, you can then stroll along the Mississippi River or over the Stone Arch Bridge. Duluth and St. Paul also boast wonderful markets, the former having been in operation for over a century.
To Do in Summer 2022: Check out the Mill City Farmers Market every Saturday through October. On June 18, you can combine that visit with the free Stone Arch Bridge Festival. There will be food, art, and lots of music.
Check out the St. Paul Farmers Market in Lowertown any Saturday in July and August before heading across the river to explore the Wabasha Street Caves. The tour brings you through a system of historic caves, originally built for mining in the 1800s and repurposed for bootlegging and other illegal activities. Another option is the St. Paul Gangster Tour, which dives more deeply into the caves' criminal past and brings you to additional hideouts.
Go Fishin' 
In the Land of 10,000 Lakes, fishing abounds and where you go simply depends on what you hope to reel in. Lake Mille Lacs, about 75 miles north of the Twin Cities, is known for walleye and muskie while Red Lake, north of Bemidji, promises anglers northern pike and crappie. The Root River, near Houston, is perfect for those seeking brown trout, its South Fork running through the famous Driftless Region. The St. Croix and Minnesota Rivers are ideal if you want to throw a cast or two but not venture too far from the Cities. Just don't forget to purchase a permit from the state's Department of Natural Resources.
To Do in Summer of 2022: Take one of the free fly-fishing classes offered at the Driftless area's Orvis shop in Preston. Offered every other Saturday throughout the season, all ages are welcome (kids under 12 must be accompanied by an adult). You can also book a private guide if you want a full-day adventure.
If you're looking to get your kids into fishing, meet at Pearl Park in Minneapolis every Friday starting July 15. Ages 8-15 are welcome, and the lesson lasts three hours and costs $6. You can also choose from one of the "I Can Fish!" classes offered through the Minnesota Department of Natural Resources. Days, times, and locations vary, so you have plenty of options.
Take a Swing
Grab (or rent) some clubs and head out to one of the many public golf courses throughout the state. Near the northern town of Ely, the Quarry and the Legend, both at Giants Ridge, are stunning public courses, particularly as the leaves begin to change. Baker National Golf Course, near Medina, and Pioneer Creek Golf Course, in Maple Plain, boast some great holes and the chance to warm up on the driving range, for a small fee. There are also the Brookview, Hiawatha, and Theodore Wirth courses for those hoping to stay within the Twin Cities area.
To Do in Summer 2022: Grab tickets to the 3M Open, an annual Professional Golf Association tournament played at TPC Twin Cities in Blaine July 18-24. See the pros in action and pick up a few golf tips along the way.
For beginners, or those more comfortable on the green, stop by Big Stone Mini Golf out in Minnetrista. Here you can play 14 holes of putt-putt, try your hand at table tennis on two stone pingpong tables, or wander the sculpture garden. You might also spot some of the property's animals grazing in the nearby pasture.
Hit the Trails 
You don't need to drive hours away to find exceptional hiking and cycling in all areas around Minnesota. The Gateway Trail offers a lovely bike ride from St. Paul to Stillwater, a quaint town on the banks of the St. Croix River. Elm Creek Park Reserve has paved and mountain biking paths, ideal for walkers and cyclists of any ability. Afton State Park and Lebanon Hills' hiking trails bring visitors through beautiful, wooded landscapes, while Big Rivers Regional and Cannon Valley Trails offer a great combination of nature and city.
To Do in Summer 2022: Split Rock Wilds is slated to open in Split Rock Lighthouse State Park along the North Shore this summer, with a grand opening weekend of events in mid-July including a 200-person race on July 16. Split Rock Wilds consists of 31 trails that span more than 21 miles and will be a haven for mountain bikers while providing some of the most challenging terrain in the state.
The Zenith City hosts its annual Bike Duluth Festival Aug. 5-7. Over the course of three days, a variety of activities and events brings riders onto Duluth's world-class trails. Whether you're a novice or expert, road cyclist or mountain biker, the weekend should have something for everyone.
Explore the BWCA
Minnesota's Boundary Waters Canoe Area Wilderness provides over 1 million acres of wilderness for exploration, with pristine lakes for day trips and overnight adventures filled with leisurely paddling, fishing, and time in the sun. There are gear rental companies near the most frequented launch points, and nearby towns like Ely or the Gunflint Trail have lodges for those who would prefer a room to a tent. If you plan to camp, be sure to secure your permit well in advance. Weekends and holidays are the most popular.
To Do in Summer 2022: En route to BWCA, swing through Ely for a guided walking tour of downtown. Free of charge, the tour happens every Saturday throughout July. The first Saturday of the month is also Wolves After Dark, an event that gives visitors the opportunity to spend the night in the International Wolf Center's auditorium, in full view of the wolf pack.
If you're launching your BWCA adventures from the east, be sure to stop in Grand Marais for the town's Arts Festival July 9-10. Hosted at the Art Colony, a nonprofit dedicated to supporting and nurturing the region's art, there will be demonstrations, live music, and food. You might also check out the 93rd Annual Fisherman's Picnic Aug. 4-7. Try a "fishburger," catch the fireworks, and watch the parade Sunday afternoon.
Kayak, Canoe, & Float the Cities' Waterways
Minnesota's waterways provide visitors with multiple activity options, some more strenuous than others. Those looking to totally relax can rent inner tubes in either Cannon Falls or Welch Village and float down the Cannon River, taking in the woodland scenery as they go. Paddle board rentals are available on Bde Maka Ska, from where you can leisurely paddle to Lake of the Isles and the connected Cedar Lake, with downtown Minneapolis as a backdrop. Kayakers can brave the Mississippi River using the city's Paddle Share program, which operates similarly to city bike-sharing operations, or navigate a stretch of the St. Croix from Taylors Falls to either Osceola (7 miles) or William O'Brien State Park (17 miles). Be sure to coordinate return transportation.
To Do in Summer 2022: Book a cruise with Minneapolis Water Taxi. Based out of Boom Island Park, you and Captain Cory can choose whether to boat upriver toward the Lowry Bridge or down to the Upper Lock. Entirely solar powered, the boat holds up to six passengers. It's highly encouraged to bring your own food and beverage, to make the most of your time on the water.
Sign up for a two- to three-hour self-guided kayaking tour through Twin Cities Kayaking. Explore the Mississippi River, Rum River, Rice Creek, and many other waterways.
Visit Wineries and Orchards 
Vineyards such as Wild Mountain near Taylors Falls, Carlos Creek in Alexandria, and Cannon River in Cannon Falls have something for every member of the family. Outdoor concerts, games, tours of the properties, festivals, and, of course, wine tastings can fill a day or weekend. And while orchards might feel like fall, some open mid- to late August and offer more than just apples. Many have food trucks selling cider donuts and other tasty treats, as well as petting zoos, corn mazes, hayrides, and pumpkin patches. Different varieties peak at different times, so check orchard websites to see what's ripe for the picking. You might even combine the two—such as a visit to Aamodt's Apple Farm and neighboring Saint Croix Vineyards.
To Do in Summer 2022: Saint Croix Winery, outside of Stillwater, hosts the Toast, Taste, and Paddle event Aug. 20-21. The day starts with a sparkling wine at breakfast followed by a guided paddle on the St. Croix River, during which you have the chance to spot all kinds of wildlife, including eagles and turtles. Lunch is served picnic-style along the banks of the river and the day is capped off with some dessert wine and chocolate back at the vineyard. For those looking for slightly less activity, visit July 9-10 for the Wine Meets Art festival. There will be local arts and crafts, a winery tour, live music, and food trucks.
Celebrate Johnny Appleseed Day at Bruentrup Heritage Farm in Maplewood on Aug. 29. You and your family can enjoy face painting, hay wagon rides, and learning to operate a pedal tractor. There's also the opportunity to make cider, butter, and corn-husk crafts.
Find Unique Sleepouts
Minnesota also affords visitors the chance to participate in a few memorable sleepouts. In Blue Mounds State Park, you can reserve a tipi for the night. Spanning 18 feet in diameter, each can sleep six and has access to a fire ring and grill for cooking. Cuyuna State Recreation Area, on the other hand, offers guests yurts, which hold seven. These come furnished with a table, bunk beds, and a wood stove, should the nights cool down. You can also directly access the park's famous mountain biking trails from your door for a truly unforgettable night out.
To Do in Summer 2022: Head out to lesser-known Upper Sioux Agency State Park, near Granite Falls, and at the confluence of the Yellow Medicine and Minnesota Rivers. Secure your own tipi for the night and spend your days birdwatching, exploring the historical sites, or hiking across the open prairie knolls.
Spend a night in your very own Star Gazing bubble. Located in Sartell, the accommodation boasts clear walls that afford 360-degree views of the night sky. From within, you can look up at the Big Dipper, Orion's Belt, and all other constellations from the comfort of your own double bed.
Connect at a Community Festival
Nothing says summer quite like an outdoor festival, and Minnesota has a variety. Scattered across the state, these events are a great way to learn about Minnesota, try something new, and explore the outdoors. From musical performances to art displays, the harvesting of berries to traditional dance, you can find an event that is right for you.
To Do in Summer 2022:  For those looking to listen to some great tunes, check out We Fest in Detroit Lakes Aug. 4-6. Attracting world famous country musicians, the three-day concert features Jason Aldean, Miranda Lambert, and Luke Bryan. If your preference is rock, you might enjoy Moondance Jam July 21-23 in Walker. Either way, grab a blanket, some chairs, and enjoy some outdoor music.
Attend the Grand Portage Rendezvous Days Celebration Pow Wow Aug. 12-14. This Native American cultural gathering highlights Chippewa dance and song, with performances throughout the weekend. Visitors can also stop at some of the many traditional food, music, and craft stands.
And for those looking to spend time indoors…
Experience Mall of America
Constructed in 1992 and celebrating its 30-year anniversary, Minnesota's Mall of America remains the largest shopping center in the continental United States with more than 5 million square feet of retail space. Whether you're looking to peruse a few of your favorite stores, hop on an amusement park ride, or grab a bite, the mall has it all in a temperature-controlled indoor space. 
To Do in Summer 2022:  Check out the Crayola Experience. Offering more than 20 hands-on activities, including a live demonstration of how crayons are made, the opportunity to name and wrap your own crayon color, and the chance to melt and mold crayons into fun shapes. You'll leave with a handful of fun facts and a whole lot of creativity.
See if you can navigate the Amazing Mirror Maze. This 2,500-square-foot maze of mirrors and glass is one of the largest in the world. Its endless hallways and reflections will have you entirely turned around and requires excellent teamwork to find your way through.