The granite rock seems to yawn above us, a group of women prepping to climb for the first time and adjusting our newly donned harnesses.
"Does this make my butt look big?" I joke to a friend to cover the nervousness that flutters beneath excitement for this bucket list experience in South Dakota's Black Hills. Daryl Stisser, owner of Sylvan Rocks Climbing School, sets us up just beyond Sylvan Lake, a beloved spot in Custer State Park.
This place evokes vacation memories with parents and grandparents as a child, as a high-schooler with an exchange student, with my husband as newlyweds, and later with our children, who scrambled fearlessly up and across giant boulders and into crevasses like billy goats.
Stisser helps us study the rock's surface for potential toeholds and craggy quartz and feldspar to grab onto before we cautiously take turns ascending the granite. A breeze pulses through the upper boughs of the Ponderosa pines and seems to encourage me to take my time, to breathe, to enjoy the textures and sights around us.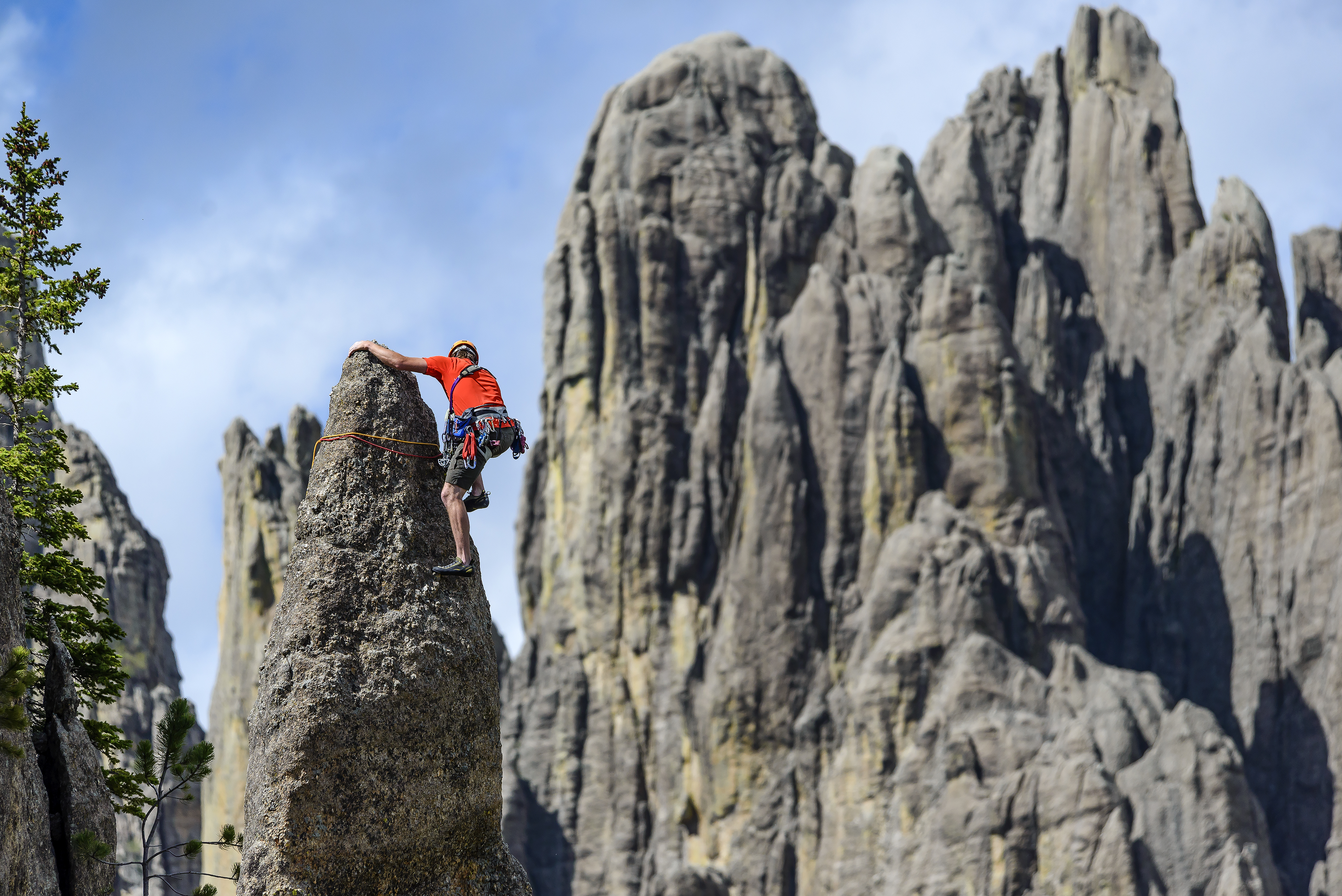 "Most of climbing is from the neck up," Stisser says. "It's very empowering."
Climbing also offers a fresh experience in this familiar place, where mountain peaks rise more than 7,000 feet and new adventures continually coax us west for one of America's best road-trip destinations. Mountain goats may pop up on trails and roadsides. Intricate caverns and passageways serpent underground among the longest cave systems in the world. Horseback riders and bicyclists wind through national forests and lush grasslands where bison graze, and Badlands campers can kick back beneath brilliant celestial views.
No matter how many times you've visited the Black Hills, there's always a new trail to blaze or a new peak to climb. Here are top picks for thrill-seekers looking to take full advantage of the area's outdoor adventures:
Hike to a 100-Mile View
Hikers tackling trails to Black Elk Peak, South Dakota's highest vista at 7,244 feet above sea level and the highest peak east of the Rockies, will want to linger for the 100-mile views that stretch across four state lines. Formerly known as Harney Peak, the summit includes a 1930s fire tower perched above stone outcrops overlooking the 13,000-acre Black Elk Wilderness.
Dig for Mammoths
The sprawling Mammoth Site in Hot Springs shelters an active excavation of an Ice Age sinkhole filled with enough mammoths to wow visitors into using hushed voices. Kids can sign up for popular junior paleontology programs held daily throughout the summer, while adults and children over 10 can get trained on excavation techniques and bone identification in the advanced paleontology program.
Explore Two of the World's Longest Caves
For the most immersive underground experience, look for Jewel Cave National Monument's hardhat-and-headlamp wild caving tours that require climbing with a rope, wriggling through the Roller Coaster, and squeezing into the Brain Drain to reach rare sights such as a silvery hydromagnesite balloon. Mellower walking tours through illuminated caverns or with hand-held lanterns also showcase delicate dogtooth crystals, flowstones, and other formations within Jewel Cave, the world's third-longest cave system at 200 miles. Wind Cave National Park features honeycombed boxwork and frostwork along its more than 150 mapped miles.
Ride the Trails
Long-distance bikers and runners can tackle the 109-mile George Mickelson Trail, following a packed-gravel former railroad bed from Edgemont to Deadwood through the Black Hills National Forest. The more-rustic, 111-mile Centennial Trail meanders from Bear Butte State Park to Wind Cave National Park with a 22-mile section within Custer State Park. Horseback riders and mountain bikers can use most stretches.
Hug the Scenic Curves
Grab the wheel for the Peter Norbeck National Scenic Byway's 68 miles of switchbacks, tight curves, one-lane tunnels, and pigtail bridges, framing views of Mount Rushmore, Needle's Eye, and Cathedral Spires. Also popular: A 22-mile byway that winds through Spearfish Canyon in the northern part of the Black Hills region.
Saddle Up
Explore the scenic trails of Custer State Park on horseback with hourlong to half- or full-day guided tours departing from Blue Bell Lodge. Guides wind through Ponderosa pines and meadows with a chance to see deer, bison, or other wildlife along the way.
Soar Above Legends
Helicopters dip and soar above the famed presidents at Mount Rushmore National Memorial, the 87-foot-tall face of Crazy Horse Memorial, and over the red sculpted buttes of Badlands National Park for an eagle's eye view. For a more peaceful ride, hot air balloons drift across the southern Black Hills' rolling forest and prairie.
Get onto the Water
Pactola Reservoir, nestled into forested hills west of Rapid City, and Agnostura Reservoir, south of Hot Springs, draw campers, boaters, and swimmers to their shores. Experienced kayakers can get their adrenaline pumping by paddling through the rapids along Rapid Creek.
Eat/Play/Stay in South Dakota
Eat Make reservations for creative brunch plates (think Japanese-influenced French toast) and fine dining at Custer's Skogen Kitchen. Crunch into focaccia pizzas and grilled sandwiches that pair well with wines at Hill City's Prairie Berry Winery. Savor everything from morning crepes to seasonally themed bison dishes at Tally's Silver Spoon in downtown Rapid City.
Play Arrive before sunrise to photograph morning light on Mount Rushmore National Memorial or attend stirring evening programs on presidents and American legacies led by park rangers. Crazy Horse Memorial's special events include night blasts and a 10K volksmarch (June 1-2) that rewards finishers with close-up, mountaintop views of the legendary chief being carved into rock. Badlands National Park's remote location offers stellar galaxy views. Catch a night sky program at Cedar Pass campground on summer weekends or join the Badlands Astronomy Festival (July 5-7) to look through high-powered telescopes.
Stay History and luxury converge at Hotel Alex Johnson with its swanky rooftop lounge overlooking Rapid City. Stay in a historic hotel like the State Game Lodge or cabins scattered throughout Custer State Park. Duck into the new Under Canvas glamping tents and wake up to views of Mount Rushmore.
Facebook Comments