When it comes to local Best Of lists, there are names that show up again and again: institutions whose walls are weighed down with enough awards plaques to compromise their structural integrity.
This year, we went off-the-beaten-path & under-the-radar to also seek out the up-and-comers and hidden gems that have been hiding in plain sight—the best things you've been missing.
What are your favorite hidden gems? Show us and win four tickets to the 20th Annual Minnesota Monthly Food and Wine Experience! 
Follow us on Instagram @mnmomag and take photos of your favorite finds. Include @mnmomag and #mnmohiddengems in the caption. Every time you submit a photo, you'll receive an additional entry to win. For more details, visit mnmo.com/hiddengems
FUN
BEST MUSIC VALUE
photo by Brave New Media
Dakota Late Nights
There's the show that's advertised, and then there's the show you get. The late-night shows at the Dakota are all about the off-the-menu offerings. It's a steal wrapped inside a deal: for starters, the late shows typically cost less than the artists' earlier gigs, but the sets generally go longer—much longer if the musician is digging the crowd, as was the case with Prince's Friday-night set in January. Plus, artists are known to hang around after the show, chatting up the audience, signing autographs, and sipping nightcaps. • 1010 Nicollet Mall, Mpls., 612-332-1010, dakotacooks.com
 
BEST BOOK BROWSING
Central Library
Still no. 1,792 on the reserve list for that Dan Brown book? Maybe it's time to see what else the library has to offer. Perhaps the most remarkable book housed at downtown Minneapolis's Central Library is Audubon's Birds of America, owned by Minneapolis Athenaeum, a nonprofit that shares space with Hennepin County Library's James K. Hosmer Special Collections department. The awe-inspiring tome—it's the size of a small coffee table—is just one of 120 in existence and features the famed ornithologist's gorgeous, hand-colored drawings. But don't expect to check it out anytime soon: it's worth a cool $8 million and locked deep inside the library's climate-controlled vaults. More accessible holdings with serious literary cred include a first edition of Walden, with a handwritten and signed letter from Thoreau himself. The library also has a signed first edition of Uncle Tom's Cabin and signed cards with messages from abolitionist leader Frederick Douglass. Interested in something grand of more recent vintage? Save yourself $625 and spend an afternoon in the library with Modernist Cuisine, the incredible six-volume cookbook that got tongues wagging when it was published—and was subsequently honored by the James Beard Foundation as Cookbook of the Year—in 2011. • 300 Nicollet Mall, Mpls., 612-543-8000, hclib.org
 
BEST JAPANESE GARDEN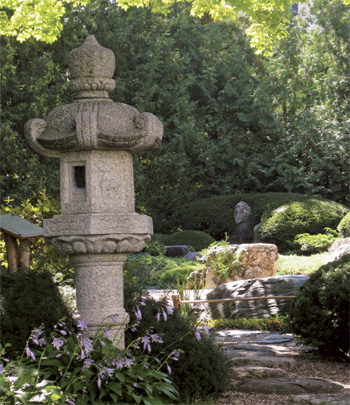 Photo By Jaye Lawrence
Carleton's Garden of Quiet Listening
Tucked behind an otherwise unremarkable residence hall at Carleton College in Northfield, the Garden of Quiet Listening is a gem not just by local standards but international ones: it was named one of the top 10 Japanese gardens outside Japan by the Journal of Japanese Gardening. The dry landscape garden has a "stream" of dark stones that empties into a larger "lake" of white gravel, and the design of the garden is meant to evoke hills and mountains on a human scale. A simple stone path and thoughtfully chosen greenery creates a space for quiet contemplation. Sit on a curved redwood bench or enter the small shelter and spend a moment—or, better yet, an hour—embracing the serenity. • The garden is located behind Watson Hall (corner of First Street and Maple Street) on the Carleton campus in Northfield, carleton.edu
 
BEST RECORD STORE
Hymie's Vintage Records
There's a reason that Rolling Stone named Hymie's among the 25 Best Record Stores in America: its vinyl-only collection is as well-organized as it is diverse. And after the family-run shop relocated a few years ago, its bigger digs now allow for even better browsing. Other bonuses include in-store performances by iconic musicians such as Charlie Parr, and in-store antics by beloved shop-dog Irene. • hymiesrecords.com
 
BEST CALHOUN ESCAPE
photo by A. Steinberg/sidecar
The Hidden Trail
On warm weekend afternoons, the Lake Calhoun walking path can get busier than rush-hour traffic, with its snarls of dog leashes and bumper-to-bumper jogging strollers. And who wants road rage when you're trying to relax? If you're looking for a brief respite, cross East Calhoun Parkway at the stoplight at 36th Street, then hightail it up a short, steep hill to the hidden dirt path on a strip of Minneapolis Park and Recreation Board property that runs alongside the lake for two peaceful blocks. You'll be surrounded by greenery on either side, and you'll have a bird's-eye view of the lake and its paths. From a distance, the crowds don't look so bad. And by the time you pop out by the lake close to 34th Street, you'll have regained your patience to navigate the chaos.
 
BEST COLLECTION
The Science Museum of Minnesota's Questionable Medical Devices
An electric shocker that increases virility? A foot-powered vacuum to pump up the breasts? Soap that washes away excess pounds? This assembly of now-banned "miracles"—a private collection inherited by the Science Museum of Minnesota—reminds us that snake-oil salesmen were around long before Nigerian email scammers. • museumofquackery.com
 
BEST NON-TRADITIONAL GYM
 Photo By TJ Turner/Sidecar
Minnesota Climbing Co-op
Real rock climbers will tell you outdoor climbing trumps indoor every time. But we live in Minnesota, which means eight months a year the cliffs are out of commission—unless you have ice-climbing gear, but that's a whole different beast. So where do climbers go when winter has taken their sport captive? The Minnesota Climbing Cooperative, which dubs itself "a rock climbing co-op built for climbers, by climbers." Located in the same building as Diamonds Coffee Shoppe in northeast Minneapolis, the co-op keeps a lower profile than its much-larger cousin, Vertical Endeavors (clocking in at just 2,000 square feet versus 18,200 at the St. Paul VE). But there are perks. Members have 24/7 key-fob access, plus, the co-op prioritizes community engagement, coordinating, say, a group of volunteers to clean and maintain the area's best outdoor-climbing spots. Philanthropy paired with midnight climbing? Belay on! • 1620 Central Ave., Ste. 178, Mpls., mnclimbingcoop.com
 
BEST THEATER EXPERIENCE
Ten Thousand Things
Ever seen a show at a homeless shelter? How about in a 100-year-old barn? Or, perhaps even rarer: a performance put on by the most talented actors in the state for free? Ten Thousand Things Artistic Director Michelle Hensley founded the company 20 years ago with a mission to bring high-quality, intelligent theater to people who regularly wouldn't have access to it. Shakespeare, musicals, new commissions—TTT does it all, and with a twist: the company doesn't have a "home" stage, opting instead to perform in prisons, shelters, low-income centers, and other non-traditional venues. Free public performances are offered for every show at such venues as the Dorothy Day House, Peace House, and Everwood Farmstead, plus a few weekends at Open Book in downtown Minneapolis. The thought of seeing a show in such unorthodox places makes you squirm? That's the point. By taking the pretense out of the performance, TTT equalizes the playing field, challenging the actors and audience alike to embrace what truly matters: the story. • tenthousandthings.org
 
BEST TV MUSIC SERIES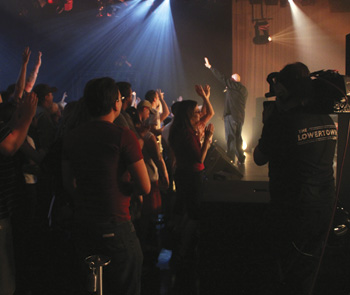 Photo Courtesy of TPT
The Lowertown Line
Minnesota breeds musicians, from folk (Dylan) to pop (Prince) to soul (the Steele siblings). And now those stars will be shining even brighter thanks to Twin Cities Public Television's newest program, The Lowertown Line. Modeled after PBS's groundbreaking music-performance show Austin City Limits, it features hip-hop queen Dessa as host, a live studio audience, and, of course, the best local musicians around (think: Trampled By Turtles, Chastity Brown, and, coming your way in winter 2014, Har Mar Superstar). Tickets for May's Brother Ali taping sold out in less than 40 minutes, proving that Minnesotans are clamoring to get up close and personal—and have more interaction than a regular concert, via Dessa's questioning the musicians and post-show audience Q&A sessions. It's like American Bandstand, except Dessa is Dick Clark, the musicians are homegrown, and the odds you'll bump into the musicians at late-night happy hour after the show are more or less guaranteed. • Catch the next episode of Lowertown Line on October 31, tpt.org
 
BEST UNKNOWN LANDMARK
photo by  A. Steinberg/Sidecar
The First Skyway
When Minnesotans hear "skyway," they think Minneapolis. But the prize for the state's first floating hallway—actually, the world's first—goes to the link between the 17th and 16th floors, respectively, of the First National Bank Building and Merchants Bank Building in (drumroll, please) St. Paul. The sky-high connection was incorporated into the plans for the First National Bank Building in 1931, and though it's no longer St. Paul's tallest building, its "1st" sign—and unique walkway—will long be an icon of the skyline. • The skyway sits above Fourth Street, between Robert and Minnesota Streets.
 
BEST BRIDGE
Stone Arch Bridge
Not to knock the Cha-Cha Slide and Macarena, but there's a whole world of dance beyond being told when and how to clap. For those of us who are more rhythmically challenged than The granite-and-limestone icon, built for no small sum by railroad baron James J. Hill, serves as a fitting tribute to the mighty Mississippi that fueled Minneapolis's world-renowned milling industry. The bridge's train tracks are long-since gone, but the remaining bicycle-and-pedestrian paths offer the city's penultimate view of St. Anthony Falls. • nps.gov/miss/planyourvisit/stonearch.htm
 
BEST LESSON
photo by Scott Pakudaitis
Zenon Dance Company
Not to knock the Cha-Cha Slide and Macarena, but there's a whole world of dance beyond being told when and how to clap. For those of us who are more rhythmically challenged than gracefully gifted, never fear. The 31-year-old, world-renowned Zenon Dance Company also operates a school, staffed with crazy-talented professional instructors. Friday night you're watching these dancers bend into incomprehensible postures on stage at the Cowles, Saturday afternoon they're teaching you—yes, you—how to overcome your wallflower syndrome and blossom into a regular Fred Astaire—or Beyoncé or Shakira or Nutcracker ballerina. (Well, maybe not that far, but you get the point.) • 528 Hennepin Ave., Mpls., 612-338-1101, zenondance.org
 
BEST MINNESOTA INVENTION
WIN
Water skis
PLACE
Rollerblades
SHOW
Nerf ball
 
BEST ART MUSEUM
WIN
Walker Art Center and Minneapolis Institute of Arts (tie)
PLACE
Weisman Art Museum
SHOW
Museum of Russian Art
 
BEST SPORTS VENUE
WIN
Target Field
PLACE
The Xcel Center
SHOW
TCF Bank Stadium
 
TIMELESS TWIN CITIES: The editors compiled this list of classic "bests" that have stood the test of time—and newcomers we believe will never go out of style.
 
BEST CITY VIEW
Heading south on the 35W bridge at sunset
 
BEST PUBLIC GARDEN
BEST COLLABORATIVE WORKSPACE
BEST CONCERT SOURCE
BEST TRENDSPOTTING
BEST BATHROOM ART
BEST KID'S PARTY
BEST BOOK CLUB
BEST MUSIC VENUE, SMALL
BEST MUSIC VENUE, MEDIUM
BEST MUSIC VENUE, LARGE
BEST BUDGET MOVIE THEATER
BEST NEW MUSIC SERIES
BEST LOCAL PODCAST
BEST MUSICIAN SPOTTING
BEST WRITER'S HAVEN
BEST SAILING
STYLE
BEST SHOP WITHIN A SHOP
photo by A. Steinberg/sidecar
Details
When Elizabeth Varghese closed up her beloved Grand Avenue boutique, Picky Girl, St. Paul lost a personal shopping experience that also balanced style with affordable pricing. Except…they didn't. But they didn't know it. Varghese has been quietly selling her favorite picks—albeit on a smaller scale—out of Details Salon in downtown St. Paul ever since. And this fall/winter season, it will be getting a reboot of supplies, paring down the clothing even further (but not doing away with it altogether) and putting the focus on home accents and gift items. Expect Varghese's picky—but not judgmental—eye for stylish goods at affordable price points. • 346 St. Peter St., St. Paul, 651-696-8700, detailsmn.com
 
BEST FLORAL DELIVERY
Spruce Flowers & Home
Begone, Teleflora! The next time you need to send some flowers—and let's face it, you usually have some making up or impressing to do when this occurs to you—don't opt for a faceless experience where your recipient may or may not get the flowers you intended. Instead, look up Spruce Floral & Home. If you call to have a bouquet made to order, they'll send you a photo for appraisal when it goes out for delivery—guaranteed lusher and more thoughtfully arranged than those from the 800-number goliaths. And if you pull up Spruce's website, it's streamlined and simple to order. And after you make your choice, the bouquet that arrives at its destination will look just like (or better) than what you selected. • 4751 Chicago Ave. S., Mpls., 612-767-1101; 4940 France Ave. S., Edina, sprucemn.com
 
BEST SPA PACKAGE
photo courtesy of Life Time
Minnetonka Lifespa
Book a facial at Life Time Fitness's Minnetonka LifeSpa (we recommend with Angie Swerdlick) and you can practically overhaul your entire life. The spa offers a full suite of services, from your classic facials and massages to more medi-spa treatments like laser hair removal, hydrafacials, and Zerona, all without needing a membership to the gym. Minnetonka's location is "diamond level," which means exactly what you think it means. Get two free hours of childcare, use the steam room, hot tub, have lunch at the café, attend fitness classes… a true retreat in the midst of the hustle-bustle. • 3310 County Rd. 101 S., Minnetonka, 952-476-1717, lifetimefitness.com
 
BEST FURNITURE
Danish Teak Classics
The "slightly eccentric" (their words, not ours) team behind Danish Teak Classics has abided since the late '80s, precisely because its members are so eagle-eyed in their discoveries—they travel to Denmark for the best—and so consistent in their restorations, that walking into the store reduces most shoppers to a state of reverence. They've also created their own DTC:X line, new furniture and home goods made in the spirit of Danish midcentury modern. • danishteakclassics.com
 
BEST AFFORDABLE WELLNESS
photo courtesy of thinkstock.com
Community Acupuncture
Sinking a Benjamin on an initial acupuncture treatment may give you pause. Will it work? How many of these do I have to do? Do I have to "believe" in this to work? Luckily, there's a new movement afoot in wellness to treat patients in a group setting. Here's how it works (and how the Chinese often do it, for maximum healing energy). The acupuncturist evaluates you, and gives you a needling. (This is obviously in places that are appropriate for the "community" to see, although sometimes you may end up being treated alone.) Then you cuddle up in a recliner in the dark, with tinkly spa music playing, and let the needles work their magic—err, science. Pay what you can afford, from $15 to $40 a session. • Glade Community Acupuncture, gladeacu.com; Minnesota Community Acupuncture, minnca.com
 
BEST BRIDAL
L'Atelier couture bridal Boutique
It is in Amanda Kautt's industrial-glam, open-studio space that the stuff of wedding dreams hangs, created by some of the most respected names in bridal couture (Vera, Oscar, Jenny, and Lela among them). Like the best gowns, L'Atelier excels at attention to detail, with attentive service, giant dressing rooms (all the more room to gawk at trains and bustles…and bring a second opinion), the right accessories, and the sense that your big day should also be the most beautiful. • lateliercouturebridal.com
 
BEST ONLINE SHOP
Ship & Shape
Think of Ship & Shape as a highly curated Etsy of sorts, run by two jewelry designers and a graphics guru. The site's docents create an online shopping experience that points customers toward handmade fashion-forward jewelry, home accents, and paper goods, all at affordable prices. Quirky beaded jewelry, earthy leather goods, humorous cards, and accessible price points make make up a thoughtful, rotating collection that never fails to serve as a fruitful retail therapy session. • shipandshape.com
 
BEST LOCAL DESIGNER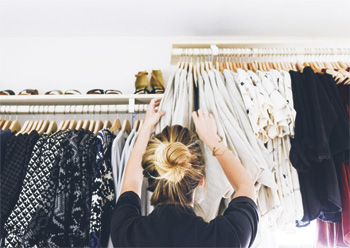 photo by L&E Photography
Hackwith Design House
Designer Lisa Hackwith has delighted us with her easy-wearing closet staples since she launched her line in 2010, but this year brought even more innovation. After a splashy relaunch of her heavy-on-the-white-space e-commerce site, she made public her manifesto that good design shouldn't be mass marketed: thus, she makes a limited-edition piece that she releases each Monday on her website. She has also collaborated with some of the best shops in town—Mille, Parc Boutique, and Cliché—to create pieces that reflect the both Hackwith's aesthetic and the energy of each respective shop. Hackwith's design zeroes in on what women need most: hardworking staples that have stylish twists, ensuring they get pulled off the hanger again and again. • hackwithdesignhouse.com
 
BEST STATIONERY
photo by MaeMae Paperie
MaeMae Paperie
Megan Gonzalez arrived in Minneapolis less than two years ago, but she is already making a big splash with her graphic design business, which includes custom-designed invitation suites and sleek, colorful branding and website design. She says her "Mae-Mae-ness" comes from cool patterns, quirky illustrations, and a touch of wittiness—and we agree. Guess who else does? Wedding giants Martha Stewart, Style Me Pretty, and 100 Layer Cake have all given her a nod. Watch for the launch of her American-made textiles. • maemaepaperie.com
 
BEST PRENATAL RESOURCE
The Childbirth Collective
The non-profit group of midwives, doulas, bodyworkers, and other birth professionals known as the Childbirth Collective is one of the best birthing resources in the Twin Cities. Their free, incredibly informative Parent Topic Nights—which help addled parents-to-be navigate the heretofore uncharted health-care and emotional waters of the childbirth year—separate information from rumor and dispel many pregnancy myths. The collective's website hosts a wealth of information, including recommended books and DVDs, a comparison of local hospital birthing programs, and profiles of its members. Bonus: the husbands we know enjoyed the classes as much as the expectant mothers. • childbirthcollective.org
 
BEST DEAL
photo by Tj turner/sidecar
Blu Dot Warehouse Sale
Blu Dot's mantra is "good design is good." But you know what's even better? When good design is crazy affordable, at the Blu Dot warehouse sale. While Blu Dot's locally designed pieces are generally affordable when compared against other designer furniture, the deals they offer at their annual sale in Rogers can't be beat. Prices are slashed at least 50 to 75 percent off overstock, scratch-and-dent, and prototypes of cult-favorite products. Outfit your entire living room for the regular price of a couch. But line up early. They'll serve you coffee and pastries while you huddle outside, drawing up your game plan to finally score modern Flask lamps or industrial Real Good chairs you've been drooling over. Don't worry if you drove the Volkswagen Golf and then bought a bed (and couch, and dining-room table: delivery's available for a modest fee. Follow them on Facebook and Twitter for sale announcements. • bludot.com
 
BEST SHOES
Pumpz & Company
Pumpz & Company may be boutique-sized, but it's still the store of choice for some of the best-shod feet in town—take that, Zappos! Between its well-curated selection of footwear from up-and-coming designers (Alexander Wang) and tried-and-true favorites (Stuart Weitzman), it's tough to limit yourself to just one pair. And if you are a shoe-with-handbag (or jewelry, or scarves, or belts) accessorizer, you'll have great luck here, too. • pumpzco.com
 
BEST DESIGNER CONSIGNMENT OR THRIFT
WIN
Opitz Outlet
PLACE
Fashion Avenue
SHOW
Rodeo Drive
 
BEST BROW SERVICES
WIN
Blink for Beauty
PLACE
The Brow Studio
SHOW
Brow Bella
 
BEST BLOWOUT
WIN
Blowdry! Blowdry Bar
PLACE
The Wow Bar
SHOW
The Hive Salon
 
TIMELESS TWIN CITIES: The editors compiled this list of classic "bests" that have stood the test of time—and newcomers we believe will never go out of style.
 
BEST MEN'S BOUTIQUE
BEST AMERICAN MADE GOODS
BEST GIFTS
BEST PET GEAR
BEST ARCHITECTURAL SALVAGE
BEST VINTAGE CLOTHING
BEST LIPSTICK
BEST HAIR TREATMENT
BEST MUSEUM SHOP
BEST FACIAL SPA
BEST OFFICE SUPPLIES
BEST SKINCARE TREATMENTS
BEST BLANKETS
BEST HIGH-END WOMEN'S CLOTHING
BEST SOAP
BEST BABY & CHILDREN
BEST HOMEGOODS
BEST LOCALLY MADE SHOPPING
BEST BUDGET HAIRCUT
BEST SALON
BEST JEWELRY DESIGN
BEST AMERICAN–MADE DESIGNER HANDBAGS
BEST LEATHER GOODS
BEST GREETING CARDS
BEST FASHIONISTA
BEST CRAFT SHOW
BEST BOOK SHOP
BEST SCANDINAVIAN DESIGN
FOOD
BEST PATIO
photo by tj turner/sidecar
Sea Change
Sea Change is hardly under-the-radar, especially not this year. 2013 turned the spotlight on chef Jamie Malone when she graced the cover of Food & Wine's Best New Chefs issue. Lured by those accolades, the responsibly harvested porcini-crusted ahi tuna, and, of course, the theater, crowds are flocking to the chic dining room and raw bar. Weather permitting, they're also swarming the restaurant's tiny, street-side patio, but, the restaurant's second "back patio," often sits empty, likely because it's not visible from the front entrance. It's a shame, as the dozen or so tables, shadowed by the Guthrie's Endless Bridge, have some of the best views in Minneapolis. Facing the river and looking out onto the curving line of the Stone Arch Bridge and the neighboring Mill City Museum feels like a seat on the Midwest's back porch. • 806 S. Second St., Mpls., 612-225-6499, seachangempls.com
 
BEST FOOD NEIGHBORHOOD
North Loop
Back when Origami and Sapor arrived in the North Loop area, the neighborhood felt as if it had more restaurants than residents. But as former factories were converted to modern lofts, so followed Black Sheep's artisan pizzas, Bar La Grassa's fresh pastas, and the Bachelor Farmer's Scandinavian toasts. This year, the neighborhood launched two of the Twin Cities' hottest new eateries, which brought in a classic lobster boil (Smack Shack) and a decidedly more experimental foie gras torchon with house-made marshmallow (Borough). Now, an easy jaunt around the block could turn into a progressive dinner.
 
BEST BREAKFAST
photo by A. Steinberg/sidecar
Heartland Restaurant & Farm Direct Market
Heartland Restaurant put St. Paul on the four-star dining map when it opened in 2002 with an egalitarian vision of working with local, sustainably raised products: what's good for the diner is good for the local economy. When the business moved to Lowertown, the upscale dining room was joined by a full-scale butchery and market to offer the restaurant's raw ingredients and value-added goods. Among the market's stellar breakfast fare is a bona fide quiche—a savory, custard-y tart, not an egg bake in a pie crust. On the sweet side, there is pain au chocolat as buttery and flaky as you'd find in a Parisian café and even jelly-filled doughnuts. You can sample all three, along with a cup of locally roasted coffee, without cracking 10 bucks. The market's purpose is less revenue generator than restaurant larder and community builder. The stocks available in the freezer, for example, sell for less than the cost of their production. • 289 E. Fifth St., St. Paul, 651-699-3536, heartlandrestaurant.com
 
BEST PASTRY
Sun Street Laugen Croissant
Long before there was the cronut—and long after it is gone—there was and will be perhaps the most inspired pastry combination since butter met flour: the pretzel croissant. This is a bakery mainstay in parts of Germany and Austria (known as laugencroissant or laugekipferl), and New York's City Bakery has built its reputation on them. Here in the Twin Cities, there's only one place to get them: Sun Street Breads. Sun Street's pretzel croissant is pretty close to its Bavarian counterpart: soft, buttery layers on the outside, with a chewy—never tough—mahogany crust. It's a little salty and has a recognizably sharp, pretzel-like tang, appreciated by those who just don't understand sweet pastries in the morning. Use one to sop up the yolk of a perfectly soft-cooked egg at Sun Street, or take it home and slather it with tart jam. But get there early—the last pretzel croissant is often snapped up by midmorning. • 4600 Nicollet Ave., Mpls., 612-354-3414, sunstreetbreads.com
 
BEST DESTINATION BURGER
New Scenic Café, Duluth
Chef Scott Graden's New Scenic Café has long been the North Shore's standard-bearer of gourmet fare, featuring ingredients from the lake right out the window as well as those from oceans far beyond. We've come to expect excellence from the sorts of dishes you don't often find in Duluth, such as Superior-sourced, prosciutto-wrapped herring sandwiches and delicate sashimi tuna tacos. What we didn't anticipate was how much we'd enjoy Graden's most casual offering: the cheeseburger. His straightforward formula of ground beef (local and grass-fed, when they can get it), shallots, tomato, and cheddar has been on the menu for years, hiding amongst the beet-cured gravlax and asparagus flan, pitch-perfect with savory umami and juiciness. The quirk is the burger's accompaniment: fruit, not potatoes. But with pineapple this sweet on the plate, you'll never miss the fries. • 5461 North Shore Dr., Duluth, 218-525-6274, sceniccafe.com
 
BEST OFF-MENU ORDER
Dogwood's Chocolate Gibraltar
Dogwood Coffee Bar barista Keith Mrotek has been handcrafting drinks for a decade, so he's got more up his sleeve than the already-excellent options available at the popular Calhoun Square caffeination spot. We adore his off-menu Gibraltar with chocolate, a four-ounce amalgam of espresso, artfully poured steamed milk, dark-chocolate powder, powdered sugar, and Madagascar vanilla. The drink, which leans more heavily on the espresso than a mocha, is sweet, but subtly so. (The chocolate-free version has a notable lineage: it was developed by James Freeman, owner of the Bay Area's groundbreaking Blue Bottle Coffee Co.) Though purists may scoff at the presentation—in the tiny glass tumbler that serves as the Gibraltar's namesake—we like the way it showcases the beverage's earthy hue and frothy texture. • 3001 Hennepin Ave. S., Mpls., dogwoodcoffee.com
 
BEST PRIVATE DINING ROOM
photo by jeff johnson
Domacin
Hospitality is high on the list of appealing attributes about Stillwater's Domacin—the name, pronounced DOME-ah-chin, is a Serbian term for an affable host. In fact, one of the restaurant's owners descends from a Serbian vintner, so Domacin's wine program is another strong suit, and it's best enjoyed from the private cellar room. The snug space is lined with wine racks that hold selections from the 700-plus-bottle list, and the curved wood ceiling makes it feel like you're sitting inside a giant wine barrel. (It can seat a cozy group of eight.) If you care to indulge in one of Domacin's most precious bottles—they've been known to carry rare, costly specimens such as a 27-liter Flaccianello "Super Tuscan"—this would be the place to partake. Just be sure to autograph the empty bottle, which the owners often display in their guests' honor. • 102 S. Second St., Stillwater, 651-439-1352, domacinwinebar.com
 
BEST TABLES
Want to feel like a VIP? Reserve the chandelier-graced, high-backed cocoon at the base of Porter & Frye's dramatic stairwell. If you prefer a romantic ambiance, there's always one of the corner booths at Barbette or Saffron's most secluded two-top, tucked next to a window in the living room's small nook. But our new favorite place to perch is in the northwest corner of the Uptown Republic, which offers a birds-eye-view of Hennepin-Lake—and the backside of the restaurant's sign. • porterfrye.com; barbette.com; saffronmpls.com; republicmn.com
 
BEST WINTER WARM-UP
photo by tj turner/sidecar
Kimchi Tofu House's Jjiggae
Kimchi Tofu House, a small restaurant near the U of M, specializes in Korean soft tofu stew, called soondubu jjigae. Arriving at the table still boiling, the stew is cooked and served in black enamel clay pots that retain heat for impressive lengths of time. This is advantageous for the flavor of jjigae, which is traditionally made from bits and pieces of leftovers, but zealous eaters should take heed, as the stew could easily blister the palate. Diners choose among a dozen possible additions, from basic vegetables to more adventurous seaweed, octopus, or kimchi, as well as spice levels, ranging from mild to the cautionary "very, very" spicy. When it arrives, bubbling and aromatic, crack the raw egg (delivered on the side) into the stew and stir it slowly, taking care not to break up the chunks of tofu floating into the intense, peppery broth. It's a steaming bowl of comfort capable of combating even the bitterest cold weather. • 307 Delaware St. SE, Mpls., 612-331-1112
 
BEST COMFORT FOOD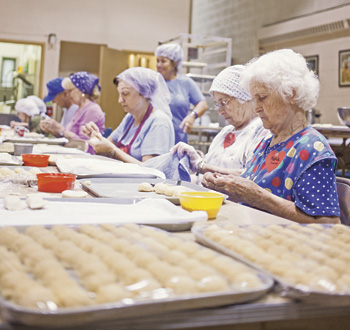 photo by tj turner/sidecar
St. Constantine Church's Pirogi
There was once a time when Northeast Minneapolis was dominated not by hip, scruffy artists but by Eastern European immigrants who worked hard and, as their community grew, seemed to build a church on each and every block of their convivial neighborhood. While languages and traditions were distinct, common among them was pirogi—doughy half-moons stuffed with potato (usually) and often smothered in sour cream. Those immigrants mostly are gone or assimilated, and despite the reinvention of many old-world dishes on restaurant menus, pirogi haven't made a roaring comeback. A shame, because what's not to love about soft, yummy fillings—potatoes, sauerkraut, or, if you're lucky, prunes—wrapped in pasta? Thankfully, there are holdovers from that earlier era passing on the tradition in the century-old Saint Constantine Ukrainian Church. Each September through April or so, volunteers gather to cook the tender dumplings (which they call "pyrohy," by the way). On Fridays from 11 a.m. to 1 p.m., eat them in the cafeteria of the church's adjacent school. Buy a bunch frozen for takeout, too. With them comes friendly advice on how to cook the dumplings—and a cup of caramelized onions. It's what you'd call old-school hospitality. • 515 University Ave. NE, Mpls., 612-379-2394, stconstantine.com
 
BEST TREND
Blends
Here's a new party idea: DIY local beer mash-ups, a Minnesota riff on the Brits' Black and Tan. Travail taught us that Surly's hop-blazing Furious and smooth, creamy Bender could be blended and drunk as a "Fender." The folks at Lift Bridge have been known to mix their Chestnut Ale and Farm Girl to create the provocatively titled "Chesty Girl." More creative combinations are yours for discovering, with the help of a few friends and a few six-packs. • surlybrewing.com; liftbridge
 
THE BEST 8 RESTAURANTS YOU FORGOT ABOUT
PUT THESE SMALL NEIGHBORHOOD RESTAURANTS BACK ON YOUR MUST-EAT LIST. WHAT THEY LACK IN PIZZAZZ, THEY MAKE UP FOR WITH CONSISTENCY.
1. Barley John's Brewpub
With 13 years under its belt, Barley John's Brewpub is a relative old-timer in the local craft-brewing scene, humbly perking up a nondescript intersection in New Brighton. Award-winning brews, including its staple brown ale, the Wild Brunette, are matched by its scratch-crafted bar menu, which includes everything from grilled pizzas to ambitious specials—a reflection of owner John Moore's tenure as a corporate recipe developer before he committed to brewing. • barleyjohns.com
 
2. Golden's Deli
Golden's Deli began attracting attention in Lowertown with its walkup lunch window back in 1998. Over the years, its eclectic, local-art-infused dining room has become a neighborhood favorite for fresh, local deli fare (often using ingredients from the adjacent farmers' market) listed on colorfully painted blackboards. • goldensdeli.us
 
3. Bread & Chocolate
Despite landing on every local "Best Brownie" list, Bread & Chocolate in St. Paul gets overshadowed by its flamboyant sister next door, Cafe Latté. Where cakes and tarts rule the latter's dessert case, B&C specializes in addictive pastries, cookies, and an only-on-Sunday cardamom coffeecake. • cafelatte.com
 
4. Barbary Fig
Herb-infused, aromatic tagines and couscous were not on most Minnesota diners' minds 25 years ago, but Brahim Hadj-Moussa wasn't deterred. He opened the Barbary Fig in an awkward space on a then-depressed Grand Avenue and cooked what he wanted—lamb, fish, chicken, rabbit, vegetables, fruit—with great care, down to the lentil. Today, regulars love the bargain prices, sensible wine list, and excellent patio. • barbaryfigrestaurant.com
 
5. Obento-Ya
Obento-Ya offers a wide-ranging menu of authentic Japanese fare, particularly for a small, neighborhood eatery. It rules the bento box (28 options—don't miss the compartment with the Japanese potato salad!) but also offers robata, sushi, and noodles. The modern-yet-cozy dining room and secluded patio make it Southeast Como's classiest date spot. • obento-ya.com
 
6. Beirut Restaurant
The road to Lebanon leads to West St. Paul, where Beirut Restaurant's cooking suggests that soul food did not originate in the southern United States, but millennia before in the Middle East. Flavors are coaxed from simple ingredients and garlic's full potential is realized. Lamb, chicken, and beef dishes (including raw kibbeh) are highlights, but vegetarians are well cared for, too. And did we mention the belly dancing on Fridays? • beirutrestaurantanddeli.com
 
7. Barker's Bar & Grill
Hudson, Wisconsin has become a dining destination with a range of options, including Winzer Stube, Pier 500, and Stone Tap. One place on that's kept pace for more than 20 years without losing "local bar" cred is Pete Foster's Barker's Bar & Grill. The menu offers burgers with adornments worthy of any Twin Cities pub du jour—green chilies and char-grilled pineapple, for example—as well as house-cut New York strip steaks. • barkersbarandgrill.com
 
8. Pad Thai Restaurant
A bland name—Pad Thai Restaurant—doesn't do justice to this St. Paul eatery's flavor-packed cuisine. Fortunately, its neighbors appreciate the fresh, vibrant meals influenced by owner Pooh Phetnongphay's native country (laab, curry dishes, and, of course, pad Thai) and those fueled by her curiosity beyond (the amazing house-made beef jerky, a.k.a. meat candy). • padthaiongrand.com
 
BEST FOOD TRUCK
WIN
World Street Kitchen
PLACE
Chef Shack
SHOW
Hola Arepa
 
BEST GOURMET PIZZA
WIN
Punch Pizza
PLACE
Black Sheep Coal Fired Pizza
SHOW
Pizzeria Lola
 
TIMELESS TWIN CITIES: The editors compiled this list of classic "bests" that have stood the test of time—and newcomers we believe will never go out of style.
 
BEST SPLURGE
BEST DATE NIGHT
BEST STEAK HOUSE
BEST FRENCH
BEST THAI
BEST MIDDLE-EASTERN
BEST ITALIAN
BEST JAPANESE
BEST CHINESE
BEST GREEK
BEST INDIAN
BEST MEXICAN
BEST BAKERY
BEST OVER-INDULGENCE
BEST TAKE OUT
BEST HOLE-IN-THE-WALL
Al's Breakfast
 
BEST CUPCAKES
BEST DONUT
BEST RESTAURANT TREND
Sustainability
 
BEST BRUNCH
BEST FARMERS MARKET
BEST TAPROOM
BEST ROOF DECK
BEST FOOD TRUCK LUNCH
BEST PANCAKES
BEST DEAL
BEST SWEET SCIENCE