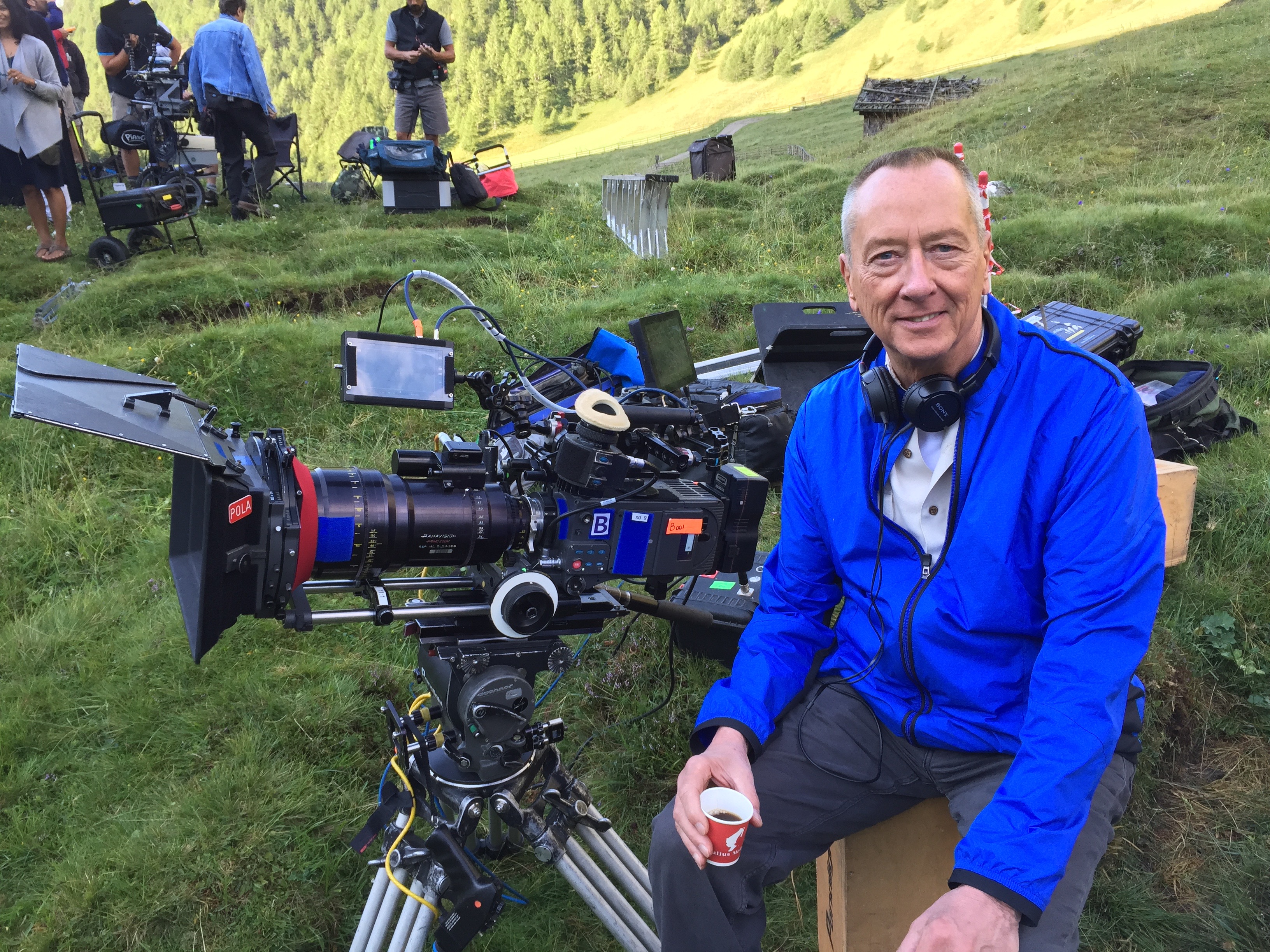 The movie studios didn't want it, says Oscar-winning writer-director Barry Morrow of Smitten!, his light-hearted new romcom.
"The easy sales are horror, action, thrillers, and big-name stars," adds producer Julia Rask. "And nudity, of course."
"Those are all on my list, too!" Morrow says. "I just don't write about them."
On this late-April Friday morning, the screenwriter best known for 1988's Rain Man—which bagged four Oscars, including Best Picture and Best Original Screenplay—sits at a corner table in a back room of Minneapolis' Depot hotel, wearing that Midwest uniform of a sweatshirt and outdoor-ready jeans. Although he's Hollywood-certified, Morrow grew up in St. Paul.
And even while forced to recount studio rejection over coffee, he and Rask are in good spirits. They lean in to pick apart movie politics one day before Smitten! debuts at the Minneapolis-St. Paul International Film Festival. It took some 20 years since they first pitched the idea in the '90s, but they finally made Smitten!, owing to Minnesota backers and no thanks to L.A. "That's why we wanted it premiered in Minneapolis­," Morrow says, "to maximize our opportunities for kismet."
Even in the '90s, "the studios were moving toward the tentpoles," Rask explains—"the Marvels and all that."
In contrast, Smitten! is a type of movie we're seeing less and less: a romantic comedy (a genre seemingly confined to Netflix originals these days). With a big Italian cast, it's far from a celebrity-drenched blockbuster or James Wan pulse-pumper, though still a popcorn movie.
Darren Criss (of Glee) stars as Tyler Hutton, a New York fashion exec going through a harrowing divorce. He visits Milan, Italy, on a business trip before getting kidnapped to a small Italian village and falling under the spell of a mysterious cottage. Anyone who sleeps there, upon waking, falls in love with the first living thing they see.
Hutton tumbles for a beautiful woman (Mãdãlina Ghenea, resembling a young Sophia Lauren) while one of his kidnappers lays eyes on a plain, mule-herding spinster. Another becomes infatuated with a much more handsome man on a white steed, and another swoons over a cow—although "it doesn't end in a bestiality theme, believe me," Morrow stresses with a laugh. "And that's the difference: If I was making a film that distributors were looking for today, that would be the hook—that it's the first modern film about bestiality."
Instead, to launch Smitten!, Morrow and Rask relied on state connections, which years in California couldn't uproot. "That was a four-year process of reaching out," says Rask, who met Morrow while attending the now-closed Robbinsdale High School. "And when you're asking people to give you $10,000 for a movie, they might as well throw it out the window, you know?"
Rask found backers in theater-scene friends. A local musician (Dan Chouinard) wrote an early score and the film's folk music. A local choreographer (Joe Chvala) arranged the dance sequences. None of the financiers—most of them retired with disposable incomes—had funded a movie before. "So, it's an independent film in the truest sense," Morrow says.
By the time he and Rask sat down this morning, Smitten! had already nabbed local headlines. It was treated as a homecoming. And with this year marking the 30th anniversary of Rain Man, it prompted reflection on how a Minnesota kid like Morrow went from here to there and back again. Since Rain Man, he has gone deeper into activism, sent his Oscar on a worldwide pilgrimage, and started a nonprofit in China—all while carrying a flag for the state's indie, selfless spirit.
"Our Minnesota roots," he says—"as much as you may want to scrub them to become Hollywood, they stick."
Compelled to Tell the Untold
Throughout Morrow's nearly 40-year career as a screenwriter, critics have pointed out a through line: He often focuses on characters with illnesses, handicaps, or disadvantages—whether it's savant syndrome (Rain Man), mental retardation (Bill), short-term memory loss (Remember Sunday), Lou Gehrig's disease (Quiet Victory: The Charlie Wedemeyer Story), or setbacks such as homelessness (Christmas on Division Street) and social rejection (Race the Sun).
Morrow spotlights stories typically treated tangentially, if told at all.
"Bill should never have been made," he says, describing early studio reservations about the 1981 movie, his first, "because nobody had ever told a story with a lead character who was mentally retarded. And Rain Man, I can tell you, would not be made today at a studio. In fact, it barely got made, even though it had Tom Cruise and Dustin Hoffman attached."
Today, Morrow doesn't consider the legacy of Rain Man to be its four Oscars or its box-office success (as one of just four Best Pictures since 1980 to reach No. 1). For him, it's not even the movie itself. He looks at what came of it: wider acknowledgment of autism, granting that its definition has been refined since the late '80s. He points, in particular, to the nonprofit in mainland China he started a few years ago. "Barry Morrow's Rain Man Fund" raises that same awareness in China, where the developmental disorder is not as understood. "People who have an autistic child in that country often only go out at night because they don't want anyone to see them," Rask says.
Morrow's compulsive altruism, his earnest concern for others—"I've always wanted to jump in and rescue someone from a burning house," he asides—seems, more than anything else, to drive his career. He has even transformed his Oscar from a coveted showbiz idol into a totem for outsider-ness.
He started by handing off the golden statuette to the man with savant syndrome who inspired Hoffman's character in Rain Man. "He held it like a baby all day," Morrow says. "The next day, I made a snap decision for him to just have it." The man, Kim Peek, took the Oscar around the world with him, touring for two decades to speak publicly and normalize those with the disorder or on the autism spectrum. "This Oscar became a traveling ambassador of good will, and not just for autism and savant syndrome, but for people with any difference," Morrow says.
This year, the number of people who have touched the statue is set to reach 1 million. It doesn't look so good anymore—bent, dented, divested of gold. But Morrow sees beauty in all the wear. "They've repurposed it," he says. Making rounds in China, it's called the "little golden boy." "As soon as they hold it, their demeanor goes like this"—Morrow smiles big, acceptance speech-style. (The Academy hopes to exhibit the Oscar, Rask says, to coincide with the movie's 30th anniversary this year.)
Rask calls Morrow a "humanitarian," though Morrow prefers the term "social worker." Either way, he started this work not as a filmmaker but as a post-St. Olaf College drifter and aspiring rock musician in the Twin Cities.
That was when he met Bill Sackter. The inspiration for Bill, Sackter worked at the Minnikahda country club in Minneapolis, as did Morrow's wife, he says. The man's gregarious, unflappable personality charmed Morrow so much, he eventually invited him—middle-aged, with the mental capacity of a 5-year-old—to live with him.
Early in his life, Morrow thought of himself as an outsider, too. In eighth grade, an English teacher told his parents to get him into a trade school "because that was the only future for me," he recalls. "I was very disappointed by that—not because I felt slighted by him, but I didn't know how to fix cars or TVs or anything like that."
But Morrow had a flair for storytelling. He fell in love with it as a kid at Randolph Heights Presbyterian Church in St. Paul, where he perked up whenever the preacher started into a homily. Soon after he started writing down his stories of Sackter, with which he would regale friends, he fielded interest in them as a screenplay. His career took off—rocketed, given that Rain Man was only his third film.
Today, Smitten! marks new territory. Morrow is better known for tearful dramas, and he wears the director's hat for the first time. But Smitten! also feels right at home. His previous film, 2013's Remember Sunday, had a fairy-tale bent, too, with Zachary Levi playing a man with short-term memory loss whose affection Alexis Bledel's character must secure the same way a young heroine might break a curse.
"There's always a character who's not just desperate for something—because every movie has a hero who's motivated," Morrow says, "but usually these people have holes in their heart for some reason." The mentally handicapped man in Bill discovers the warmth of a surrogate family. Rain Man ends with Hoffman's touch-averse Raymond Babbitt leaning his forehead against Cruise's.
Fashion exec Hutton isn't inspired by a hardy, hamstrung, real-life hero. But Smitten! is. Morrow found the idea in an Italian obituary, while hunting for a premise in the Italian Alps.
The obituary describes a woman who, before WWII, said goodbye to her young soldier lover by making love to him in an abandoned cottage in a small Italian village. He never returned from war. The woman didn't marry. She lived long, though, and amassed a small fortune, leaving a portion of it to the village to fund an annual festival celebrating love. "Unfortunately, it never happened," Morrow says. The woman's lawyer absconded with the money. "And I took that empty-handed, depressed feeling and said, 'If there were such a place where love died, how would you bring it back?'"
Morrow filmed in the same village where that woman passed into legend. Disney-like houses and Sound of Music hills reverberate with post-rain saturation.
"We fulfilled a dying woman's wish by creating a fictional place a stone's throw from where it occurred," he says. "In those 70 years that she lived with unrequited love, the film has finished it—she's completed her dream, she's been whole." He concedes that "she's not here; she doesn't even know why or what." But drawing from her history, "it feels more important this way."
Counter-Programming
Before Morrow and Rask leave—with a certain pre-premiere giddiness—Morrow takes out his wallet and carefully unsheathes a faded $2 bill that's as soft and limp as cloth. It once belonged to Bill Sackter, who died in 1983.
"Everybody's doing horror and slasher—that ain't our cup of tea," he says. "And Smitten! is on nobody's list, believe me…it's counter-programming to everything that's out there."
But counter-programming in this climate maybe isn't such a bad thing.
"Look at the titans of Hollywood and what's going on right now," he says, referring to the #MeToo movement. "They're falling left and right. And we know many of these people. They live lavish lifestyles, have more money than they'll ever be able to spend, and I know for a fact that most of them are lonely and bitter."
After years in the business, "thematically, in my work, I've discovered that all that matters is love," he says, stopping to consider that he has been married to his wife for 50 years this year. "This movie's theme is that everybody needs love, everybody wants love, and everybody deserves love—but love is hard to get, and it's harder still to hold on to."
For his next production, Morrow sees himself returning to the West Coast, as well as to his wheelhouse: dramas. But before he takes off, he gives me the second $2 bill in his wallet, which was slipped over Sackter's for protection. It's a final giving gesture, and also evidence—even now that Morrow has gotten this endearing, goofy, sweet romcom out of his system—of a mindset he'll carry to California.
Cast and crew of Smitten!/Courtesy of Smitten!
Facebook Comments