When the world gives you lemons, you make a spicy lemonade detox drink, right? Eaux Claires Troix music and arts festival was no exception to this simple childhood rule for me. With shattered car windows and all of my technology missing the day I was to depart for the only festival I loyally attend, I found myself in a sour spot. But, with a little sugar from my friend and tech G, Irv Briscoe, I got my groove back and found my way down I-94. Arriving a day late at the already muddy Foster Farm grounds in the Chippewa River Valley area just outside of Eau Claire, Wisconsin, the hometown of co-creator Justin Vernon of Bon Iver fame. Irv practiced great patience as he waited for me to change out of my driving look to my festival attire complete with customized sneakers. Now in its third year with the most collaborative and diverse programming yet, I had one day only to consciously consume the sites, sounds, styles, flavors, and feels that Eaux Claires Troix had to offer.
During my ten hours of adventuring to multiple stages on Saturday, I passed by and played with many brilliant and thought provoking art installations. I window shopped an interesting array of vendors, refueled on an overpriced street taco at $9 a pop and was able to juice up my new iPhone at a very thoughtful public charging station. There was even a booth where one could have a conversation, snag a hug or a cookie (I did both!) or pick up an array of festival essentials only a mother would remember like bandaids, a garbage bag rain poncho, or some hand sanitizer. I had the pleasure of gazing upon a Native American dance performed in ornate, colorful, traditional garb that, when in motion, was music itself, as well as a more modern but emotionally charged dance performance conceived and choreographed by Minneapolis creative darling, John Mark.
The soundscape ranged from the musical stylings of gender fluid pop-rock artist Perfume Genius to Danny Brown's low-slung, salacious rap stories to Paul Simon's folkish flow. As a storm arrived, some of the musical acts moved to perform on the stage of the Lismore Hotel in Downtown Eau Claire—a hotel with more aesthetic potential then it knows. (I had to gently suggest to the staff that they turn on their super stylish sputnik chandeliers instead of the fluorescents they had completely undimmed. Mind you, everyone was to some degree wet, muddy, or dripping, so mood lighting was essential.) Therewe enjoyed the sweet spins that only Channy Leaneagh of Poliça could conjure before rushing up stairs to the ballroom for the "post rave R&B grunge" of the ever-evolving Jeremy Nutzman. After slight soundman issues, Jeremy debuted his latest project Velvet Negroni, and he killed it. My Insta story of his performance garnered the most praise and love all weekend.
Beneath this well-curated and totally unique festival experience, I couldn't help but notice how much aesthetic diversity lacked in the demographic of the crowd as well as the staff and talent. Though thoughtfully curated from an artistic standpoint, in a time of such gross social, political, economic, and climate injustices, Eaux Claires could afford to be a little more conscious. As an aesthetic engineer and white women of privilege in 2017, I have found great focus in the conscious creation, curation, and documentation of aesthetic truth and harmony on all levels. It does not take a Ph.D. in material culture to recognize influence and know that more often than not, what's on trend in mainstream America is an aesthetic appropriation of one culture or another. I can only hope my efforts help chip away at the inequality of visual programming in our country, and my purpose at Eaux Claires was to seek out and document the people who looked like they got it.
Seeking authentic diversity was not an easy task in a sea of 10,000 mostly whites. However, unicorns do exist and I was able to capture a select few of them in the artist area. Aesthetic details of note were: '90s and combat boot styles with cropped pants, colored and adorned brows, facial jewelry with chains, fanny packs, glittery skin stickers, rompers and all the waterproof clear vinyl rain coats and accessories. Primary yellow made some very sunny and spot-on appearances as well. Overall, those who stood out to me seamlessly verged the gap between practicality and personal posh. These magical unicorns of style were comfortable, conscious, and confident showing little to no signs of weather on their attire or attitude. A large leap from the masses whose seemingly unconscious choice of flip-flop attire found itself partially if not totally "stuck in the mud." 
Below are the magical unicorns and their answers to my not so easy to answer questions. Thank you for sharing your beautiful self, your time, and your valuable and wise stream of consciousness with me.
Lisa Marie Gherardini is a Minneapolis-based stylist.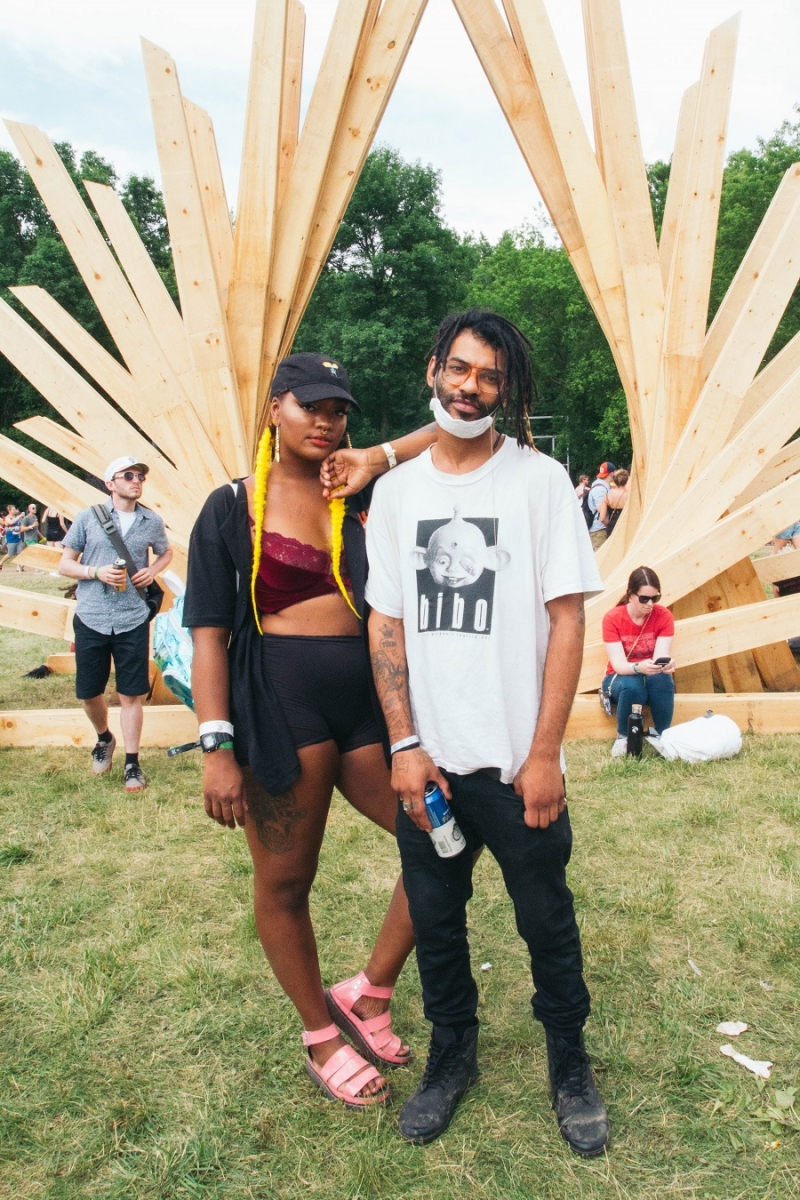 Jazi, left, and Jeremy Nutzman, musician (@velvet_negroni)
What does fashion mean to you?: Fashion literally doesn't exist.
How did you infuse comfort and practicality into your Eaux Claires chic? Being okay with being uncomfortable. 
Jazmyne McGill, model/student (@jazimcgill)
Can you describe your particular aesthetic to me? I was going for "Hey Arnold," comfortable kid aesthetic. Really feeling my Nickelodeon days and reminiscing about my childhood.
Which artists did you come here to see? I came here to see the one and only Velvet Negroni. His aesthetic is very "post rave grunge with a hint of R&B and soft boy."
How did you infuse comfort and practicality into your Eaux Claires chic? I chose a printed baseball tee, yoga shorts, and a embroidered baseball cap with my Dr. Marten sandals, all comfortable options. I made it more chic by adding glitter and false eyelashes and doing my face very lightweight but glamourous.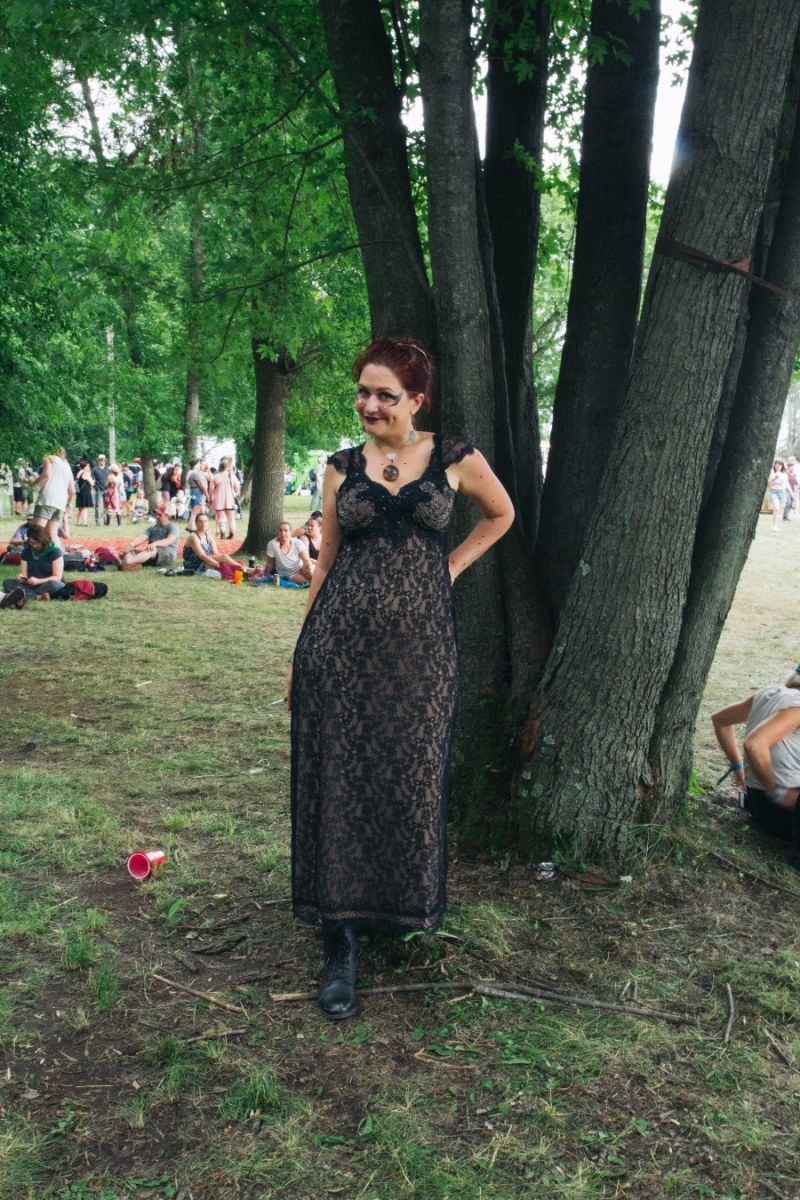 Jodi Bee, artist & entrepreneur (@jodi.bee.art) 
Can you describe your particular aesthetic to me? More is almost always more.
Which artists did you come here to see? Wilco, Perfume Genius, everyone featured in the John Prine tribute, and Feist.
What does consciousness mean to you?: Sentience. Being in a wakeful state of mind. An internal knowledge or awareness of something for what it really is.
What does dressing comfortably mean to you? What when you are comfortable, physically and emotionally, you naturally exude confidence. My safety blanket is anything black, a turtleneck, skirt, tights, boots, sunglasses, a hat, and red lipstick.
Emma Bastolich, model/musician/visual artist (@zinnia.zz)
Can you describe your particular aesthetic? My aesthetic is an ever-changing reflection of ever-changing influences in my life. I like to emulate thoughts, feelings, ideas, and textures that I'm inspired by at any given moment (or second). At the core of it, I'm your Jewish aunt who lets you wear her platforms, always reads you your horoscope and asks you if you have a boyfriend.
How did you infuse comfort and practicality into your Eaux Claires chic? I didn't find out I was going until the last minute, so I threw on my typical uniform, the one I'm most comfortable in that stems back from my American Apparel days: bodysuit, high-waisted denim, and some waterproof combat boots for stomping. It's comfortable in wear, but also comfortable because there's a tried and true fit that I don't have to worry about.
Suggestions/critiques for Eaux Claires? More POC/LGBT performers, and gluten-free beer.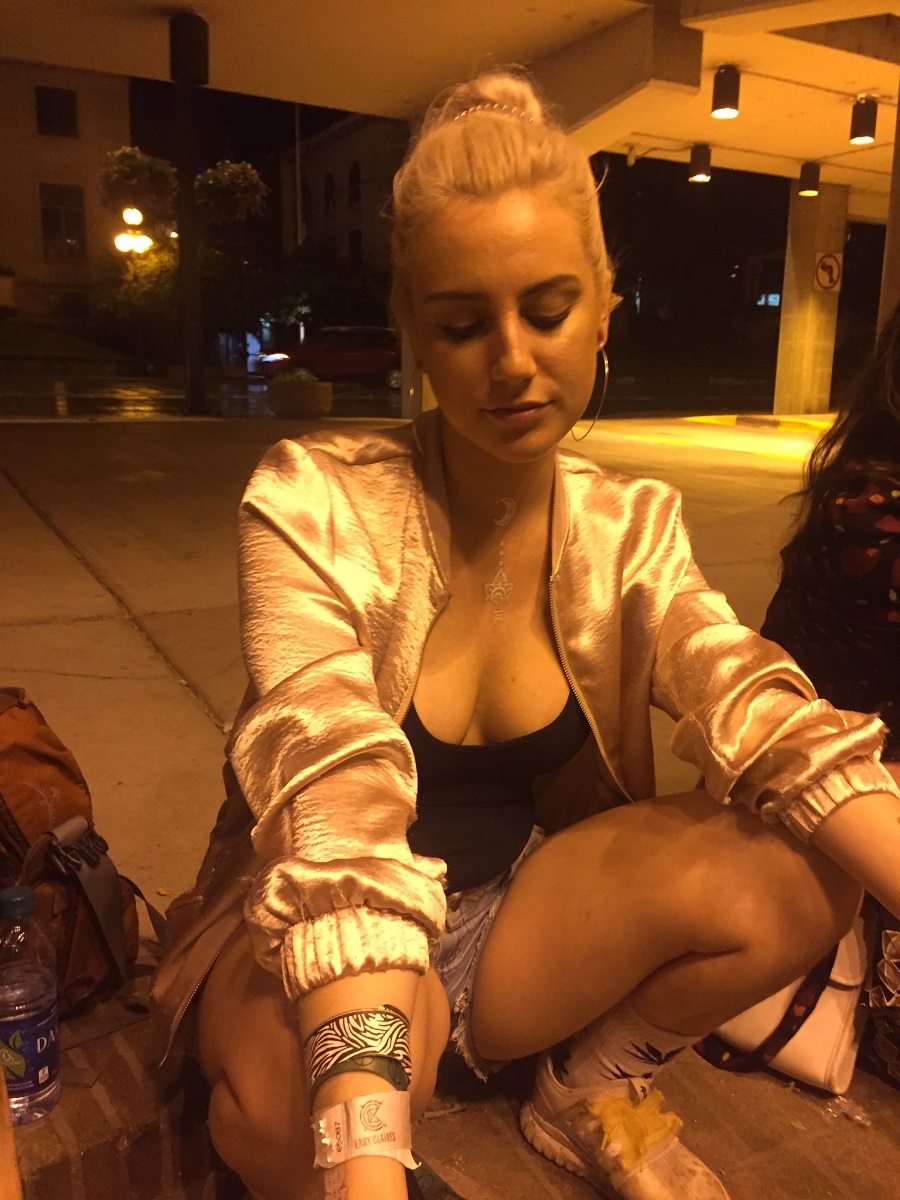 Sofia Romani (@whalespatkle)
How would you describe your aesthetic? In some way I always want to appear ethereal and effortless. Millennial pink, iridescent anything. 
What does fashion mean to you? Fashion in its truest form is expression, of self, feelings, or concepts. When you can hone in on those things that inspire you and it translates to a unique look, that's where style is born. The further you take it the better it becomes.
What does fashion consumer consciousness mean to you? I am more than aware of the enormous toll the fast-fashion industry has taken on the planet and the lives with in it. The better we understand where our clothes come from, the kind of conditions they're made in, and from what materials the sooner we make better decisions in how we buy and contribute to the industry. It's hard not to buy new in our culture and society. So my next best solution? Ethical companies. More and more companies are coming up with real solutions. Sweat-shop free, repurposed materials, and missions to invest in eco systems most affected. Shopping ethically is a new industry in its own right and I'm excited to be a consumer of it.
Define comfortability for you: If I feel good, it's good. I have emotional attachment to my style. Physical comfort isn't quite as meaningful as how an outfit makes me feel emotionally. I have to connect my outfit to my mood and how I want to portray myself that particular day. If it's doesn't feel right I don't wear it. I will change on average six to ten times to get it just right.
Do you have any suggestions or critiques for Eaux Claires? Dear Eaux Claires, Please never exist in June again. The rain put quite a damper on my sneaker game and general body heat regulation. With love, Sofia.
Praise for Eau Claire? Dear Eaux Claires, Thank you for being a true celebration of music and art. You are like home to me. I am eternally grateful. With love, Sofia.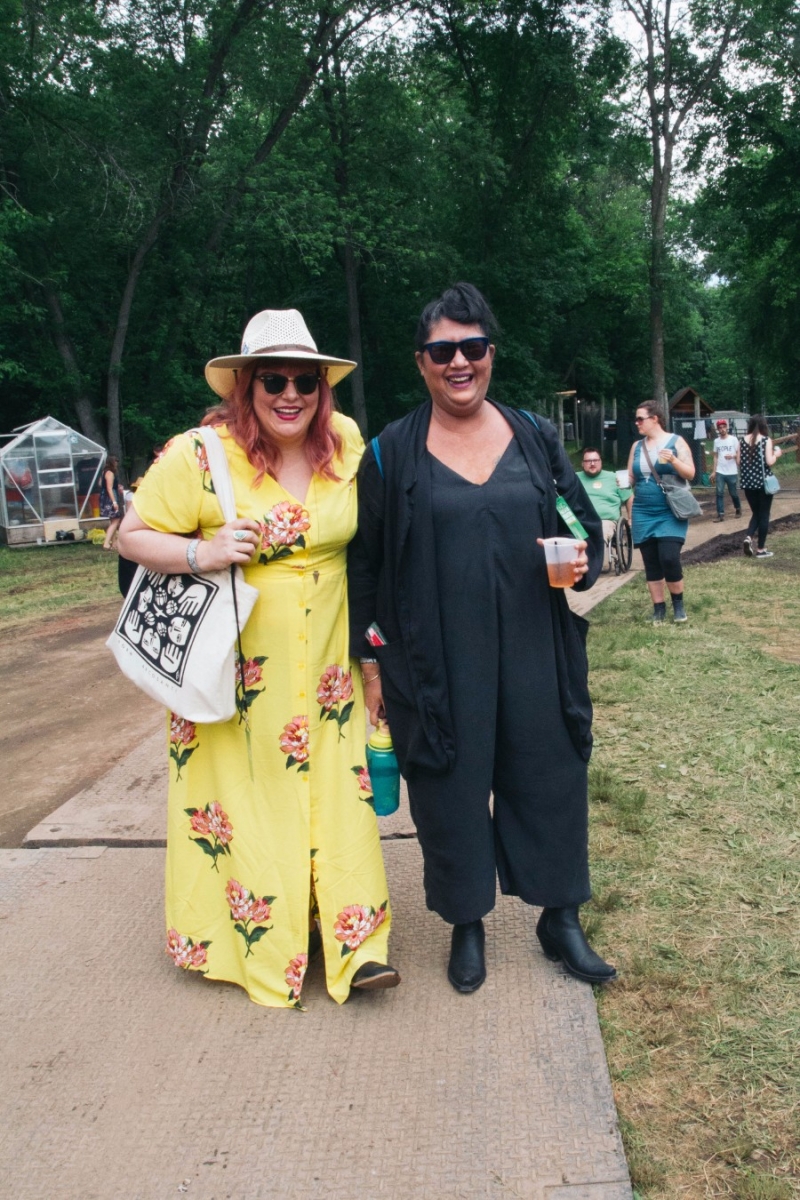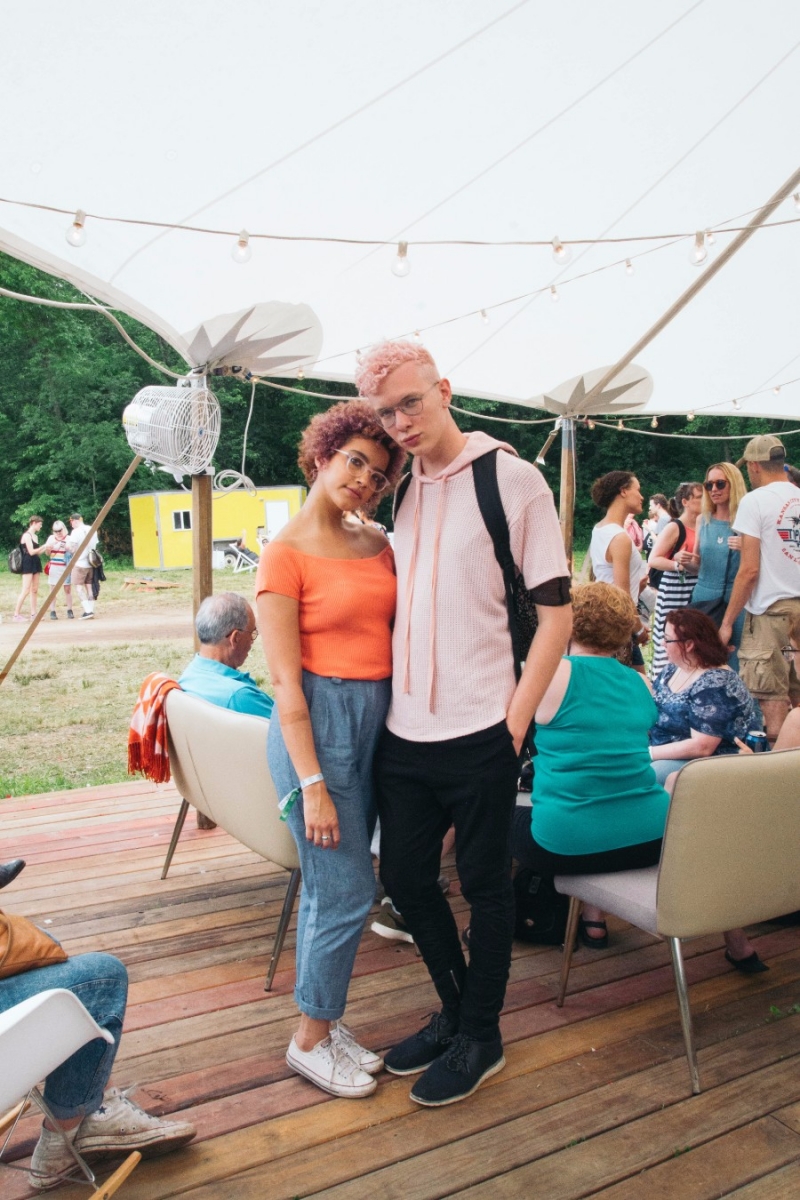 Photographer Irv Briscoe
The author of this post, Lisa Marie Gherardini
Facebook Comments