Staging a well-loved, well-watched, classic musical is anything but a sure bet. You must juggle the expectations of an audience that knows the words by heart, while also addressing any outdated or potentially problematic dynamics from the original script. Guys and Dolls, at the Guthrie through August 25, does just that. This production both masters the crucial elements from the original and updates the musical for modern audiences.
As director Kent Gash put it: This isn't your grandparents' Guys and Dolls. With a diverse cast, this production resembles what an actual New York street would look like. "Oldest Established," one of the first group numbers, now includes a step dance break with all the gambler characters clapping in the classic African American dance style.
When Miss Sarah Brown, the missionary, gets charmed by Sky Masterson, "former" gambler, into going to Havana, Cuba, for dinner, she still wants a milkshake instead of a dulce de leche. Sky orders her the cocktail anyway, and her iconic comment, "This would be a wonderful way to get children to drink milk," is sarcastic and self-aware instead of innocent and sincere. This production's Miss Sarah Brown might be a goody two shoes, but she isn't stupid.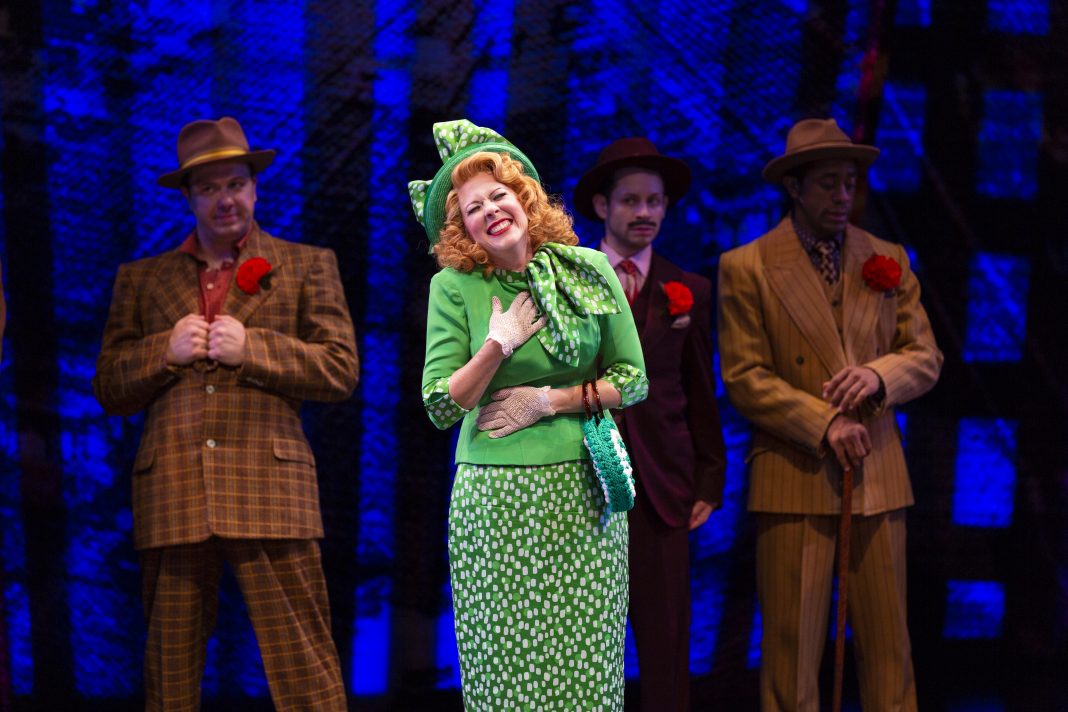 As in previous iterations of Guys and Dolls, however, it's Miss Adelaide who steals the show. It's already a meaty role, and Broadway vet Kirsten Wyatt's comedic timing puts Miss Adelaide over the top. Even just acknowledging the audience's applause at her entrance for "Take Back Your Mink" with a slight nod, Wyatt sends the whole room into a fit of laughter.
In lesser hands, Miss Adelaide, as a character, can come across as a desperate girl kidding herself about a guy who won't change and a marriage that is never going to happen. However, in Wyatt's hands, Miss Adelaide is genuine. She's grounded. Sure, she's been engaged for 14 years but she really loves Nathan—and we can tell he really loves her too. She's actively working toward that future, and we root for her. Who can blame her for holding out hope for her dream?
Even without Wyatt's performance, this version's take on "Sit Down, You're Rockin' The Boat" alone is worth going. Justin Keyes, who plays Nicely-Nicely Johnson, far exceeds expectations with his vocal rendition of the famous 11 o'clock number. (His Nicely-Nicely relishes commanding everyone's attention.) The amazingly talented ensemble, impeccable choreography, new gospel adlibs, and that classic music will remind you—as it did me—why you go to a musical in the first place: to see synchronicity executed by a full cast in a way that seems almost impossible and looks beautiful. In short, you go for the magic.
Guys and Dolls is a classic American musical for a reason. No material can survive without a great script, music, and production. And contemporary productions like the Guthrie's make sure it continues. I'd put my money on it.
Guys and Dolls
June 22-August 25
Guthrie Theater
818 S. Second St., Minneapolis

Facebook Comments