Ely has everything you need for camping in the Boundary Waters Canoe Area Wilderness
photo by Steve Piragis
---
As I drove north to Ely, I felt just a twinge of guilt for leaving my husband and three kids behind. But isn't fleeing society and responsibility part of the Boundary Waters' obvious appeal?
In just a few hours, I'd be at the jumping-off point for silence and isolation. These million-plus protected acres of Superior National Forest include more than 1,000 lakes and streams linked by portage trails, along with moose, deer, wolves, black bear, and oh so many fish to catch.
The curves of Highway 1 demanded I slow down as I neared Ely. I even shut off the radio in reverent silence. Ely's main drag provides everything you need at the BWCA entry point: groceries and liquor, restaurants and galleries, and what feels like more outfitters then you'll find in the rest of Minnesota.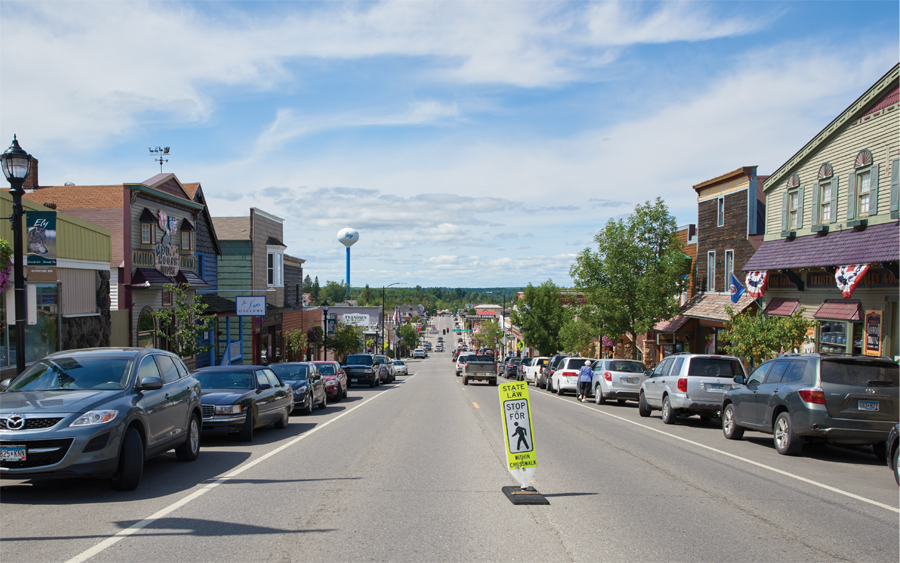 A view of downtown Ely
photo by David Bowman
---
Paddlers about to embark into the wilderness often start in downtown Ely with a requisite detour at Piragis Northwoods Co. to stock up on gear, clothing, maps, and books. Boundary Waters veterans portage their own canoes and gear, but those less familiar with the backcountry can hire an outfitter like Boundary Waters Canoe Adventures. They specialize in ultralight canoe trips and go over technique and BWCA regulations.
Backcountry camping beginners—or those trying to convince their kids it's fun—can try "glamping" at Riverside Island Campsites on White Iron Lake. Someone else sets up the large wall tent with everything you need and want, including a Finnish-style cedar sauna.
While many Ely visitors sleep in tents, yurts, or even houseboats, my bed of choice was at the Grand Ely Lodge. I relaxed amid knotty pine furniture, taxidermized buck heads, bear skins, and floor lamps made of antique cross-country skis. I watched both the sunset and the sunrise over Shagawa Lake, and I had no one harassing me to turn on PBS Kids, although my children would have loved the canoes, kayaks, paddleboats, and the nightly campfire marshmallow roasts.

Steger Mukluks
photo by David Bowman
---
I stopped at two iconic north-woods outerwear stores. Steger Mukluks proved a necessary pilgrimage—I have loved and worn their Quetico tall chestnut boots for a decade. And Wintergreen Northern Wear, too, with its unmistakable trim outlining every locally made anorak, cap, and vest. Right next door you'll find the Ely Folk School, where you can make a bent-willow chair, build your own fishing rod, or join a team to construct a birch-bark canoe.

Ely Steak House's World Famous "Bucky" Burger
photo by David Bowman
---
Amid all the walleye and wild rice soup, you can find other food options. At the Ely Steak House, the World Famous "Bucky" Burger complemented the dim, relaxed atmosphere of the lounge, the quiet pool tables, and the low-key conversations in front of the full bar. Its "famous" Bucky sauce—like many famous secret sauces—is basically Thousand Island dressing. The pulled-pork wonton tacos at Insula, known for locally sourced fusion American dining, lived up to the hype from the server.

International Wolf Center
photo by International Wolf Center
---
At the International Wolf Center, a naturalist's talk about canines was interrupted by a scene outside the windows overlooking the wolves' enclosure, as all five wolves gradually raised their heads from their post-meal (roadkill deer) nap. Seeing the wolves is not a guarantee—they'll come closer to the window on cooler or rainy days—but there's still plenty to see, including films and lectures, a full-size model of a wolf kill, and exhibits that feature wolf howls and the historical relationship between wolves and people.
Before leaving town, I drove out to the Kawishiwi Falls trailhead, a short hike with some steep cliffs leading to a lovely waterfall. I breathed deeply, realizing that even a brief stay in Ely—a comfortable edge-of-the-world excursion—had cleared my crazy-busy head. 
---
Eat, Play, Stay in Ely
Front Porch Coffee and Tea Co.
After a week of cowboy coffee, Front Porch Coffee and Tea Co. has your fancy caffeine—plus computers to catch up on mountains of email.
Rockwood Restaurant & Lounge
Is a favorite for après-camping burgers and fries, with an outdoor patio.
The Pebble Spa Company
Offers respite from portaging with massages, soaks, saunas, and the pedicure you'll need after a week in those boots.

North American Bear Center
photo by Jim Stroner
---
North American Bear Center
You can observe black bears much more comfortably than from inside your tent.
---
Digital Extra: North Woods Wolves
See what the wolves are up to at the International Wolf Center via live webcams documenting the five howlers of the Ely enclosure.
Facebook Comments