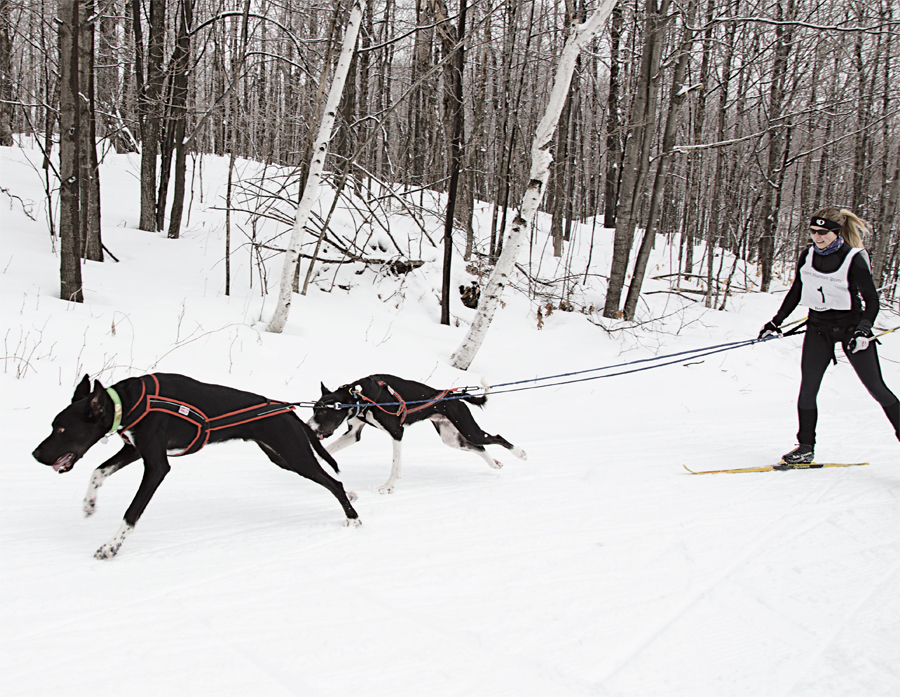 Sierra Anderson Skijors on Duluth's spirit mountain with eurohounds Ajax and Tramper
photo by Amy Miller
---
Duluth's Sierra Anderson remembers learning to skijor when she was 8 years old: Whenever her dad went skiing, he would hook her up to their Alaskan husky. "I would pretty much ski for 100 feet, get pulled on my face, then get up to do it again," she says. These days, the National Skijoring Team member is a little more skilled at this growing but under-the-radar sport, which involves skate-skiing (the faster cousin of "classic" cross-country skiing) behind one or two dogs, who pull the skier using specialized harnesses connected to a tug line. (The sport's name is derived from the Norwegian word skikjøring, or ski driving.) It's an exercise in teamwork, Anderson explains, that allows the skier to move nearly twice as fast as she would unassisted. "The dogs maintain your momentum as you ski uphill and around corners, and run as fast as they can on the downhills," she says. "If you go too slow, they get frustrated like you're not holding up your part of the deal." That's what happened at the 2017 World Championships. Conditions were terrible, and Anderson's heart wasn't in it: Her favorite dog had died the week before, and her pulling dog, Ajax, could feel it. "About halfway through our first race, he was just like, 'This isn't worth it. I'm done.' And he's never, ever done that," she recalls. But the next race, Anderson rallied, and so did Ajax. In the end, she finished top for the U.S. and ninth overall. As much as Anderson loves to compete, she says the best thing about skijoring is just getting outside with her dogs. "It's a really special bond," she says. "Sometimes they literally look back at you, as if saying, 'Are you sure?' or 'Good choice!' or 'Hurry up, I want to run!' And sometimes you're going down the trail together, moving as one, and they look you in the eye, you look right back, and you totally get each other." 
---
Get Started
Learn:
The Loppet offers clinics, as do many races. Local clubs can also help.
Groups:
Midwest Skijorers Club, North Star Sled Dog Club, Great Lakes Sled Dog Association, Wisconsin Trailblazers
Events:
Barkie Birkie (Hayward, WI, Feb.), City of Lakes Loppet (Minneapolis, Jan./Feb.), Mora Vasaloppet (Mora, Feb.), Pincushion Mountain Winter Festival: Best in Snow Skijoring Races (Grand Marais, Feb.), Winter Park Bark (Minocqua, WI, Mar.), Dog Days of Winter (Gunflint Trail, Mar.)
Skills:
General fitness, dog whispering/yelling
Off Season:
Bikejoring, Rollerjoring, Canicross
Equipment:
Dog weighing more than 35 pounds; harness designed for pulling (cheap versions can damage dog's trachea and shoulders); waist belt with leg straps; bungee tug line; skate skis (downhill skis may cut dogs' Achilles tendon); skate-ski boots (for ankle support); poles; and poop bags. If wet snow, dog boots.
Places:
Murphy-Hanrehan Park Reserve, Elm Creek Park Reserve, Theodore Wirth Park, Lester-Amity Ski Trail, Itasca State Park, Boulder Lake Environmental Learning Center, Pincushion Mountain Trail System. Check local cross-country ski trails to see if they allow skijoring.
Commands:
Gee (right), Haw (left), Whoa (stop), Hike (go), Trail (call to other skijorer when passing). "Practice the commands on foot before you get on skis," Anderson advises.
Tips:
"If you feel like you're getting pulled forward, sit back a little on your hips, so your balance is back a little and you won't feel like you'll get pulled onto your face," Anderson says.
Spirit:
Having fun with your dog
Rules:
Make clean passes. Keep dogs from fighting. Communicate with other skijorers. Leave a clean trail.
Danger:
Trees, squirrels, ice, other skijorers
Physical Requirements:
Full body strength: arms, legs, abs, back, aerobic
Discover:
Skiing twice as fast as sans dogs.
Benefits:
Dog bonding, fighting winter blues
Difficulty:
One dog: ***
Two dogs:  ****
Getting your skis on while holding excited dogs: *****
---
Digital Extra: Adorably Bad-ass
Watch these dogs tug along their owners for a ski ride—and consider skijoring for yourself.