Each month, in our "Restaurant Rumble" conversation, MnMo food critics Jason DeRusha and Joy Summers review two restaurants and pick a winner.
Jason: For about 30 years, Lucia's was a pioneer in farm-to-table local cooking. Then, a few years ago, its owner and namesake, Lucia Watson, sold the restaurant to a group of investors including the CEO of Stella's Fish Café, an Uptown eatery known more for its rooftop party vibe than its culinary prowess. The new owners promised to stay true to her original vision—and in some ways, perhaps too much so.
Joy: Yes, Lucia's multiple dining rooms have remained seemingly untouched and the space looks like it could use a good scrubbing and a fresh coat of paint. When I visited, the furniture and surrounds seemed a little dusty, chipped, and faded. There was even a forgotten vase of dead flowers in a back corner.

Polenta with roasted vegetables
photos by tj turner
---
Jason: It takes a trained eye to find the changes at Lucia's since the team recently brought in chef Alan Bergo, whose locavore pedigree includes serving as sous chef for another icon of local cooking, Lenny Russo of now-closed Heartland. Lucia's menu still changes every week, based on what ingredients are in season around the region. We enjoyed an appetizer of seared wild-caught shrimp with polenta made from locally grown corn, for example.
Joy: Among the small plates, I liked the flank steak small plate with vibrant, spring-grass colored chimichurri. But other things I tried—the soup, the duck ham, and pork saltimbocca—all were also in desperate need of salt and seasoning.

Executive Chef Alan Bergo and Caramelle Pasta with Squash
Jason: Same story for the hash browns. They were seared in the fat from a Mangalica hog, which is known for its extreme flavor and lard content, but undersalted big time, which rendered that fancy hog fat essentially wasted. Also: An $11 plate of three slices of bread and three spreads seemed preposterously overpriced, especially with offerings as unexceptional and dated as artichoke Parmesan and black olive tapenade.
Joy: Is it ungrateful for me to complain about the free bread? Its dense interior and desert-dry crust could not be saved by all the Hope Creamery butter in the world.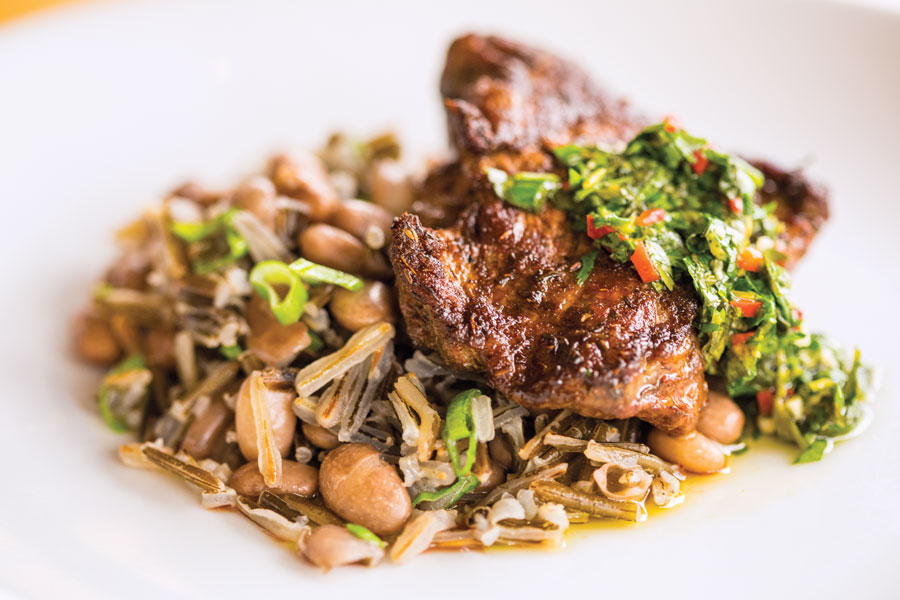 Chili-rubbed Limousin Beef Flank Steak with Chimmichuri
Jason: I did love the fresh spaghettini with a bright, flavorful pesto made from mizuna (Japanese mustard greens). I appreciate Bergo's restraint, but there were times I wanted a bit more oomph, a bit more salt, spice, anything to liven up the plate.
Joy: Lucia's is frustratingly uneven. The chicken I ordered arrived with a brown, crusty skin…that somehow had zero flavor. Much like Lucia's dining rooms, the menu could use just a little bit more love and attention—and salt.
---
Lucia's Update:
Not long into the new ownership at Lucia's (at least not long relative to the 30 successful years that preceded it), the restaurant was closed permanently in October 2017.
---
This month's "Restaurant Rumble" pitted the newly reopened The Lexington against the locavore icon, Lucia's. Find out which restaurant Jason and Joy chose as the winner in the June 2017 issue of MnMo.
Facebook Comments