Spoon and stable's tamarind glazed pork chop (L), Chef Gavin Kaysen during dinner service (R); Photos by Kelly Loverud
When Spoon and Stable opened its doors at the end of last year, it was the local culinary equivalent of the Beatles playing Met Stadium—absent the hordes of shrieking teenagers, the Cities' hottest new restaurant arrived with the sense that a world-class star's orbit had led him here, all the better to shine on us. 
Reservations were backed up for two months. Diners who couldn't wait jockeyed for coveted space at the bar, where they were packed in shoulder-to-shoulder—they could at least say they had been there, they had tasted those duck sliders and sampled the pineapple-and-rum Old Fashioned. They were part of the heat and the excitement.
Also read: 
Let's be clear: Minnesotans do not typically behave in this manner. A point of pride in Northern reserve, usually, is being too cool to get worked up over the hottest new thing—but this was different, this was one of our own. Gavin Kaysen is a Minnesota boy with a story too good to be true (but it is): Plucked from an Edina Subway by a rival restaurant owner in the same mall who took note of the young man's fastidious sandwich-making skills, Kaysen has since ridden a comet to superstardom in locales far and wide. He's cooked in Switzerland, London, California, New York. He's won the James Beard Rising Star Award (and, this year, was a finalist for the Beard's Best New Restaurant honor), plus a Michelin star, and a Food + Wine Magazine Best New Chef nod.
And then he came home. Better yet, we were ready for him. This was no burned-out once-was with his tail between his legs, returning to the tundra to open up a fancified burger joint for the masses. Kaysen was a chef at the top of his game, opening shop in Minneapolis because the food community had reached a level of sophistication and viability that could nurture and sustain a chef with a vision. This was no small-town homecoming. This was a wedding between an artist and a town who needed each other, the kind of match that represents a high-water mark in Minnesota's food ascendance.

Kaysen with a bottle from Spoon and Stable's jewel box wine room; photo by Kelly Loverud
Your best shot at getting a spur-of-the moment dining perch at Spoon and Stable is to leave work a little early, get there around five, and hope for a spot at the bar or the chef's counter. Reservations are no longer totally booked sixty days out, but on an average night you might have to dine at 9:30 if you want a same-day table.  
Inside, the place gleams with exquisite, groundbreaking design and textures of wood and brick. The kitchen shines with immaculate white tile, and cooks bustle amid flawless mise en place: One plates a succulent bison tartare, meticulously wiping away stray beads of harissa aioli on the plate with a painter's precision; another surrounds a single perfect raviolo with a bed of Brussels sprouts and pecorino cheese. A cook swiftly cuts away at a tantalizing, almost disgracefully fragrant lamb shank, pinpointing the tenderest, fall-from-the-bone cuts to be served with artichokes and preserved lemon. This is food that pleases all the senses in luxurious synesthesia. The dining room feels like an everyday spot for the well-dressed locals in tasteful haircuts and designer eyewear as well as a worthy destination for family events—at one table, you can count four generations communing over the dessert menu.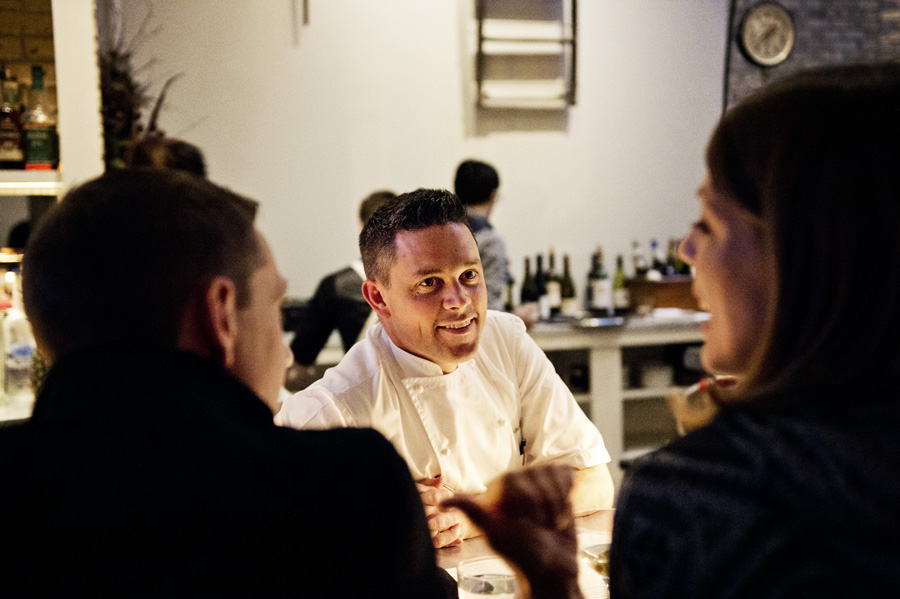 Photo by Kelly Loverud
Before the dinner service, Kaysen takes the temperature of a kitchen that will bustle with industrial precision come peak time. He's warm and amiable; he's also unapologetically self-confident. He's quick to acknowledge that it's the Twin Cities clientele today that makes it possible for him to develop a menu without alienating tastes that may have been more staid just a decade ago. As the nation has gone, so has the Twin Cities.
"A lot of it has to do with the amount of traveling people do now—everyone knows when good food is good," he says. "We have one advantage: We're just two hours and thirty minutes from each coast. We have easier access to Nashville, Portland, Seattle, Atlanta. People travel and see the scenes going on in those cities and ask, Why don't we have that here?"
Kaysen's last stop before returning home was as executive chef at Café Boulud in New York, where he was mentored by superchef Daniel Boulud. He describes a period of about two-and-a-half years when he weighed his options, and a process of self-examination to figure out why he was contemplating leaving this exalted perch.
Kaysen describes a period of about two-and-a-half years when he weighed his options to figure out why he was leaving.
"I had to keep asking myself, Why am I doing this?" Kaysen says. "Is it for the right reasons?"
Was a return home, in other words, a capitulation? The personal calculus for Kaysen, with a résumé that could open the door to kitchens anywhere in the world, was whether his cooking would be a success in a food scene on the rise but by no means ready to spar with New York's. Was the moment right? Entering the equation next were quality-of-life issues for Kaysen, his wife, and two young kids. And it's here that the Twin Cities enjoys advantages over its more established and cosmopolitan—but astronomically more expensive and competitive—counterparts on either coast. 
Kaysen might be the biggest name to come here from a bigger market, but he's by no means the only one. "I used to ride the train to work in Chicago every morning, and it was brutal," says John Kraus, head pastry chef and owner of Minneapolis' renowned Patisserie 46. "It was 5:45. I was in a rush to get the first train going into the financial district. It was a humdrum existence, just kind of being. I think that's what's been our goal here: To have that moment to breathe."
The Kentucky-raised Kraus started his career in London. He made stops at renowned restaurants in Nashville and Chicago. His unassuming manner belies the level of his craft—he was named Paris Gourmet Pastry Chef of the Year in 2002 and has since made lists of top American chocolatiers and pastry makers. This year, Kraus led Team USA to a bronze medal in the Coupe du Monde de la Pâtisserie, the Olympics of the pastry world. His bakery, which often lacks an empty seat even in the middle of a workday, serves up world-class treats that are architectural and textural wonders: ethereal croissants, hearty miche loaves, and a case full of petits gâteaux, the jewels of French confectionary.

PATISSERIE 46'S JOHN KRAUS (RIGHT), KRAUS AND CHOCOLATIER JOSHUA WERNER (LOWER LEFT), KRAUS WITH PASTRY CHEF KATE GOODPASTER (TOP LEFT); Photos by TJ Turner
Kraus had been thinking of making a change when he traveled to Minneapolis in 2008 to teach a forum at the Art Institutes International Minnesota. He had a vision of his own neighborhood bakery as a buzzing hive of community fueled by sugar and caffeine rather than the grab-and-run, faces-to-screens joints he saw everywhere back home. 
"I saw the sun set in June on Lake Minnetonka," Kraus says of his visit here. "I just found it all so appealing. I have two young boys, and I used to kiss them on the forehead when they were asleep in the morning, and then I'd do it again when I saw them asleep at night. I worked from five in the morning until eight in the evening." 
Kraus launched Patisserie in 2010 after selling his house in Chicago at a loss and renting a place in Minneapolis sight unseen. The economy was still in the early stages of recovery from the Great Recession, but Kraus gambled on the combination of positives that Minneapolis offered: the chance for his family to have a more comfortable lifestyle (they live two blocks from the bakery), along with a food community that understood (and laid out dollars for) creative work from chefs.
His perspective is echoed by another recent arrival. "I didn't want to raise a family in New York City," says chef Todd Macdonald of Parella, the Italian eatery that opened last summer in the iconic Uptown location of the former Figlio. Macdonald, a native Minnesotan whose first cooking job was at Ciatti's restaurant in the Galleria in Edina, worked his way to an acclaimed career in Gotham but frames a return to Minnesota as more or less a no-brainer.
"I cut my teeth with the best of the best," he says. "Now it's 20 years later, and I've reached a level of maturity as a chef that I can come here, put my life savings into something, and bring that skill set I developed from working at the top places in the country and opening four different restaurants."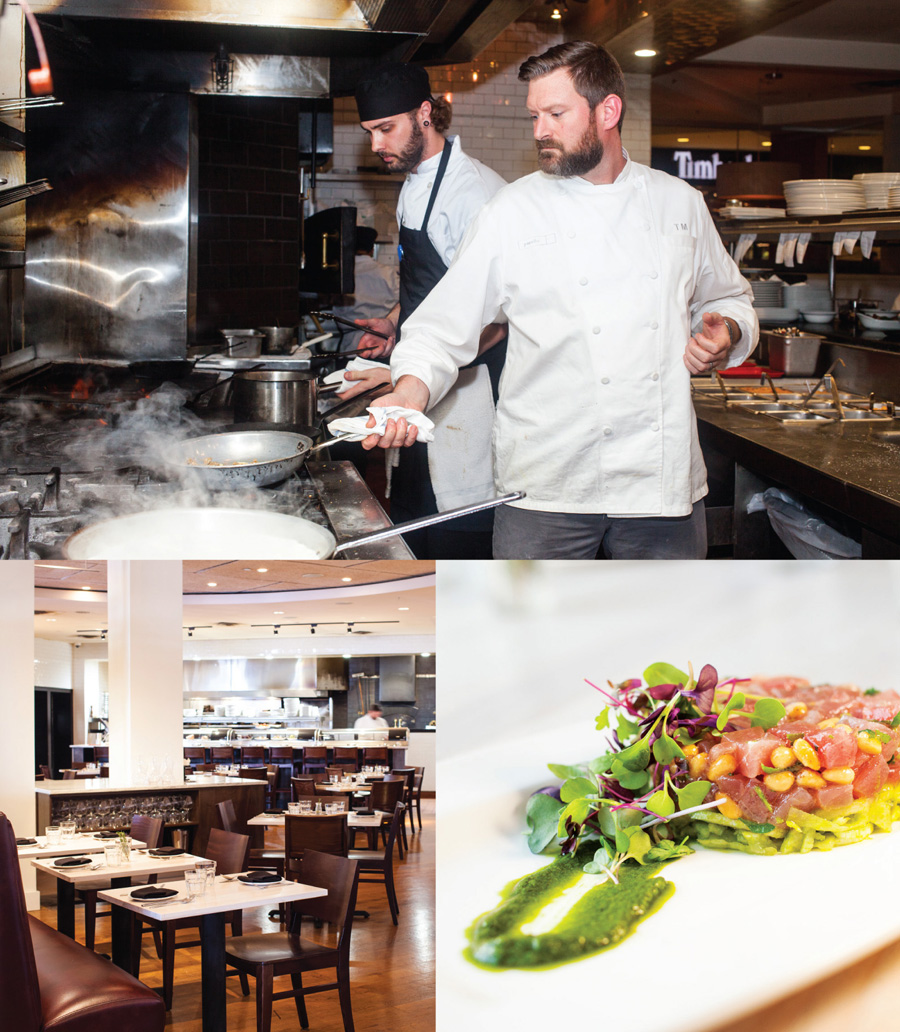 PARELLA CHEF TODD MACDONALD (R) IN HIS KITCHEN (TOP), PARELLA TUNA TARTARE (LOWER RIGHT), PARELLA DINING ROOM (LOWER LEFT); Photos by TJ Turner
It isn't an overnight turn of events that the Twin Cities food scene has attracted talent such as Kaysen, Kraus, and Macdonald—not to mention chefs who migrated here in decades past from some of New York City's best restaurants, including Alex Roberts, Vincent Francoual, Russell Klein, or Stewart and Heidi Woodman.
It isn't an overnight turn of events that the Twin Cities food scene has attracted talent such as Kaysen, Kraus, and Macdonald.
It wasn't so long ago that Isaac Becker, the Twin Cities' most recent recipient of the Best Chef Midwest James Beard Award, had so few customers at his first restaurant, 112 Eatery, that he sent his dishwasher home early and scrubbed up himself after peering out into the dark, seemingly deserted night. It's easy to forget, amid today's embarrassment of riches, that the growth of the restaurant scene has been what Macdonald terms "exponential" in a mere handful of years since.
So will Kaysen's success attract a new wave of big-city chefs to follow his lead, hoping to trade astronomical rents, fierce competition, and stress for a more affordable, collegial community and relaxed—yet still highly respected—dining scene? The culinary scene here has arguably caught up to the museums and theaters that have thrived for generations—but chef-driven restaurants also need an extensive talent pool to sustain them. The vision of a chef is unlocked—or hamstrung—by the cooks and sous chefs who execute on the line every night. Securing, as well as paying for, that second-line talent is getting harder in the Twin Cities, mirroring a nationwide trend.
Could this Golden Age of the Twin Cities dining scene be defined also as the moment when things started to go downhill? From New York to Chicago to San Francisco, as dining scenes both established and up and coming are exploding, chefs are having a devil of a time staffing their kitchens. The Bureau of Labor Statistics estimates that almost 200,000 more cooks and chefs are going to be needed to meet demand in the labor pool nationally in the next ten years. In Robbinsdale, the popular gourmet pie joint Pig Ate My Pizza recently shuttered one entire day a week, citing staffing shortages.
"In the 15 years that I've been staffing kitchens, it's never not been a struggle," says Kaysen. "In New York it was hard, in San Diego it was hard. This isn't the easiest thing in the world to do."

SPOON AND STABLE'S 50 DAY DRY AGED PETERSON BEEF RIBEYE, SIDE OF POTATO LYONNAISE WITH SWEET POTATOES; Photo by Kelly Loverud
We can chalk up much of the difficulty to a case of growing pains. Food culture is broadening and deepening across America. Sit-down restaurants across the country are taking up the lion's share of the food-service business (growing faster than fast food, stunningly enough) and these line cooks and sous chefs have to be technically trained to execute their chef's menu. In markets such as Minneapolis, the culture inside kitchens is still playing catch up—Kaysen says that it has taken a year of intense work to mentor his staff to where he wants them to be.
"It's been more difficult to staff this restaurant than any kitchen I ever worked in New York City or Boston," Macdonald says of Parella, adding that there are a number of contributing factors. "I don't want to sound old and crotchety, but the expectation before becaming a chef or sous chef for me was 10 years of cutting my teeth. Cooks coming out of school now want to be in that chef position and skip the learning process part of it."
Can it be a coincidence that millennial cooks in the era of the celebrity chef and food TV think that a few years of culinary school means they're ready to open their own restaurants and bask in the attendant glory?
"These days there's less humility and more entitlement," Macdonald adds. "It's: I've done that already and I don't need to do it anymore."
"This is a craft and a trade," Kaysen says. "It requires discipline. It requires being good under pressure. It requires artistic value. You don't go home at night and turn it off."
Kaysen adds that it's his and other chefs' duty to teach millennial cooks in order to foster both their growth and the culinary scene's. Yet such is the job market for cooks today (openings are reportedly up 44 percent from last year alone) that some actually opt to forego the concept of apprenticeship under one chef for another reason entirely—they can bounce from kitchen to kitchen as a hired gun looking for the biggest paycheck possible, never having to deal with the responsibility of being in charge.
In spite of the strong labor market, restaurant workers lack many of the perks white-collar workers take for granted, an issue Minneapolis Mayor Betsy Hodges and members of the city council took up with a recent initiative to protect employees from unpredictable, onerous schedules and provide them with paid sick leave.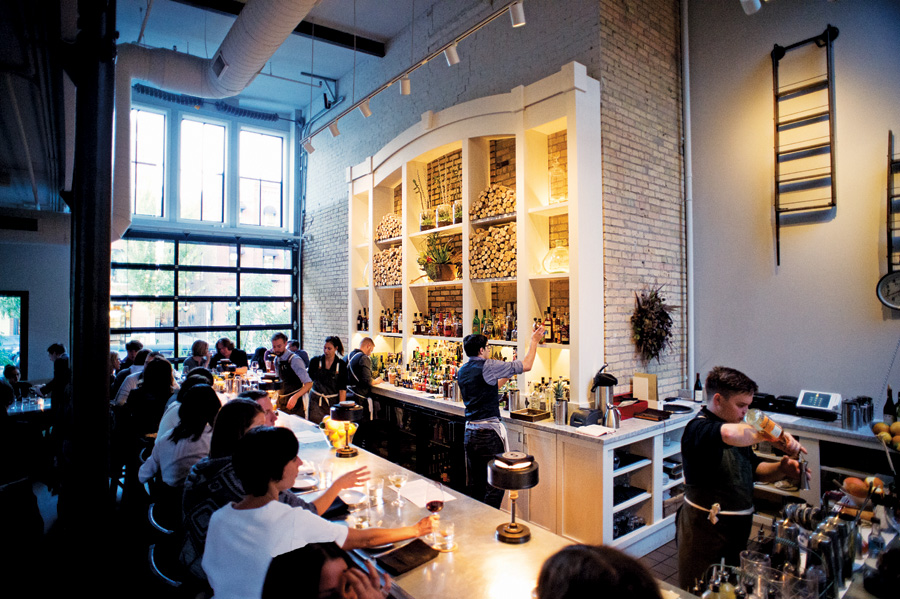 Spoon and Stable; photo by Kelly Loverud
To Minneapolis restaurateurs, already feeling the impact of last year's statewide minimum wage increase, the initiative ignored the unpredictable nature and tight margins of their business, and their outcry caused Hodges to quickly back away from the scheduling portion of the proposal. Yes, the Twin Cities dining scene feels like a supernova right now, but the flash of glamour obscures the realities of what is a perennially tough business—and chef-owners are as vulnerable as any to variations in their marketplace and factors they can't control.
"There will be a critical mass, when it becomes difficult to compete for the dining dollar, because the city becomes hyper-saturated per capita," Macdonald predicts. "I worked in New York for 12 years—you never have to worry about that there, because there are seven million people. And in Tribeca or Soho you have people in the neighborhood making seven figures who walk out and spend $300 on a meal and it's perfectly normal to them."
While the Twin Cities lacks New York's numerous and deep-pocketed diners, Kaysen's Spoon and Stable has used its blend of high-caliber cuisine and warm hospitality to dig deep roots and cultivate loyal regulars. "I didn't know what to expect," he admits. "But I like that it's taking on its own personality. It tells me that we're still striking a chord that was missing, and we're staying true to what we are."
For now, that means a hotspot that's still one of the most challenging reservations in town, a place where a seat might afford a view of a hometown son made good. What comes next will define whether the local food culture sprouts seeds in the years to come—whether in addition to cultivating our already strong ranks of homegrown chefs we'll also welcome even more world-class talent to our lakeshores, or if instead we'll remember what was and wonder what could have been.
This Year's Best New Dishes
By James Norton and Joy Summers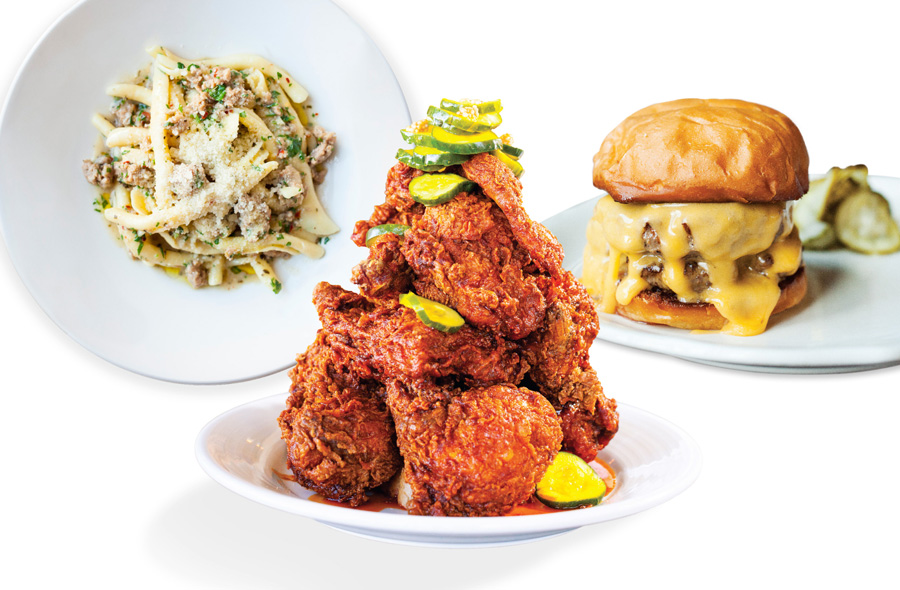 Photos by tj turner
Parella's Strozzapreti
These short twirls of pasta tumble together like children throwing themselves into giant piles of leaves. The dough resists the tooth ever so slightly while the cheesy sauce clings to every nook and cranny before dissolving on the tongue. Spiced hunks of pork sausage crumble into fennel-studded fireworks of fresh, simple, exquisite flavor. parellampls.com
Surly Brewer's Table's Octopus
The unabashedly bold flavors on the plates at Surly's Brewer's Table restaurant are a prime match for the beers brewed on the other side of the building. Octopus appendages, arranged like Stonehenge, beg taste buds to worship at their tender, smoky altar. A kick of chili oil, a heap of creamy beans, and smack of salty tapenade round out the dish with a trio of robust tastes. surlybrewing.com
Revival's Tennessee Hot Fried Chicken
Minneapolis isn't really known as a fried chicken town—okay, it's not at all known—but the debut of Revival, the new Southern spot by the owners of Corner Table, means no more whistling Dixie. The chicken is tender and flavorful, and the crust offers massive crunch without being tooth-chipping or greasy. And the Tennessee hot variety packs a serious burn without overwhelming the deliciousness of the chicken or the constitution of the diner. revivalmpls.com
Saint Dinette's Cheeseburger
There's a lot to love about Lowertown St. Paul's newly opened Saint Dinette: the tastefully minimalist decor, the dilly beans, and the playful riffs on New World-interpretations of French cuisine, for starters. But the eminently ordinary-sounding cheeseburger is drawing some of the most enthusiastic raves. The kitchen's high-concept take on a classic low-brow meal is spot on, from the thoughtful blend of meats that makes up the expertly flattened patties, to the soft, yielding bun, to the gooey house-made "American" cheese. saintdinette.com
Surly Beer Hall's Hog Frites 
When the suds are good, beer-drinkers can get by with surprisingly mundane fuel—that's why most bars don't try harder than heat lamp-warmed popcorn and  peanuts with shells to toss on the floor. But Surly's gorgeous new destination brewery complex has seriously upped the ante with the food served at its beer hall and upper-level restaurant, Brewer's Table. Start with the hog frites. Textbook fries are piled with an addictive blend of tangy giardiniera, a surprisingly light cheese sauce, and pulled pork that brings an earthy, meaty solidity to the dish. And it holds its own even when paired with one of Surly's most aggressive brews. surlybrewing.com
This Year's Best New Drinks
By James Norton and Joy Summers

LEFT TO RIGHT: CLOVER CLUB COCKTAIL, MOTORETTA, AND FITZGERALD & TONIC; PHOTOs by tj turner
Tattersall Distilling's Clover Club Cocktail
There may be a sweet, virginal blush to this curvy beauty, but don't write the Clover Club off as something simply saccharine. The lovely hue comes from a drizzle of raspberry syrup that mingles with Tattersall's crisp, house-distilled gin. Lemon juice snaps the tongue like winter wind while the egg-white froth soothes for good measure. tattersalldistilling.com
Monello's Motoretta
The Motoretta at Monello may be tough to say five times fast, but it's dangerously easy to drink, especially when paired with the restaurant's refined Italian fare. Gin, white vermouth, and orange bitters are mixed with génépy, an aromatic liqueur with judicious bitterness, then garnished with a tailored orange peel. Despite its tall glass, the drink disappears at a stunning rate. monellompls.com
Anelace Coffee's Cardamom Latte
What makes a perfect latte? Like most things, it's all about balance: in this case, the pivot point between sweet and bitter and the proper blend of coffee with steamed milk. A great latte should be a silken delight—rich with dairy goodness, yes, but with the complexity of espresso shining through as well. And at Anelace in northeast Minneapolis, the bonus of a house-made cardamom syrup that chimes in at a tasteful but perfectly audible whisper. anelacecoffee.com
Du Nord Cocktail Room's Fitzgerald & Tonic
The Minnesota cocktail room revolution—the artisan distiller's answer to the craft brewer's tap room—is just getting started, and it's pioneers such as Du Nord Craft Spirits that are leading the charge. The house standard at this funky south Minneapolis space is the Fitzgerald & Tonic, and classic rendition of a G &T using Du Nord's own assertive but clean-tasting gin. Like Du Nord's other drinks, the Fitzgerald & Tonic wins with the trifecta of affordability, proper mixing, and strength. dunordcraftspirits.com
Spoon and Stable's Old Fashioned
Roasted pineapple and barrel-aged Barbados rum provide the backbone of this utterly unique twist on the classic American cocktail. The first thing to do is take in the aroma—evocative notes of oak and vanilla. While dancing at the edge of sweetness, the drink's tartness and strong spirit flavors hold it at bay. It's a blend that seems at once entirely familiar and unlike anything else. spoonandstable.com
Facebook Comments