START ARGUING NOW! We have incredible pizza in the Twin Cities—from Neapolitan to fancy-pants to classic. I could do a cop-out here and list the best slice, the best ingredients, the best service, the best old-school…but I'm just going to rank it and let you tell me I'm wrong. Even though I'm not. But, seriously—I probably haven't been to your favorite spot, so make sure to tell me about it in the comments.
The Twin Cities' Best Pizza:
12. Delicata Pizza & Gelato St. Paul
The new kid in town, Delicata's squash pizza with prosciutto and blue cheese is getting the attention, but don't miss the pork sausage with ricotta and fennel. 
11. Red's Savoy Various cities
The classic red-sauce pizza—thin crust and an over-the-top amount of cheese. Around since 1965 and growing, as the owners are franchising it.
10. Pig Ate My Pizza Robbinsdale
The Travail team has brought the fun to pizza: Try the Piggy Pie, pepperoni three-ways on a brioche crust, and Bay of Pigs (Cuban sandwich-inspired)!
9. Pizzeria Pezzo White Bear Lake
Deep-dish pizza as close as you can get to Chicago-style in this town. Excellent crust holds up against the heft of the cheese, sauce, and fillings.
8. Young Joni Minneapolis
Ann Kim is the Pizza Goddess in this town. Her flavors at Young Joni are top notch: The Basque with chorizo and piquillo pepper is my fave.
7. Cossetta Italian Market & Pizzeria St. Paul
Underrated, NY-style slices at Cossetta. The pepperoni is perfect; fold it up and enjoy.
6. Latuff's Pizzeria Plymouth
Old, old-school pizza, cut diagonally. Why? You get more pieces with crust, but a bigger bite than square-cut. Young Chef Mike DeCamp worked here as a kid.
5. Hello Pizza Edina
Controversial that I like Hello Pizza more than Pizzeria Lola? This is a great slice, with terrifically chewy, yeasty dough. Why aren't there five of these yet?
4. Black Sheep Coal Fired Pizza Minneapolis/St. Paul
It's the fennel sausage, and the hot salami, and that oyster mushroom/smoked mozzarella pizza. My love for Black Sheep burns hot.
3. Mucci's Italian St. Paul
Fried pizza! Montanara is magic, and now you can buy the frozen version at local Kowalski's.
2. Pizza Nea Minneapolis
The dough is so good I could eat it without any toppings, and Pizza Nea's monthly specials are always stellar.
1. Punch Pizza Various cities
I know it's not trendy to like Punch: Too many locations! It's too soggy! But it's excellent. Top-notch ingredients, fast-casual before that was a thing, friendly staff. It's the best.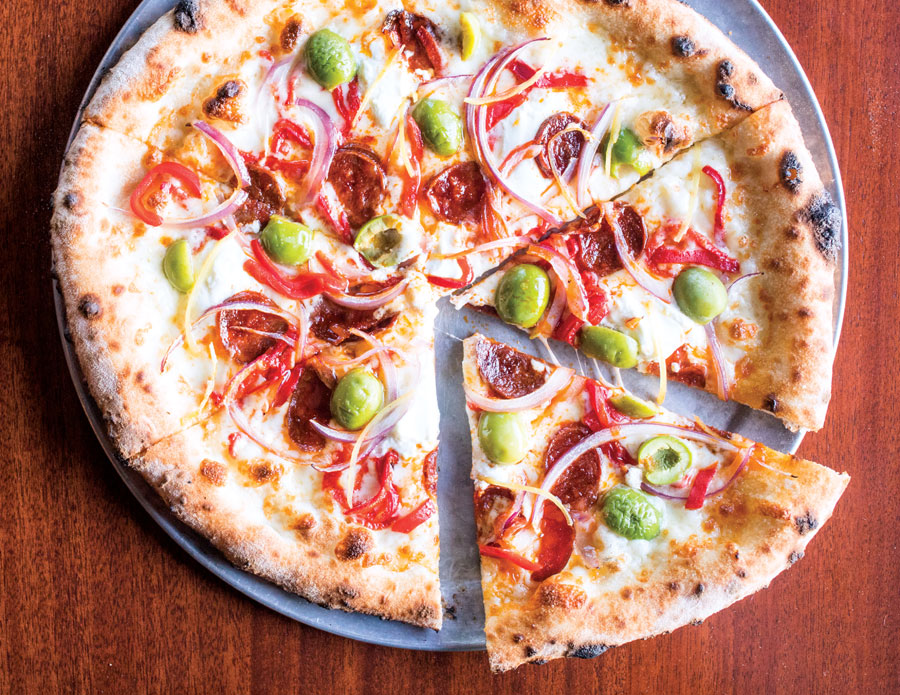 Young Joni's Basque Pizza
Want to taste and vote for the best slice in the Twin Cities? Come see me Sunday at Minnetonka Orchards, where 10 different pizza places will square off! Buy your tickets here! Use the code "J&JSLICE" to save $5!  And who's competing?