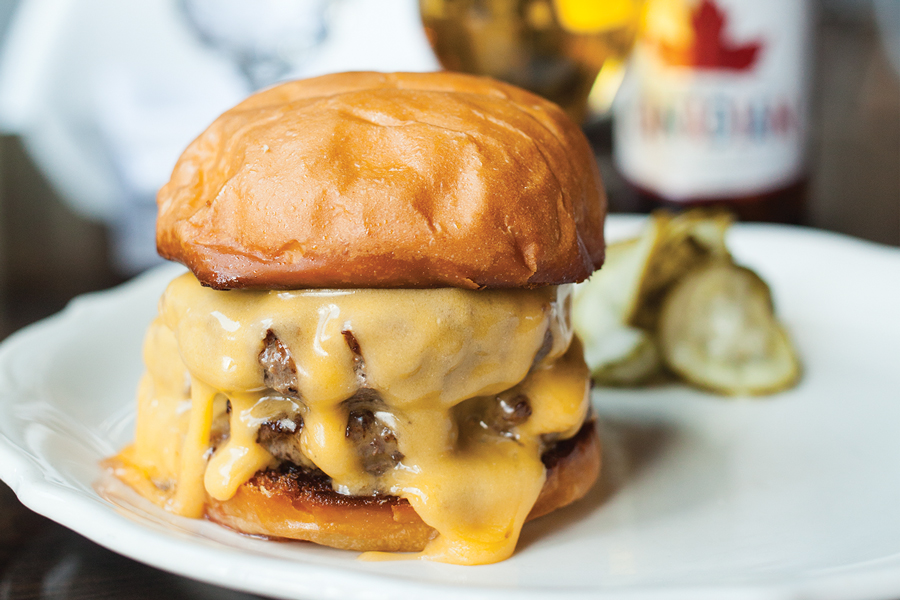 Saint Dinette
photo by tj turner
---
Joy: Lowertown's rise has been a thrill to watch. It has retained the artistic vibe and is teeming with delicious eateries.
Saint Dinette: This restaurant has become my catch-all for dining occasions: special birthdays, happy hours, post-farmers' market brunches, and late-night visits for buttery burgers drenched in cheese. Saint Dinette has some of the best service in town, and the food, drinks, and wine all are crowd pleasers. 261 E. Fifth St.
Handsome Hog: Chef Justin Sutherland is becoming a nationally known celebrity chef. His Southern-style menu makes great use of all things porky and smoky. The sweet-corn chowder tastes like the peak of summer, and the chicken wings on wee waffles are still one of the tastiest takes on the iconic dish. 203 E. Sixth St.
Jason: The St. Paul Saints have packed up, but Lowertown is still alive with activity. Restaurants and bars just east of downtown keep getting better.
Salty Tart: A true showcase for brilliant pastry chef Michelle Gayer, the tarte flambeÌe will make you think you're in Alsace. A hint of chili oil and lime, plus her exceptional sourdough bread, makes for fine avocado toast. This spot is great for breakfast, lunch, and coffee. Inside Market House Collaborative, 289 E. Fifth St.
Barrel Theory: Some of the state's best IPAs are coming out of this small brewery powered by a number of beer industry veterans. And they pack a punch: Rain Drops is 7.5 percent ABV but balanced, citrusy, and delicious. Bring in food from Dark Horse next door. 248 E. Seventh St.
Facebook Comments