Each month, in our "Restaurant Rumble" conversation, MnMo food critics Jason DeRusha and Joy Summers review two restaurants and pick a winner.
---
Joy: Ever since James Beard Award–winning chef Alex Roberts announced that his restaurant would expand into the space next door, we've been hoping it would live up to our sky-high expectations.
Jason: I love that Cafe Alma is an option for breakfast, and coffee and a pastry, and a quick sandwich at lunch, and a happy hour cocktail, and a full dinner. I can't think of another restaurant that so effortlessly flows from one part of the day to the next.
Joy: Or another one with seven boutique hotel rooms above it. I could live here!
Jason: It'd be cheaper to take a little bit of Alma home with you—they sell loaves of their top-notch bread to go. At the Cafe, it costs $3 for an order, plus $1-$3 extra for butter or olive oil, but worth every penny.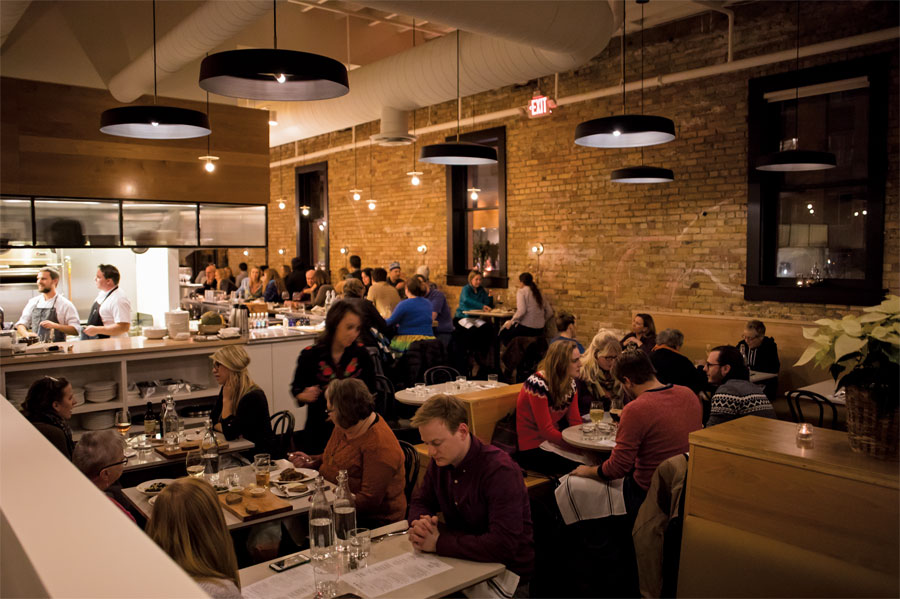 Cafe Alma
photos by tj turner
---
Joy: And the pastries are outstanding, especially the Danish.
Jason: Restaurant Alma is known for cooking that elevates great ingredients to unimaginably flavorful heights. That largely continues at the Cafe. Fried cauliflower is on dozens of menus right now, but I've never had it as light and airy as their sesame-ginger version. 
Joy: Bone broth is another dish having a moment, and Cafe Alma's is the best I've tasted. Pair it with the homemade crackers and spreads or the winter salad with greens, pesto, and roast squash. It's virtuous eating at its most delicious.
Jason: The macaroni and cheese will please critics and kids alike with its rich smoked Gouda and crunch of Parmesan crumbs.
Joy: Their pasta is suburb. The rigatoni with a long-stewed ragu was heavenly comfort and it's available as a small bowl or a full-sized dinner portion.

House Rigatoni
---
Jason: I could see myself coming in for so many occasions. For example, a business meeting with an order of kimchi-topped crispy bean pancakes or the giant saffron "arancino," a fried rice ball stuffed with fontina cheese. Cafe Alma works for both a quick coffee or a leisurely nightcap, and everything in between.
Joy: The cocktails are inventive and whimsical. The Frosted Gimlet seems like a gimmick—they make peppermint cotton candy and pour the fresh lime juice and booze over it—but the whole thing dissolves into the drink of your dreams.
Jason: A lot of the entrées are classics that have appeared at Restaurant Alma, including turmeric-marinated fish and Portuguese stew.

Turmeric-And-Yogurt Roasted Mahi
---
Joy: Even something as simple as a turkey burger was perfectly executed. 
Jason: The excellent dessert list perfectly sums up the cafe's sensibilities, from its delicate orange financier with cardamom syrup and honeycomb candy to its nostalgic brownie cake.
---
Cafe Alma Quick Tips:
Reservations: Not accepted
Parking: Valet during dinner, but street parking is plentiful
Can't Miss Cocktail: The cotton candy gimlet is actually delicious
---
This month's "Restaurant Rumble" pitted two hotel eateries against each other, lauded Cafe Alma takes on Hewing Hotel's Tullibee. Find out which restaurant Jason and Joy chose as the winner in the February 2017 issue of MnMo.
528 University Ave. SE. MPLS., 612-379-4909, almampls.com