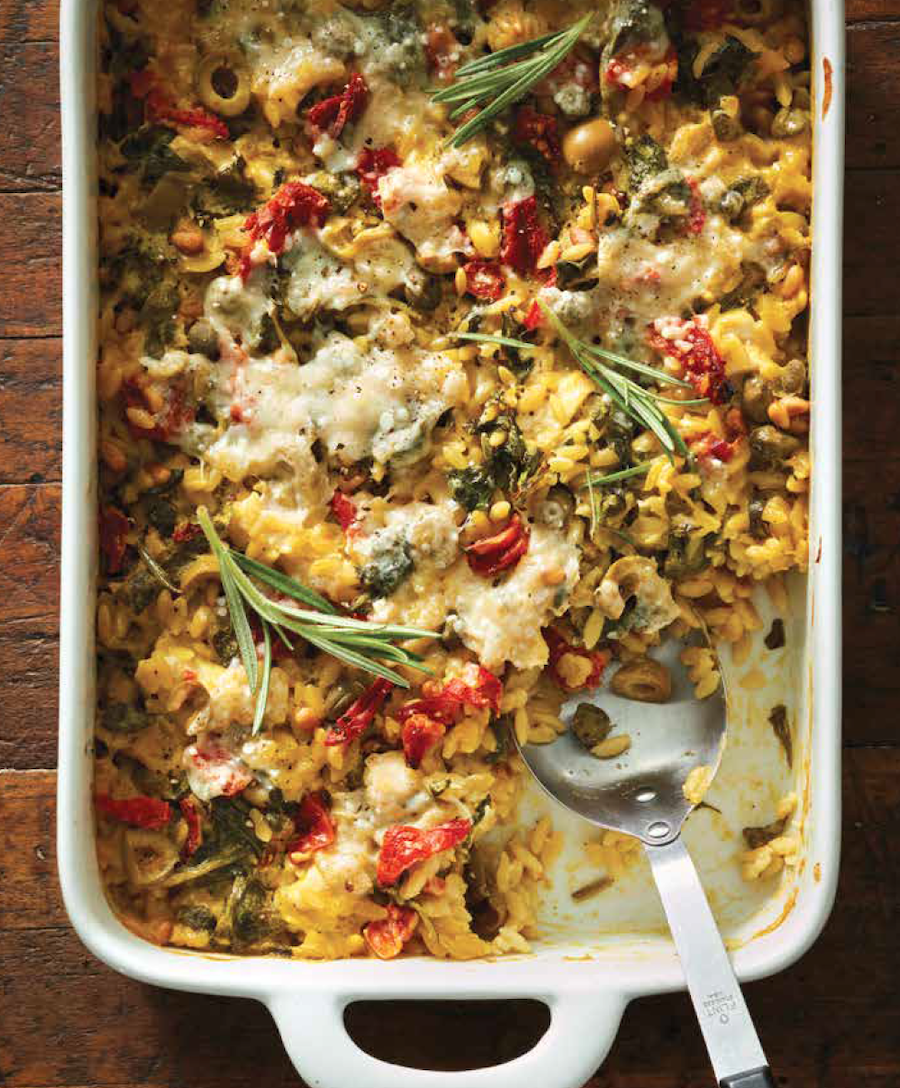 It's hard to beat the comfort and ease of a casserole, or as we call it here—hotdish. They can feed a number of people or provide handy leftovers for another meal, they are cost effective, and some can be made ahead for extra ease in prep. There can be a stigma that they are an old-fashioned, heavy food. But you can make a classy casserole with more vegetables, no canned soups and plenty of sophisticated charm, such as this vibrant dish.
Sun-dried tomatoes, capers, lemon, olives: This pasta bake is a fabulous mix of all the Mediterranean flavors I love, says Faith Durand, editor-in-chief of Kitchn, who created this recipe for Real Food. You don't even have to cook the pasta ahead, she says. It absorbs all of those tastes and bakes to perfectly al dente in the oven.
Chicken Orzo Florentine
Makes 6 Servings
16 ounces uncooked orzo pasta
¼ cup pine nuts
2 tablespoons olive oil
4 garlic cloves, peeled and roughly chopped
¼ cup chopped sun-dried tomatoes
5 ounces baby spinach, roughly chopped
¼ cup capers
¼ cup chopped green olives
12 ounces uncooked chicken breast, cut into fine strips, 1 to 2 inches long
1 lemon, zested and juiced
4 cups low-sodium chicken broth
2 tablespoons Dijon mustard
1½ teaspoons salt
freshly ground black pepper
2 ounces Parmesan, roughly grated or shaved with a peeler into long thin strips
Heat the oven to 350°F and grease a 9×13-inch baking dish with baking spray or olive oil. Spread the orzo in the greased dish.
Heat a heavy skillet over medium heat and toast the pine nuts, stirring frequently and watching closely to make sure they toast to a dark tan color but do not burn, about 2 to 3 minutes. Stir the pine nuts into the orzo.
Return the skillet to medium heat. Heat the olive oil and cook the garlic and sun-dried tomatoes until soft and fragrant, about 3 minutes. Stir in the chopped baby spinach and cook in handfuls until lightly wilted. Remove the pan from the heat and stir its contents into the orzo. Stir the capers, chopped green olives and pieces of chicken breast into the orzo as well. Sprinkle the lemon zest on top.
Heat the chicken broth to boiling, then whisk in the lemon juice, Dijon mustard, salt and a generous quantity of black pepper. Pour gently over the orzo. Cover the pan tightly with foil. Bake for 25 to 30 minutes, or until pasta is just al dente (it will still look saucy).
Remove the foil and turn the oven to broil. Sprinkle the Parmesan on top and broil for 2 to 3 minutes or until cheese is melted and the edges are crispy. Serve immediately.
Nutrition Info Chicken Orzo Florentine (Per Serving): Calories 572 (147 From Fat); Fat 17g (Sat. 4g); Chol 42mg; Sodium 1164mg; Carb 72g; Fiber 5g; Protein 34g
Facebook Comments