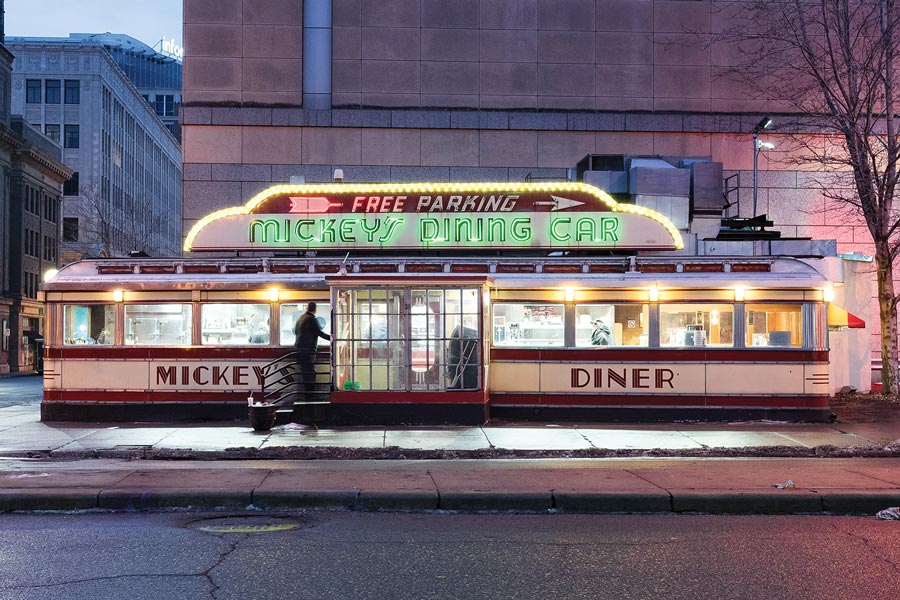 Photo by Kevin Kramer
---
Breakfast culture is strong in Minnesota: plate-size pancakes, red-flannel hash, eggs, a cup of coffee that never drains, and conversations that begin, "Cold enough for ya?" These are the diners where we can get all of that served all day.
Band Box
This slip of a little white-and-red diner near the edge of downtown Minneapolis was nearly lost a few years ago, before fans rallied to save the business. It's hard to imagine a life without this no-frills diner's classic breakfasts and legendary burgers. Band Box was built in 1939 and was supposedly once a drop-off site for notorious gangsters.
729 S. 10th St., Minneapolis, 612-332-0850
Al's Breakfast
It's as much a restaurant as it is an alley. The barstools at Al's, near the University of Minnesota campus, are always in high demand. Famous for  enormous blueberry pancakes, Al's serves all the breakfast favorites, with service that is thankfully never too effusive.
14th St. SE, Minneapolis, 612-331-9991 | alsbreakfastmpls.com
Ideal Diner
There are just 14 stools inside this tiny breakfast and lunch spot on Northeast's Central Avenue. Built in 1949, the blinking bulbs on the distinctive red, yellow, and turquoise sign rightly suggest eating here. Come for the massive pancake for just $1.50, or the Friday-night fish fry—the only night the Ideal serves dinner.
1314 Central Ave. NE, Minneapolis, 612-789-7630 | idealdiner.com
Keys
This homey diner excels at down-home classics, including a hash that will leave you full for days and a voluminous cinnamon roll that wouldn't look out of place beside Darwin's Largest Ball of Twine. The original diner is located on St. Paul's Raymond Avenue and still fills with regulars, nursing cups of coffee, every day.
767 Raymond Ave., St. Paul, 651-646-5756 | keyscafe.com
Mickey's
This iconic dining car serves everyone from the down-on-your-luck to the City Hall swells with the same gruff service 24 hours a day, seven days a week. Prices are affordable, and the scent of those crispy hash browns will linger in your clothes like a fine urban perfume. Order America's Favorite All-Day Meal.
36 W. Seventh St., St. Paul, 651- 698-0259 | mickeysdiningcar.com
Facebook Comments