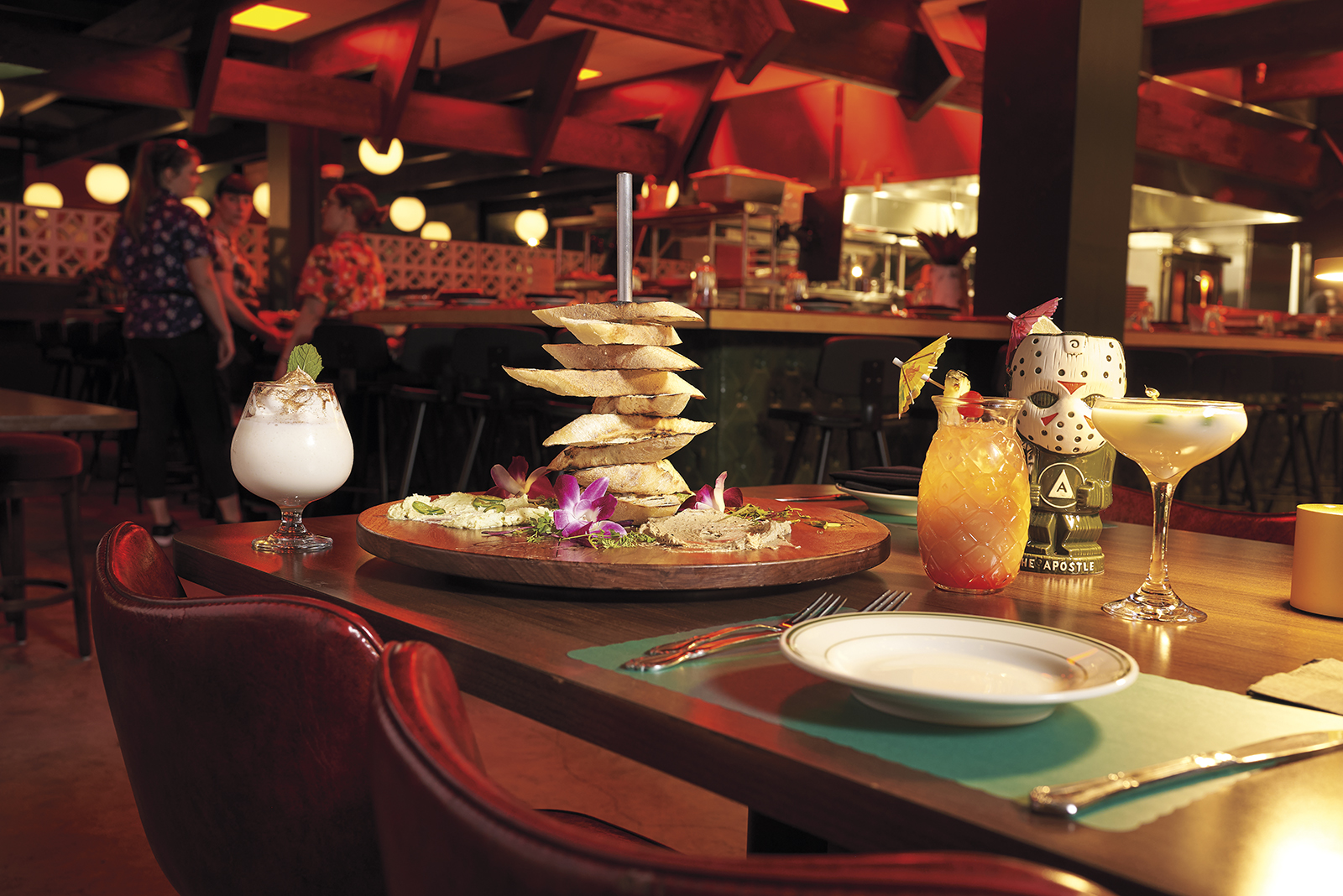 Arriving hot on the heels of its sister location 16 floors above Duluth-Superior Harbor—a Radisson landmark that rotates like a slow-moving movie set—comes the Apostle Supper Club's splashy debut in St. Paul.
The latest opening from Brian and Sarah Ingram's burgeoning Purpose Restaurants group (which includes the Gnome Craft Pub and Hope Breakfast Bar) was designed by the Minneapolis-based Collage Architects with a very specific mood in mind. One that bodes well for the most bitter stretches of Minnesota's long winters: Palm Springs in the '60s. Think sunken living rooms, custom wall-to-wall carpeting, and the lingering sense that you should leave your worries at the door to enter this forest green portal into another place and time.
Dinner often starts with a relish tray of pickled accouterments and ends with either a berry-studded Jell-O cake or a round of blended Grasshoppers made with peanut butter whiskey, RumChata, and heavy cream. Chef Brian treats the rest of his menu like a rule-free riff on supper club traditions, from chicken-fried lobster with rainbow chard, kale, garlic butter, and a caper tartar sauce to a Wagyu steak that's been charred in a cast-iron pan and sliced alongside baby bok choy and a puddle of tomato-puree-tinged bearnaise sauce.
For something a little less indulgent, there's always the budget-minded bites from the in-house tiki bar named False Eyedoll, including chicken wings spiked with sumac, za'atar, and harissa; pulled kalua pork rounded out by charred rice, cabbage slaw, and mango salsa; and fried Spam "tacos" wrapped in wonton shells.
As if the Ingrams weren't busy enough turning Hope Breakfast Bar into a local chain with several outer suburb spots, the Apostle is part of a broader plan across from the Xcel Energy Center that includes a luxe apartment complex (the Arlow on Kellogg), a new Courtyard by Marriott hotel, and yet another Purpose Restaurants property, to be called Spring Break. Its form of escapism will be indebted to another decade entirely—the 1980s, complete with candied cocktails, mountainous nachos, and "Miami Vice"-style ceviche.
Apostle Supper Club, 253 Kellogg Blvd. W., St. Paul, apostlesupperclub.com
Facebook Comments