Three new whiskeys that hit the market at the end of November made me stand up and give our local distilleries another look. I've been sampling (I do this for you all, I promise), and I'm here to tell you: If you've been avoiding local whiskeys and bourbons because they taste young, hot, and not quite ready for prime time—Minnesota whiskeys are growing up.

J. Carver's Single Malt Etiquette Whiskey
I've been a big fan of J. Carver's apple brandies and especially their barrel-aged gins, but this is their first whiskey that is really something special. They have a solid rye whiskey, but this is a single malt whiskey. What's that? It's a whiskey made from a mash that's mostly malted barley—most whiskeys are made from corn, rye, or wheat. Non-malted grains. Most people think of single malt as a Scotch whiskey thing, but there's no reason Americans can't make a single malt. J. Carver used a single strain of malted barley, developed by BSG which is part of Rahr Malting in Shakopee.
"Etiquette is a distinctive whiskey with flavors of dried fruit, red currant, bright citrus, spices, malted cereal, butterscotch, and nougat," said Gina Holman, one of the founders of J. Carver in Waconia. This is really a whiskey that can unite a Scotch lover and a whiskey lover. I enjoyed it by a backyard fire pit, which felt right, because the I did get a bit of smoky oak flavor as well, along with that beautiful spiced fruit Gina talked about. It's terrific. jcarverdistillery.com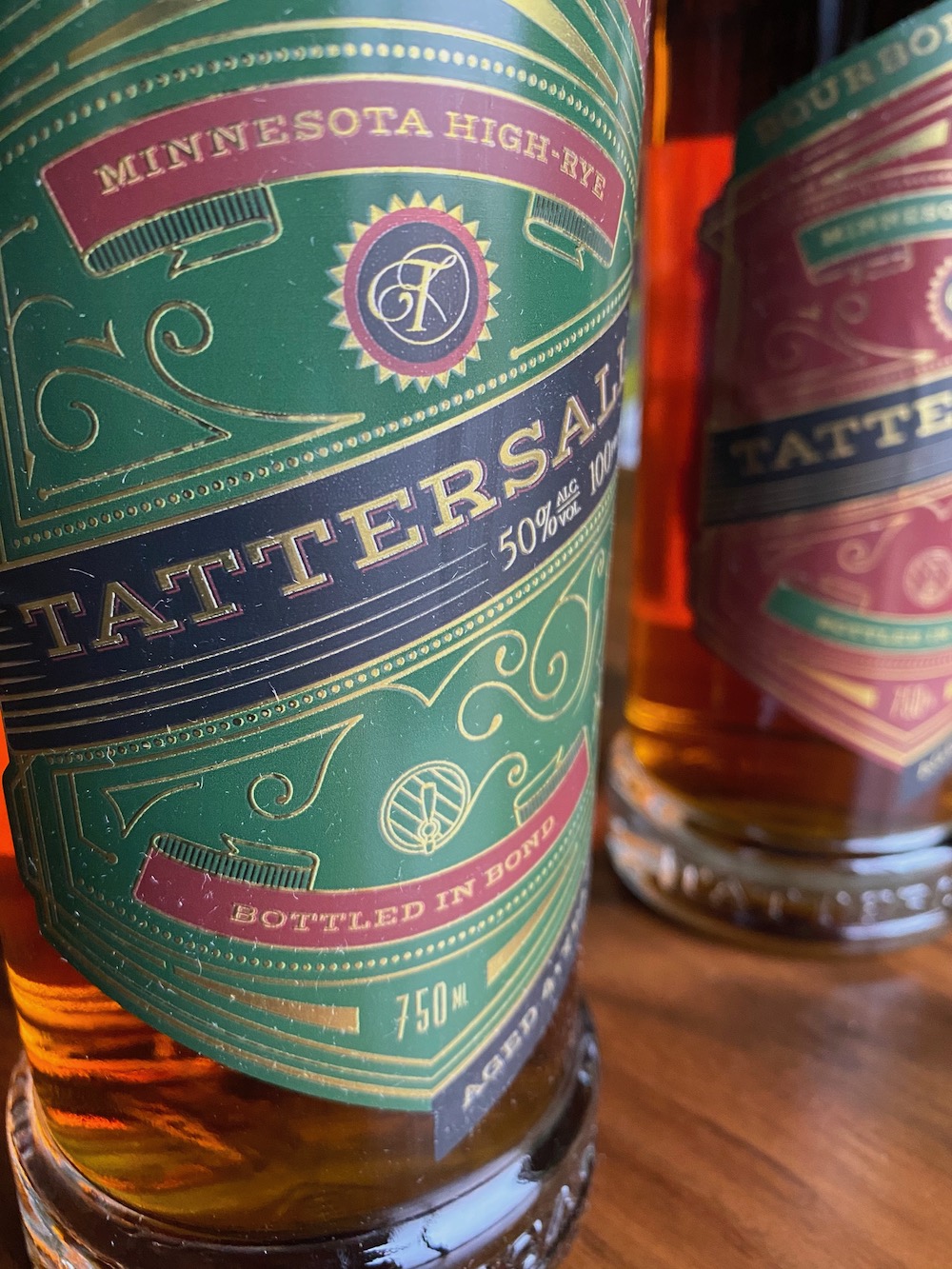 Tattersall Distilling's Bottled In Bond Bourbons
Tattersall makes my favorite Gin in the state, but they have also been working hard on their whiskey program. Which takes time and money—it's not easy to let those barrels of alcohol sit there not making any money for you! Bottled in Bond dates back to 1897, but it's really re-emerged over the last five or 10 years. The idea of the Bottled in Bond Act was to ensure the integrity of the whiskey—and to make sure that something called whiskey or bourbon was what it claimed to be. The rules: must be the product of a single distiller in a single season (January-June or July-December), aged for a minimum of four years and bottled at 100 proof (50% ABV). Tattersall says they're the first to do this in Minnesota since before prohibition, it's also Tattersall's first bourbons after six years in operation.
These are made from local grains and aged in Minnesota white oak between 4-5 years, and they're priced really well at around $50 a bottle. You'll find a high-rye bourbon (spicy and dry) and a wheated bourbon (sweeter, traditional). "It's been a true test of patience waiting for our bourbons to mature—and we couldn't be happier with the results," said Jon Kreidler, founder and chief officer of Tattersall Distilling. "It's a thrill to be the distillery that brings bonded bourbons back to Minnesota, and to do so with two that are distinctly different." tattersalldistilling.com
Brother Justus Whiskey
Brother Justus has just officially launched. Similar to the J. Carver approach, Brother Justus is also doing American Single Malt Whiskey. They were set to launch a beautiful distillery room, but COVID shut down indoor dining and drinking. These guys are used to waiting: they were founded in 2014, producing a tiny amount of whiskey every year in an underground distillery. Founder Phil Steger has been experimenting with malted barleys and peat and oak barrels to try to get to what he's looking for. Now he's ready for primetime with a big beautiful distillery and cocktail room overlooking Columbia Park and golf course in Northeast Minneapolis.
But he'll wait some more. They're doing curbside, and the whiskey here is worth that wait. Three varieties: a Silver Whiskey which doesn't spend time in a barrel (most places call this white whiskey). It's designed to showcase the barley flavors—but to me, this is really created to be used in their cocktail room as a gin or vodka replacement. The American Whiskey is butterscotch in color, spends less than a year in the barrel, but it's not as hot tasting as some of the younger whiskeys we have around here. At 86 proof, you get nice toasted oak and a hint of smoke. Rock solid whiskey. The showstopper, though, is the Cold-Peated Whiskey. It's also 86 proof. They describe it as earthy and herbaceous. I found it mushroomy and absolutely fascinating for something that's only spent less than a year aging. How do they do this? It's almost like a Scotch. Very cool. brotherjustus.com
Facebook Comments