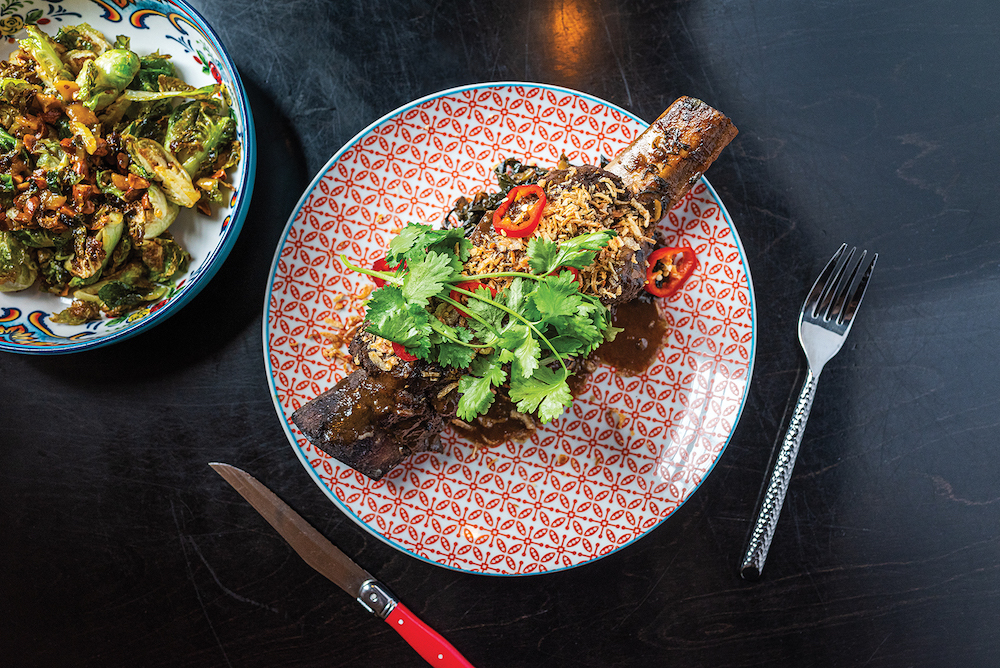 It's hard to describe the most interesting new restaurant in the Twin Cities. And I don't mean "iiiiinteresting" in the Minnesotan way. The menu at Stepchld (no "i") has Ethiopian flavors, Indian bread with Middle Eastern spices, Argentinian shrimp and grits, and a short rib of Fred Flintstone proportions with an African glaze.
And all of this cooking is happening with a couple of fryers and a flat top griddle in the narrow space that used to be the northeast Minneapolis burger and brew spot JL Beers.
You get the idea you're entering someplace different the moment you walk in the door. It gives off California vibes: lots of natural light, greenery, cool art. Look straight ahead and Nina Simone and Erykah Badu are staring right at you from a striking oil-painted mural by local artist Jessica Larum. Look up and you'll see pipes with green plants looping around the entire restaurant. The overhead hydroponic garden changes every time you visit.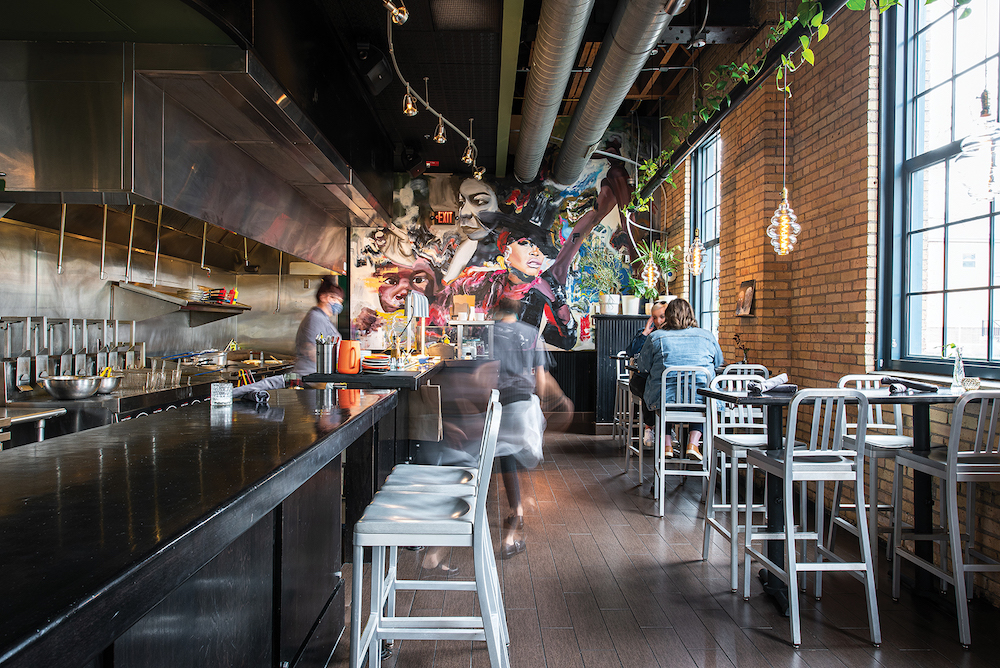 "It's coastal, off-kilter, and comfort melted together. I picked green because green induces creativity," brand director Kamal Minneapple says. Before this, he helped his parents create the red-hot chicken restaurant Nashville Coop, and after eight years working in startups in San Francisco, L.A., and New York, he's home.
Executive chef Jessica Cak's menu is tightly edited. Dinner has eight small plates and four entrees. Bring your friends and order everything—that's what we did. Beautiful cubed beets have a really present hint of cardamom dusted with pistachios. A bowl of curried brussels sprouts shines with dried apricot and almonds. A salad of julienned fennel arrives with a burst of sweetness from braised grapes and then the crunch of pumpkin seeds.
Late night, sit at the bar and Tess will guide you through a thoughtfully selected wine list heavy on natural wines, as all of the hip wine lists seem to be right now. Get the Chapati, an unleavened, round flatbread folded into triangles and brushed with butter, local honey, and then filled with za'atar spices. It's addictive.
Everything here has a twist. Come for weekday lunch to get their riff on birria. These tacos are griddled almost like a quesadilla and burst with berbere spice. Or, have midday breakfast: Dig the texture and earthiness of the wild rice pancakes. At brunch only, the K-Pop rice bowl brings together a thick slab of Peterson Craftsman Meats; perfectly fried and crispy rice; and the incredible flavor of brussels sprouts soaked in kimchi. There's a legit coffee program with pour-overs, French press, and the absolute beauty of the Japanese siphon technique: The coffee grounds sit in water before a vacuum effect siphons the filtered coffee into a lower vessel. It's part art, part theatre, and part science experiment.
That's not the only Instagram darling at Stepchld. The Twin Cities burger brigade is buzzing over the Cooper Burger, a double smash-burger that manages to be both juicy and crispy. It's messy with sharp, melty, white American from Philadelphia-based Cooper Cheese and chipotle mayo on a potato bun. Get it, cut it, share it, and save room for the entrees.
Shrimp with a zesty peri-peri sauce swimming in a feta-cheesy pile of grits is a good way to live life. Preserved lemon brings some acid to cut through all of the fat. The short rib truly delighted with a tamarind and ginger glaze that gave real oomph to the beef. The $40 price seemed steep on the menu until it showed up—more than enough for four to share.
In a way, Stepchld is hard to define because it's not asking to be defined. It's Black-owned, the team is 80% women, and its aesthetic is bright and green, yet dark and moody. The bottom line is that the food is craveable, the service is incredible, and it's one of the most vibrant and exciting new restaurants we've had here in years.
24 University Ave. NE #100, Minneapolis, 612-354-7409, stepchld.com
Facebook Comments