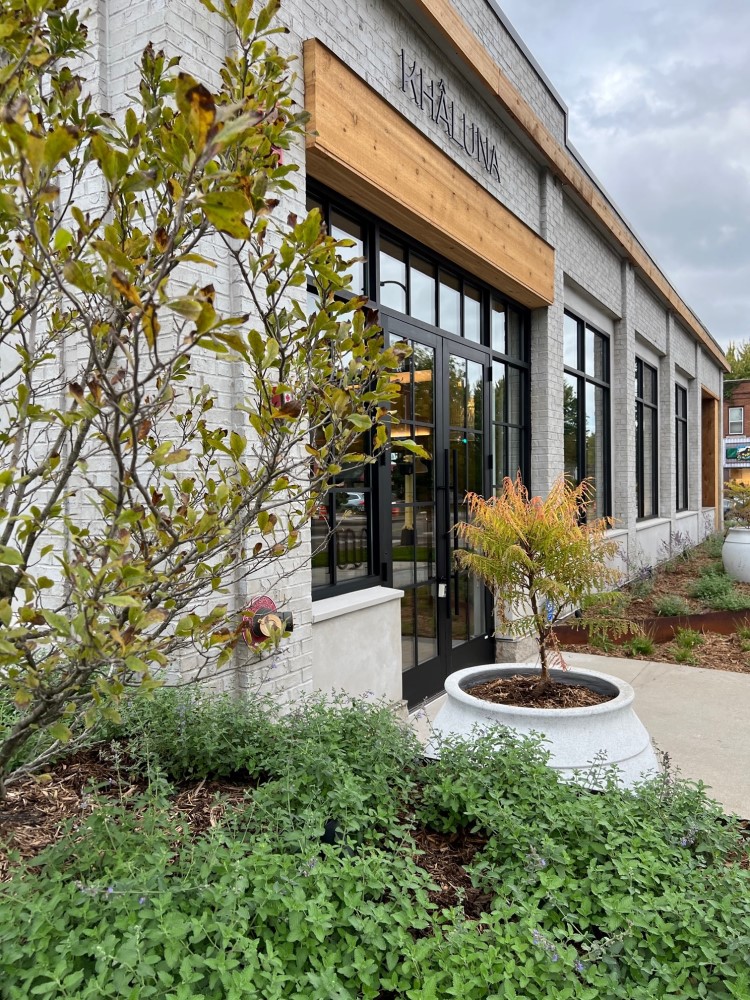 What a stunner of a room! Khâluna is absolutely gorgeous: the old Harriet's Inn at 40th and Lyndale has been gutted and is all air and calm and light—a breathtaking backdrop for the lively, bright colors and bold flavors of chef Ann Ahmed's cooking.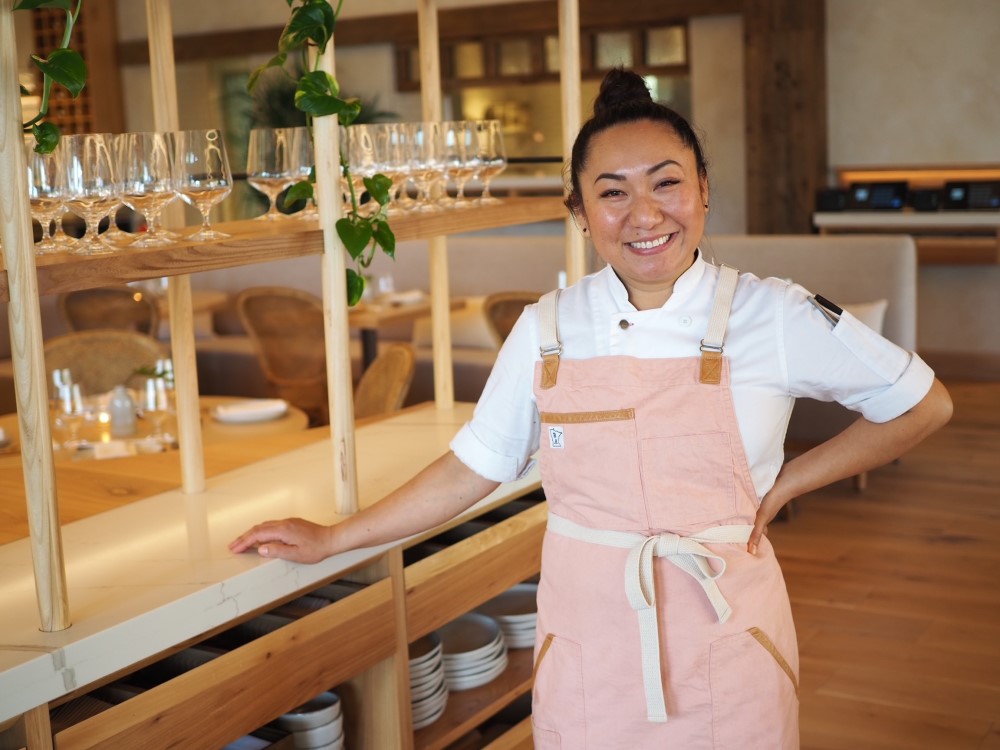 Ahmed was already a favorite for her north suburban gem Lemongrass (a sort of iykyk space that feels like a big-city restaurant in a Brooklyn Park strip mall). She became a foodie and scenester favorite with her project in an old Perkins: Lat 14 in Golden Valley. And now? Her first foray into Minneapolis.
Ahmed showed us around Khâluna on the eve of reservations going live, in advance of the opening on October 20. Inside, around 90 seats (very spread out) lead to a wall of sliding doors that reveal a gorgeous patio of another 40 or 50. The sliding doors and patio were already part of the $2 million building that Ahmed and her husband bought from the previous owners, but they added a roof over the patio to hopefully extend the outdoor eating season. Minneapolis restaurant designer Shea devised the space, with Ahmed providing inspiration from her and her husband's travels.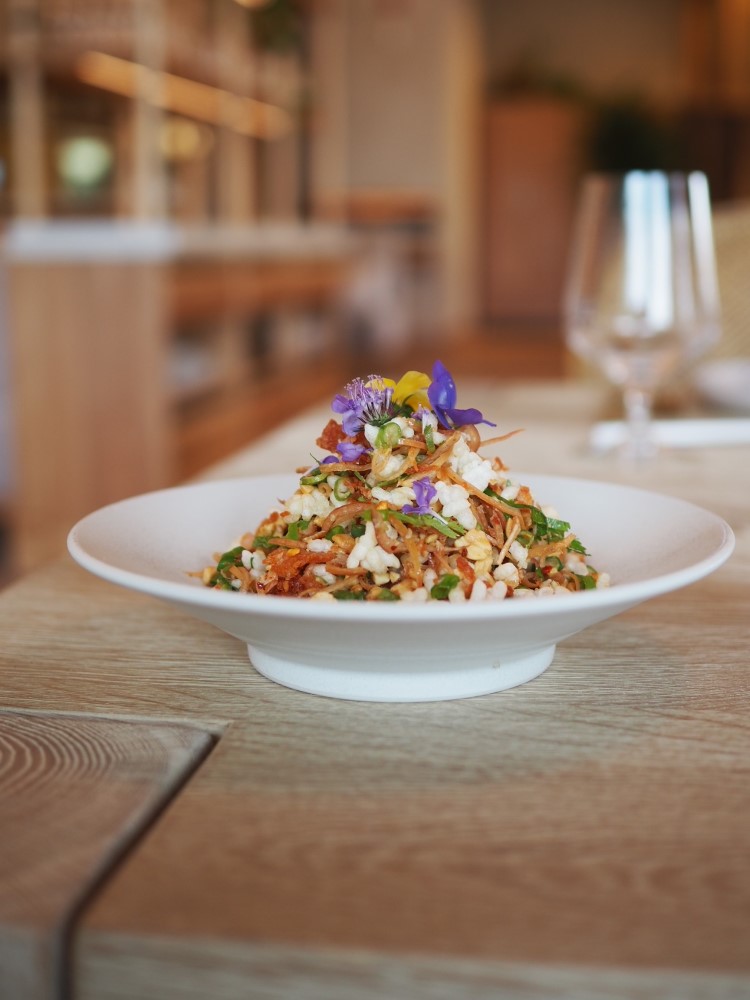 The food is vintage Ahmed: It's anchored in traditional Thai and Vietnamese flavors (banana blossoms, spicy rice powders, Thati chilis, coconut milk, lots of fish sauce) but amped up, a result of her time living in California. These are not flavors for the timid, and these dishes are practically begging to be photographed. We'll be back for a full review, but the first tastes in this preview were spectacular. (Above is the Mieng Taa, $19—an explosion of flavors and textures with crispy puffed rice, smoked salmon flakes, and yard beans. This is a beautiful dish, isn't it?)
Rainbow rice is colorful and anchored by butterfly pea flower rice. Squeeze lime over the rice and it turns from blue to purple. Pour the dressing over the purple cabbage, pink grapefruit, orange carrots, and green mangoes, then mix it up—and wow. (For $21, you expect a bit of wow, don't you?)
Lots of interactivity here. With the pineapple noodles, you pour the coconut milk on the dish and add however much fish sauce you want.
The Bucatini Talay is super cool—the feel of a rich Italian pasta dish with big, beautiful shrimp, along with the funk from Yom Tum paste and Thai chilis.
If you're looking for non-alcoholic drinks, you'll love what Trish Gavin and her bar manager Ethan Poindexter have put together. Unlike many N/A drinks, these are largely sweetened with the sugar alternative Erysweet, so they're not sugar bombs. I loved the Relax, with jasmine, lavender, and chamomile, as well as the Awaken, with ginger and peppermint. Terrific lassis, as well, including a ginger lassi that has green coffee and the silkiness of ghee.
The drinks with booze are impressive, too. I loved the martini—it's so savory due to a gin that sits with saffron for at least 24 hours. I've never had a gin and tonic I've enjoyed more than at Lat 14, but the tonics at Khâluna are in that league. As at Lat, Trish has created special custom tonics with Nick Kosevich's Drinks Apothecary.
Khâluna has a Balinese fruited tonic with jackfruit, calamansi, among other flavors, and a spiced tonic with cardamom and blue lotus.
Khâluna will be reservations-only and dinner-only (you can walk in to the bar), but there is a shop with a deli case and a spot for private dinners and cooking classes next door. Reservations go live October 14 at 10 a.m. on Tock, and opening night is the 20th. Like many restaurants now, they will have a 21% surcharge for all dine-in and a 15% fee added to takeout.
Khâluna, 4000 Lyndale Ave. S., Minneapolis, khaluna.com