Minnesota foodies aren't born that way. Bite by bite, the title is earned.
During the decade I've spent as a restaurant critic, I've eaten my way around the Twin Cities, as well as up the North Shore, and down the Great River Road. In doing so, I earned my badge by amassing a collection of eating experiences—old and new, highbrow and low, from dining room to farmers' market—that define Minnesota's contemporary food culture.
The following pages contain what you might consider a condensed version of my culinary curriculum: 40 experiences that collectively impart a deep understanding of the state's unique food scene. I settled on a number I hoped was large enough to encompass its breadth—but not unachievable should a newcomer want to get up to speed quickly (or for an ambitious zealot to take out-of-town visitors on a whirlwind tour).
After deciding that it would be absolutely impossible, not to mention kind of dull, to attempt to scientifically quantify or rank the contenders, I curated using the instinct Malcolm Gladwell describes in Blink: relying on years of accumulated meals to inform a judgment call. (Perhaps the culinary version of "blink" is "burp"?) To make the cut, the item had to be both excellent and distinctive, a Minnesota specialty that engenders pride and excitement when you introduce it to others. Because this is my personal list—completely subjective, in no way calibrated to be geographically balanced or contain a healthy ratio of Honeycrisps to cheese curds (…and chocolate cakes and ice cream and Jucy Lucys)—I shared a bit of my experience with each item and why I found it important, with the help of ace writer Berit Thorkelson, who pilgrimaged to the north woods in search of a cookbook author.
If you're a serious local-food lover, see how many of my picks you've already experienced—then let me know which of my 40 would make your list, which you'd drop, and what others you'd add.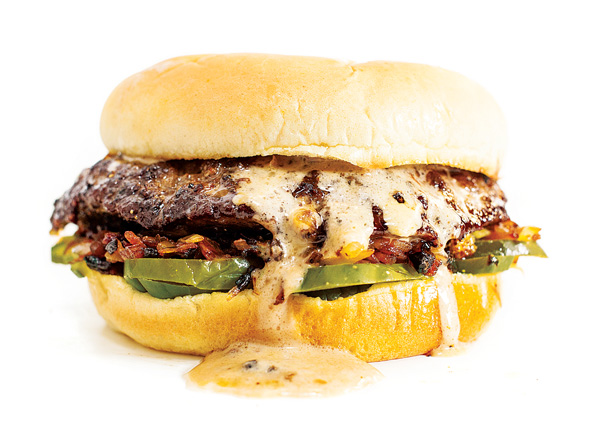 Jucy Lucy at matt's Bar, Photo by TJ Turner
1. Jucy Lucy at Matt's Bar
The amazing thing about matt's bar, originators of the Jucy Lucy burger, is that it feels absolutely frozen (or should we say "congealed") in time. I like to play a game of I Spy to find the handful of items that weren't around when the place opened in 1954: the "no e-cigarettes" sign, the staff photo with President Obama looking like a Hollywood mega-star. Otherwise, the faux-tufted wallpaper and vinyl booths are just the same as when you came as a kid (its low-key neighborhood location should continue to keep it safe from developers). The bar's founder/former owner Matt Bristol passed away last year, and in a true testament to the strength of his legacy, the same thing happened as when he sold the place back in the late '90s: Nothing changed. The burgers are just as greasy, their cheese still as volcanic, and the beer pitchers poured just as full. It feels as reliable as the Mississippi. May Matt's be Matt's forever. • mattsbar.com
2. Sonny's Ice Cream at Crema Cafe
Dairy Queen may have its headquarters here, but I'd be willing to bet that the Twin Cities has the nation's highest concentration-per-capita of local, independent, artisan ice-cream shops. And since the 1940s, Sonny's has been crafting ultra-premium scoops from Minnesota milk (my favorite is the namesake frozen-latte flavor, Crema), becoming an integral part of our favorite warm-weather pastime. The legacy of the ice cream's dearly departed namesake lives on in a photo on the side of the café in which the elderly Sonny Siron wields a Fourth of July sparkler with childlike delight. • cremacafeminneapolis.com
3. Fresh-Caught Trout at Jax
In Northeast Minneapolis, Jax Cafe has been a family tradition for generations—so far as the owners know, it's the longest-running family-owned restaurant in the state. Menu classics include steak, shrimp cocktail, and whole lobster plucked from the tank; dinner service begins at 3 p.m. When I wrote a piece about Jax's 75th anniversary, I took my parents to a meal on the patio, and for years I kept the souvenir photo on the fridge: the three of us beside the trout pond, holding up the still-thrashing, soon-to-be dinner I'd just caught. (Netting fish is tougher than it looks—next time I will not be wearing clogs.) • jaxcafe.com
4. A Baker's Wife Cinnamon-Sugar Doughnut
This nondescript shop looks like it doesn't give a damn, with every surface cluttered with knickknacks and children's drawings. But that's because all efforts have been funneled into delivering delicious treats at crazy-low prices: 49 cents for my favorite cake doughnut, twinkling with cinnamon and sugar. • facebook.com/abakerswife
5. Piccolo
When I lived within walking distance of Auriga, I became a fan of chef Doug Flicker's cooking as well as a regular of the late-night happy hour. The only antidote to Auriga's closure was Flicker's opening of the more petite Piccolo, an intimate spot where he both creates adventurous tasting plates (the scrambled eggs with pickled pig's feet and truffle is one of the signatures) and shovels his own sidewalk. Piccolo's a favorite haunt for local chefs and restaurateurs to take their dates, and I've shared the banquette with several—eavesdropping on their running commentary as they praise the nuances of every dish. • piccolompls.com
6. Keys Café Caramel Roll
In the winter, I like to dress like a caramel roll: layer upon layer of puff. And when the temps fall below zero, there's no better breakfast than these sticky pillows, served with an unholy amount of whipped butter. • keyscafe.com
Recipe: Key's Café Famous Caramel Rolls
Makes 5 servings
1  18-oz. loaf frozen white bread dough, thawed
Cinnamon sugar, to taste
1  c. unsalted butter, melted
4  c. brown sugar
½  c. heavy cream
Roll dough flat into a rectangular shape ¼-inch thick. Cover with cinnamon sugar. Roll into log shape and use sharp knife to slice into 5 equal-size rolls.
Mix together melted butter, brown sugar, and heavy cream in 12 x 24-inch baking pan. Split equally if using two 9 x 13-inch pans.
Place cut rolls into caramel-filled pan. For best results, let rise overnight in refrigerator, or rise for 2-3 hours at room temperature.
Bake in convection oven at 300°F for 45 minutes or in conventional oven at 350°F for 60 minutes. Tops will be golden brown when done.
Let sit for 15 to 20 minutes to let caramel set up—this is key so the caramel sticks to the rolls.
7. Tater Tot Hot Dish at Haute Dish
At Haute Dish, French technique meets Midwestern grandma fare, with a kiss of kitsch. It was the first place in town to pull off fancy hot dish, an appealing upgrade to those of us who grew up on those one-dish meals. Haute Dish deconstructs the classic casserole into a sculpture of short ribs, haricots verts, house-made tater tots, and porcini béchamel in lieu of the canned cream of mushroom soup. • haute-dish.com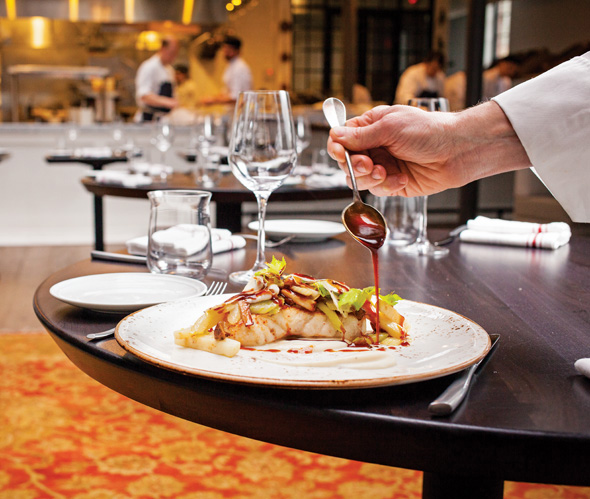 Spoon and Stable, Photo by TJ Turner
8. Spoon and Stable
in 2005, Wolfgang Puck put his name on the Walker's café and his ruddy mug on the cover of this magazine, and then caught the next plane out of town. In terms of celebrity-chef restaurants, that doesn't count. Spoon and Stable is the first bona-fide one in the Twin Cities—international superchefs Thomas Keller and Daniel Boulud flew in for the opening to support their mentee Gavin Kaysen, who made it big in New York City before returning to his home state to open his own place. I'm still thinking about the Thai-style grilled pork and the goat-ragout pappardelle. • spoonandstable.com
State Fair Essentials: If you could only have three…
9. 
Roast Corn
The state fair's sweet corn may be the healthiest thing you'll eat all day and certainly the best ear you'll eat all summer: picked fresh that morning from a farm just west of the Cities, then perfectly roasted, and, of course, dunked in butter. Speaking of butter, bonus points if you've ever had the chance to eat from a Princess Kay of the Milky Way butter head (sometimes they're donated to community corn feeds, pancake breakfasts, and the like). Double bonus points if you've ever had someone carve your bust in butter, as my pal's boyfriend once did for a birthday gift. (Ask me sometime what happened to the butter head when she broke up
with the guy.) 
10. All-You-Can-Drink Milk
The Midwest Dairy Association opened its All-You-Can-Drink Milk stand in 1955. Back then, the price was a dime; today it's a buck, but it's still a bargain. Even though I am rarely without a gallon in the fridge, the state-fair milk is special: fresher and colder than the supermarket stuff, served in limitless portion, and delicious washed down with a bucket of Sweet Martha's cookies.
11. Cheese Curds
Once when I was doing a story about eating local at the fair, the guy from the Mouth Trap booth in the food building told me he bought his squeaky stuff from Ellsworth, Wisconsin—home of the annual Cheese Curd Festival. But I still count 'em as a Minnesota classic. Just make sure to share an order with at least two other people.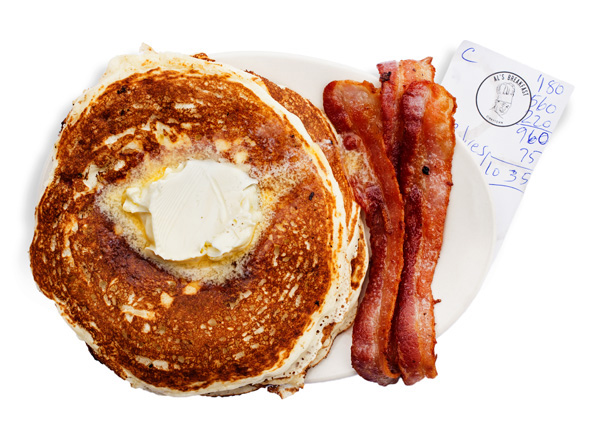 Pancakes at Al's Breakfast, Photo by TJ Turner
12. Al's Breakfast
The buttermilk pancake recipe at Al's breakfast is about as unremarkable as its digs: 14 stools lined up along a counter, tucked into what used to be a 10-foot alley. But decades of seasoning the griddle and honing the flip have led to plate-size flapjacks so perfectly tender and sweet-sour balanced that I don't even bother with syrup. Last time I went to Al's, a beam of early morning light was streaming in the tiny front window, laying a halo over the grill, and the smoke wafting off the crackling bacon was as beautiful a sight as steam rising from Lake Superior. I delighted in the anachronistic scene of the staff adding up the checks by hand (regulars prepay with chits piled up behind the counter, and don't even think about whipping out the plastic or you'll risk the wrath of the "attack waitress" warned about in prominent signage). My favorite thing about Al's is how egalitarian it is. Roll up in a limo, and you still have to hover behind the other diners' backsides, waiting for a seat and, on the waitress's command, slide down to the adjacent stool so groups can sit together. • 413 14th Ave. SE, Minneapolis, 612-331-9991
Recipe: Al's Breakfast Buttermilk Pancakes
Makes a dinner-size stack
3  c. flour
1  tsp. salt
2  tsp. baking powder
11/2  tsp. sugar
2  eggs
1  qt. buttermilk
4  Tbsp. butter, melted
Heat non-stick griddle or pan. Combine flour, salt, baking powder, and sugar in bowl.
In separate bowl, whisk buttermilk and eggs.
Pour dry mix into wet mix, beating quickly as you pour, then beat in melted butter. If batter seems thick, add buttermilk as needed to thin.
Spoon batter onto hot griddle or pan and cook pancakes. When bubbles appear on uncooked side, flip.
13. Cafe Latté's Turtle Cake
My husband is a cycling fanatic and has transported some wonderful surprises via bicycle: most memorably, the Christmas tree, and a close second, the Cafe Latté Turtle Cake retrieved on my birthday by pedaling from Minneapolis to St. Paul. It's an indulgence for the ages. The recipe for the chocolate cake, made with buttermilk and hot coffee, was given to Latté's owner by her mother's neighbor, Mabel. And its turtle toppings—heavy with fudgy frosting, oozing with thick caramel, and crowned with pecans—evoke the '80s decadence in which it was invented. • cafelatte.com
Recipe: Café Latte Turtle Cake
Makes 12-16 servings
For cake: 
Butter and unsweetened cocoa powder for pans
1  egg, lightly beaten
1  c. buttermilk
2/3  c. vegetable oil
2  c. all-purpose flour
1 3/4  c. sugar
1/2  c. unsweetened cocoa powder
1  Tbsp. baking soda
1  tsp. salt
1  c. freshly brewed hot coffee
For chocolate frosting:
1  c. sugar
1/2  c. whole milk
6  Tbsp. butter, cut into small pieces
1  12-oz. package (2 c.) semisweet chocolate pieces
1–2  tsp. hot coffee, optional
For assembly:
11/2  c. pecan halves, toasted
1/2  c. caramel ice cream topping (purchase or make from your own recipe)
To prepare cake: 
Preheat oven to 350°F. Butter bottom and sides of three 9-inch cake pans and line bottom of each with parchment paper. Butter the paper; dust pans with unsweetened cocoa powder and set aside.
In small bowl, stir together egg, buttermilk, and oil. Set aside.
In large bowl, stir together flour, sugar, cocoa powder, baking soda, and salt. Using electric mixer on low speed, gradually add buttermilk mixture to flour mixture, beating until combined. Gradually beat in coffee.
Divide batter evenly between prepared pans; layers will appear shallow.
Bake until wooden toothpick inserted near center comes out clean, about 22 to 25 minutes. Remove from oven and cool cakes on a wire racks for 10 minutes. Loosen sides from pans, then invert cakes on racks. Remove cakes from pans. Peel off paper; cool completely.
To prepare frosting: 
In medium saucepan, combine sugar and milk. Add butter. Bring to boil, stirring constantly. Remove from heat. Add semisweet chocolate pieces. Using wire whisk, stir until smooth. If frosting is too thick or grainy, stir in 1 to 2 teaspoons freshly brewed coffee. If necessary, let frosting stand several minutes before using.
To assemble cake: 
When cakes are cool, place 1 cake layer, top-side down, onto serving plate with a lip. Using an icing spatula or wide knife, work quickly to frost the top of this layer with one-third of frosting. Arrange one-third of pecans on top and drizzle with caramel topping. Top with the second layer, top-side down. Repeat with frosting, pecans, and caramel topping. Top with third layer, top-side up. Repeat with remaining frosting, pecans, and caramel topping. Chill cake 1 to 2 hours before serving (some caramel topping will ooze from the cake as it chills).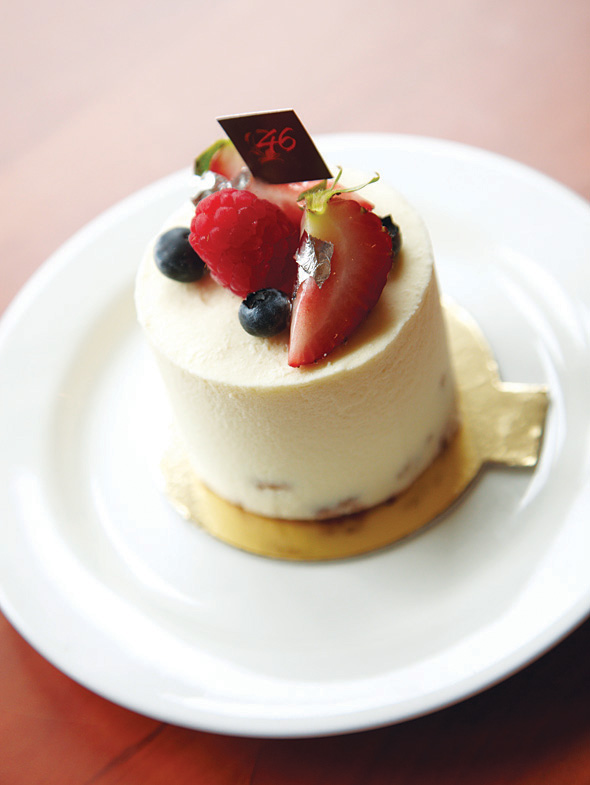 Patisserie 46, Photo by Todd Buchanan
14. Patisserie 46
P46, as it's known in the neighborhood parlance, is as sérieux about baking as any French pastry shop. I spent a few weeks in Paris and Provence last year and never encountered a bread, pastry, or dessert that Patisserie 46 wouldn't stack up against. My go-tos include the hearty miche loaf, the orange-fennel gibassier, the wild-mushroom-and-Gruyère tartine, and the jewel-like petits gateaux. • patisserie46.com
15. The Drunk Line at Pizza Lucé
Come bar close on weekends, throngs of hungry partiers descend upon the downtown Minneapolis Pizza Lucé and a "drunk line" forms outside. (The eatery started making everyone pay $3 for the privilege of going inside, good toward the purchase of pizza or to at least compensate for taking up space while keeping paying diners waiting.) When Tim Gihring was writing about Lucé's late-night phenomenon for this magazine and jotted down a few notes as he observed the action, a drunk-line participant accused him of being an undercover cop. The guy snapped Gihring's photo and said, "This'll be all over the internet." Gihring pointed to his notebook and replied, "So will this!"• pizzaluce.com
16. Brasa
Sure, chef Alex Roberts has wowed diners with his upscale Alma, but he's arguably made greater impact with his casual concept, Brasa, which pairs South American–style slow-roasted meats with Southern sides, rooted in local ingredients but influenced by creole traditions. Brasa makes for arguably the most craveable takeout in town, and its catering wait list is notoriously long. The manager once told me about a couple who wanted to serve Brasa's food at their wedding on the anniversary of their first date, which they'd shared at the restaurant. When they found out their first choice was booked, rather than go with another caterer, they pushed the wedding back a year. • brasa.us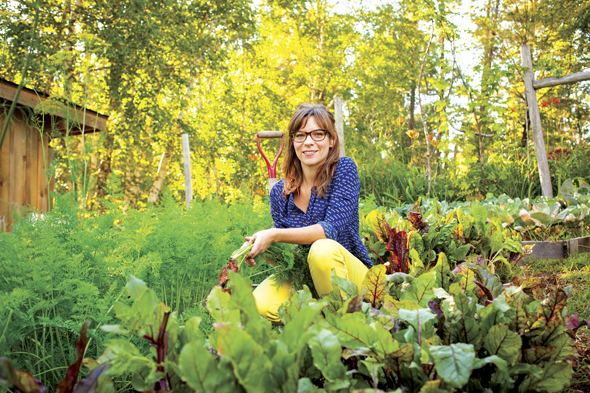 Amy Thielen, Photo by TJ Turner
18. Lutefisk Feed
Dehydrated fish reconstituted with lye (the active ingredient in drain cleaner): The mere prospect of lutefisk sounds awful. But if you know how to cook it—my aunt microwaves hers—it's just a mild-mannered vehicle for butter or cream sauce, best enjoyed in Scandinavian company. The American Swedish Institute's feed is the most popular, but the smaller you go, the bigger the fish stories. My father's favorite tale involves attending a lutefisk supper at a church that served family style: When the heaping platter of fish was passed to his table, an old-timer named Johnson scooped half its contents onto his plate, and then slid the other half onto his brother's before sending it back to the kitchen for a refill. My mother swears that the general store in the tiny town of Oslo, Minn., used to sell lutefisk out of a claw-foot bathtub—can anyone else corroborate this, or might the stench have had a hallucinogenic effect? • lutfiskloverslifeline.com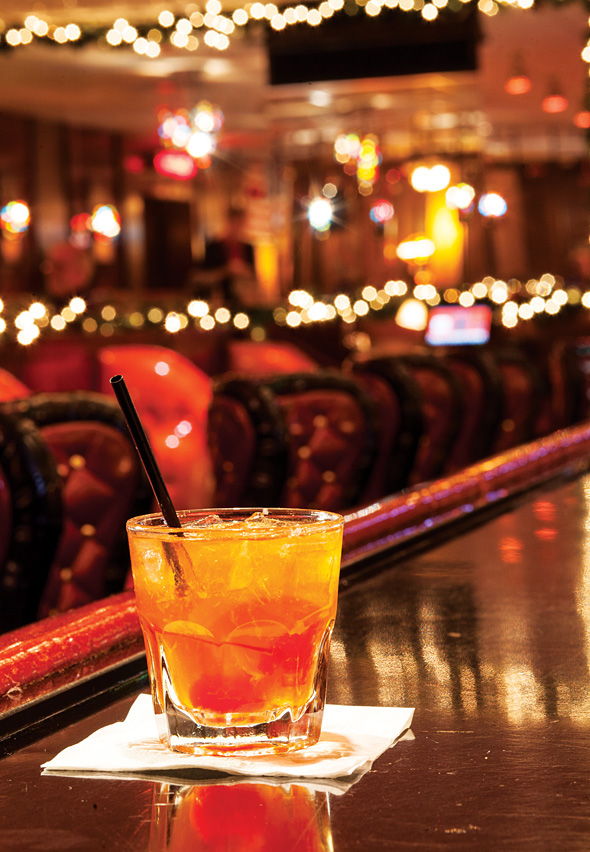 Nye's Polonaise Room, Photo by TJ Turner
19. Nye's Polonaise Room
The World's Most Dangerous Polka Band has emitted some horrible sounds. (I've sipped my beer with my hands over my ears to block earsplitting vocals during the "Barking Dog Polka.") And yet, they've managed to hold down the Friday and Saturday night slot at Nye's since the 1970s. Most of the staff looks as ancient as the Formica tabletops and the gimlet recipe. (In 2011, Sweet Lou Snider finally retired after nearly half a century of leading piano-bar sing-alongs in the Polonaise Room.) But as soon as Esquire called it the Best Bar in America, all my visiting New York friends demanded I take them there. • nyespolonaise.com
20. The Bachelor Farmer
In Minnesota, the Dayton brothers could coast on their name alone, so fondly is their family's department store remembered. But instead they dug in and created an inspired restaurant that riffs on the region's Nordic heritage and appeals to sophisticated populist sensibilities. I once reported a story about a day in the life at the Bachelor Farmer where I hung around for 22 hours straight—arriving with the bakers and leaving with the bartenders—and I still can't quite define what makes it so magical. • thebachelorfarmer.com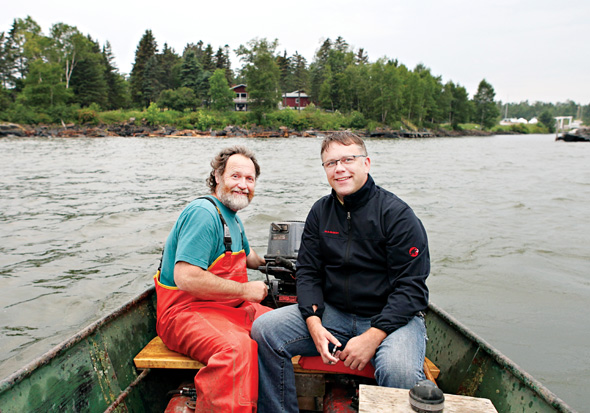 Fisherman Stephen Dahl and chef Scott Graden, Photo by Katie Cannon
21. New Scenic Café Herring Sandwich
on a recent trip up north, I called ahead to the New Scenic Café near Two Harbors and convinced a sympathetic staffer to save the last two herring sandwiches. (Thanks again, Crystal!) Because the fish—called cisco, or lake herring—is as fresh as it comes, hauled out of the water by Stephen Dahl, known as the grandfather of Lake Superior's tiny commercial-fishing community. Chef Scott Graden tops the fillets with prosciutto, bakes them with white wine and butter, and then slides them between ciabatta with a rich aioli and bitter frisée—it's a perfect pairing for the dense, oily fish. The only trouble with herring, Graden says, is that it's about as predictable as the weather. The café doesn't order it, and Dahl doesn't call ahead. He simply shows up at the backdoor in his slicker, toting his morning catch in a cooler. "Any closer and the fish would jump right out of the water into our kitchen," Graden jokes. To best enjoy Lake Superior's bounty, bring home herring roe from the Dockside Fish Market in Grand Marais or smoked fish from any of the roadside shacks. • sceniccafe.com
MN-Made Pantry Essentials: A baker's dozen for your kitchen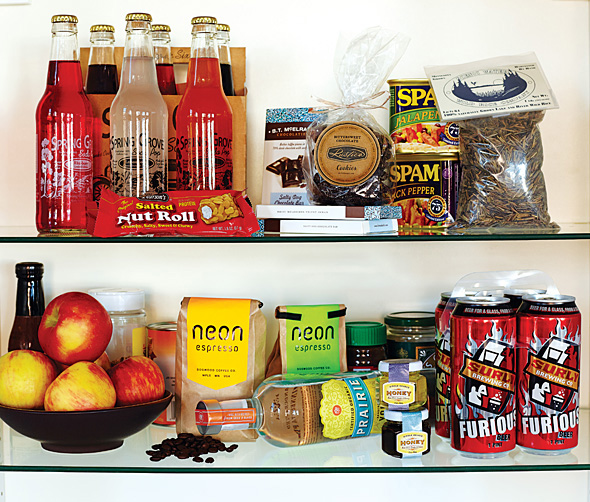 Photo by Terry Brennan
22. Honeycrisp Apple
There's a reason the Honeycrisp was named one of 25 innovations that changed the world alongside the V-Chip and Google. The ultra-crisp crunch of this University of Minnesota–bred apple has been dubbed one in a million. Bonus points if you've tried the U of M's latest hit, the Honeycrisp offspring SweeTango, which I actually like even better. The specimen I plucked from the research orchard was the best apple I'd ever tasted: crunchy as the Honeycrisp and bursting with even more sweet-tart juice. • apples.umn.edu
23. Wild Rice
It's not actually rice, but the seed of an aquatic grass. And, increasingly, it's not wild, either, due to the commercial farming of a higher-yielding hybrid. But Minnesota remains the largest source of true wild rice, which has a lighter color and nuttier flavor than the cultivated version. It's also harder to come by (it must be harvested by hand from canoes, as Native Americans always have, gently bending the plants and tapping the loose seeds into the boat). I like to turn it into sweet breakfast porridge or pop it in oil for a crunchy snack.
24. Rustica Bittersweet Chocolate Cookie
These bittersweet wonders taste like the offspring of brownies and dark-chocolate truffles. But don't bother special-ordering super-dark Dutch-process black cocoa and trying to reverse-engineer them, as I once did—they won't turn out nearly as soft or rich. I've given up on learning these cookies' secret: I suspect they may be the very dark matter believed to hold the universe together. • rusticabakery.com
25. B.T. McElrath's Salty Dog
Northern California is a chocolate hotbed—it gave us Ghirardelli, Guittard, and Scharffen Berger—and yet, my Bay Area friends always request I bring them B.T. McElrath's Salty Dog. The smooth slabs are studded with flecks of toffee and sprinkled with sea salt: The best of dark chocolate meets the most addictive aspects of salty caramel. • btmcelrath.com
26. Dogwood Coffee's Neon Espresso
In search of excellent third-wave coffee from coast to coast, I've pilgrimaged to the Blue Bottle kiosk in a back-alley garage, learned the ordering lingo at Philz (medium, light sweet), and once gleaned a gratis bag of house-roasted beans at some hipster bike-messenger shop operating out of a shipping container. But Dogwood's Neon Espresso, from our very own backyard, stacks up against all of them. I always get a kick out of reading the package as I grind my beans, though I've never actually worn BluBlockers while extracting, as it cheekily recommends. The flavor is actually that bright—but it's also smoky, nutty, earthy, and a little sweet, with a candy-coated finish that, as the roasters cutely describe it, "lingers like a Minnesota goodbye." • dogwoodcoffee.com
27. Phillips Prairie Organic Vodka
Phillips had been a local brand for more than a century before it introduced its top-shelf Prairie Organic Vodka, distilled in western Minnesota from organic corn grown in the area. The spirit's a smoother, lighter sip than most of the mass-market brands, and, come summer, makes a terrific Bootleg, the signature mint-citrus cocktail of Twin Cities country clubs (many of which claim to have invented the drink, and all assert their mix is the best). While my research has never uncovered a viable origin story, I can say they were a big hit at a Preppy Party I once hosted. • phillipsdistilling.com
28. Surly Furious Beer
With a brand as aggressive as its hops, Surly Furious ignited Minnesota's craft-beer boom and instantly racked up national accolades—including Best Brewery in America. A few years ago when the craft-beer scene was just taking off, I went and bought, like, every available local brew for an hours-long taste test with beer historian Doug Hoverson. By the end, my notes had trailed off into illegible chicken scratch, but I did manage to decrypt Hoverson's hilarious quote about bringing a few early cans of Surly into a famous Portland beer shop: "The clerks almost soiled themselves," he recalled. "They said, 'We'll trade you anything in the store for it.'" • surlybrewing.com
29. Caves of Faribault AmaBlu Cheese
In 1936, the first wheels of American-made blue cheese rolled out of sandstone caves near Faribault—take that, Wisconsin—a site at just about the same latitude line as Roquefort, France, with temperature and humidity ideal for growing the cheese's characteristic molds. Today, Caves of Faribault still follows the original AmaBlu recipe, and it's a staple of my homemade blue-cheese dressing. • faribaultdairy.com
30.  Red Lake Walleye
The irony of walleye being our state fish is that nearly all of what we eat comes from Canada—due to protected status, walleye in Minnesota waters can be caught only for personal consumption. Native-owned land constitutes the rule's one exception, and the Chippewa-run Akina Red Lake Fishery operates a commercial walleye business that supplies restaurants—I'm lobbying Blackbird Cafe to bring back its Red Lake walleye poboy—and retail via mail. • redlakewalleye.com
Recipe: Blackbird Café Walleye Po'boy
Makes 6 servings
For Cajun mayo:
2  tsp. black peppercorns
1/2  tsp. whole fennel seed
1/2  tsp. whole mustard seed
1  clove garlic, finely minced
1/2  Tbsp. fresh thyme, minced
1/2  Tbsp. fresh sage, minced
1/2  tsp. smoked paprika
1  pinch cayenne
1  c. mayonnaise
Salt, to taste
For pickled red cabbage:
1  medium red cabbage, shaved (about 4 c.)
1/2  medium red onion, shaved
1/2  c. sugar
1/2  c. champagne vinegar
1/4  c. water
1  Tbsp. salt
1/2  tsp. black pepper
For fried walleye fillets:
3/4  c. finely ground Parmesan cheese
1/2  c. fresh bread crumbs
1/2  c. cornmeal
3  Tbsp. flat parsley, minced
1  tsp. smoked paprika
1/2  tsp. cumin
2  cloves garlic, minced
1  tsp. salt
1/2  tsp. black pepper
All-purpose flour, for dredging
3  eggs, beaten
Canola oil for frying
2  1-lb  walleye fillets, pin bones removed, flesh cut into six equal portions
For assembly:
6 focaccia or ciabatta roles, halved lengthwise
Salted butter, at room temperature
To prepare Cajun mayo:
In dry skillet over medium-high heat, toast peppercorns, fennel seed, and mustard seed until fragrant, about 3 to 4 minutes. Allow spices to cool, then grind in spice mill. Combine ground spices and remaining ingredients. Refrigerate until ready to serve.
To prepare pickled red cabbage:
In large bowl, combine shaved cabbage and onion. Set aside. Combine sugar, vinegar, water, salt, and pepper in saucepan and bring to boil over medium heat. Cook, stirring occasionally, until sugar and salt dissolve. Pour hot liquid mixture over cabbage. Let cool for a few hours before using.
To prepare walleye:
Combine Parmesan, bread crumbs, cornmeal, parsley, paprika, cumin, garlic, salt, and pepper on plate. Place flour on a separate plate. Place beaten eggs on third plate. In deep fryer, heat oil to 350°F. Dredge fillets in flour, then egg wash, and finally cornmeal breading. Fry fillets until golden brown; when finished cooking, they should float. Remove to paper towel-lined plate.
To assemble:
Butter each side of halved rolls and broil, butter side up, until golden brown and toasted. Spread Cajun mayo on each roll to taste. Add pickled red cabbage using slotted spoon, then add walleye fillet.
31. SPAM
Sometimes my husband likes to air our dirty laundry at parties by telling people that I eat SPAM. This isn't really true, which he should know, because during each of the three moves we've made in the past five years, he has given me static for transporting cans of jalapeño SPAM and black-pepper SPAM (as well as a can of its knockoff competitor, Prem). When they reach their new cupboard, the cans inevitably migrate to the back, where they become some sort of talismanic dust collectors. But just because my husband's never seen me eat SPAM doesn't mean I don't, admittedly, like it. Growing up, Mom periodically fried it for breakfast, and one fortuitous morning I will finally introduce my beloved to the salty-fatty joy of caramel-crisp canned ham. • spam.com
32. Spring Grove Soda Pop
Though the big three control 90 percent of the American soft-drink market, there's still plenty of nostalgia for the small, regional brands. I once visited the tiny bottling plant of the centurion Spring Grove and purchased a case straight off the line. Back then my favorite was lemon sour; today it's the newer rhu-berry. • springgrovesoda.com
33. Ames Farm Honey
Ames Farm has long been a pioneer of single-source honey, timing its bottling to specific blooms to capture the essence of clover or dandelion, buckwheat or buckthorn. The honeys' flavors are as varied as wine, and the sampler packs of 2 oz. jars make great gifts. • amesfarm.com 
34. Pearson's Salted Nut Roll
The Nut Goodie may be older, but I prefer the simplicity of the Nut Roll's salty-sweet peanut/nougat duo. I grew up down the block from some Pearsons and when I went trick-or-treating was disappointed to learn they ran the Edina restaurant, not the St. Paul candy company. • pearsonscandy.com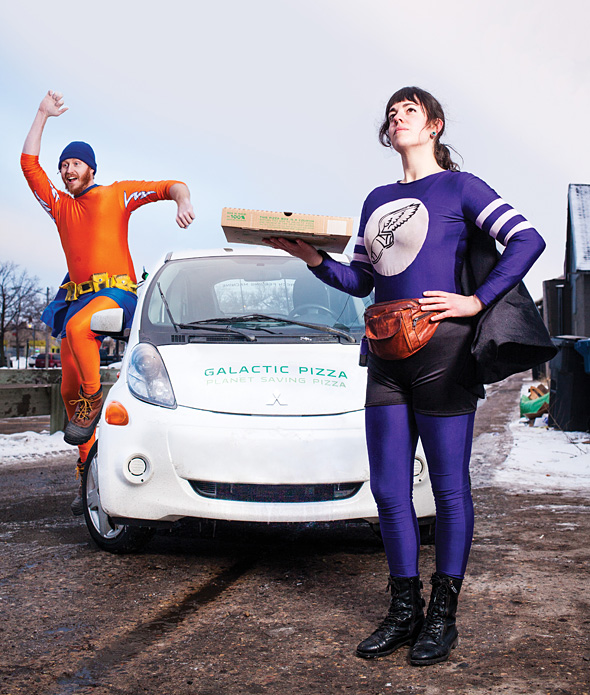 Photo by TJ Turner
35. Galactic Pizza Delivery
The twin cities has an abundance of excellent artisan pizzerias—Punch, Nea, Lola, and Black Sheep among them—that it's impossible to declare an all-time best. (Trust me, I'm asked to do this on an annual basis.) But when it comes to pie delivery, there's a clear winner, which turns the quotidian act into something spectacular. Order from Galactic, and your planet-saving pizza (made with local, organic ingredients and delivered via electric vehicle in compostable containers) comes flying to your door in the hands of a spandex-clad superhero. (For real! One dubbed Luke Pie-Rocker famously chased down a purse-snatcher.) I once spent a memorable—awesome, actually—evening doing a ride-along with deliveryman Captain Awesome, dressed as his sidekick Pink Thunder, neck-to-ankles in a pink bodysuit with a lightning bolt on the chest. • galacticpizza.com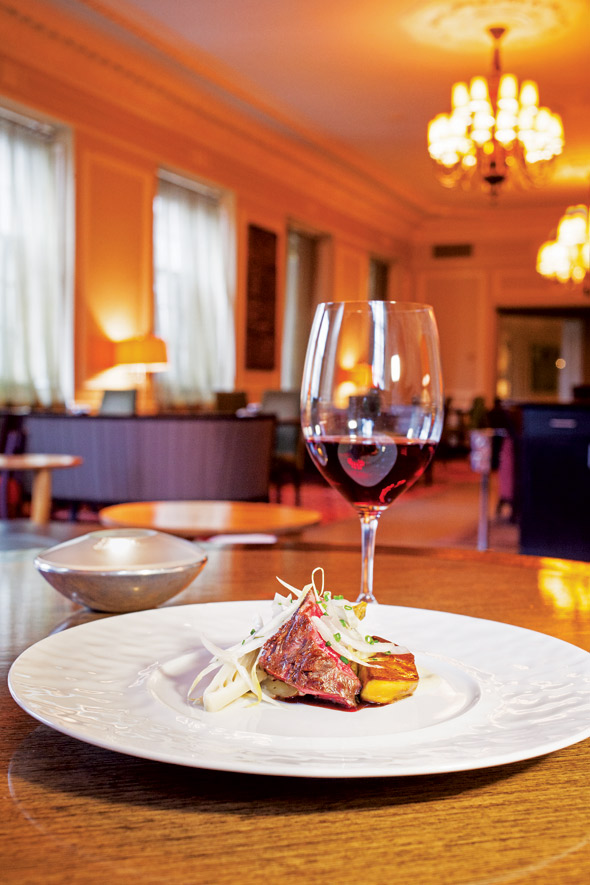 La Belle Vie, Photo by TJ Turner
36. La Belle Vie Tasting Menu
In the twin cities, where the sequin-clad sit on barstools beside lumberjack plaid, La Belle Vie remains the last word in elegant dining, with an eight-course chef's tasting menu that showcases inspired flavors and meticulous technique—it's the only restaurant in town where Forbes sends its inspector. I prefer the bar's corner booths to the more formal dining room, but no matter which seat you choose, rest assured you'll be very well taken care of, from amuse-bouche to mignardises, the post-dessert plate of petit fours. • labellevie.us
37. Travail Tasting Menu
Travail redefined fine dining in the Twin Cities and, in fact, around the country, delivering crazy-creative fare (I've eaten everything from mozzarella balloons to Pop-Rocks-coated foie-gras lollipops) with fraternity-party fun (the tattoo-covered cooks challenge patrons to chug beer from a giant glass boot). Dining there is as delicious as it is entertaining, a true reflection of its full moniker: Travail Kitchen and Amusements. • facebook.com/travailkitchen
38. Hmongtown Marketplace
The Twin Cities is home to the largest population of Hmong outside Laos, and the group makes up the largest percent of Asian-Americans in the state. Yet the culture's cuisine is hard to find outside the Hmongtown Marketplace and Hmong Village. Visiting the market, I've felt as if I entered a porthole to Southeast Asia, packed with traditional textiles, tiger balm, jewelry, produce, and, at the heart of it all, a food court with a range of lesser-known soups, roasted meats, offal, and desserts ripe for exploration. • hmongtownmarketplace.com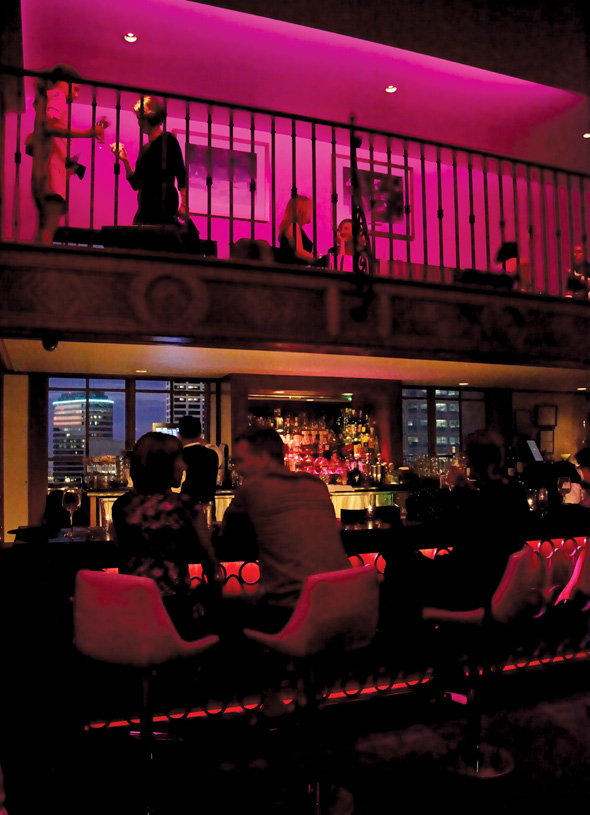 Prohibition, Photo by Todd Buchanan
39. Prohibition
When the W Hotel opened, the private 27th-floor study of building namesake Wilbur Foshay went public, its mahogany-lined sanctuary reborn as a sort of "cigar lounge meets Barbie playhouse" (the staff's words, not mine). Pack the upstairs perch, where my friends recently held their post-courthouse-wedding reception, and share the Bubbly Sex Pot alcoholic punch bowl. Then head downstairs to Manny's for the drink's steak equivalent: a 40-oz. rib eye with a giant bone handle known as the Bludgeon of Beef. • thelivingroom-prohibition.com 
40. Tilia
Chef Steven Brown cracked the code for the ideal neighborhood eatery: Tilia feels less like you're dining at his restaurant than at his home. Perhaps this is because, between the house-made potted meat, the butterscotch pot de crème, and the Chinese-influenced shrimp-and-spring-pea-scampi (a concoction that, in fact, Brown once whipped up for his wife from a sparsely stocked pantry), he makes complex cooking appear casually effortless. Or it might be due to the morning I spotted his young daughter shadowing a waitress, wearing a toddler-size apron and toting a Hello Kitty notepad. • tiliampls.com