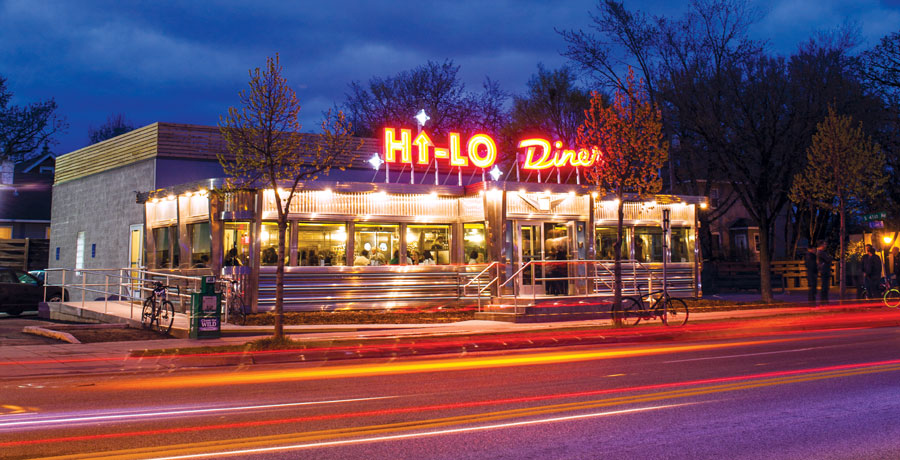 Photos by TJ Turner
Each month, in our restaurant rumble conversation, MnMo food critics Jason DeRusha and Joy Summers review two restaurants and pick a winner.
---
Joy: Boy, can we pick them for swimsuit season or what? I'm declaring this the summer of the waist-less caftan. My new obsession is East Lake Street's glittering jewel, the Hi-Lo Diner. A historic diner car was transported to the site and meticulously restored to its turquoise and chrome glory.
Jason: The team behind Forage Modern Workshop—a hip furniture and home goods store across the street—bought the site of a shuttered Taco Bell and made it the star of Twin Cities Instagram. They tapped the crew behind the Blue Door Pub to create the menu.

Gary Coop'er Hi-Top
Joy: I wanted to try all of the Hi-Tops—they're like hole-less doughnuts, with a slightly breadier texture, topped with all manner of sweet and savory goodness. My new addiction is cereal-crusted fried chicken tenderloins dressed with breakfast gravy, maple syrup, and a tiny bit of micro-arugula to make me feel better about myself.
Jason: The Hi-Tops aren't as sweet as you'd expect, so even the Minneapple Bliss—topped with apples and salty caramel—didn't taste like a sugar bomb. They're perfect to split in a group.
Joy: I'd skip the Silo, though. Both times I ordered it—the diner's riff on a Reuben or Rachel sandwich—it was under-seasoned, and I wanted more of everything except the bread. 
Jason: The burger was good but not great. American cheese and a Big Mac-style sauce. Very fitting for a diner. We liked the hash stuffed hash, though: They griddle thin slices of corned beef instead of the more typical chunks. The Commercial was pretty cool—thin slices of prime rib on a white cheddar biscuit. The horseradish cream sauce served as the perfect counterpoint to the beef gravy.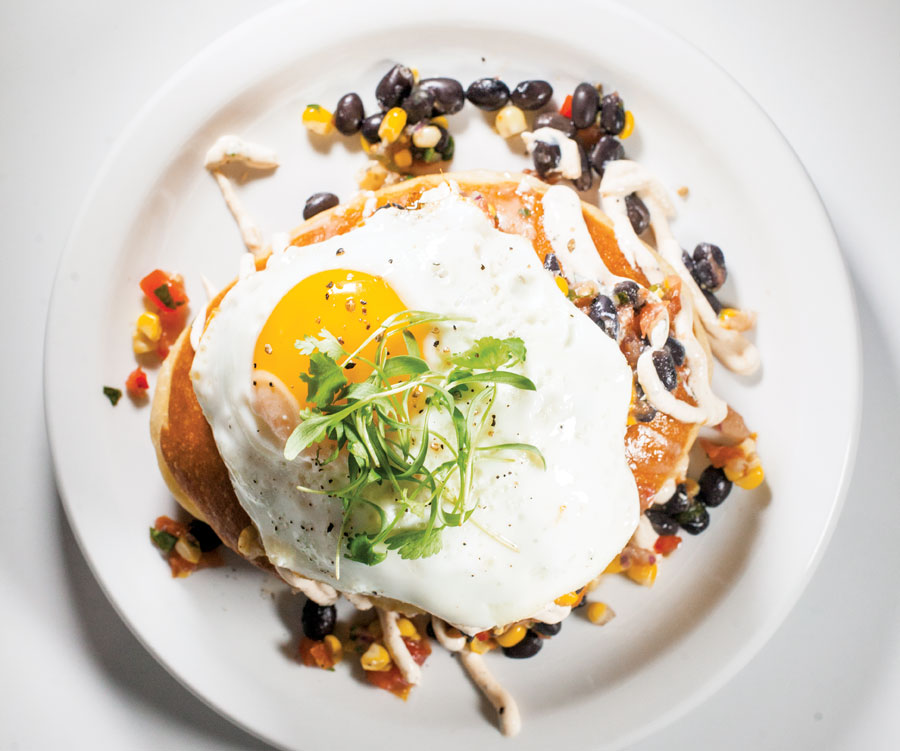 Notorious P.I.G. Hi-Top
Joy: I adored the servers we had. Each was so perfectly suited for a modern-day Minneapolis diner. Helpful, kind, not overly friendly, and highly opinionated. 
Jason: We also had awesome service. It took 30 minutes to get a table at 6:30 p.m. on a Thursday, but the food arrived incredibly quickly after ordering.
Joy: The tiki-style patio is a summer oasis perfect for the ice cream drinks served with or without booze. 
Jason: So don't get carried away with expectations. Hi-Lo is the hipster hot spot of the moment—all the guys have ironed their flannel and waxed their beards. But this is not the late, sorely missed Town Talk Diner, which served extremely elevated food. It's more like a very, very good iteration of a classic diner.
---
Hi-Lo Diner Quick Tips
Drinks: Ice cream blends and throwbacks to your grandpa's bar, including a brandy Alexander
While You Wait: Dogwood Coffee is right across the street
Can't Miss Dish: The Hi-Tops: part doughnut, part full meal
---
July's restaurant rumble pitted the nostalgia-driven Hi-Lo Diner against the Southern-inspired Handsome Hog. Find out which restaurant Jason and Joy chose as the winner in the July issue of MnMo.
Hi-Lo Diner, 4020 E. Lake St., Mpls., 612-353-6568, hi-lo-diner.com
Facebook Comments