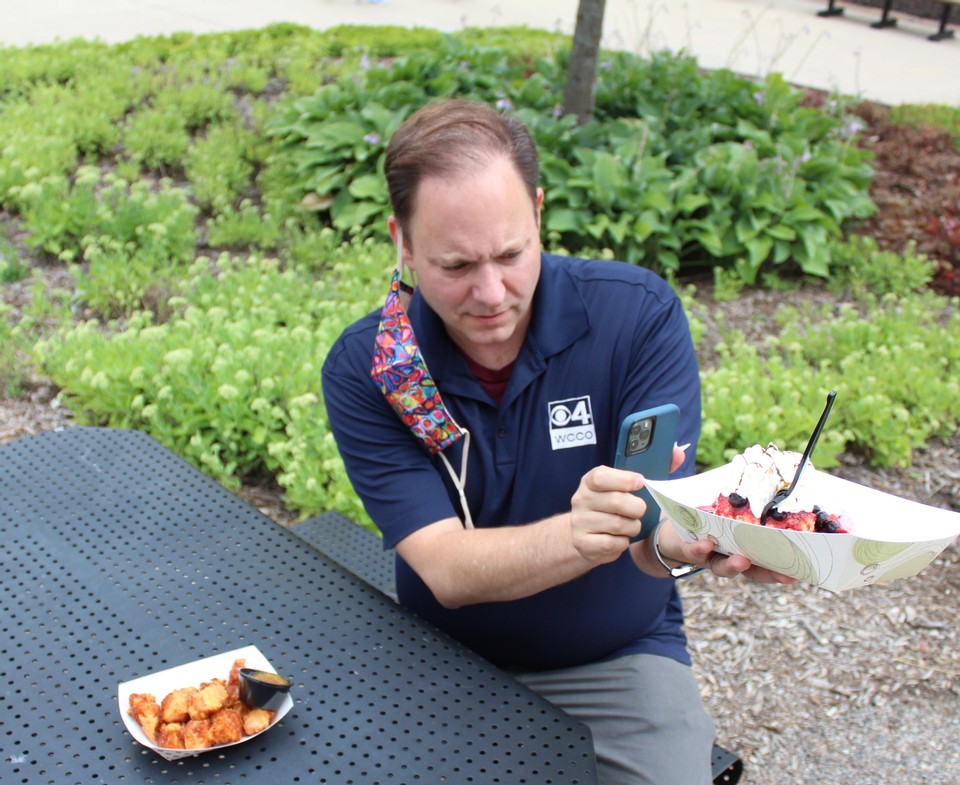 Walking into the Minnesota State Fair on Day 1 almost felt normal. Armed with my face mask, joined by some friends Thursday afternoon and a couple Minnesota Monthly colleagues in the morning (including new Editor Amy Nelson!), we tackled a mess of the Fair's new foods.
Topline Takes:
I miss the stick: Fair food is best shared and best mobile, in my opinion. Vendors have decided that we really want gourmet, full-sized foods you need to sit down to eat. 
Food truck park is awesome: There's a mini-food truck park near the exit of Little Farm Hands and it's adorable. Two airstream trailers (one from Baba's and the other from New Scenic Cafe) along with two non-alcoholic drink vendors (Summer Lakes Beverage and Spinning Wylde cotton candy) make up the pick-your-perk park. 
Surprises abound: Every year I bring my biases in the door and then toss them out the window. I've been reporting at the Fair since 2003. I know many of these people well. This year a lot of my favorites surprised me.
The Ratings
EAT THESE
1. Baba's Hummus Bowls: We loved the Chili Baba with the creamiest Za'atar hummus, gorgeous chili oil, crunchy and zippy kimchi. It's a huge bowl of hummus for $11 with fabulous flavor and served with 5 little fried pitas—like a fluffy pita chip as it only gets 30 seconds in a fryer. Spectacular, I'll be back for more of these. Food truck park near Little Farm Hands
2. Lulu's Public House – Scorchin' Ghost Pepper Cheese Bites: These bites are legitimately spicy with an awesome orange marmalade dipping sauce that cuts the heat. Are they like cheese curds? Yeah, but with a beer batter that gives you cheese without the grease. Good stuff for $7. I don't think I've ever rated anything from Lulu's in my top tier before so kudos to them on bringing some real heat. West End
3. Hot Indian Foods: Kerala Fried Chicken Kati Roll: The flavors in this are truly glorious. A $12 crunchy, super fresh ginger slaw with juicy buttermilk battered chicken tenders wrapped in paratha. Paratha is a flatbread, and chef Janene Holig's is flaky and light and perfect for walking around the fair with. Fair warning: I had one that was perfect and another later in the day with cold chicken—so they're working things out. Indoor Food Building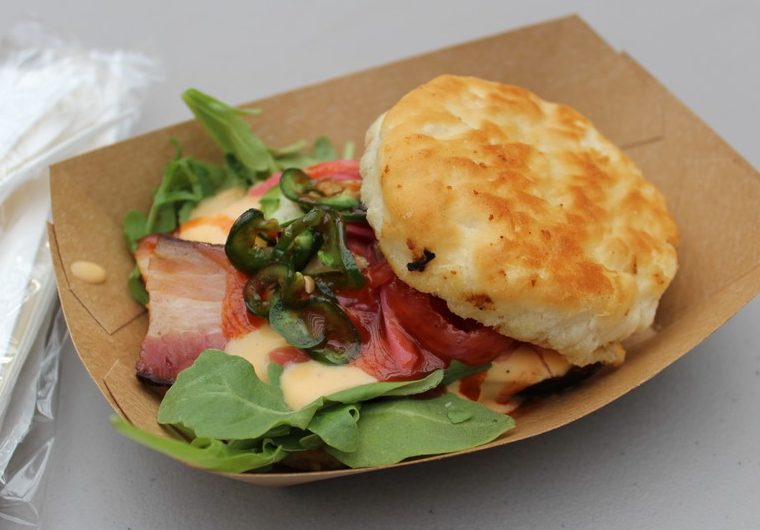 4. RC's Grandstand Naughty Biscuit: You'll be tempted to knife and fork this loaded sandwich, but I urge you to open wide and take a big bite first. Get a dose of that perfectly smoked pork belly, the pickled red onions and candied jalapenos. There's arugula for crunch and to balance the fattiness of the beer cheese sauce. So many flavors here the tang of the beer in the cheese sauce gets lost a bit, but otherwise this is a $10 treat from Minnesota's master of the pit, Charlie Torgerson. By the Grandstand
5. Scenic 61's Sashimi Tuna Tacos: Who wants an ahi tuna taco at the Minnesota State Fair? I didn't  know I did. These are perfect: simple, beautiful tuna and a slice of fresh avocado in a crispy wonton shell. A hint of sesame soy deepens the flavor and it's served alongside a nice ginger slaw with shaved pickled ginger. My only caveat is the price: $15 is totally fair for the caliber of food you're getting but that means you're spending $7.50 each for a relatively small taco. Food truck park near Little Farm Hands
6. Summer Lakes Beverage: I'm putting this on my new food list and my new drink list, because these refreshing $7 non-alcoholic mocktail beverages are terrific. The Lake Storm Lemonade has a serious dose of lavender without smelling like bath soap, and the Wedge-Hammer is all orange and citrus with a jolt of spice from ginger. It's terrific for our non-drinking friends to have an entire spot dedicated to high-quality, refreshing, non-soda drinks. Food truck park by Little Farm Hands
7. Lulu's Public House: Dual Berry Shortcake: This is one of the best sweets I've had at the Fair in awhile. My love for Betty & Earl's biscuits has been well chronicled on my Instagram feed. Taking that biscuit and topping it with macerated strawberries and blueberries plus an excellent homemade whipped cream is just a good idea. It's another sit-down-and-eat experience, but this is worth having your group take a breather for, and at $7, it's a bargain too. West End
8. Tejas Express' Chili Marinated Shrimp: Real spice on these three marinated shrimp, sitting on a pile of equites (grilled corn elotes except they shave it off the cob and serve it with cotija cheese and a mayo-like sauce). Great crunch from the corn, the smoke from the grill, the zip of the shrimp! Another winner from one of the more underrated stands at the fair from a culinary perspective. Indoor Food Building Annex
9. Hot Indian Foods: Paneer Pakora: The Indian version of a cheese curd, this dish is paneer cheese cubes fried in a gluten-free batter. On their own, there's not a ton of flavor here, but the batter is terrific and the tomato butter dipping sauce makes it. For $8, you've got a great shareable Fair food. Indoor Food Building
EAT IF YOU WANT
It's your life and these things are good.
1. Nordic Waffles I-Scream Waffle Sandwich: I debated where to put this on my list, as this was an absurd food in a good way. It's literally an entire ice cream sandwich (like the kind you'd get at the grocery store), topped with kettle corn, chocolate drizzle, and sprinkles. It's silly, it's really sweet, it's weird to bite into an ice cream sandwich and also get a bite of waffle—but the flavors worked. The crunch of the sweet kettle corn was perfect with all those soft textures, and I kept laughing as I ate it, so that's a Fair food win, is it not? $9. West End
2. Blue Moon Dine-In's Caramelized Banana Pudding: Super-banana! Thick banana pudding with real banana chunks in there, along with pieces of Nilla Wafer cookies, whipped cream topping and then a sprinkle of cocoa crunchy pieces. Those cocoa pieces made it for me – the contrast in texture was perfect. Huge portion for just $8. By KSTP-TV
3. Tipsy Pie's Blue Raspberry Blitzed: This one was a pleasant surprise, as the combo of apple-raspberry-blueberry with raspberry-infused UV vodka did not sound appealing to me. Turns out: it was great. Fruity but not overly-sweet, all in a perfect pie crust. Sara Hayden has really dialed in her pie crust, so enjoy! $7 Indoor Food Building
4. Mancini's La Floretta: "It's a vegetable," said MNMO associate editor Erik Tormoen. True, but sometimes you need a vegetable to give yourself a break from the meat sweats. I loved the sweet/sour combo of the sauce, the liveliness of the dried Italian spices sprinkled on top, but the cauliflower florets leaned a little too crunchy raw for me and $7.50 is a lot for "just a vegetable." Across from WCCO Radio
5. (tie) Green Mill's Pizza Lucy: EDIT: I tried this again and really enjoyed it! Thin pizza dough was thin and crispy and delicious. Sausage patty is the same recipe Green Mill uses on its pizza and had a nice lingering spice to it. It's a BIG serving and $7 is probably half what it should cost, but it's a tasty, smashed calzone. Here's my initial review: Maybe I was unreasonably mad at this because I would love to see a Jucy Lucy at the fair. This is a sausage patty, topped with melted cheese, topped with pepperoni, wrapped in thin pizza dough. It's more like a sausage patty calzone, although the dough is really thin and my version of this was almost chewy. An absolute gut bomb. $7
5. Coaster's Cracklin' Prime Nachos: I worked summers at a swimming pool concession stand growing up, and so I'm partial to the bright yellow, creamy "cheese" that comes out of a pump. Coaster's takes the nacho game in a new direction by using chiccharon pork rinds as the chips. It's perfect when it's fresh, it's gross when the pork rinds lose their crispiness. There's "prime rib" shavings on this that looked more like roast beef to me, "I'm not mad about this," said my friend Tracy. I wasn't mad either. $9. By The Mighty Midway
6. Sausage Sister & Me: Banh Minn Bunn or Bowl. These women always make a quality sausage and the banh mi-inspired Asian-spiced sausage itself is excellent. Topped with pickled shredded carrots and radishes, you can choose to add on jalapenos and cilantro and whatever spicy or non-spice sauce you want. The flavors here are really good but the bun is a question mark. It's huge, almost swallowing the sausage. Maybe people would struggle to eat a sausage through a crunchy baguette roll, but even toasting this bun would go a long way. Try the bowl! I'm going $8. Food Building
7. Minnesota Farmers Union: Cucumber Jalapeno Limeade: This is very light in flavor—the limeade tastes of real lime and not of sweetness, the jalapeno is fresh and local and so sometimes it's spicy, sometimes it's not. The cucumber adds a cooling effect too. The diced jalapenos will end up stuck in your teeth. I like this, didn't love it, so you make the call. $6.00. Minnesota Farmers Union building.
8. The Hanger's Island Hopper: A surprise from The Hangar! A solid version of chicken teryiaki with nice and tender chicken, served with diced pineapple on top of a mountain of rice. This is an enormous serving, and one you'll have to sit down and share with some friends. The beauty is that it's all served in a hollowed-out half pineapple. It's beautiful. The dish itself is fairly basic, but well-executed. The Hangar, North End
DON'T EAT THESE
1. Giggles: Bison Bites: I had high hopes for the bison bites, as Giggles has such a great track record of innovating food. The duck wontons! Walleye cakes! These bites were another fried ravioli but the filling had a mouthfeel one of my friends characterized as "sawdust." I wouldn't go that far, but it had sort of a dry, meatloaf consistency to it. The sweet bourbon sauce was a little too sweet as well. They're fun if you want a bison-eating experience. $8.75. North End
2. Blue Barn: Buffalo Chicken Doughscuit: A rare miss for me from Blue Barn. There are too many things happening here: I actually liked the vanilla icing mixed with Frank's Red Sauce. Yes, it's sweet, but sweet and spicy is nice. But then there are bacon bits, and chicken stuffed inside a fried doughnut-biscuit-hockey puck thing. The doughscuit is too dense and too sweet for me to have more than one bite. Two per order at $12.95. West End
3. Nordic Waffles: Chicken & Macaroni Waffle: I love the Nordic waffle itself with its hint of cardamom and thin heart-shape. Of course, people asked when they'd do a chicken & waffles version, but Nordic Waffles didn't want to jam a Southern culinary tradition into a Norwegian waffle. Instead they decided to put a pile of mac & cheese and a chicken drumstick, bone and all, inside the waffle. You have to eat it from the top and then rotate it, which is sort of preposterous. Good flavors, but this one is tough to eat so that's a no for me. $12. West End
4. Dino's: Greek Stuffed Ravioli. Dino's is such a fun place with a piano bar, karaoke, and live bands. And I enjoyed the fried, stuffed ravioli, which they say was made out of Mediterranean pastry dough. But the filling did nothing for me. It tasted like nothing, which is almost hard to believe considering they say it's stuffed with cream cheese, tzatziki sauce, mozzarella cheese, pepperoncini, tomato, gyro meat, and Dino's Greek seasoning. I tasted none of those elements. $7. But we still love ya, baby!
Jason returns to the Fair this week to continue to try new foods. Watch for his updates here.
Facebook Comments