Two new Japanese restaurants bring raw (fish) elegance to the North Loop
photos by terry brennan
---
Jason: Kado No Mise and Kaiseki Furukawa are unlike any other restaurant duo in Minnesota: a minimalist exploration of Japanese cuisine, a return to fine-dining service, and a celebration of a slow-moving, deliberate meal. 
Joy: Plus, there's a tiny Japanese whisky bar upstairs. This spare, airy pair of restaurants, located in the former home of Origami, subtly smells of incense burning and feels like a study in serenity.
Chef Shigeyuki Furukawa
Jason: Kaiseki opened above Kado in August to serve 10-course dinners all selected by chef Shigeyuki Furukawa. It's open only on Fridays and Saturdays, with a ticket price of around $170 including tax and tip. Add the $60 wine pairing, and you have the most expensive-tasting meal in town.
Joy: It was a stunning experience, but it also made me feel like I might not be smart enough for this restaurant. For example, with one dish, I had to be instructed to forgo my spoon and use my tiny tasting plate as a shooter. The server made the suggestion gently, with the utmost politeness, but I was clearly doing it wrong. 
Jason: Considering one of the courses was uni—that's sea urchin—suspended in gelatin, most of us can probably be forgiven for not knowing what we're doing. Kaiseki does a nice job pairing the best of traditional Japanese cooking with local ingredients, such as a beautiful dashi broth with eel and Minnesota zucchini. Or a rice course with ginger and homemade pickles.
Tekka Maki and Umeshiso Maki
Joy: I could rave for hours about the simple, delicious rice. It was beautifully textured: each grain firm but tender, tacky not mushy, and spiked with a zing of ginger. 
Jason: The team does need to get better at explaining the story behind the food. We were there shortly after opening, but there was a tentativeness to the service. At that price point, confident service is key.
Joy: To enjoy the quiet of Kaiseki and the expertly prepared, delicately flavored seafood dishes was a rare treat in a restaurant era of boisterous acoustics and aggressive seasonings.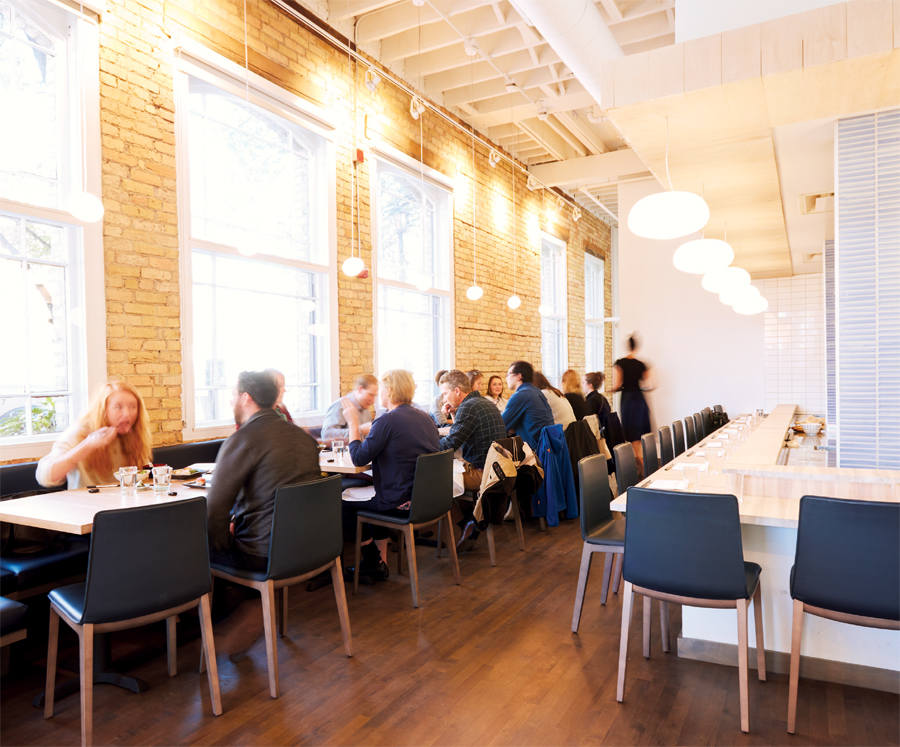 Kado No Mise
Jason: The downstairs restaurant, Kado, has been operating for months now, and it's exceptional. Our server at the sushi bar was fun, informed, and precise. The chawanmushi egg custard was creamy and elegant, accented with organic chicken and fresh vegetables. The shiso-wrapped crispy blue prawn was a stunning combination of briny and sweet flavors.
Joy: I was more comfortable dining downstairs, enjoying the more casual menu of dishes that are still quite refined and let the ingredients speak for themselves. I could eat those snappy little Japanese pickles for days. Add a briny cockle nigiri carefully dipped in the house-brewed soy sauce and a bluefin tuna roll and I'm in heaven.
Jason: The roasted mushrooms in a clay pot and plum roll with pickled radish were both indicative of something potentially very special here: flavors unlike those at any other Minnesota restaurant. Plus, a return to high-end, high-level service.
---
Kado No Mise & Kaiseki Furukawa Quick Tips
Parking: Street parking is challenging; try the public ramp across the street and surface lot near Aria 
Open For Lunch: Lunch is counter service and extremely reasonable: $12 for miso soup and four temari, a.k.a. sushi on top of a ball of rice
Cocktails: Traditional with a Japanese twist: green tea makes a French 75 a Ginza 75; the Old Fashioned has honey tamari
Kado No Mise & Kaiseki Furukawa
33 N. First Ave., Minneapolis, 612-338-1515, kadonomise.com, kaisekifurukawa.com