Ever since she was a little girl, Ann Ahmed wanted to work with food. 
"As a young child, I was always in the kitchen," Ahmed says. "After school, I would run into my grandmother's kitchen and help her out with dinner. I wrote my first menu in the 6th grade, so it was always really natural to me."
She started off as a little helper in her family's grocery store deli, and ended up as the chef and owner of two innovative restaurants. There's Brooklyn Park's popular Thai spot Lemon Grass, and the new Lat14 Asian Eatery in Golden Valley, which expresses something very personal to her. 
"I wanted, in a sense, to go back to my roots, and do something that was … the foundation to who I am as a chef, and that was cooking Lao food," Ahmed says. 
As a Laotian chef, her connections to Laos and nearby Thailand, Cambodia, and Vietnam—all on the 14th parallel—inspire her cooking.
"I get to be true to who I am as a chef," Ahmed says. "I don't have to fit a mold or a certain category. You know, everyone is always trying to define you as a person and define your food. Now it's kind of like, 'Yes, I'm Laotian. Yes, my restaurant is called Lat14.' And I get to cook all these amazing foods that fall within the 14 parallel. I think that's what makes it unique, and that's what makes me proud of what I do every day. You know, I get to be creative, and I'm not so restricted."
Before Ahmed became a restauranteur, her mother—also a restauranteur—urged her to get a degree outside the world of culinary arts.
"So I decided, fine, I'm going to be a teacher," she says. She studied at San Diego State University. In 2005, the week of her commencement, her mom called. There was a restaurant for sale. 
"I basically bought Lemon Grass over the phone, and I skipped my commencement walk," she says.
But her teaching experience hasn't gone to waste, and she says the best advice her mom gave her was to get that degree.
"I don't have formal training as a chef, but every day I'm teaching my staff," Ahmed says. 
This week, Ahmed is using her teaching skills and sharing her passion with kids in the community through St. Paul's Urban Roots. She originally connected with the organization by helping with the Roots for the Home Team program. On Tuesday, June 25, she'll be helping the Cook Fresh interns make lunch using fresh produce from Urban Roots' Market Garden run by youths. It's the first in Urban Roots' series of summer lunches.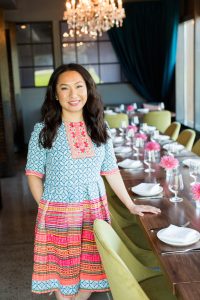 "They really reminded me of when I was growing up, and how all I wanted to do was cook," she says. "I wish I would've had the opportunity when I was their age to work with a chef and just create something."
Being involved with youth is important, she says, and it simply takes a bit of effort to make time for it.
"It's kind of cliche to say it, but they are the future. I think the most humbling thing of all of this, is these youths, they want to learn, they want to be a part of it, they want to learn from you," she says. "And why would you say 'no' to that?"
Chef-Led Lunches at Urban Roots 2019
June 25 – Guest Chef Ann Ahmed (Lat14 Asian Eatery)
July 9 – Guest Chef Eddie Wu (Cook St. Paul)
July 23 – Guest Chef Heather Jansz (Curry Diva)
July 30 – Guest Chef Torrence Beavers (Brunson's Pub)
Urban Roots, 463 Maria Avenue, Suite #207, Saint Paul. RSVP
Facebook Comments