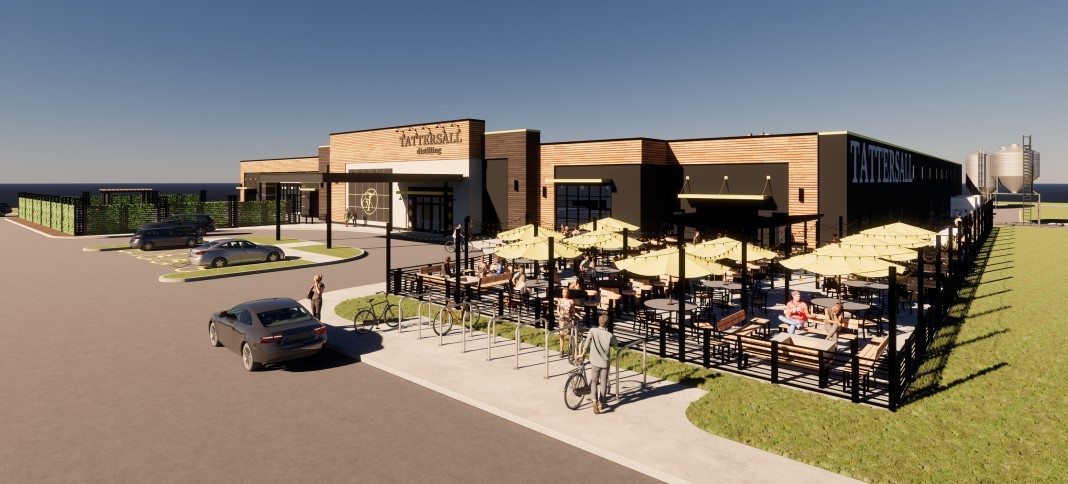 We know that Minnesota has some old and restrictive liquor laws. It's the only state in the country that still has 3.2% ABV beer and that limits "large" craft brewers from selling growlers. Breweries can't sell cans, they can only sell in growlers or crowlers. Distilleries can't sell full-sized bottles, just one 375 ml (half-bottle) per customer per day. And when a distillery gets too big, they can't operate a cocktail room. That last regulation has forced one of the crown jewels of the Minnesota distilling scene to essentially move out of state.
Tattersall Distilling announced plans this morning to build a distillery this fall in River Falls, Wisconsin.
No, the cocktail room isn't shutting down in northeast Minneapolis. Tattersall will have a small amount of production in northeast in order to supply the cocktail room. (Speaking of, we've also learned they are opening the cocktail room this June after being closed for the past 15 months. Because production is being nearly wiped out, they'll expand the footprint of the cocktail room which will allow more space for social distancing.) But the bulk of production will go to Wisconsin. Under Minnesota law, when a microdistillery exceeds 40,000 proof gallons, they can't have a cocktail room and they can't sell even the half-bottles to guests.
Personally, I couldn't decide if I should be excited about the new facility or mad about the move of production out of Minnesota. "We've gotten past the anger, I think, and moved onto the excitement," says Jon Kreidler, founder and chief officer of Tattersall Distilling.
"The chances of us getting any laws changed doesn't look possible, there are a lot bigger things on the agenda," for lawmakers because of the COVID pandemic, he says. "We've been looking for a second location for over two years." If they grew production, they'd have to close the cocktail room, and they'd be stuck with a production facility in a high-rent part of the state.
The River Falls project does look awesome. 75,000 square feet. Full-service restaurant and cocktail bar to seat 150. Outdoor patio with fire pits and lawn games to seat 250. Large amphitheater for concerts and wedding ceremonies. Ballroom event space for up to 420. Retail market to sell all sizes, mixes, clothing, etc. Sustainability measures like a 400kW solar array being installed on the roof. A water reclamation system will recycle water. Don't you wish this were in Minneapolis?
Tattersall is now distributed in 30 states, and the Minnesota company now feels it's forced to largely move out of state. Kreidler told me they looked at 20 cities all over the Upper Midwest, all with more attractive laws than Minnesota. "We'll have no limits on sizes, on production capacity," he says.
Kreidler's family has a summer house in Wisconsin, Tattersall co-founder Dan Oskey went to UW Madison, and they both say they're excited about the new facility. "River Falls has a focus on sustainability and renewables which aligns perfectly with our vision," Kreidler says, as well as outdoor activities like the Kinnickinnic River, mountain bike trails, hiking, golf and "a hotel right next to our 300-space parking lot."
The cocktail room in Minneapolis will get reservations, online ordering, and some other hospitality changes. But they expect the new location in Wisconsin to be a destination or getaway from Twin Cities people. You may have heard that the Tattersall servers in Minneapolis joined a union during COVID, a move initially opposed by Kreidler and Oskey. I asked Kreidler if that played a role in moving production to Wisconsin. "This move really is about preserving these jobs. If we don't move, we have to close the cocktail room," Kreidler says.
UPDATE: I reached out to UNITE HERE Local 17 Secretary-Treasurer Sheigh Freeberg who said, "The employer did let us know of their intended move. We are continuing to stay in contact with them and have heard their concerns about MN Liquor laws. We are focused on negotiating a contract that is beneficial to our members who work at Tattersall and serve their community."