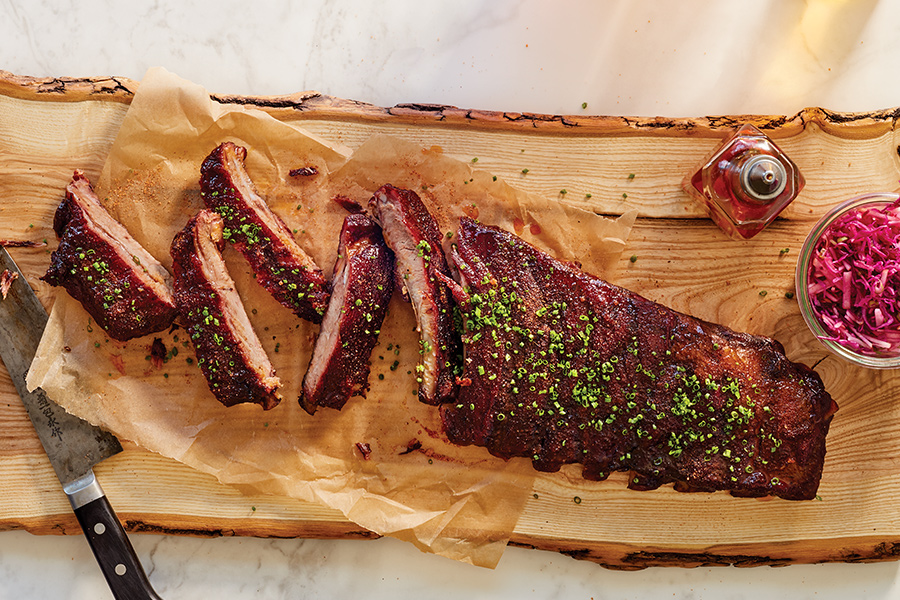 Revival's butter ribs
photo by terry brennan; styled by lara miklasevics
---
Revival Saint Paul's Butter Ribs
The Twin Cities' second Revival outpost, located in St. Paul's Cathedral Hill, is a barbecue spot masquerading as a fried-chicken restaurant. The "Southern fried" draws people in, but it's chef Thomas Boemer's obsession with the smoky arts that makes this place such a treasure.
The butter ribs began as a special, but graduated to the dinner menu—thanks to public demand. Racks of pork ribs are smoked, nestled in a soft bed of juicy runoff from the barbecued meats, shellacked with a spicy/salty/peppery blend, dipped in butter, and hit one more time with a finishing rub, creating a flavorful, hard-crack crust wrapped around delicately soft pork meat.
Ask Boemer about the technique and inspiration for these ribs and you'll get an hour-long soliloquy. Born here, raised in North Carolina, and now back, Boemer has Southern food memories to recreate, but also an artist's endless thirst for tinkering and a scholar's hunger for knowledge.
"The butter ribs are a fusion of higher-end cooking technique, using high-quality meat with tradition," he says. "In fine dining, meat is often rested with butter on top because the butter has higher moisture density. Coating the ribs in butter locks that moisture in. Then we use another rub for finishing. The butter lends a layer of decadence that really can't be denied." -J.S.
525 Selby Ave., St. Paul | 651-340-2355 | revivalfriedchicken.com
Smokey's Pub N' Grill
Two life-long friends and a father-in-law teamed up to make an old bar in Coon Lake Beach a 'cue destination, and the ribs are part of the reason why. They're Memphis-style, dry-rubbed, and cooked over apple and oak for the perfect, smoky mix of tenderness and chew. -J.D.
552 Lincoln Dr., East Bethel | 651-464-6046 | smokeyspubngrill.net
The Piggy BBQ of Walker
This Kansas City-style barbecue is so good it was featured in The New York Times. They use only fresh, never-frozen pork-loin back ribs and smoke them over hickory with great finesse. The rub is heavy on paprika, and the wait here can be long—but trust us, it's worth it. -J.D.
607 Minnesota Ave. W., Walker | 218-547-OINK | thepiggybbqofwalker.com
The Rib Cage
This roadside stand embodies what barbecue myths are made of. The menu is miniscule, and the Rib Cage is open only during warm months—typically May through October—but oh, those ribs. The seasoned, porky bites of heaven pull away from the bone at the slightest amount of coaxing. -J.S.
19000 County Road 81, Osseo | 612-245-3516 | Website
Facebook Comments