Nashville Coop, one of the Twin Cities' newest concepts, is making its mark on the hot chicken scene—and it's a big one.
In the midst of a global pandemic and worldwide uprising against racial injustice, Nashville Coop's 'gram-worthy food truck, launched by brothers Arif and Kamal Mohamed, started bringing the community together this summer over Nashville-style hot chicken. And now, as of September 15, the Mohamed brothers have unveiled a brick-and-mortar restaurant, too, at 300 Snelling Avenue South in St. Paul. (They sold out on opening day.)
The two came up with the idea for Nashville Coop in January during a trip to Los Angeles, where Arif tried his first-ever hot chicken sandwich. "It was so good, love at first sight," he recalls. "It was so spicy I was sweating, but I ate the whole thing because it was so good."
As children, the Mohameds and their family emigrated from Ethiopia to start a better life in Minneapolis, but their mother held onto their heritage in the kitchen. "She cooked almost three times a day, so we were around spices, aromas, and heat," Kamal explains. "On the other hand, my father [who owned a company that exported fruit from North Africa to Southwest Asia] has brought his business expertise to the table," Arif adds. Despite that background, neither brother saw themselves in hospitality until one summer they served sambusas at a farmers' market and saw how much joy they could bring people. That experience led them to open the Alimama's Sambusas food truck, JuiceBot (a fresh-pressed juice vending machine), and, now, Nashville Coop.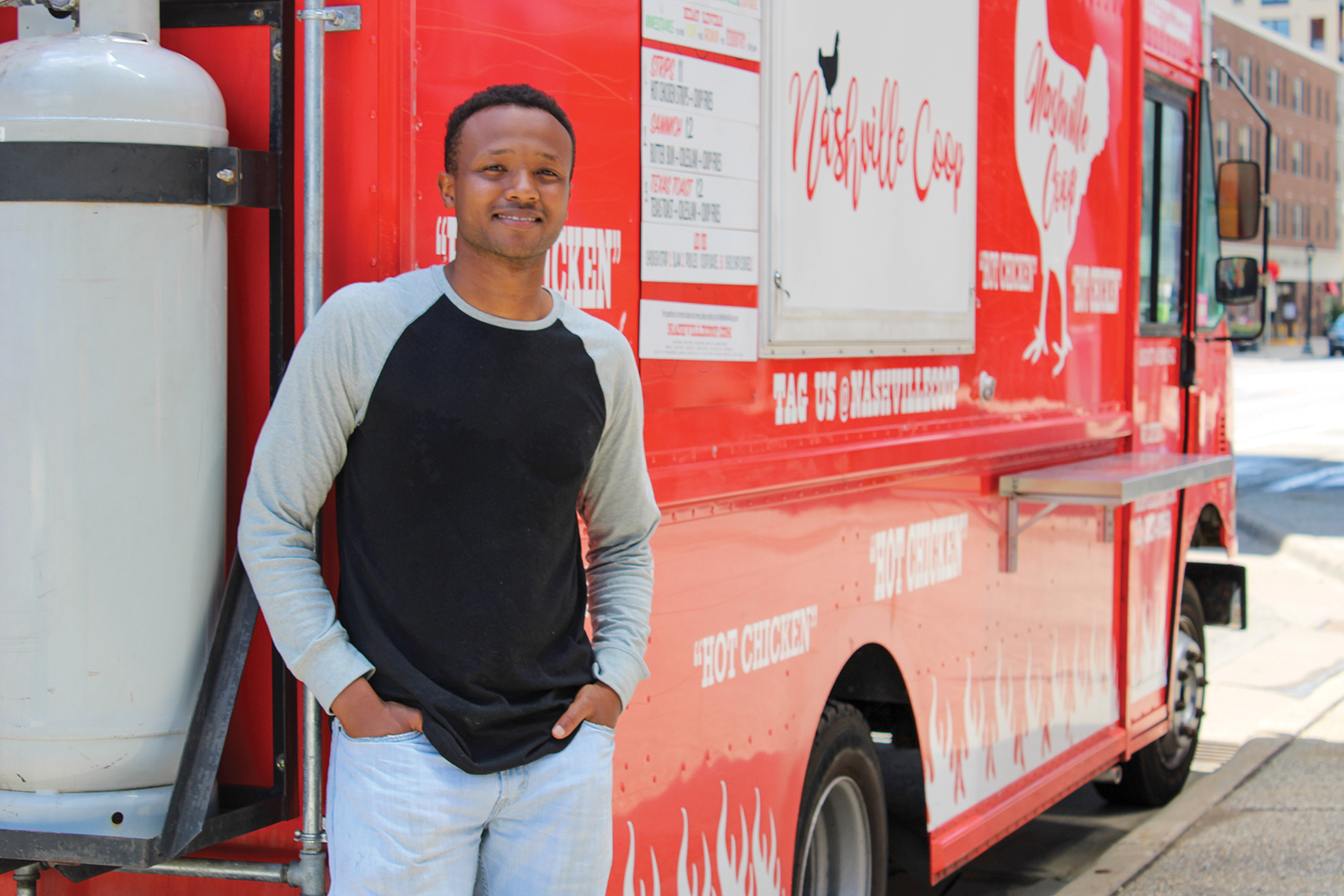 Strange Time to Launch
Though Nashville Coop's first year has been wildly successful, gaining high praises on social media and regularly selling out, the co-owners had to maneuver a few unique obstacles. COVID-19 hit the U.S. like a tidal wave, crashing hardest on the hospitality industry. "When businesses across America started closing, I had reconsidered investing money into a food truck," Arif says. After a close look into the CDC guidelines for food trucks and considering the comfort of being outdoors, where COVID-19 is less likely to spread, they decided to go through with the opening.
"We had the same concerns as every business, from getting customers, taking care of employees, the funds to keep the lights on," says Kamal. "But we pressed on because we all have to eat. We felt we could be a relatively affordable, delicious distraction."
Affordable and delicious is spot-on. Right around $10 gets you a box of strips, Texas Toast, or the extremely popular "Sammich," two chicken strips on a bed of coleslaw topped with pickles, sandwiched between a brioche bun, and dripping with their signature tangy, mayo-based Coop Sauce. Each box comes with a generous serving of fries. The strips and Texas Toast are accompanied by coleslaw, pickles, and a cup of Coop Sauce. Social media raves over the sauce have fed its overnight success.
The Rule of Spicy Food
The secret to the chicken's incredible flavor is hidden in the technique. They dredge the strips in a well-seasoned flour and deep-fry them fresh to order. Just before they go out, each strip gets dipped in a vat of melted butter and is hand-seasoned with your choice of Minnesota Nice (no heat), Coop (mild), Growlin' (hot), or Cluckin' Hot ("24-Hour Pain") seasoning.
Kamal and Arif are not afraid of heat. "We knew we had to have a no-spice and a mild option, but when it comes to the hot chicken, we didn't want to hold back," says Arif. "It had to be as hot as, if not hotter than, the stuff in L.A." While Nashville Coop was originally inspired by Howlin' Rays in Los Angeles, they also took a page out of legendary Tennessee-based chain Hattie B's book, with no brown sugar in the recipe.
Most spicy food lovers have one rule: It can be painfully hot, as long as the flavor's good. That's Cluckin' Hot! You can taste umami flavors of garlic and onion, in addition to smoky paprika and cayenne. Just be sure to use the Coop Sauce, cold water, and possibly an extra side of coleslaw to cool you down.
A Silent Battle
In addition to navigating food service during the pandemic, the brothers also stood in solidarity with the BIPOC community and stayed open throughout the uprising following the killing of George Floyd. In fact, the commissary kitchen where the Nashville Coop team preps is across the street from Cup Foods, which became a memorial site for Floyd. In the early days of the uprising, the team spent a day handing out chicken to mourners gathering at 38th and Chicago.
The protests also renewed awareness of the systemic racism that makes becoming a business owner in the BIPOC community much harder to achieve. "The silent battle for Black business owners happens behind the scenes—such as getting loans, permits, licensing, etc.," says Kamal. Overcoming those struggles put the Mohamed brothers in a position to create opportunities for others. "I do have a sense of responsibility to the younger Black community to set an example," says Arif. "If I can do it, you can, too."
Mouthwatering Instagram testimonials speak for themselves, but Kamal and Arif also create an atmosphere filled with music, laughter, and excitement. While visiting the truck, I heard plenty of enthusiastic comments, from "We've been hearing about you from all our friends" to "This is our fifth time here and it never gets old!"
Nashville Coop has two food trucks, and if you're flagging one of them down, make sure you're early. As we all learned on opening day of the new St. Paul location, the brothers sell out fast!