When do Instagram gimmicks go too far? Is there any such thing? Not for the Copper Cow, the "brother" restaurant to the Copper Hen on Eat Street. While the Hen's beautiful, modern-rustic design has lit up the 'gram for the past five years, it's the food at the Cow that's irresistibly and absurdly photogenic.
The donut burger features two glazed sour-cream donut buns sandwiching a thick beef patty, topped with bacon, cheddar, a fried egg, and made way-too-sweet with maple syrup aioli. Take one bite and you'll love it. It's super sweet, it's funny, it's two whole donuts holding a burger. But then take a second, third, or fourth bite. My donut burger started to crumble, the sweetness got way too intense. It was too much for even my 11-year-old son.
I've never seen anything like the deep-fried burger: Not just the patty—they batter and fry the whole sandwich, and it's not bad. They have integrity in the food here. The bun is made with milk and honey in their kitchen; the burger is made with Limousin beef from Peterson Craftsman Meats in nearby Osceola, Wisconsin. Not that you can taste those delicate elements when the whole thing is surrounded by deep-fried batter.
And thus begins my internal debate. The Copper Cow has designed these burgers to be social media catnip—something you order, photograph, and post so the likes pour in. Here's what I wrote on my Instagram feed:
People argued with me in the comments, many saying they loved it. (I loved the response from Copper Cow: "Only some can hang 🤙😏" !!!) And as much as it pains me to be the voice against excess, there's something gross about burgers that have to be 4,000 calories. Order them if you must, post your pictures, and share these with the group. Treat them like an appetizer.
Or, better yet, try anything else. The kitchen turns bleu cheese into a crunchy disc on the Black & Bleu-Eyed Pig burger: cool texture, and nice earthy bite to go with a tomato aioli.  Then, the Sweet Potato Salad was delightful, with pickled mustard seeds and fresno peppers, plus a nice acidic punch from an apple-cider vinaigrette.
The Burrata Garden salad's roasted tomatoes make this better than the ordinary cheese-and-prosciutto platter. Caulilini (looks like broccolini but is 100 percent cauliflower) is sweet, crunchy, and perfect with the black-eyed pea hummus.
I didn't really taste the lemon vinaigrette on my whole-grain salad. (I know, now I'm arguing for less restraint.) But the texture of the farro and quinoa piled on baby spinach, with carrots and roasted red peppers, really appealed to me.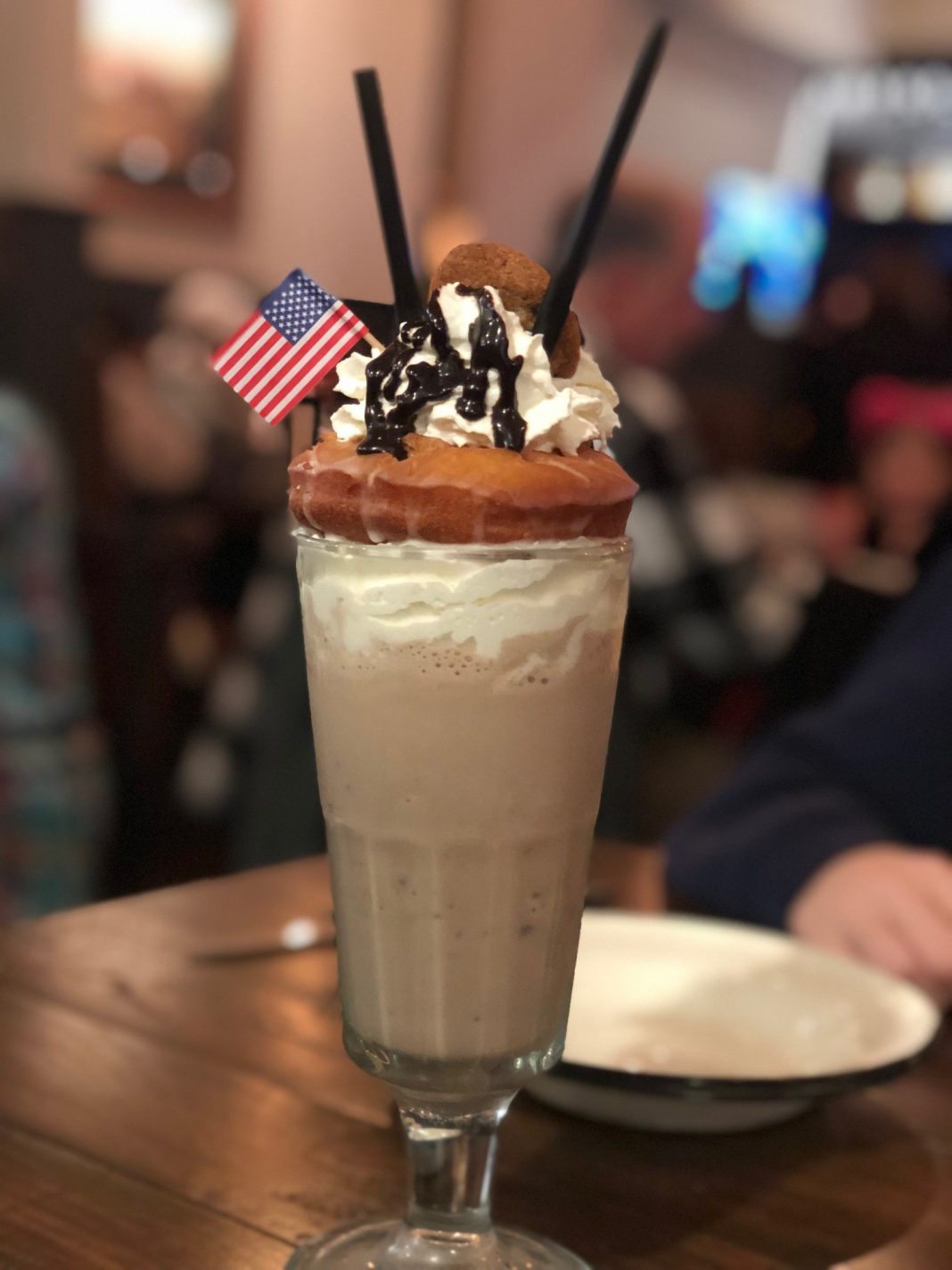 OK, back to the excess and calories—and the boozy shakes. You won't be surprised to read that the shakes are extremely sweet. But I was surprised to learn that ordering a boozy shake without the booze is the same price. So, the Americana we ordered—with cookie-dough ice cream and chocolate sauce, topped with a donut, whipped cream, and a chocolate chip cookie—was $15 even without the bourbon.
Why am I being so hard on a cute place, run by really nice people, in an area that needs a new restaurant? Maybe I'm being ridiculous—it's designed to be fun, to be Instagram fodder. Maybe I should lighten up?
Maybe. I just want people to know that looks can be deceiving. Because something looks great doesn't mean that it is great. I'm sure people are driving to Minnetonka from St. Paul, Maple Grove, and Stillwater to try it. And if you're up for the fun of it—great! Enjoy!
After all, with its friendly service, local sourcing, and quality baking, Copper Hen has the potential to be much more than an Instagram flash-in-the-pan. Until then, its marketing is all about the over-the-top, crazy items—which left me incredibly full, but also empty.
The Copper Cow
5445 Eden Prairie Rd., Minnetonka
952-297-8066