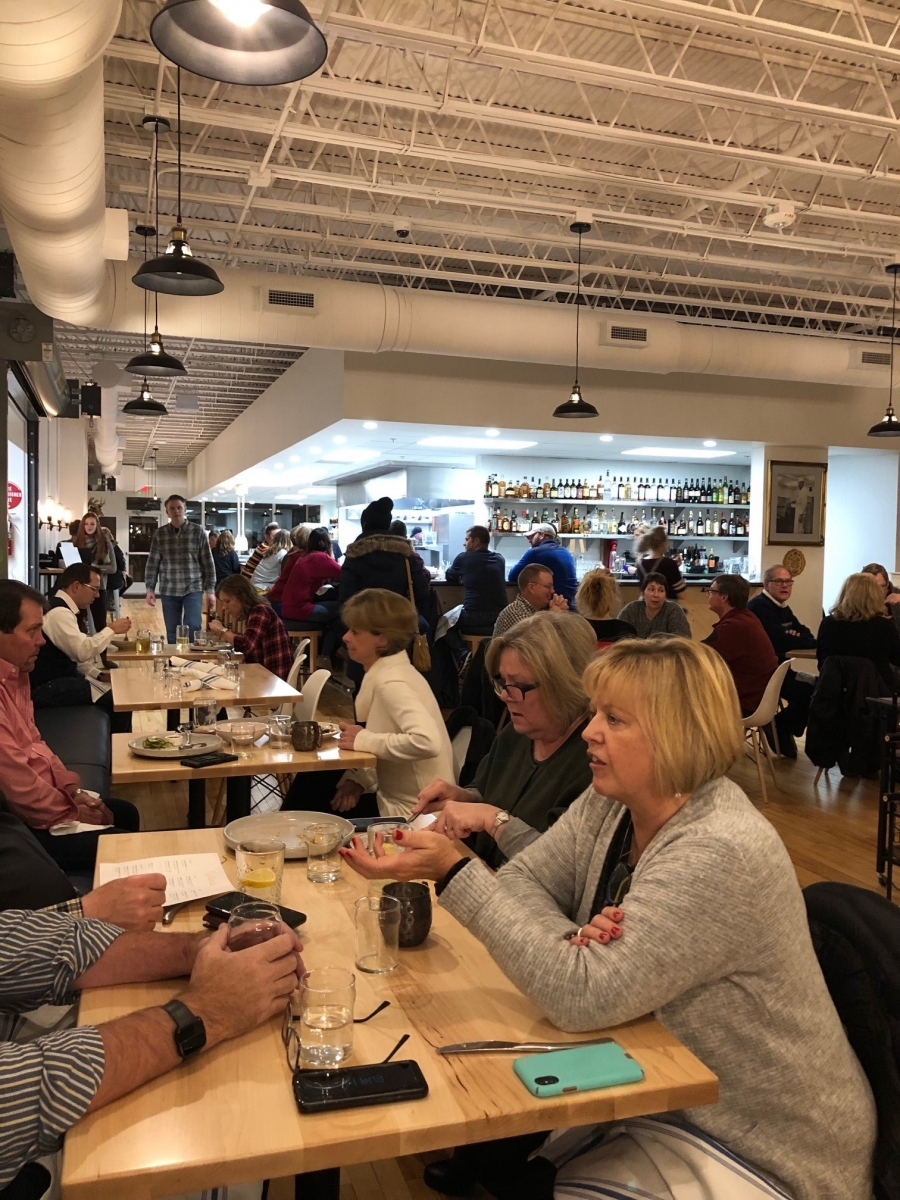 Driving up Highway 65 on a cold, winter's night, my wife and I watch as we pass the soccer fields of Blaine, the cornfields of Ham Lake and Bethel, the farm equipment dealers and Casey's General Stores of Isanti, until we finally arrive in Cambridge. An hour from downtown Minneapolis, from Maple Grove, from—let's be real: Cambridge is about an hour from most of us.
Cambridge feels like it's out of a time machine. It's still a manufacturing town, with a Metals & Plastics works and an engine component manufacturer. Only the twinkle of Christmas lights keeps Main Street from looking like a scene out of a black-and-white movie. The starring role is played by a giant department store with its name spelled out in enormous cursive letters: Leader.
This long preamble sets the scene for one of the most endearing homecomings in Minnesota food history. Yes, when Gavin Kaysen came home to Minneapolis from New York to open restaurants, that was cool. But Erick Harcey uprooting from Minneapolis' Linden Hills neighborhood—and a James Beard Award nomination—to go back home to rural Cambridge, Minnesota, might be even more special.
Harcey is the innovator behind the Perfect Burger at Victory 44 in north Minneapolis. His Nordic/Swedish food, inspired by his grandfather's cooking and Cambridge restaurant, drew national acclaim at Upton 43. And then he left it all. Burned out by the grind, by the pressure, maybe by the daily commute. He and a friend bought the Leader department store and gutted it, building a beautiful, open, airy restaurant called Willards.
It's worth the drive. Willards will remind you of Harcey's cooking at Upton 43, but it's a little more approachable. Some of his career's greatest hits are here: the Devils on Horseback from Victory 44 (bacon-wrapped dates filled with aerated bleu cheese), the Swedish meatballs with lingonberry from Upton (just $20). The Perfect Burger (80 percent beef, 20 percent bacon, topped with more bacon and American cheese) is here, too. The aged-cheddar rillettes, with black currant and fry bread, are a great snack for $9. The wild rice fries are super cool—great texture and creaminess served with pickled celery, apples, and a decadent brown butter dip. Shrimp Skagen is a beautiful piece of rye bread with bright lemon mayo topping sweet shrimp. Excellent.
Three salads include a must-try Little Gem Lettuce, with aged gouda and apple-cider vinaigrette, to break up the starters and entrées. Harcey has managed to highlight incredibly familiar dishes (salmon, chicken thighs, pork chops), and he elevates them in ways that delight. The salmon is served with pork belly, cranberries, and walnut butter. The fried chicken thighs come with a side of barbecued carrots, topped with hazelnuts, apricots, and fresh dill.
All of this is priced incredibly affordably. The most expensive item on the menu is a $29 grilled ribeye cap. Most entrées hover around the $20 point. Willards opens every day at 9 a.m., and in the daytime it's more of a breakfast/lunch spot, with sticky buns, waffles, and an open-faced hot beef sandwich that Harcey said is the most unattractive dish he's ever created—but also one of the most delicious. I found the service extremely warm and friendly and the wine list as excellent and affordable as the food.
Sometimes what we need is a break. A break from the professional rat race, from chasing awards and admiration. A break from the long hours and commutes that keep us away from our families. And a break from our familiar surroundings. Willards is that break for Harcey. It can be that break for you, too.
---
Willards
133-135 Main St. S., Cambridge
763-689-5600