I get this question often, "Jason, where should I go for lunch downtown Minneapolis?"
It's tough because many local places are still not open or on limited hours as workers slowly make their way back to the office. There are a handful of new options, and I've enjoyed all of them. Noa Minneapolis opened this winter in the IDS, I've become a bit of a regular at David Fhima's Mother Dough Bakery in the Capella Tower (they make the perfect cappuccino), and now Hell's Cafeteria has entered the conversation on Ninth Street.
During the pandemic, the employees who own Hell's Kitchen had a decision to make. The space upstairs that held Angel Food Bakery was empty (Angel Food moved to St. Louis Park), and founder Cyn Gerdes was ready to retire. But Gerdes felt like she had one more concept in her and wanted to try one more thing.
Hell's Cafeteria has some of the favorites from the mothership downstairs and opens at 7 am Monday-Friday and closes each afternoon at 2:30 pm. It offers counter service with some made-to-order dishes like the McNeil breakfast sandwich for $7.50 features maple glazed bison sausage, a fried egg, pepperjack cheese and chipotle mayo on an english muffin. It's equal parts flavor and mess.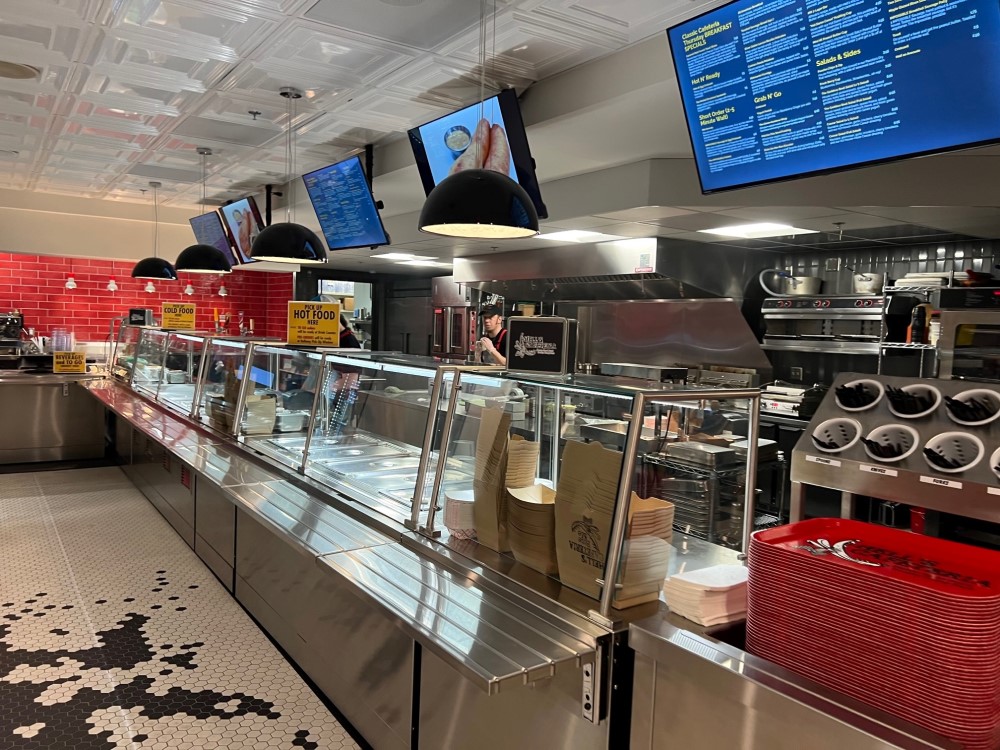 They've also got all my breakfast favorites, too. There are silver-dollar sized lemon ricotta hotcakes, a creamy and comforting mahnomin porridge, and the toasted sausage bread. There's also stuff you can grab like a yogurt parfait and a green goddess chicken salad wrap. A handful of healthy options like a beet salad and a Caesar salad are very popular, so expect those options to expand.
I had to try the mini peanut butter cup and what a great use of $3: 72% dark chocolate envelops the creamy middle made from the iconic Hell's Kitchen small batch peanut butter. It's fabulous.
The idea is to give people a breakfast or lunch within 3-5 minutes of ordering: They have kiosks in store and you can also order online and pick it up. I tested it online at 8 am this morning and it was fast.
I get that some of you think downtown is a bit hellish right now, but it's not. The Twins are back in action, workers are coming back, and yes, there are great local places to have lunch. What the hell: Why not check out Hell's Cafeteria for yourself?
Facebook Comments