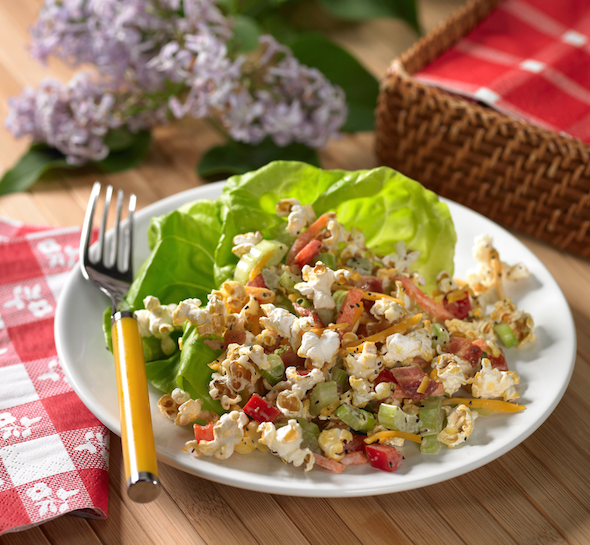 Many salads in your repertoire may include croutons, so why not popcorn for a change of pace? I see a few kernels sprinkled atop soup on occasion. And the folks at the Popcorn Board send me many interesting ideas we may not think of—so I thought I'd pass one along—and this salad includes bacon. Of course they look at creative ways in which to use popcorn, but this low-calorie gluten-free whole grain is more versatile than we think.
Popcorn kernels expand up to 40 times their original size. So this recipe, which calls for 8 cups of popped popcorn, needs only ¼ cup of un-popped kernels. The instructions note that this salad doesn't hold up long, so mix at the last minute and serve immediately.
Popcorn Salad
Makes 8 cups
8 c. popped popcorn
6 slices bacon
1/3 c. mayonnaise
½ tsp. garlic powder
¼ tsp. onion powder
¼ tsp. ground black pepper
½ tsp. salt
½ c. chopped celery
½ c. shredded carrot
1 red bell pepper, diced
4 green onions, thinly sliced, including greens
½ c. shredded cheddar cheese
lettuce leaves
Place popcorn in extra large bowl.
Sauté bacon until crispy, then drain on paper towels. Chop or crumble bacon and reserve.
Mix together mayonnaise, garlic powder, onion powder, salt and pepper in small bowl. Set aside.
Combine celery, carrot, bell pepper and green onions in medium bowl.
Add mayonnaise mixture to vegetables. Mix thoroughly.
Immediately before serving, add mayonnaise mixture, bacon and cheese to popcorn in bowl. Toss very gently to just combine. Do not over mix.
Serve on lettuce leaves. If desired, garnish with extra shredded cheese and chopped bacon.
Facebook Comments