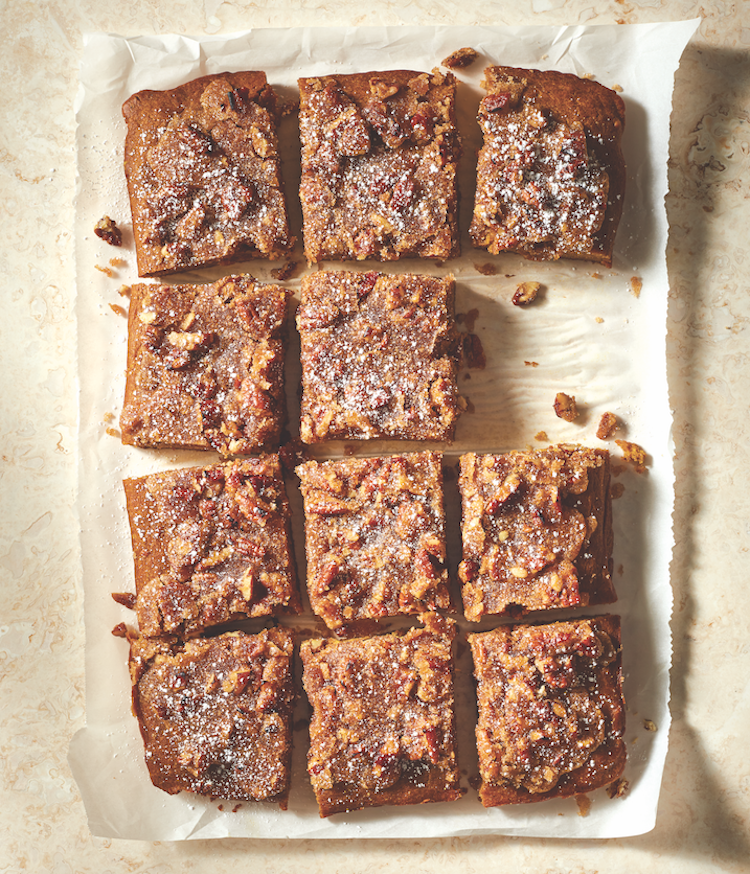 Easily whip up your own pumpkin-spiced cake made with real pumpkin in the mix—the following recipe by Twin Cities chef and cookbook author Robin Asbell, which appeared in Real Food, will walk you through it. Plus, scroll down for more pumpkin recipes.
This recipe calls for a can of pumpkin purée, but if you wanted to make your own purée from fresh pumpkin, it's easy to do by either steaming, baking or even cooking pumpkin in the microwave. Here is more on which pumpkins to look for and how to prepare them.
If you're used to canned pumpkin measurements, one 15- to 16-ounce can yields about 2 cups of mashed pumpkin. As comparison, figure a 5-pound pumpkin will yield about 4½ cups of mashed, cooked pumpkin.
Apart from making delicious dishes, pumpkin, which belongs to the same gourd family as cucumbers, squash and melons, is high in fiber and a good source of beta-carotene (vitamin A) and potassium. That sounds like a bonus.
Pumpkin Sheet Cake with Broiled Pecan Topping
Makes 12 Servings
This moist, easy-to-make cake will please your guests, especially if you broil the topping at the last minute. By spreading a buttery brown sugar and pecan topping on the cake and running it under the broiler, you create a warm, crunchy sauce that is easier and more special than the usual frosting.
2 cups flour
2 teaspoons baking powder
1 teaspoon baking soda
2 teaspoons cinnamon
½ teaspoon ground clove
¼ teaspoon ground nutmeg
1 teaspoon salt
4 large eggs
1 cup avocado or canola oil
1 (15-ounce) can pumpkin
For the Topping
½ cup unsalted butter, melted
1 teaspoon vanilla
1 cup light brown sugar
½ teaspoon salt, softened
1 cup pecans, coarsely chopped
Preheat the oven to 350°F. Lightly oil a 9×13-inch baking pan and reserve.
In a large bowl, whisk the flour, baking powder, baking soda, cinnamon, clove, nutmeg and salt. In a medium bowl, whisk the eggs, oil and pumpkin until smooth. Stir into the flour mixture, just until smooth. Pour the batter into the prepared pan and smooth the top.
Bake for 30 to 35 minutes, until a toothpick inserted into the center of the cake comes out with no wet batter clinging to it.
While the cake bakes, prepare the topping. Mix the melted butter, vanilla, brown sugar, salt and pecans.
When the cake is done, remove from oven. Turn the oven to broil and put a rack 4 to 5 inches from the heat. Drop spoonfuls of the brown sugar topping over the cake, spreading it gently and leaving ½ inch around the edges bare. Broil it with the door open, watching closely, for less than 1 minute. When the topping is bubbling and melted, take it out to cool. If the topping is melting down the sides, you can use a small spoon to move it back to the top and arrange the pecans while it's hot. Serve warm after the topping has set.
Cook's Notes:
• You can make and bake the cake up to 2 days ahead of serving, then cool and wrap tightly and refrigerate. On the day of serving, let the cake come to room temperature for a couple of hours. Just before serving, make and broil the topping, and serve warm.
• For a slightly sweeter cake, whisk ½ to 1 cup granulated sugar into the cake's dry ingredients.
Nutrition info (per serving): Calories 472 (297 From Fat); Fat 34g (Sat. 8g); Chol 83mg; Sodium 510mg; Carb 39g; Fiber 3g; Protein 6g
Hungry for More?
Check out these pumpkin-y recipes for sweat treats plus pumpkin's savory side.
Pumpkin Chocolate Chip Cake
This moist, dark-golden pumpkin cake is studded with chocolate chips and topped off with a drizzle of melted chips. What's not to like?
Pumpkin Cheesecake with Gingersnap Crust
Can't decide between pumpkin pie and luscious cheesecake for a festive dessert? Here's your answer.
Pumpkin Muffins with Pecan Praline Topping
Celebrate the flavors of fall in a sweet muffin that's crowned with a taste of New Orleans pralines.
Savory Pumpkin Soup with Gruyère Toasts
A comforting and good-for-you seasonal soup that is more savory than sweet
Facebook Comments