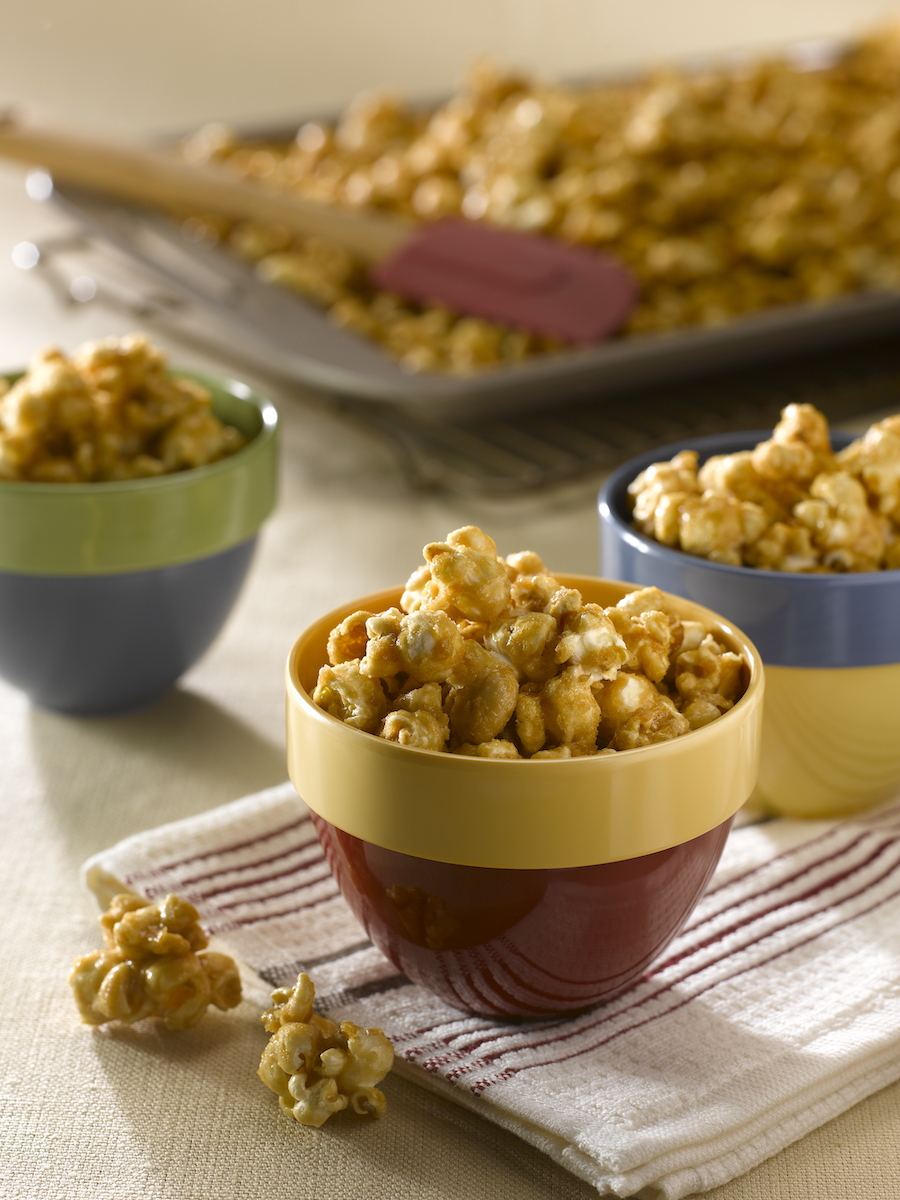 Whether you're in need of tasty snacks for binge watching or looking for an easy treat you can make with kids, popcorn is always a favorite. There is also a lot more you can do with these delicious morsels than drizzle on some melted butter—though that is always delicious. It's easy to jazz up variations with savory seasonings and whip up easy sweet treats with ingredients you are likely to have on hand.
Want more reasons to love popcorn? It's an unprocessed whole grain, and one serving provides about 70% of the recommended daily intake of whole grains. All U.S. popcorn is GMO free, even if it is not labeled "non-GMO," according to the Popcorn Board. It is also gluten and sugar free, naturally low in fat and calories, and has no artificial additives or preservatives.
Measuring
Keep in mind that popcorn kernels expand up to 40 times their original size. One ounce (1/8 cup or 2 tablespoons) of unpopped kernels equals 4 cups (1 quart) popped popcorn.
Popping Tips
You can pop popcorn in any type of oil—sunflower, olive, canola, corn, or coconut—but do not use butter as it will burn under high heat. If you like butter, drizzle melted butter on your popcorn after popping.
Pre-salting kernels toughens popcorn. So, salt the popcorn after it has been popped—or skip salt altogether and add salt-free spices.
Try these easy recipes, courtesy of the Popcorn Board: You'll have plenty to keep you crunching in the coming weeks.
Caramel Corn Crunch
Makes 3 quarts (12 cups)
½ cup (1 stick) butter
½ cup brown sugar, firmly packed
3 quarts popped popcorn
Cream butter. Add brown sugar and whip until fluffy.
In a large baking bowl, combine popcorn and creamed mixture.
Preheat oven to 350°F. Spread popcorn mixture on baking sheet and bake for about 8 minutes or until crisp. Serve warm or cooled.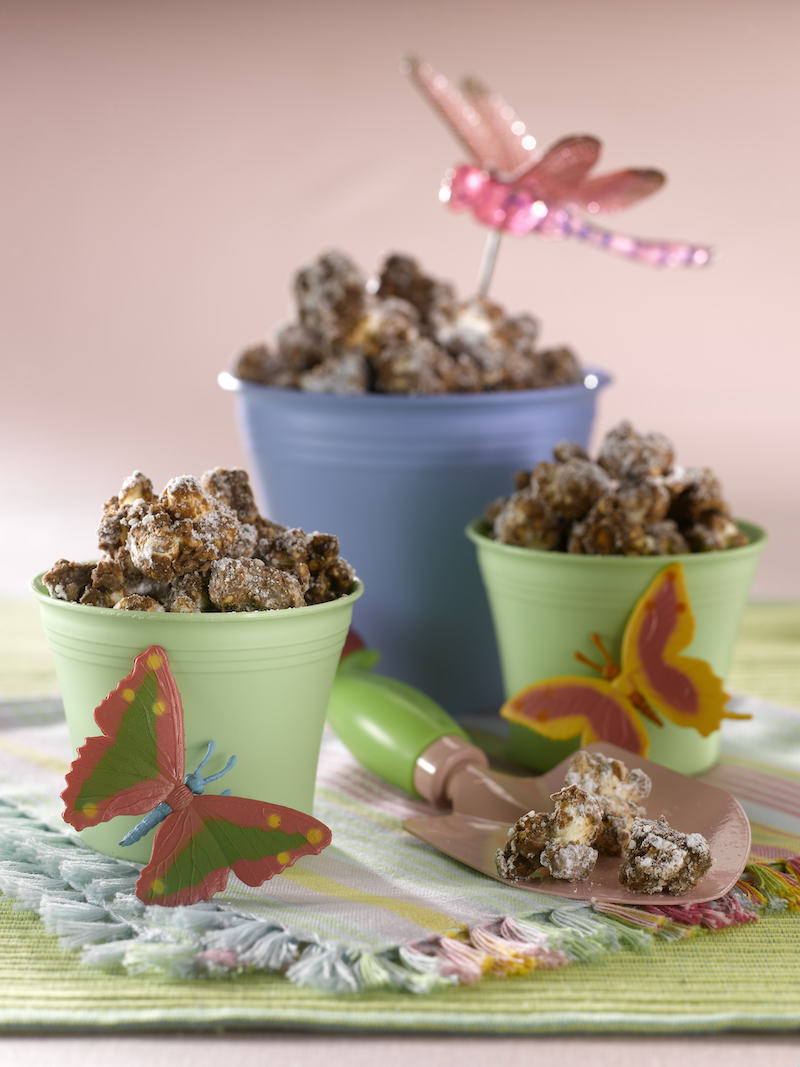 Poppy Chow
Makes 2 quarts (8 cups)
2 quarts popped popcorn
¼ cup (½ stick) butter or margarine
½ cup creamy peanut butter
1 cup milk or semi-sweet chocolate chips
1 cup powdered sugar
Place popped popcorn in a large bowl; set aside.
In a microwave safe bowl, combine butter, peanut butter, and chocolate chips. Heat for 2 minutes and stir until smooth.
Pour the chocolate mixture over the popcorn and stir until well coated. Sprinkle confectioner's sugar over popcorn and stir until coated.
Cool to room temperature before serving. Store in airtight container, refrigerated, up to 24 hours.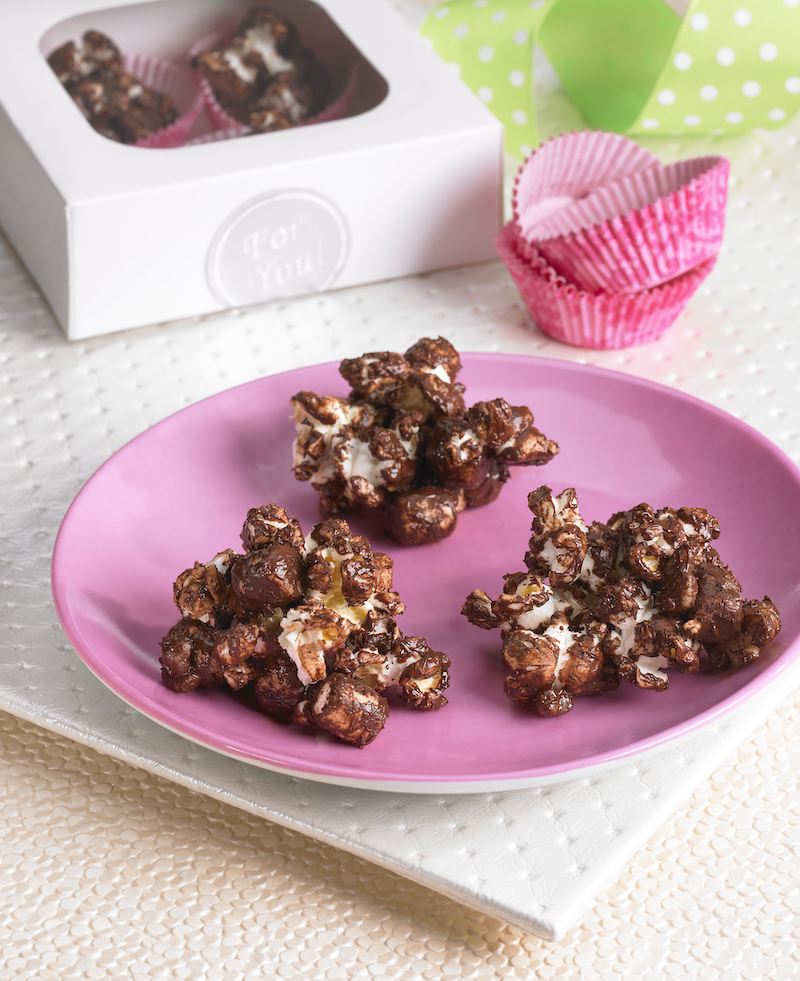 Rocky Road Popcorn Clusters
Makes about 3 dozen
1 bag (6 ounces) semi-sweet chocolate chips
1 teaspoon vegetable oil
4 cups popped popcorn
1½ cups miniature marshmallows
¾ cup chopped walnuts
Place chocolate chips in a small microwave-safe bowl. Heat in microwave on HIGH 1 minute, until melted. Stir in oil.
Place popcorn, marshmallows, and walnuts in large bowl. Pour chocolate over mixture, tossing to coat.
Drop mixture by tablespoonful onto wax paper-lined jellyroll pan.
Refrigerate until firm, about 2 hours or overnight.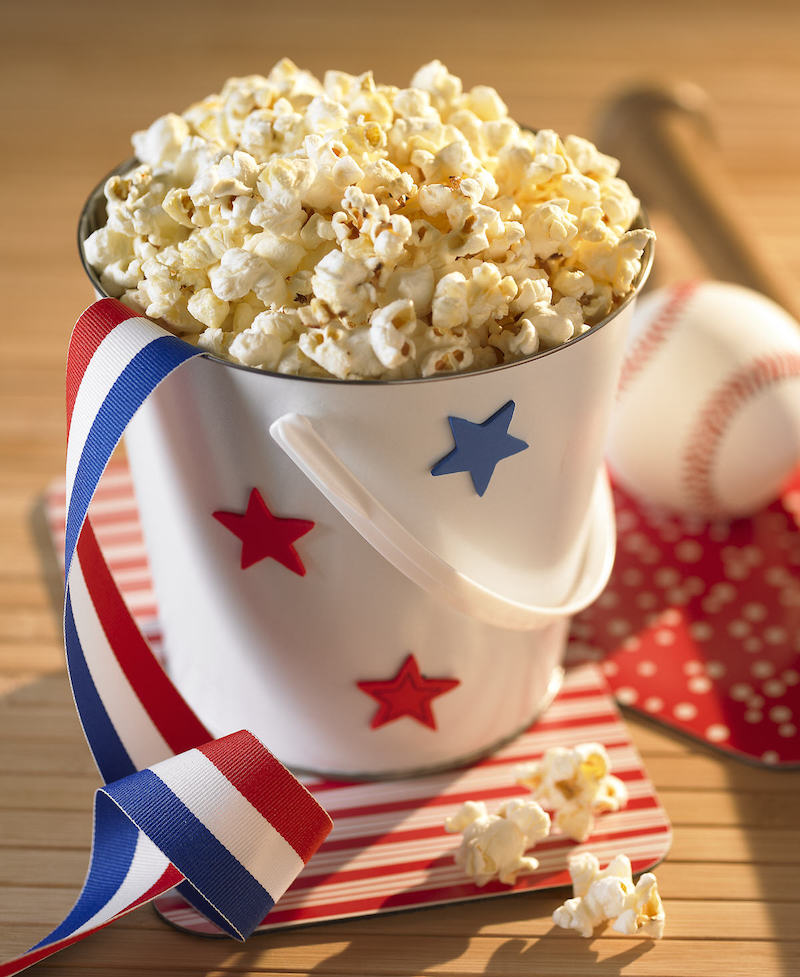 Home Run Sugar Corn
Makes 2 quarts (8 cups)
¼ cup vegetable oil, for popping
½ cup unpopped popcorn
3 tablespoons white granulated sugar
Heat oil in medium sized pan until hot.
Add popcorn and sprinkle all of the sugar over it. Cover and shake continuously until popped.
Variation: For a sweet-salty flavor similar to kettle corn, sprinkle with salt to taste before serving.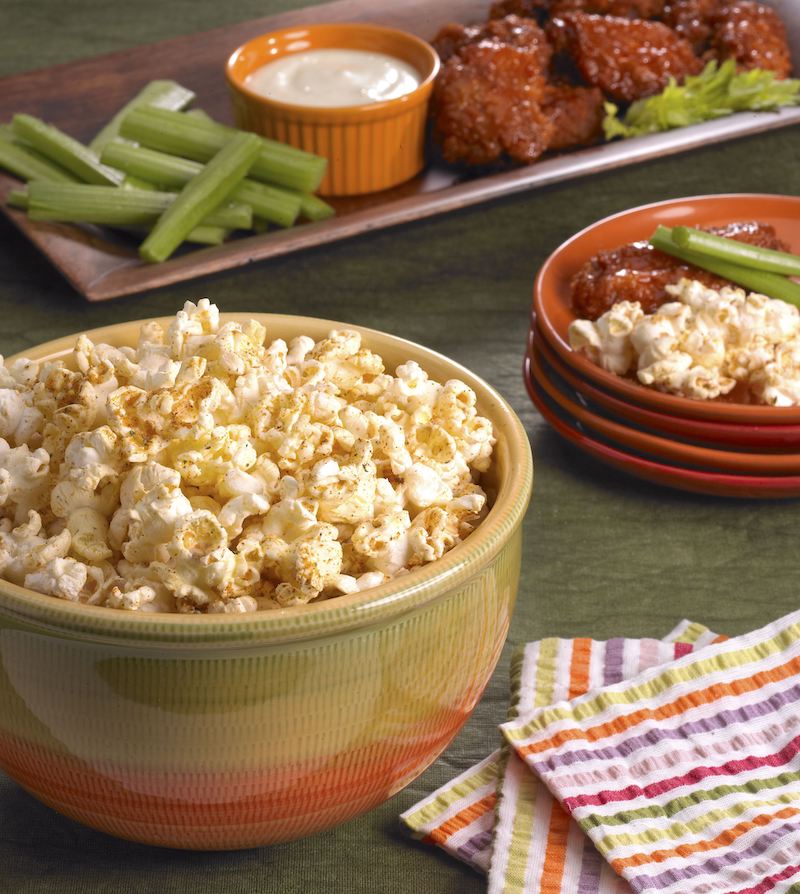 Blazing Buffalo Ranch Popcorn
Makes 6 quarts (24 cups)
For the Seasoning Mix
1 tablespoon ranch dressing or dip mix (from a 1-ounce package)
1 tablespoon seafood spice mix (or celery salt)
1 teaspoon garlic powder
1 teaspoon powdered sugar (or granulated sugar)
1/8 teaspoon cayenne pepper
¼ teaspoon vegetable oil
6 quarts popped popcorn
cooking spray, optional
In a small bowl, blend ranch dressing (or dip mix), spice mix (or celery salt), garlic powder, powdered sugar, and cayenne pepper. Sprinkle with vegetable oil and blend until well incorporated.
Place popcorn in a serving bowl and spray lightly with cooking spray. Sprinkle seasoning mix over popcorn to taste and toss. Store leftover seasoning mix in an airtight container for future use.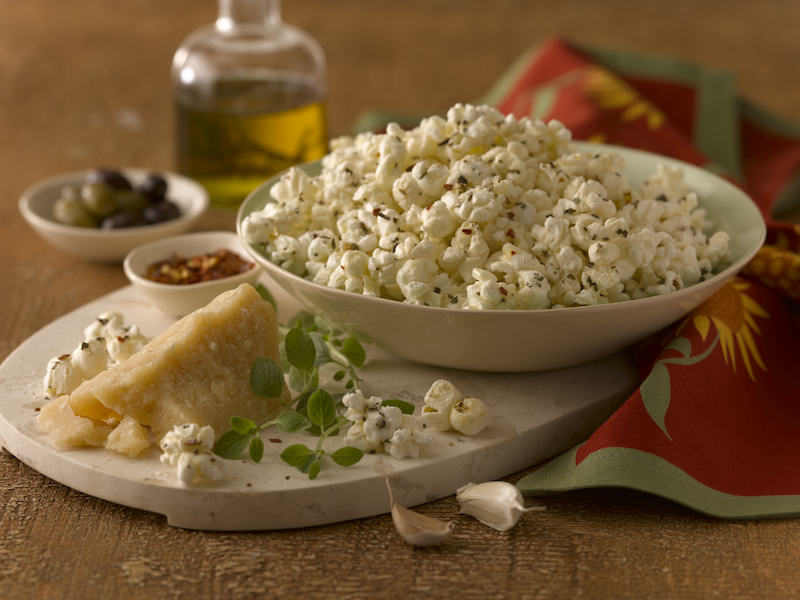 Italian Popcorn
Makes 2 Quarts (8 cups)
2 quarts popped popcorn
2 teaspoons extra virgin olive oil
1 tablespoon fresh (1 teaspoon dried) oregano
1½ teaspoon fresh (½ teaspoon dried) basil
½ teaspoon minced garlic
½ teaspoon salt
1/8 teaspoon red chili flakes
1 tablespoon (or to taste) grated Parmesan cheese
Place popcorn in a large bowl and drizzle with olive oil; toss.
In a small bowl, mix oregano, basil, garlic, salt, and chili flakes. Sprinkle herb mixture over popcorn and toss again. Sprinkle with Parmesan cheese; toss and serve.
Note: If you prefer, omit olive oil and spray popcorn lightly with cooking spray. Sprinkle herbs, garlic, salt, and chili flakes over popcorn and toss again. Sprinkle with Parmesan cheese; toss and serve.
Facebook Comments