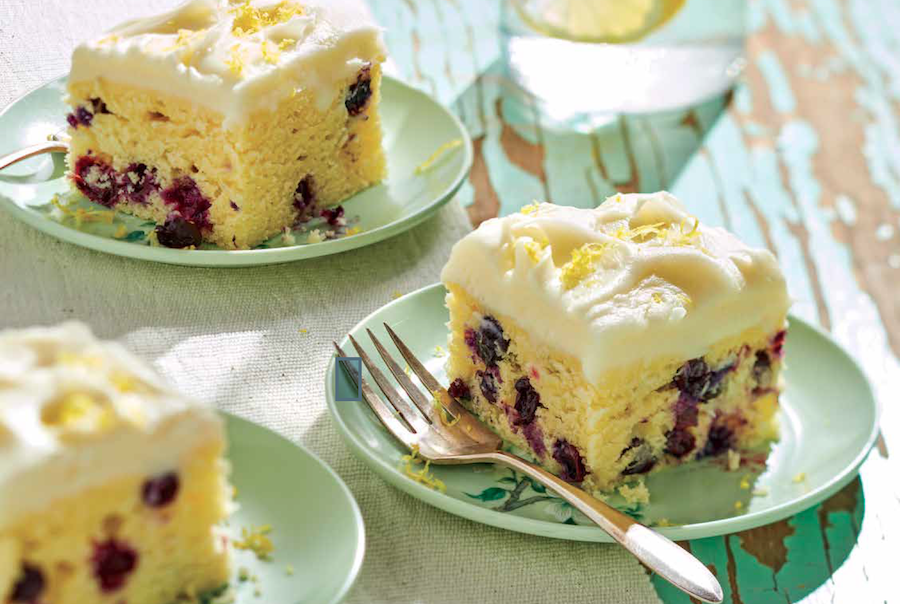 An easy homemade cake is delicious no matter your weekend plans. If it's rainy, what better time to bake? Or, with our stay-at-home order changed to "stay safe," you may be having a few people over for a barbecue this Memorial Day weekend—they would certainly appreciate a slice of this tender, beautiful cake studded with juicy blueberries and a hint of lemon.
The cloud of cream cheese frosting is gorgeous as is, or you can opt to sprinkle with lemon zest or arrange more berries on top, says Twin Cities chef and cookbook author Robin Asbell, who created this recipe for Real Food. If you're feeling patriotic, she recommends adding red raspberries and blueberries atop the white frosting to make a flag. This cake offers a number of servings, but you won't have too much on hand when you get requests for seconds, so make sure to save yourself a slice to enjoy the next day.
Lemon Blueberry Sheet Cake
Makes 12 to 16 Servings
3 cups unbleached flour
½ teaspoon salt
½ teaspoon baking powder
½ teaspoon baking soda
1½ sticks butter
2 cups sugar
1/3 cup lemon juice
2 teaspoons lemon zest
4 large eggs
1 cup buttermilk
2 cups blueberries
For the Frosting
1 stick butter, at room temperature
8 ounces cream cheese, at room temperature
4 cups powdered sugar
¼ teaspoon salt
2 teaspoons lemon juice
berries for decoration, if desired
Preheat the oven to 350°F, and grease and flour a 9×13-inch metal baking pan.
Into a medium bowl, sift the flour, salt, baking powder, and baking soda. In a stand mixer, beat the butter until fluffy, then gradually beat in the sugar. Beat in the eggs one at a time, scraping down as needed. Beat in lemon juice and zest.
On low speed, mix in about a third of the dry mixture just until mixed, then mix in half of the buttermilk and continue alternating until a smooth batter is formed. However, don't overmix: Scrape the bowl and mix just to combine. Fold in the berries and spread in the pan.
Bake for about 40 minutes, until a toothpick inserted in the center of the pan comes out with no wet batter attached. Cool completely on a rack.
For the frosting, let the butter and cream cheese soften to room temperature. Place both in the stand mixer or a large bowl with an electric mixer, and beat the mixture until creamy, scraping down sides of the bowl to make sure all the cream cheese is incorporated. Add the powdered sugar and salt and beat until smooth. Add lemon juice and beat to mix. Spread the frosting over the cooled cake. If desired, arrange berries on top.
Nutrition info Lemon Blueberry Sheet Cake (Per Serving): Calories 674 (211 From Fat); Fat 24g (Sat. 14g); Chol 114mg; Sodium 423mg; Carb 112g; Fiber 1g; Protein 7g
Facebook Comments