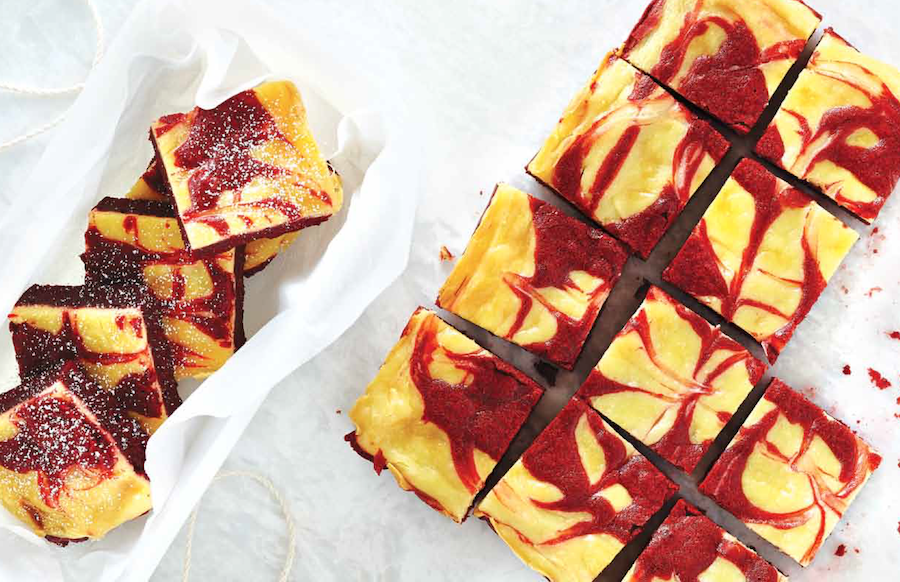 There's nothing like cold, snowy days to inspire baking. And, whether you are looking for something different to bring to the holiday sweets table, or just want to whip up a treat, bars are an easy idea—plus, they pack well, making them great for gifting. In this bar recipe by cookbook author Lauren Chattman, created for Real Food, white chocolate chips lend richness and a hint of chocolate flavor, and a dollop of the red velvet batter on top swirls in a beautiful pattern, making it easy to "raise the bar" with seasonal flair.
Top Tips for Baking Bars
While bars are easy to make, keep in mind these guidelines that Chattman suggests for good results:
Use the right pan. Baking your bars in a smaller or larger pan than called for in a recipe will throw off baking time and change the texture of the finished product.
Line the pan. A layer of foil or parchment paper makes for easy removal and cleanup.
Watch the clock. The edges of bar cookies will dry out if the batter in the center of the pan bakes completely. Remove from the oven when a few moist crumbs stick to a toothpick inserted into the center.
To preserve freshness, pack bars in airtight containers or cookie tins. Or use cellophane to seal them tightly in open containers such as baskets, gift bags, ceramic mugs, or baking dishes. Bars with delicate or sticky toppings should be packed between layers of parchment paper.
Red Velvet and White Chocolate Cheesecake Squares
Makes 16 servings
For the Red Velvet Layer
½ cup unsalted butter, melted
1 cup sugar
1 teaspoon vanilla
¼ cup cocoa
¼ teaspoon salt
0.25 fluid ounces red food coloring
1 teaspoon vinegar
2 large eggs
¾ cup unbleached flour
For the Cheesecake Layer
½ cup white chocolate chips
6 ounces softened cream cheese
3 tablespoons sugar
½ teaspoon vanilla
1 large egg yolk
Place rack in middle of oven and preheat to 350°F. Line an 8×8-inch baking pan with heavy-duty foil, tucking into corners and leaving a 1-inch overhang on all sides.
For the red velvet layer: In a large bowl, whisk together butter, sugar, vanilla, cocoa, salt, food coloring, and vinegar until smooth. Whisk in eggs. Stir in flour until just combined. Reserve ¼ cup batter. Spread remaining batter evenly across bottom of pan and freeze 15 minutes.
For the cheesecake layer: In a microwave-safe bowl, heat white chocolate chips until half melted. Stir until smooth and let cool slightly.
In a large mixing bowl and using an electric mixer, combine cream cheese and sugar until very smooth, scraping down bowl as necessary. Mix in chocolate. Mix in vanilla and egg yolk until smooth.
Remove pan from freezer and spread cream cheese mixture over red velvet layer. Drop reserved red velvet batter over cream cheese layer in teaspoonfuls. Drag the tip of a sharp paring knife through cream cheese mixture to swirl.
Bake 35 minutes, until cream cheese layer is just set. Let cool completely on a wire rack. Wrap in plastic and refrigerate until chilled, at least 6 hours and up to 48 hours.
Use foil to lift from pan onto a cutting board and use a sharp knife to cut into 16 squares (or smaller portions for the dessert table, if desired). Store refrigerated in an airtight container up to 5 days.
Nutrition info Cheesecake Squares (Per Serving): Calories 209 (105 From Fat); Fat 12g (Sat. 7g); Chol 62mg; Sodium 93mg; Carb 24g; Fiber 1g; Protein 3g
Hungry for More?
Check out my recent roundup of cookie and bar recipes plus quick bread recipes that are perfect for any day or gift giving.
Cookies! Baking Tips, Tricks, and Recipes
Bake with confidence this holiday season and year-round with cookie and bar tips and recipes from the pros.
Brown Butter Banana Bread + More Quick Bread Recipes
A delicious twist on banana bread, eggnog loaves, and gingerbread are a cinch for homemade gifts or to enjoy throughout the season—plus fun with baking science.