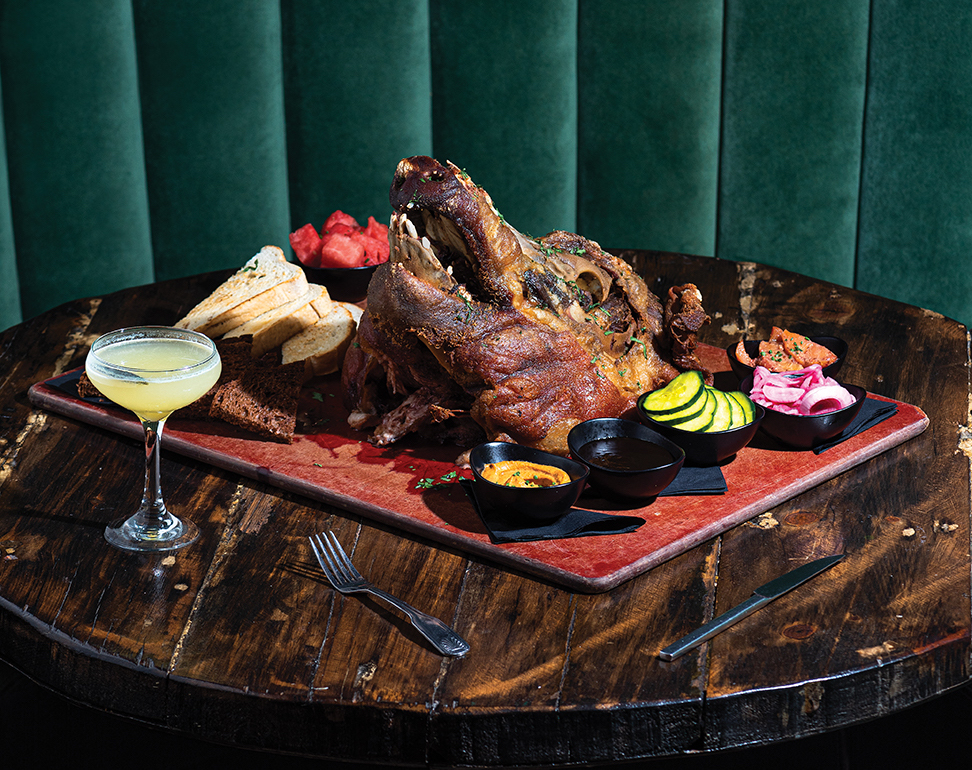 When you visit the new Handsome Hog location on St. Paul's Cathedral Hill, the star of the restaurant is not in question. His signature is writ large on the top of the menu: Justin Sutherland. He's the chef, the owner, and the focus of social activity as he effortlessly glides from table to table greeting people.
Sutherland, as you have to know by now, rose to national fame by winning Iron Chef America and then having a deep run on Top Chef. He beat a lot of bigger-city chefs but ultimately lost, then came back to St. Paul and bought the restaurant group that owns Handsome Hog.
His star was shining bright. His restaurants were not. No one was fired up to visit the Fitz, Public Kitchen, or Gray Duck Tavern. His Stillwater oyster restaurant Pearl and the Thief closed shortly after opening, with plans to relocate to downtown Minneapolis. We worried: Is our local celebrity chef spreading himself too thin? Between the speaking engagements and out-of-town food festivals, could he do it all?
The COVID-19 pandemic forced a change. Sutherland got involved in donating food and meals to people in need. A building renovation project forced him to close Public Kitchen near Mears Park, and he decided to relocate Handsome Hog into the larger Cathedral Hill quarters that previously housed the Fitz.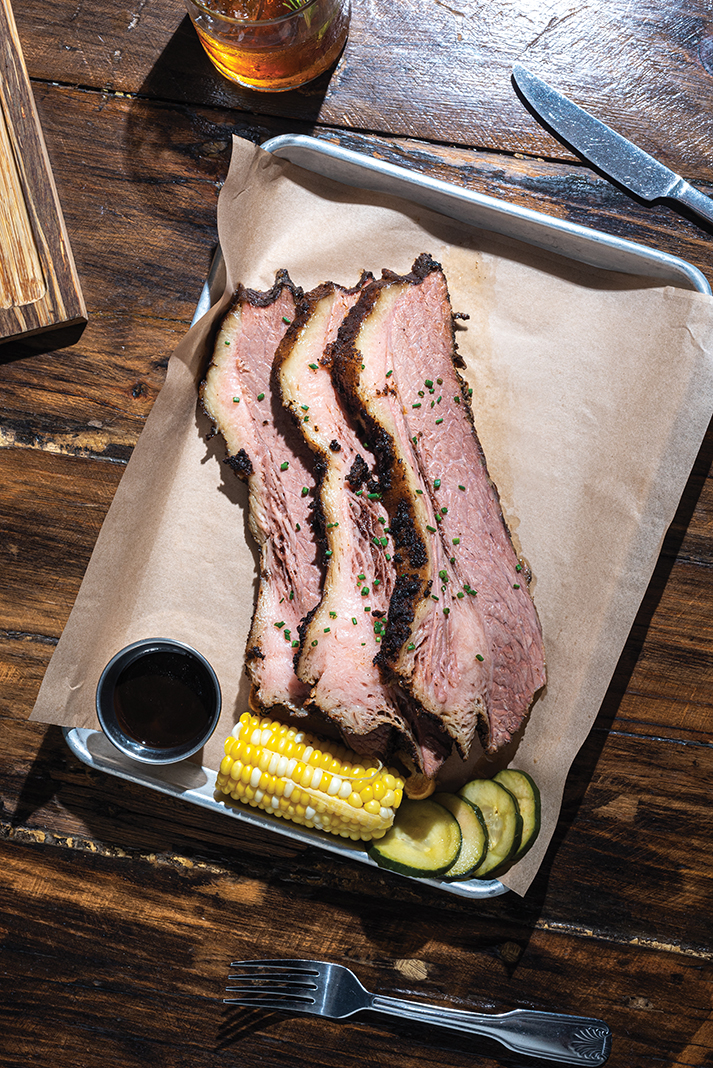 Then George Floyd. Sutherland took to the streets, publicly using his unique position as a Black restaurant owner and prominent public personality to call for racial justice. "For a lot of people, it was this last straw and this line in the sand where you say, 'What do you stand for? Pick a side,'" he says.
He and his brother's Hybrid Nation clothing line has hats and shirts that read, "In Diversity We Trust," but the message came exploding out of Sutherland's soul. "It's become an all-encompassing message of who I am. There are stories behind all my dishes, pain behind them, hope and frustration," he says.
The fire that's been lit in Sutherland, to do good and speak out, is clearly coming across on the plate at Handsome Hog 2.0. This food has soul, and it especially sings in a simple side dish: braised greens.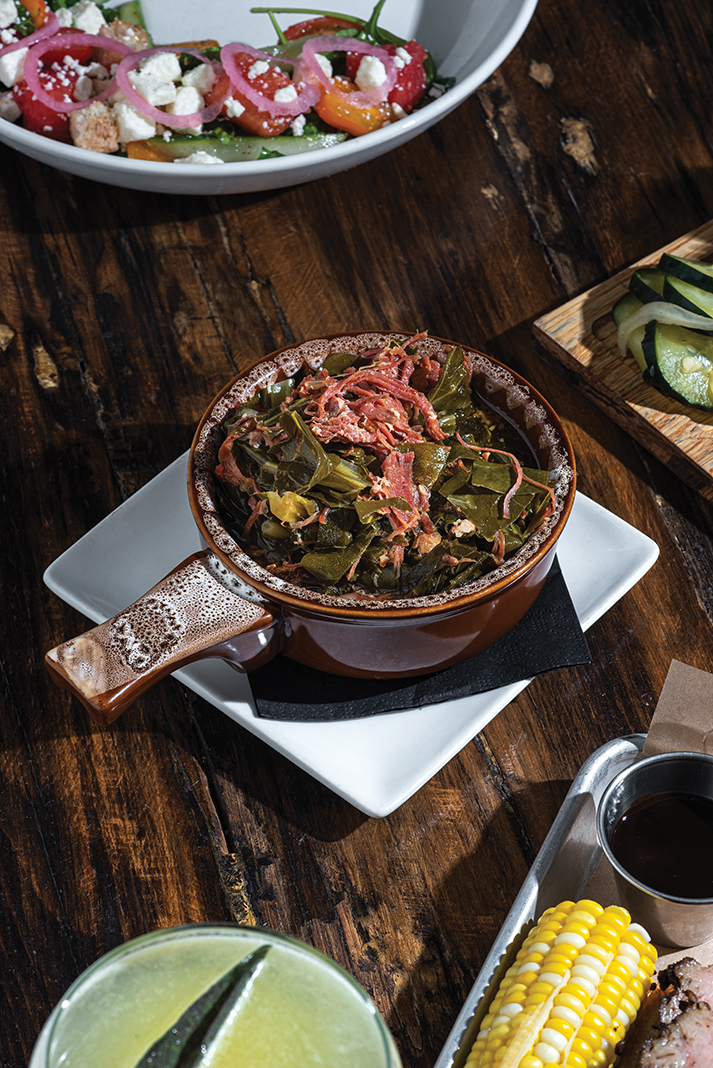 Equal parts fatty decadence and tart crispness, collard greens are braised with smoked pork shank and sprinkled with bacon salt. I could bathe in these greens—they're that good. "Greens are one of my favorite dishes to tell the story of the past: slaves took scraps and any green that's considered garbage, and figured out how to make it taste great," he says.
Handsome Hog has always done solid barbecue, but I could taste the refinement and the maturity of this kitchen. The dry-rubbed spare ribs had perfect smoke and just the right amount of chew to join the list of top ribs in town. Get them as part of the combo with a slice of extremely tender beef brisket, a cornbread biscuit, and sweet corn on the cob. You'd better be good at fried chicken if you're going to sell it just down the street from Revival, and Sutherland delivers it crispy, tender, juicy, with just enough salt.
Nice salads, too. Not that you're going to a place named after a hog for the salads, but this restaurant functions both as a special occasion destination and a place to pop in a couple times a week. The watermelon panzanella salad with feta, arugula, and addictive bourbon mustard vinaigrette balanced out all the meat. The roasted whole cauliflower head, topped with smoked salt and sauced with a roasted chili gastrique, also lets you feel like you're enjoying a vegetable with your protein.
Handsome Hog's enormous patio is newly renovated and lush with plants, with plenty of room for social distancing.
The menu's absolute showstopper is the whole pig's head. It's brined for 72 hours, braised in pork stock and white wine, cooked in a wood-fired oven, and then quickly deep fried to crisp up the skin.
It arrives at the table on a platter with house-made pickles, a series of mustards, some slices of baguette—but there's no escaping what you're about to dig into. It's spectacular. I'm still dreaming about the flavor in the pork jowls and cheeks.
This dish is an expression of Sutherland in 2020: a gifted chef with a showman's flare. A passionate voice for bettering our community. This is a place you feel good visiting, with food as bright as Sutherland's star power.
Facebook Comments