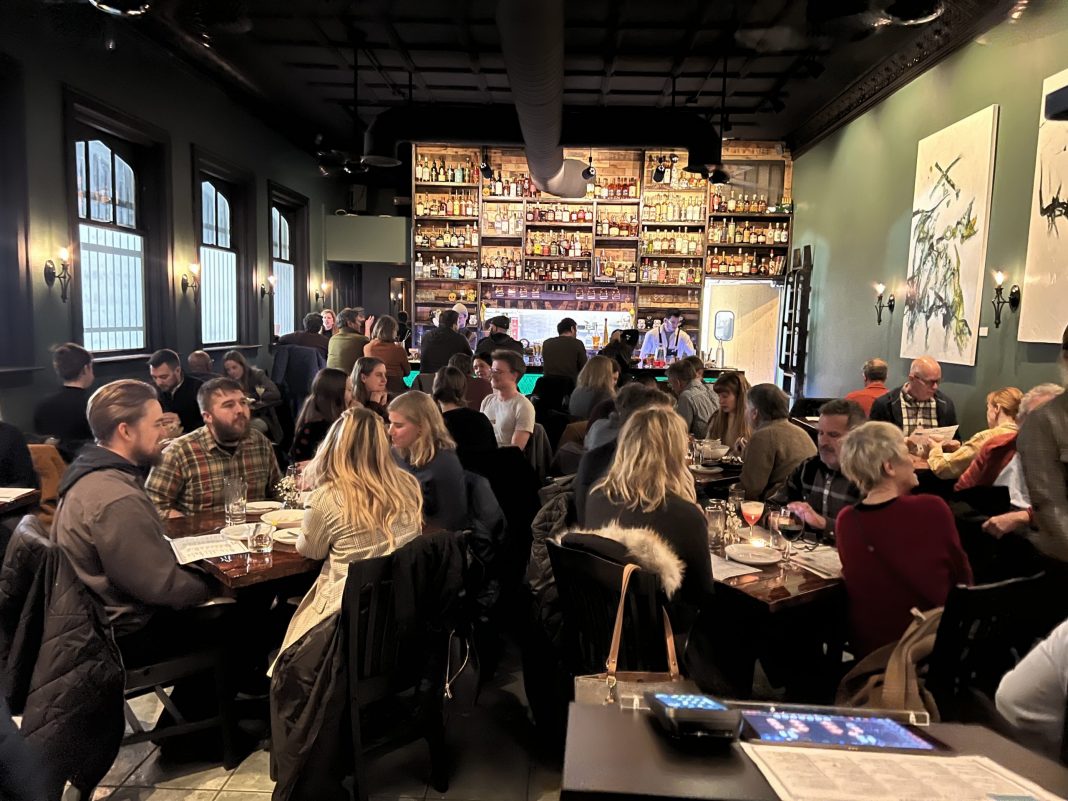 It's hard not to cheer for the underdogs—the bootstrappers, the dreamers. The team behind Bar Cart Restaurant & Lounge have an incredible track record in restaurants. A couple years ago, I called Ralena Young's cocktails at Tequila Butcher the best drinks I had all year at any restaurant anywhere. She and her business partner, Brian Riess, had worked together for 25 years, most recently at Volstead House in Eagan.
They did not expect they'd be buying two-by-fours at Home Depot and looking for inspiration on Pinterest, figuring out how to make tables for their new restaurant at Snelling and Grand in St. Paul. Young has an emotional connection to the space: Emel and Masooda Sherzad had spent nearly 40 years cooking Afghani food at Khyber Pass Cafe. The past seven, Ralena has been dating their daughter, Mashal. When the Sherzads decided to sell and retire, Ralena was ready to launch her next chapter as an owner.
You won't feel like you're in a DIY restaurant when you visit Bar Cart—luxe wallpaper lines a lobby/lounge as you walk in, your gaze immediately lands on a gorgeous, glowing back bar, framed by the arch left over from the Khyber Pass. Young and Riess hung that wallpaper after watching online tutorials. They built the bar, too. Just like they've hand-crafted a fabulous cocktail list and snacky menu in their brand new restaurant.
Bar Cart is a nearly ideal neighborhood spot: affordable food and drink, incredibly kind service staff, and a menu with enough variety that you could easily come a couple times a week. The biggest negative, frankly, is that the owners had to register with the city under a club license in order to get the liquor license. (Khyber Pass was beer and wine only.) That means that no one is allowed in the restaurant unless they're 21 or older. A real bummer if you live in the area around Macalester, because this would be a great urban family spot.
If you don't have kids or you're on a date night, though, you are in for a real treat.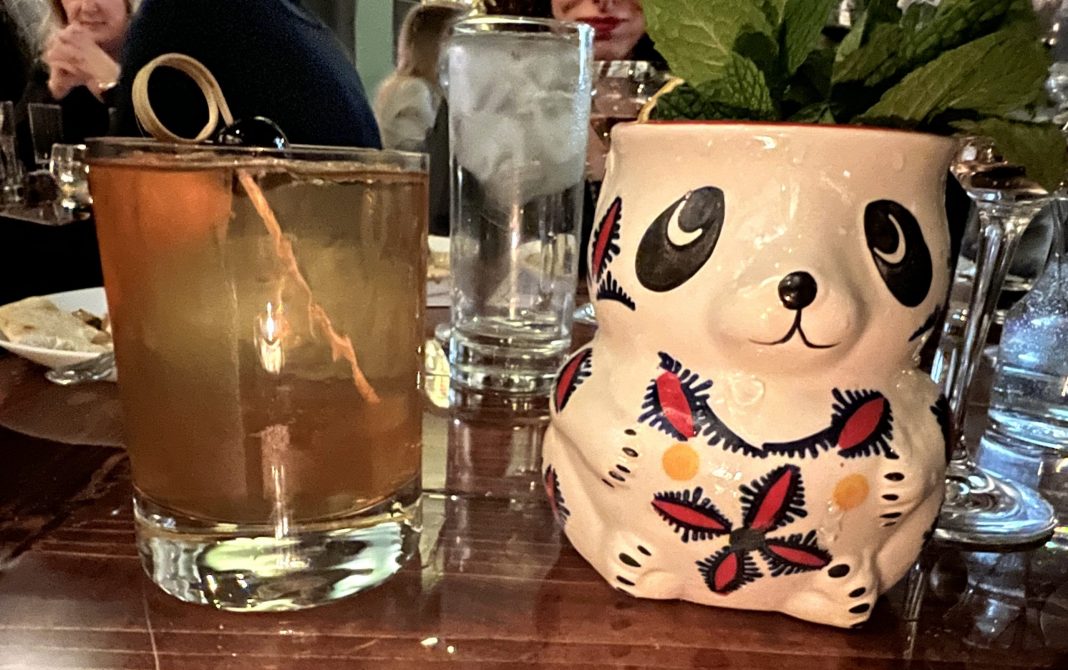 The Bar
Let's start with the cocktails. The menu is divided into vintage drinks like the Vesper, Martinez, and Last Word for $10. Classics like a Paloma, Manhattan, Sazerac ($11), and signature drinks for $13. The Mont Blanc with gin, vermouth, absinthe rinse, and lemon spray is an herbal, refreshing joy. The Coquito is a creamy cinnamon, vanilla, and rum winter warm-up.
The Food
The menu is in four categories: light (salads, crudos, tartare), spreads (hummus, whipped feta), satisfying (burger, nachos, bar food), and homey (mac & cheese, short ribs). It's the dream menu for a nice hang because you choose your own adventure. Get something light and something filling, or snack your way through the night.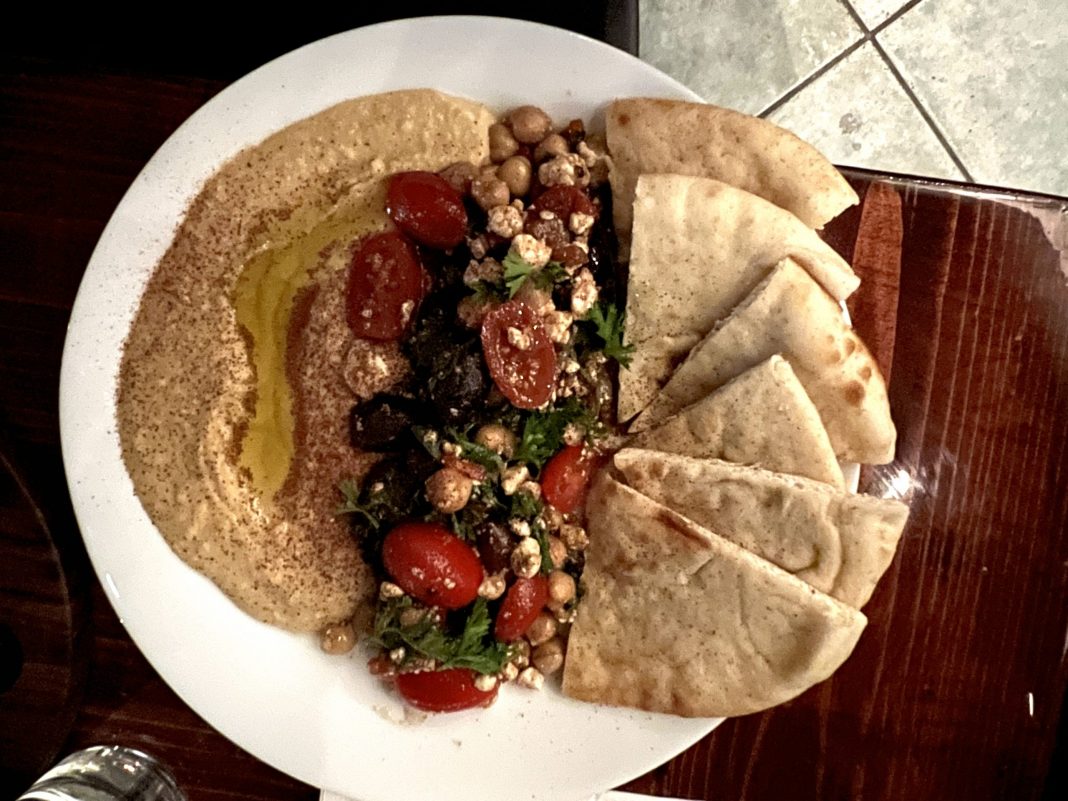 You will order the loaded hummus and you will like it! You'll love it, even. Every time I come to Bar Cart, I'll be ordering this fantastically creamy, hugely flavorful hummus. The chickpea and tahini are in perfect balance, loaded up with chickpeas, black olives, cherry tomatoes, feta cheese, and fresh parsley.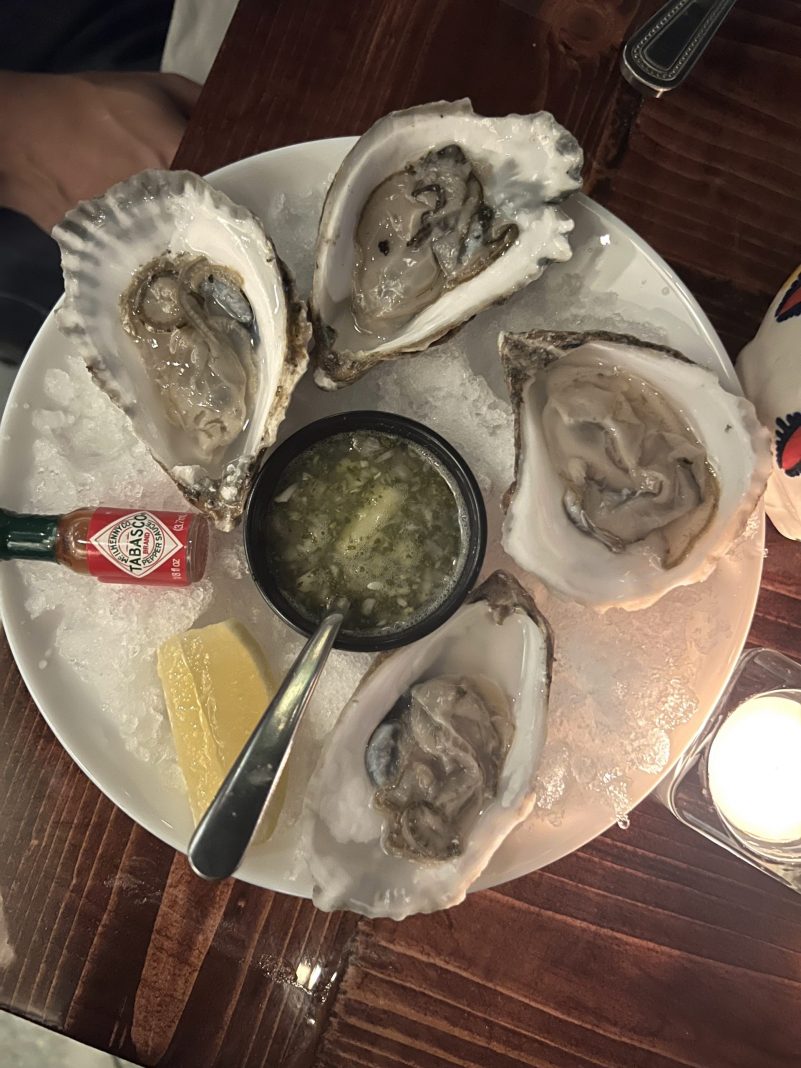 Don't miss the cucumber mignonette sauce, with a couple of raw oysters. Fresh, crisp, bright—just a great accompaniment.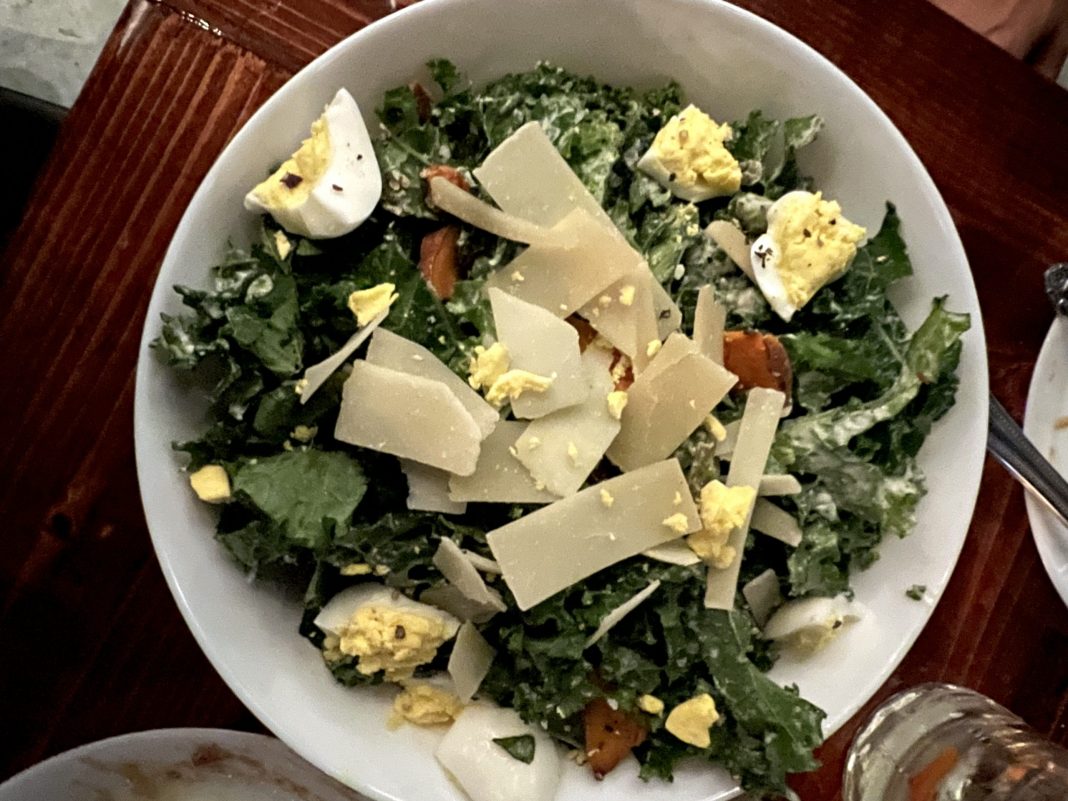 The baby kale Caesar salad was huge ($16) and great to share with our group of four—also very addictive. I wouldn't blame you for balancing that kale salad out with one of the best platters of nachos in town. Bar Cart loads up each individual tortilla chip, so every bite is the perfect bite of cheese, beans, and pico.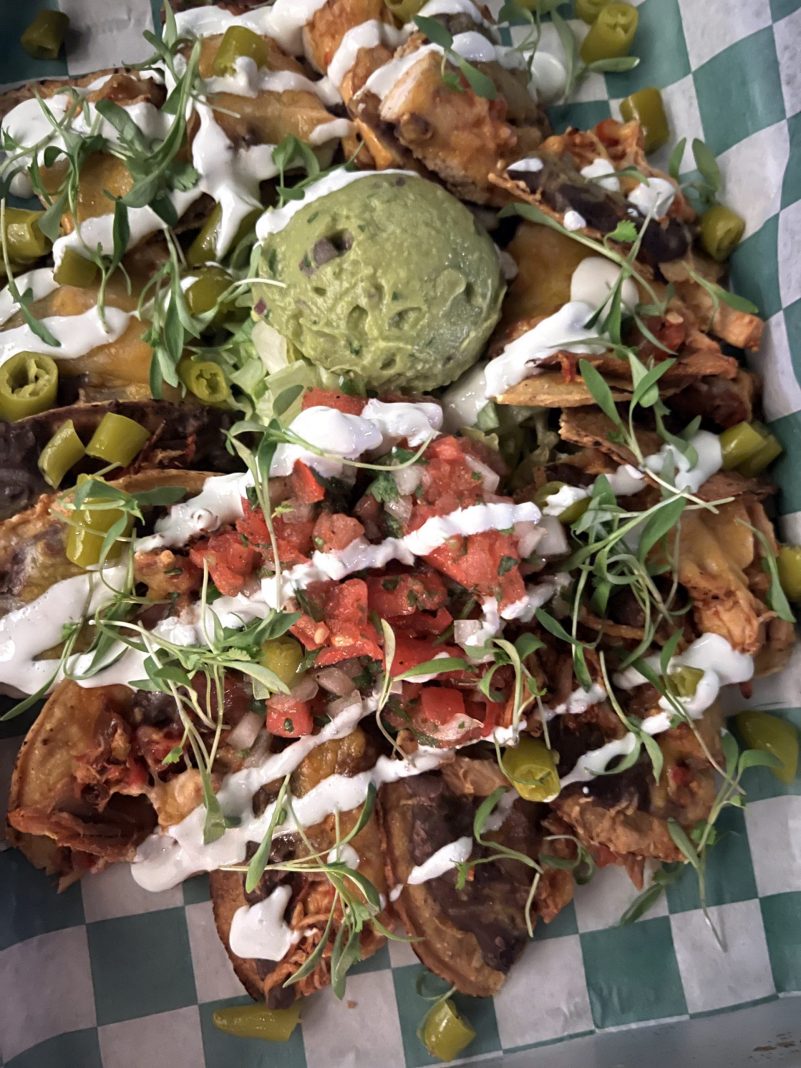 You could easily make a meal with the smaller plates, but we found standouts in the entrees, too. Our absolute favorite was the chicken picatta ($24)—a super old-school menu item that you may see more often because it was featured in "The Bear." A pounded, thin chicken cutlet, covered with butter and then crisped up, lots of lemon and caper flavor, served on a bed of fettuccine. So good.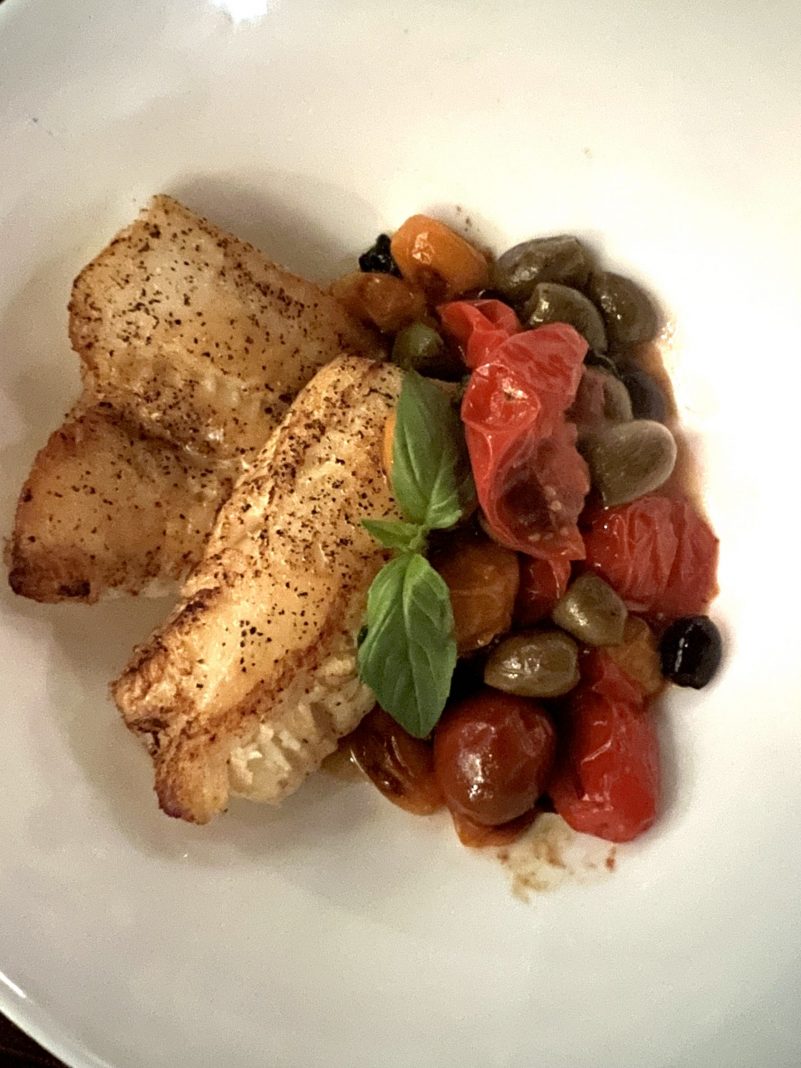 The Chilean sea bass was solid ($28) but nothing memorable—no shade, the other plates just had more flavor and personality. Overall, I was impressed with the quality of the cooking coming out of the really small kitchen. Our food came out fast, the cooking was spot-on, and the dishes were well seasoned.
The Vibe
This is a jam-packed restaurant, and on a Friday night every table was full. We waited a bit for our 7 p.m. reservation, as the earlier diners were having a great time. The team was extremely apologetic and offered us drinks for the delay. The vibe is big-city; it's a Bar La Grassa-style, pack-'em-in-like-sardines room. You won't literally be sitting on top of someone, but if you don't like crowded spaces, you're really not going to like Bar Cart.
We were struck by how the people working at Bar Cart were really happy and nice. Our server knew when to visit and when to stay back, offered recommendations, and made our night great. That may be partially because of the unique approach Young and Riess are taking with compensation: Everyone makes the same amount of money—from the cooks to the servers. Young was actually the dishwasher the night of our visit (welcome to what it's like owning your own restaurant), and when we talked, she explained their approach. The 20% service charge goes entirely to the staff, and they're paid out that line each night. It's not used to add to the owners' bottom line or to subsidize higher hourly pay for certain positions, as that fee is in many restaurants.
There is a line for "additional tip" on the bill—which I know is confusing to many diners. If there's a 20% fee, do I have to add another 20%? I would say you don't, but that money will go directly to your server or bartender.
The Bottom Line
I wish I lived near Bar Cart. It serves so many needs: late-night drink and snack, date night, friends hangout. There's no cohesive theme here. (Nachos and steak tartare?) But who cares—it's great food from nice people in a cool space.
FAMILIES: No kids—this is a 21-plus only destination
PARKING: Challenging! Free two-hour parking in lot on Grand just to the east of the restaurant
RESERVATIONS: Recommended on Resy
Bar Cart Lounge and Restaurant, 1571 Grand Ave., St. Paul, instagram.com/barcartloungeandrestaurant
Facebook Comments