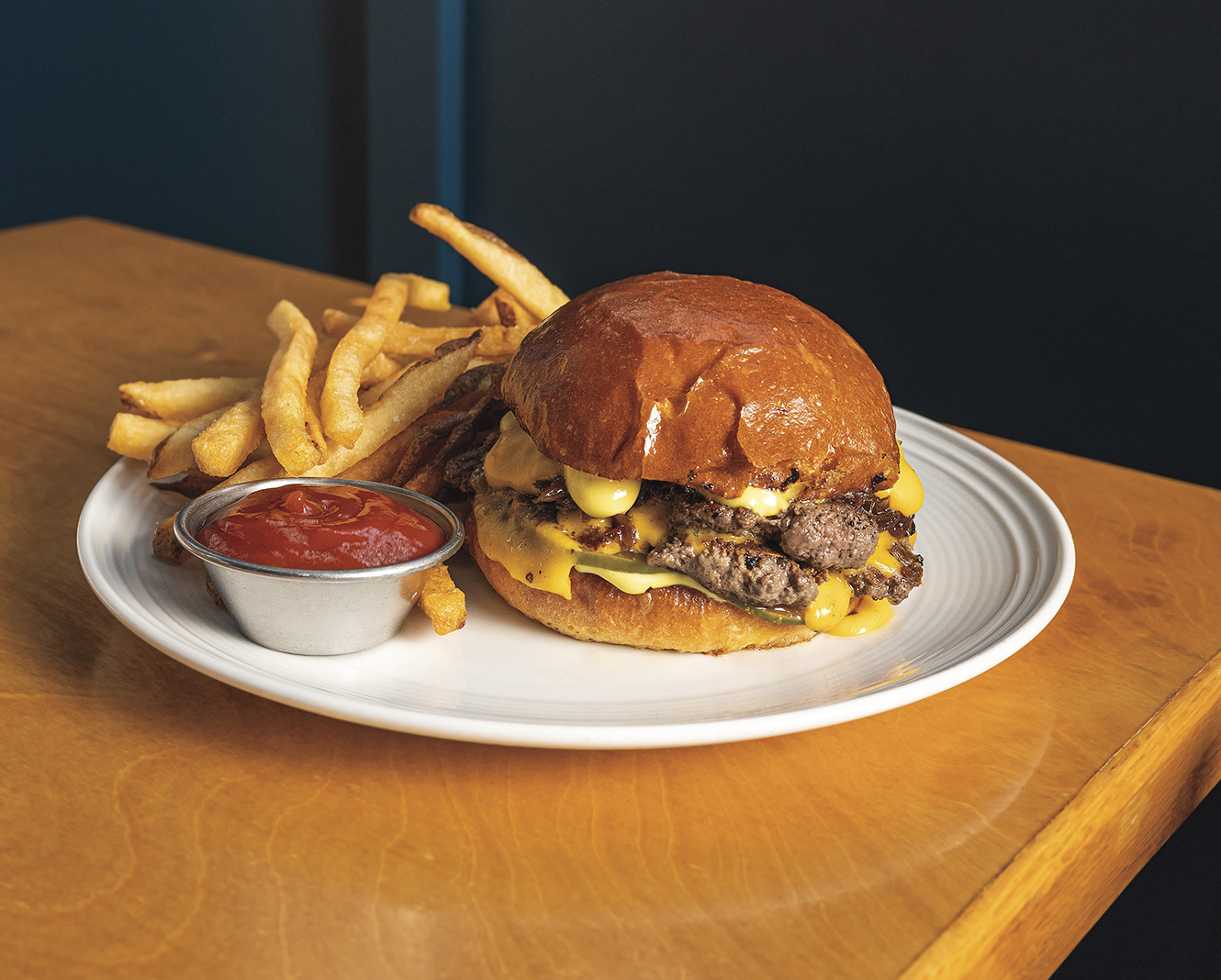 From the first couple steps into the basement of the Laurel Flats Apartments in St. Paul, you're overwhelmed by charm: the experienced service staff welcoming you in, the rich deep blue walls and brass lighting, the low ceilings that are a counterpoint to the soaring lofted ceilings we see in most restaurants.
Gus Gus just feels right.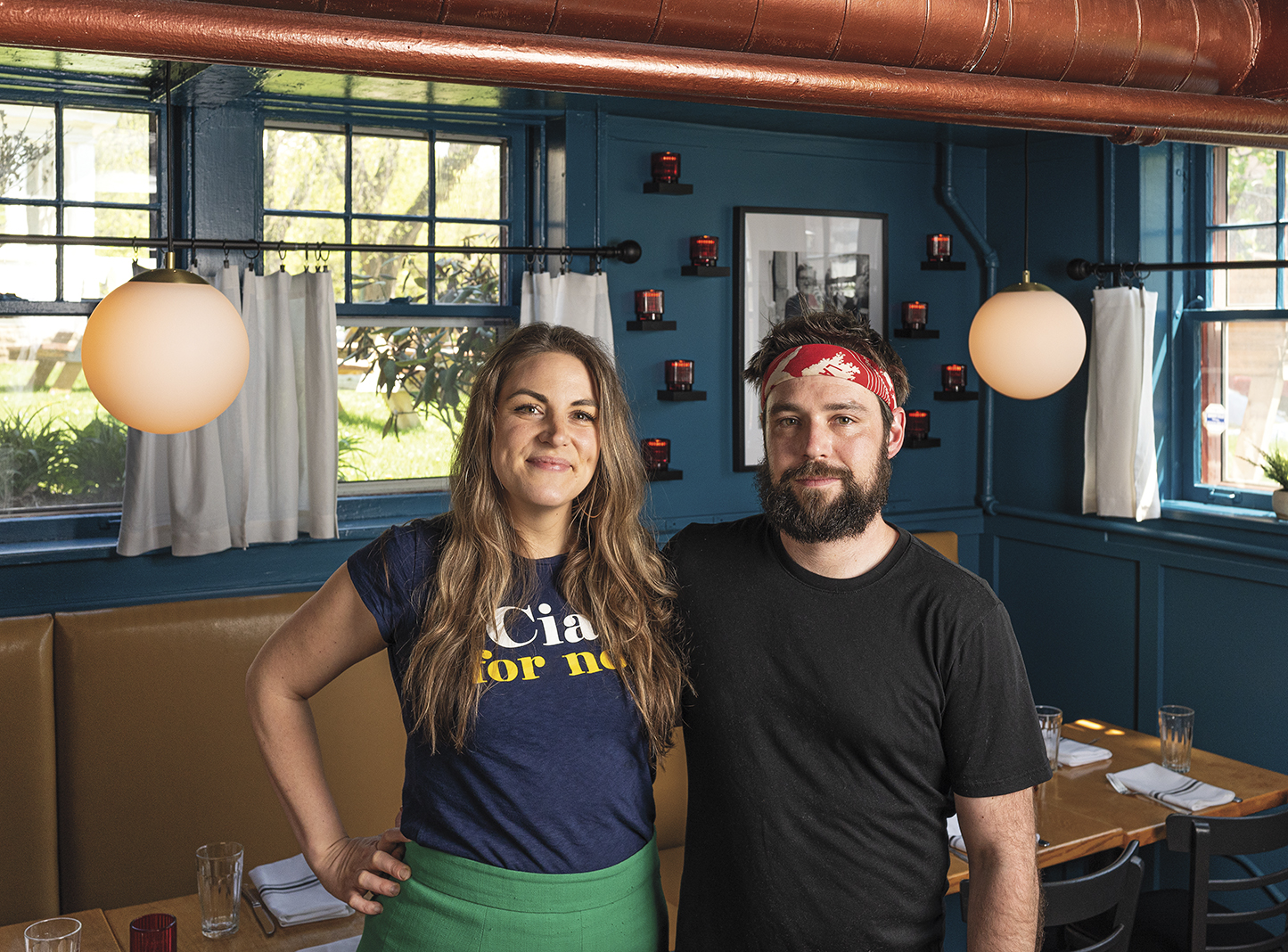 That's no surprise considering it's the creation of a couple of restaurant-industry lifers—the charming Anna Morgan and her husband, Kevin Manley. They met when he was the executive chef and she was the general manager at 112 Eatery. Now they're married, they have a son named Magnus, and Gus Gus is his nickname. You'll be reminded of both of their backgrounds as you dine here.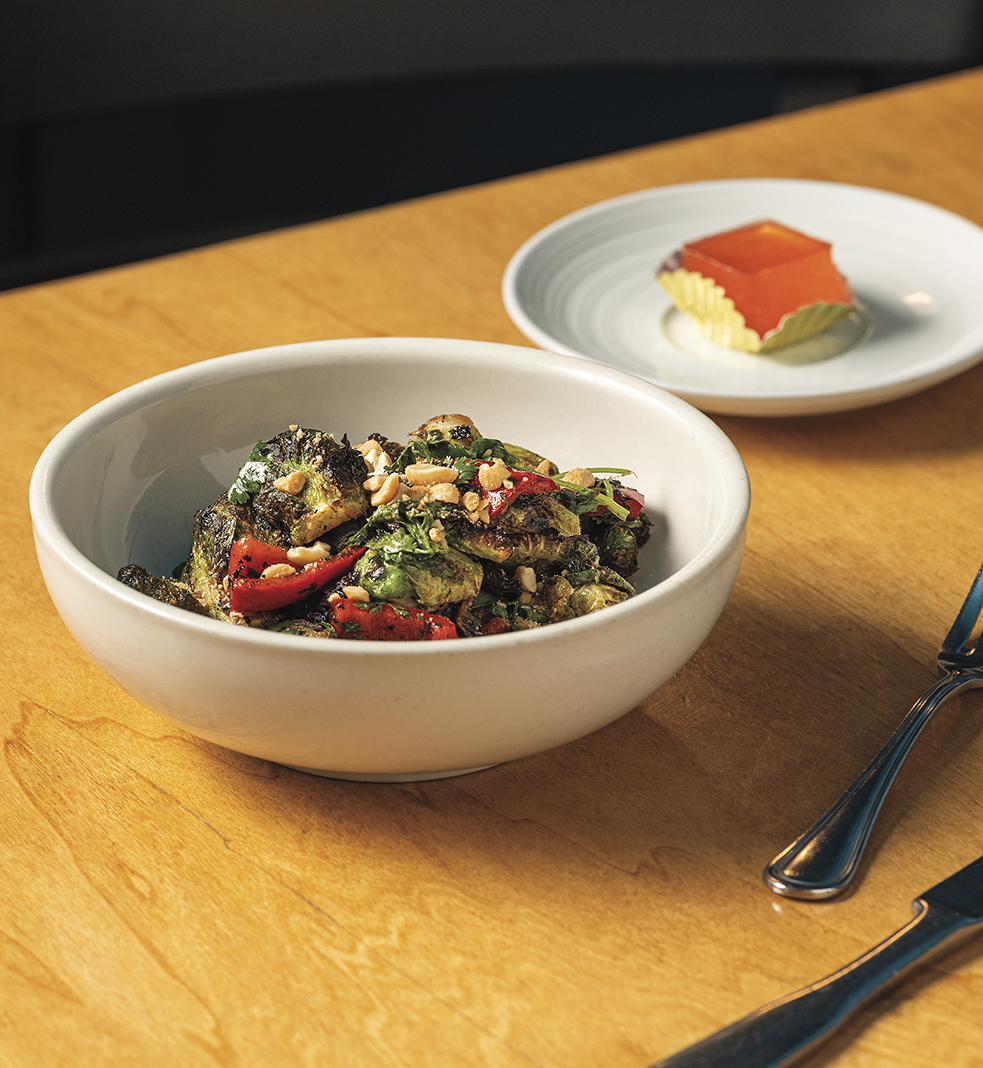 You're going to want to start with a Jell-O shot. It's a fancy Jell-O shot, naturally, made with bitter orange and Aperol and bubbles and dusted in gold. The $7 whimsy sets the stage for an absolutely delightful menu, built around small plates. My immediate thought was how similar this felt to Isaac Becker's Snack Bar, where Manley was the chef, and Saint Dinette, where Morgan was a manager. They all offer super approachable food with layers of flavor.
Fritters made with boquerones ($6) really give you a full dose of salty anchovies. The homemade chips are so addictive I could have eaten six bowls of them. Inspired by Lays, they are topped with thin slices of speck and another dose of richness from creme fraiche ($8). Balance out your bowl of chips with a lively gem lettuce salad ($8). The fennel and pistachios provide crunch, watermelon radishes gives it color, and it's a delight.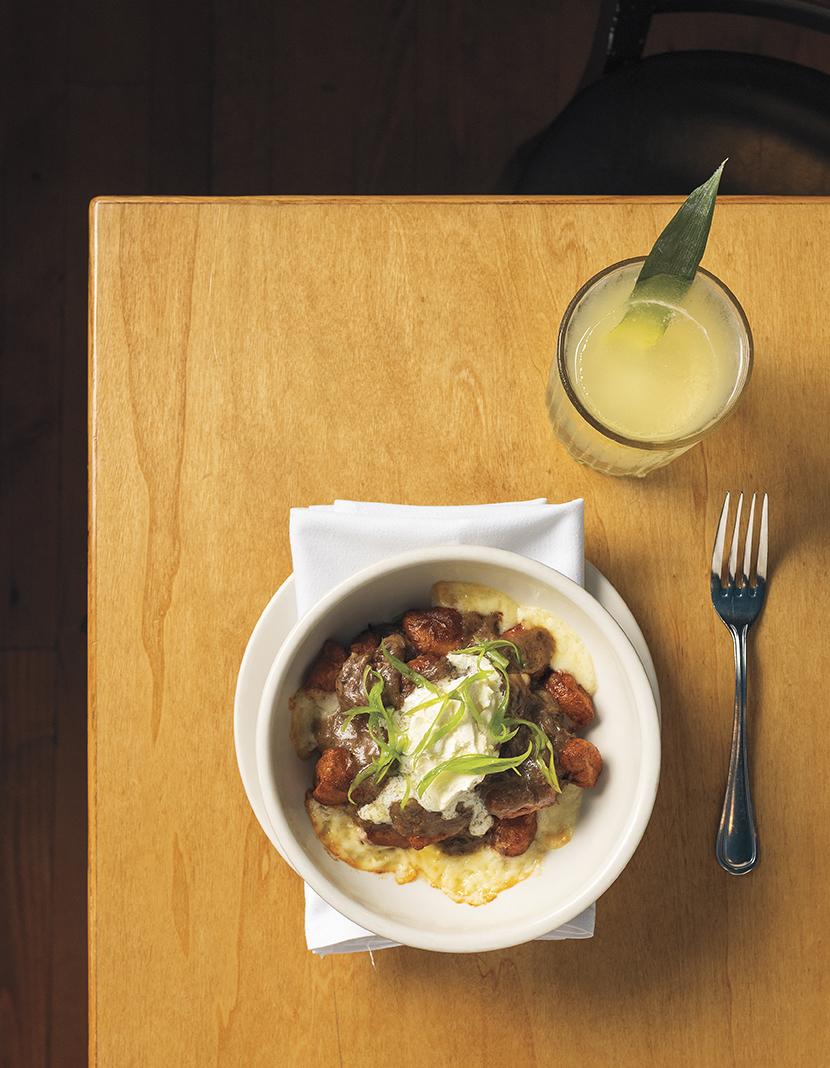 Are you tired of Brussels sprouts? I didn't think so. These are unlike any I've tried, in a good way, thanks to the funk of a fish sauce vinaigrette ($11). And you've never had a poutine like this one, either. Instead of French fries, Manley fries little pillows of gnocchi and tops them with tender, meaty oxtail and fresh cheese curds ($15). It's a dish our group of four shared—and shared quickly—but it would make a great meal itself.
"We wanted snacks and shareable plates, because that's how we eat," Morgan told me. "We considered not putting entrees on the menu," she laughed.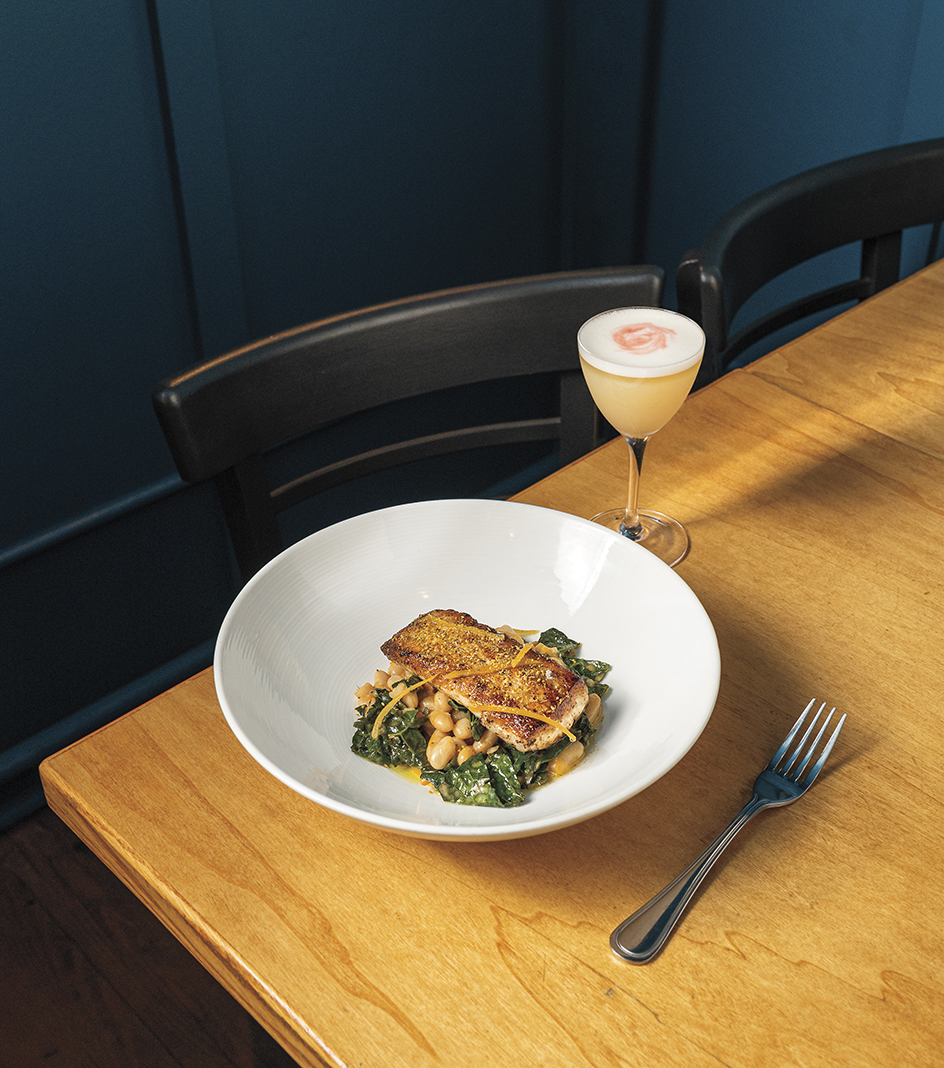 I'm glad they did, because you'll want to try the glorious sea bass ($25), a dish I almost skipped because, well, sea bass. It's fine. It's everywhere. But this is a perfectly cooked fish topped with preserved lemon and fennel pollen, resting on top of a dreamy, richly flavored white bean ragu. It turns out the ragu is Morgan's specialty at home, where she cooks the beans down until they're impossibly creamy with onion, carrots, thyme, and rosemary. Manley cheffed it up by adding kale cooked with lemon, chilies, and anchovies to the mix.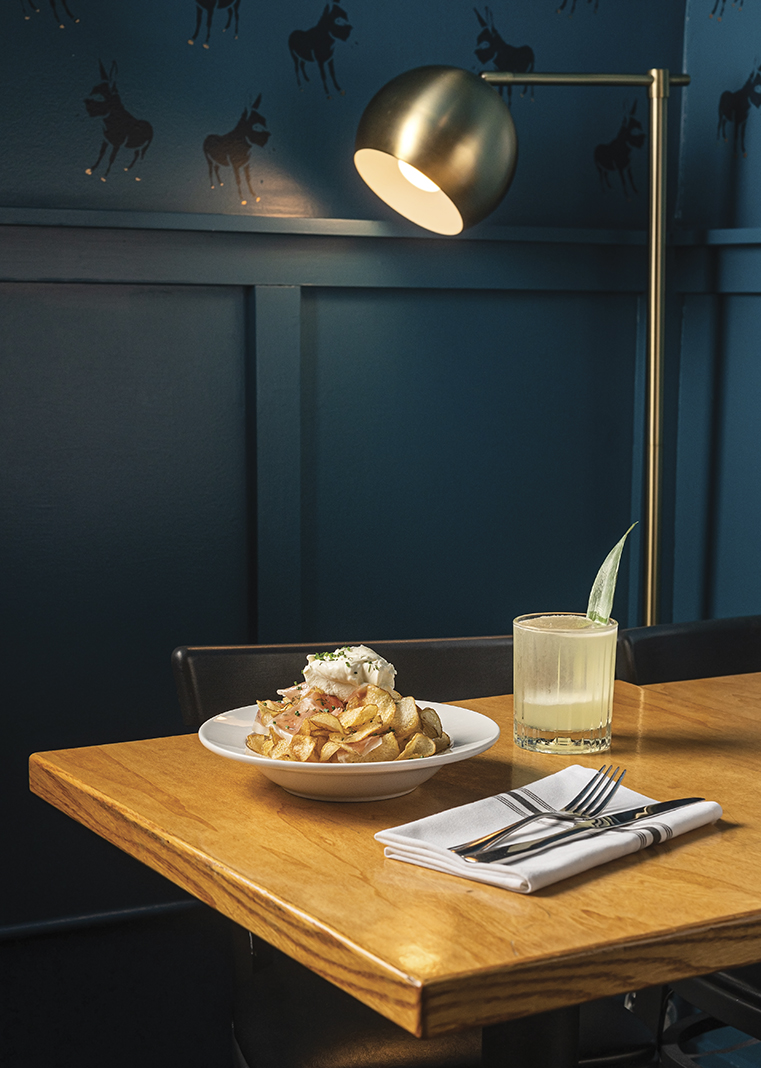 In a nod to Stewart's, the previous restaurant in this location, there's a cheeseburger that's worthy of its $17 price. With melty cheese, the burger includes caramelized onions and a rich mustard aioli, and it's served with fantastic fries that are brined in white vinegar and Worcestershire sauce. 
Cocktails are as cleverly designed as they are cleverly named. Yes, I knew Tea Swift was trouble when I walked in. Gin is infused with Earl Grey tea as a more complex gin fizz. Baby's First Vacay is a legitimately spicy tequila-and-mezcal margarita. Both are $13 among a tight list of drinks worth returning for in and of themselves.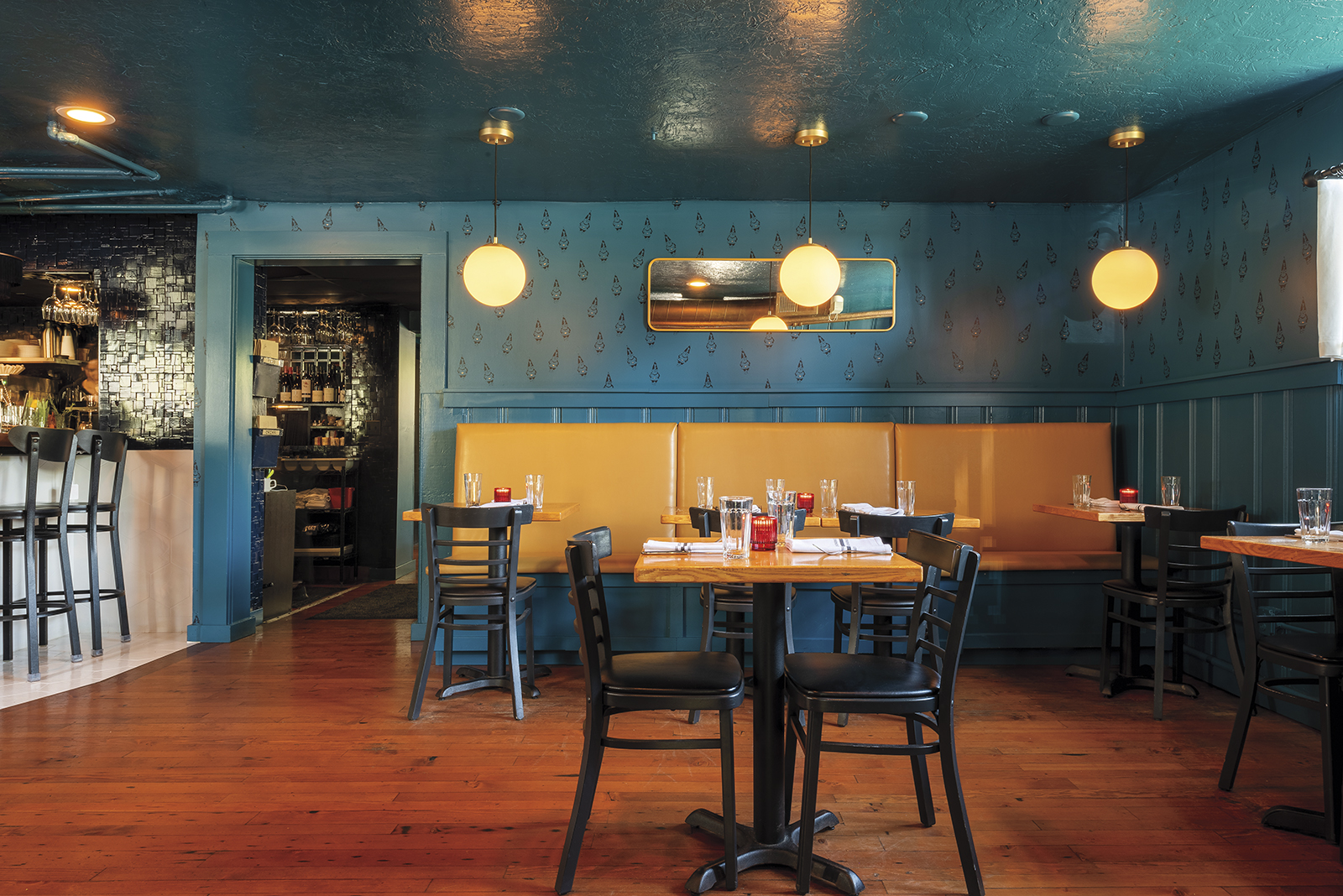 If this place feels like home when you sit down, it's no accident, because much of the decor is from the couple's own home. "Our design budget was pretty much nothing, so I was going to do what I know and make it cozy and eclectic," Morgan says. In fact, the day before opening she took photos and a deer mount from their apartment and hung them in the restaurant.
In many ways, what Morgan and Manley are creating here is just starting to show its potential. They've hired one of the most talented chefs in town, Kenzie Edinger, who was running Mucci's in St. Paul. Gus Gus is named for a toddler, and we can't wait to watch this neighborhood gem as it grows up.
Gus Gus: 128 Cleveland Ave. N., St. Paul, 651-645-4128, gusgusmn.com
Reservations: Needed. The spot was bursting at the seams on the Wednesday we visited.
Hours: Tuesday-Thursday, 4-9 p.m.; Friday-Saturday, 4-10 p.m.; Sunday, 10 a.m.-2 p.m.
Instagram Star: The cheeseburger 
Parking: There is on-street parking near the University of St. Thomas campus but beware of one-hour limits and permit-only areas.
Facebook Comments