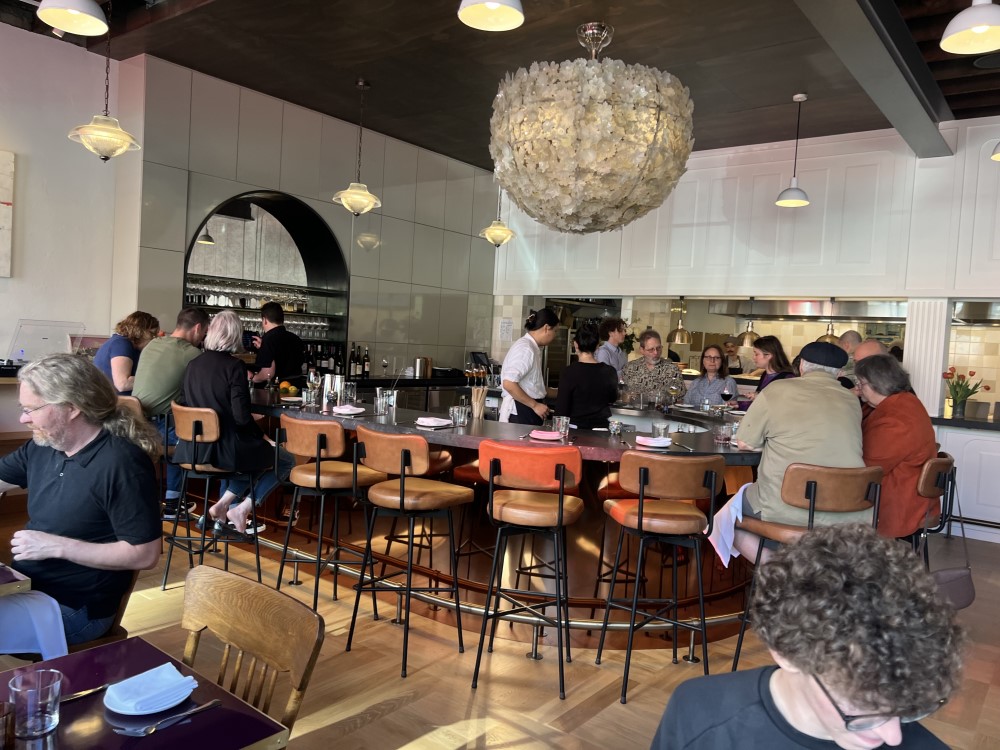 The short version
Herbst Eatery & Farm Stand is a beautiful new restaurant next to Foxy Falafel near Hwy. 280 in St. Paul.
Vibe: Vintage brick exterior gives way to an open, urban, sexy room. A dramatic bar is the centerpiece, featuring two turntables and an incredible selection of art (much from MCAD and local artists). Extremely friendly staff guided us through a menu highlighting local proteins and vegetables.
Food: Standouts included the chicken liver mousse with pistachio punches for texture, a salsa verde-enhanced coal roasted sweet potato, pork rillette exploding with the springy freshness from ramp oil, and blistered snap peas popping with crunch. The only disappointment was the lamb leg steak served on a bone, which was unwieldy to cut and had a texture that made it unpleasantly chewy.
Drinks: One of the best wine-by-the-glass lists in town featuring nearly 20 glasses of bubbles, red, and white from Alto Adige, Croatia, Bordeaux and beyond. Cocktails are organized by flavor profile (mineral, bitter, funky, earthy) and potency (low-proof, full proof and no proof).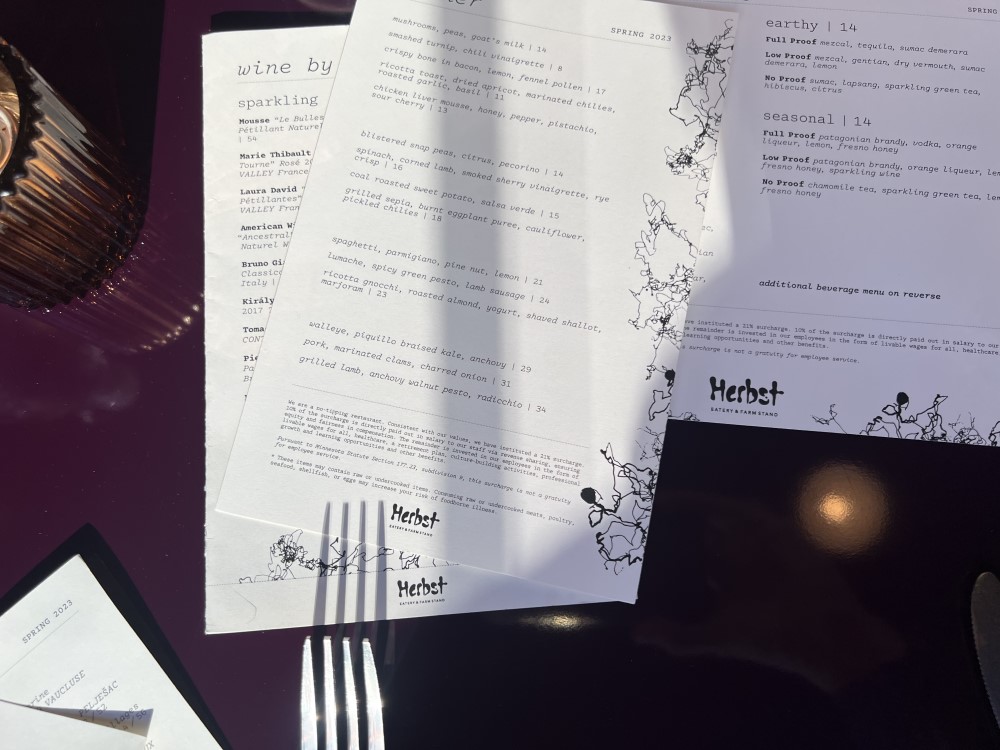 Price point: Dinner for four was $266. Herbst includes a 21% service charge and no tip line. Small plates are priced in the low teens, pastas in the low $20s, and entrees are around $30-$35.
More from Jason
Remember the late 2000s and mid-2010s? Almost every new chef-driven restaurant was bragging about its "farm to table" bonafides. "We have relationships with local farms! We source of beef from a farmer just 45 miles away! Our microgreens are grown in a garden run by our sous chef's great aunt!" I confess: I loved it. It married story, romance, a higher ethical purpose, and a connection between the restaurant and the land. Frankly, it became so common that it was no longer special. Every restaurant was expected to source at least some items locally, even if that meant they were getting those local items from a big food distributor like Sysco or U.S. Foods.
The marketing of restaurants as farm-to-table sort of faded away, but the concept never faded from Angie and Jörg Pierach, the husband and wife team behind Herbst Eatery & Farm Stand. Inspired by a stand near their Wisconsin hobby farm, the Pierachs have been making connections with farmers. In fact, they've assembled a group of young farmers called The Dover Collective. They're growing produce and raising protein for the restaurant and the soon-to-open market.
They've also been assembling culinary talent. You can tell the talent of Executive Chef Eric Simpson and chef de cuisine Ingrid Norgaard. Simpson's worked with Paul Liebrandt (a two-Michelin-star chef at The Elm in Brooklyn) and Norgaard, who worked at Pierach's original foray into restaurants, Tilia.
The bar program was developed by Zenska Glava, a beverage education company run by local wine and cocktail veterans, and you may recognize the Assistant GM/Beverage Director David Conner and the lead bartender, Sarah Pozgay as they've been part of the teams at Demi, Hai Hai, and Bar Brava, among other spots.
OK, so the story here is good, as you'd expect when one of the owner's is one of the nation's most well-regarded marketers (Jorg is the founder of Fast Horse, a North Loop ad and digital firm). How's the food? It's really good with flashes of really great.
Don't miss the incredibly silky and creamy chicken liver mousse, an incredibly balanced dish. Pistachio shavings give crunch to balance the mousse, honey gives sweetness to balance the earthiness of the liver, pepper elevates the sour cherry. It's perfection. The knack for balanced flavors emerges in the (slightly) blistered snap peas. I expected more char, but the explosive spring flavors along with mint and pecorino cheese was a joy. And the smile that crossed my face when the sweet potato with salsa verde cross my lips. Such a cool flavor combination with half moons of sweet potato, individually sauced with a lively green herby salsa.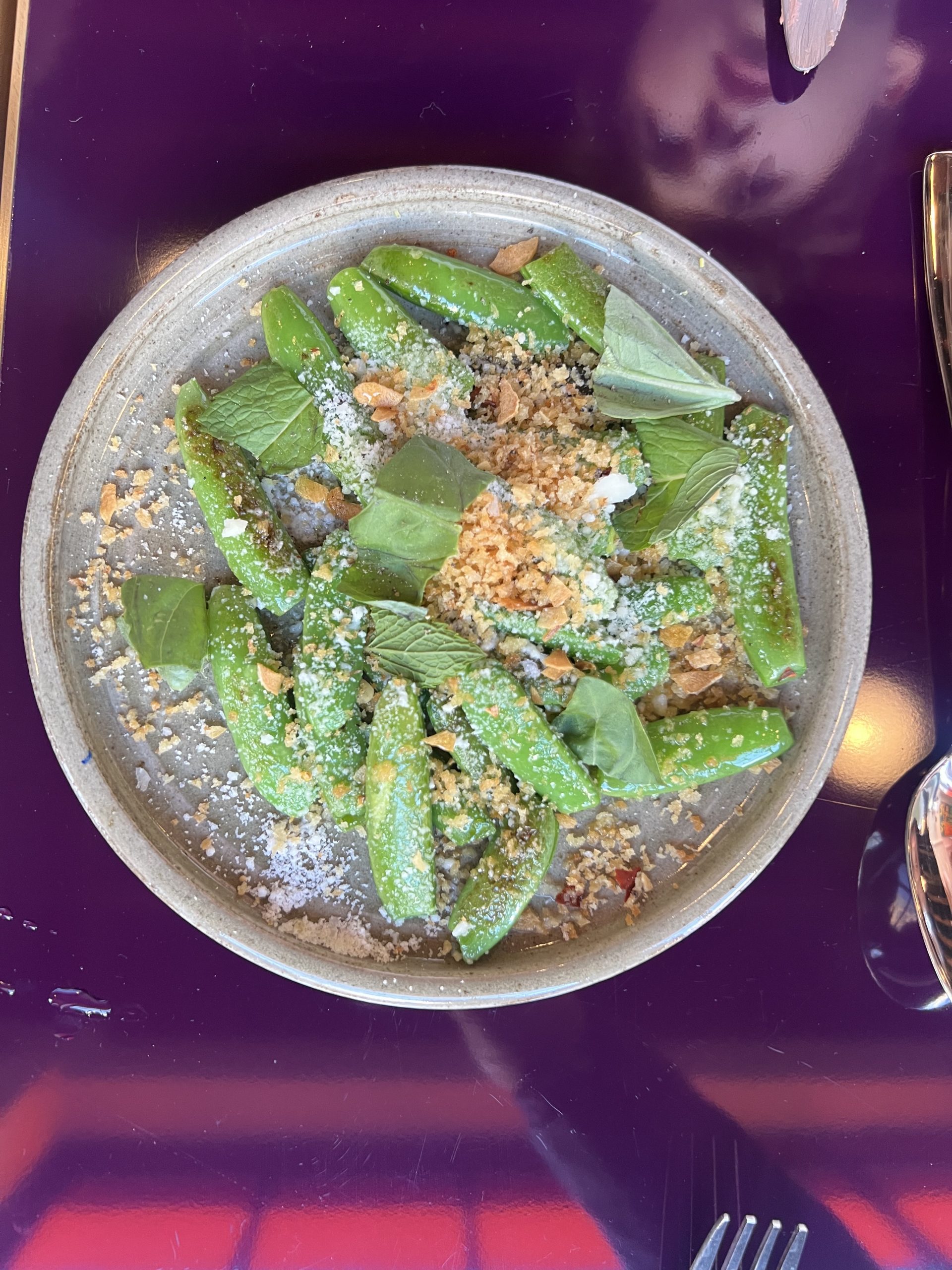 House-made pasta joins the noodles at The Bungalow Club on my list of local favorites. You have to order the lumache. Snail-shaped shells, coated in a green pesto, with spice and crunch and creamy is, again, that perfect balance you want in a dish.
My 15-year-old inhaled the ricotta gnocchi, the kitchen's skill evident in every dreamy pillow, served with roasted almond, in a creamy yogurt sauce.
Pork and marinated clams: Who thought of this combination!? Again, this was a surprise of perfectly cooked pork loin topped with slices of lightly charred onion.
My only quibble was with the lamb steak, served on the bone, topped with radicchio. I would have preferred to have that lamb sliced, as it's not an easy protein to carve off the bone. Lamb can be temperamental because it's fundamentally a more fatty meat than beef, but that fattiness showed up as chewiness on my dish.
To be fair: We visited Herbst on the very first weekend of being fully open (after several weeks of soft openings), and the potential and talent here is quite clear. I thought I was bored with farm-to-table: been there, done that, I have the receipts. But Herbst feels new and fresh and exciting, and I can't wait to get back there again.
Herbst, 779 Raymond Ave., St. Paul, herbstsaintpaul.com
Restaurant: Open Sun–Wed 5-10 p.m., Thur-Sat 5 p.m.-midnight
Reservations: Recommended, although bar seating and chefs counter is held for walk-ins
Parking: Abundant street parking