Confit turkey leg
photos by Kevin Kramer
---
Jason: Restaurateur Kim Bartmann is the queen of the neighborhood restaurant: Her Bryant-Lake Bowl is ideal for Lyn-Lake, Barbette adds sophistication to the Lake Bde Maka Ska side of Uptown, and Red Stag Supperclub feels perfect in Northeast. Her ninth restaurant is a collaboration with chef Asher Miller. Miller showed fine-dining chops running Wolfgang Puck's restaurant in the Walker Art Center, along with skills in casual dining at Andrew Zimmern's stadium-food operation, Canteen.
Joy: There's a distinctive wallpaper trend happening right now, and I love what Book Club has done to dress up this room. It's a makeover from the Cafe Maude days, but still retains a cozy, bistro feel.
Jason: When we went on a Wednesday night, the room was bustling. Families are clearly welcome here, as there's a large selection of books for the youngsters (it is called Book Club, after all), plus a kids' menu with real food. Grilled chicken! Mac and cheese made with two-year-aged cheddar!
Joy: The room was boisterous on the weekday evenings that I visited. Not easy to hear with so many people laughing, clinking glasses, and enjoying themselves.
Jason: Chef Miller's experience with Asian flavors and his love of California-style cuisine marry nicely with the organic and sustainable ingredients Bartmann uses. The lemongrass pickled vegetables awakened the palate with zippy shallots, lotus roots, green beans, and daikon. Grilled skewers were a great way to start. We enjoyed the juicy chicken thigh with creamy coconut sauce and Thai mayo. Just $6. That same chicken comes in entrée form, half a bird with vegetables and rice for $24.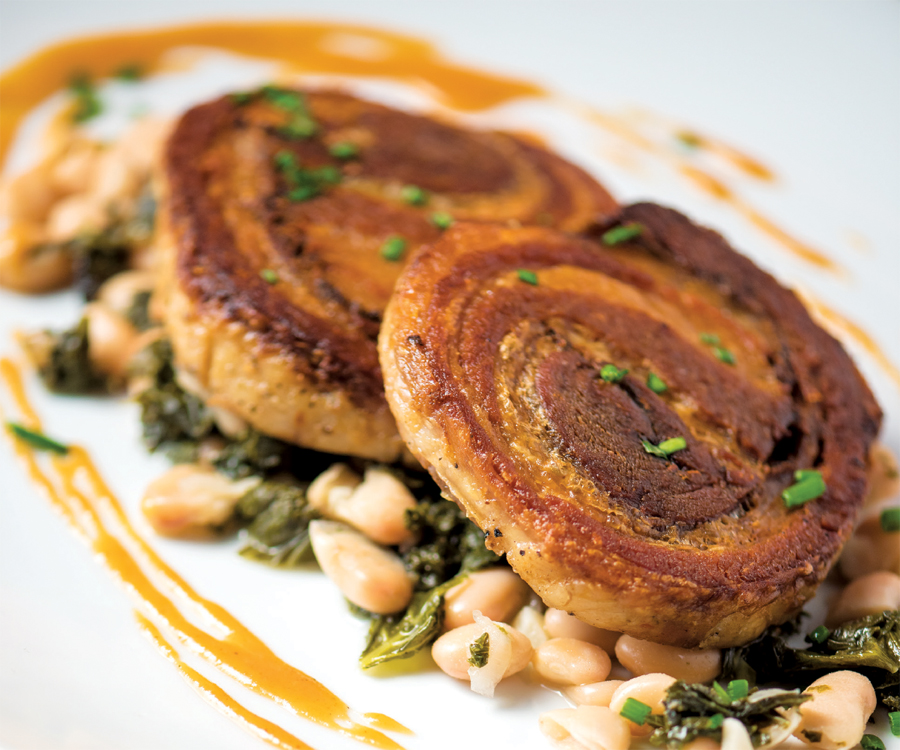 Pork & beans
Joy: That Balinese chicken was succulent. We dragged our fingers through the sauce so as not to waste any. A cup of squash soup arrived from a food runner employing a fling-and-retreat method of delivery. It was so salty with a musky aftertaste that we only kept eating to figure out where it went wrong.
Jason: On our visit they were out of the pork and beans (it takes three days to slow roast the porchetta, and apparently they had a run on it) and the confit turkey leg. The service was friendly, but we were told they were out of those two entrées after we ordered.

Fried chicken sandwich
Joy: The fried chicken sandwich was hit-or-miss. It was salty, slightly spicy, and satisfying on one occasion. The other time it showed up so well-done that it looked like a charred hamburger. The fries weren't worth the extra charge. Opt for the house-made potato chips, instead. Dishes in general were a mix of somewhat tasty and less-so. The deep-fried tortilla was delicious around a gloppy interior on a bed of ice-cold salsa. A frustrating combo of yum and "um?"
Jason: At this chapter in the Book Club's story, it is not a destination restaurant, and I don't get the sense it's trying to be. My experience was that of a solid, yet uneven, neighborhood spot.
---
Book Club Quick Tips
Parking: Small lot next to the restaurant
Reservations: Yes! Great for families who need to plan, and recommended for Thursday-Saturday nights.
Happy Hour: Weekdays 3-6 p.m., wine for $5, classic cocktails for $6
Book Club
5411 Penn Ave. S., Minneapolis, 612-822-5411, bookclubrestaurant.com