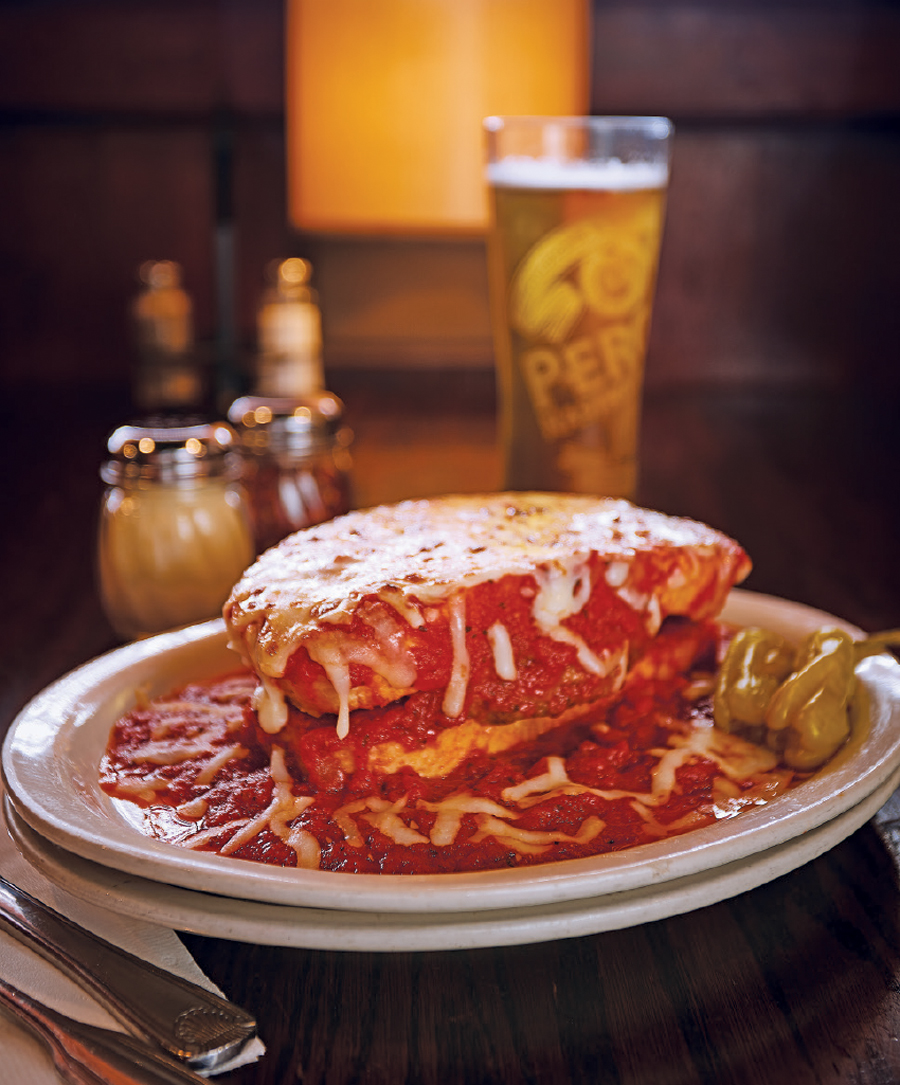 Old fashioned hot dago
photos by Terry Brennan
---
Joy: As hard as it is, wait for the abundant mozzarella topping to cool on the top of most of the dishes at DeGidio's. Take a bite too soon, and the cheese slides, in a molten sheet, off the food and smacks your chin.
Jason: DeGidio's history traces back to St. Paul's bootlegging past. Joe "Kid Bullets" DeGidio funneled his illegal booze-selling money into a legal bar, now the restaurant, once Prohibition ended in 1933. Today, Kid Bullets' family still runs the place.
Joy: My husband and I have an ongoing feud over best dago, slang for Italian sandwich, in the Twin Cities, and DeGidio's has his heart. It's a massive serving of bread, meat, sauce, and that layer of cheese that spanked my chin.
Jason: The pizza fries are a delight, too: long, crispy breadsticks made of pizza dough with a great tomato sauce for dipping—and no gooey cheese. It's the tomato sauce that makes DeGidio's so successful. It has just enough richness and zip, and the recipe hasn't changed in 50-plus years.
Joy: The snazzy green pesto on linguine was garden-fresh and ultra rich all at the same time.
Jason: We dug all the pasta dishes. The lasagna could serve two, but in my family's case it served one 12-year-old boy. The spicy penne arrabiata had surprising complexity thanks to an earthy dose of roasted mushrooms.

Interior
Joy: After a recent remodel, the room is just gorgeous. It's wide open, beautifully lit, and elegant enough for a date night while casual enough for families.
Jason: The prices are incredible. We had two cocktails, three appetizers, and four entrées. The bill was about $100. Plus, leftovers for days. And the service! Many of the servers have been at DeGidio's for decades. Our friendly and knowledgeable server went by Chubs—a nickname that would have made Kid Bullets proud. This is classic St. Paul.
---
DeGidio's Restaurant Quick Tips
Reservations
Sunday-Thursday only; first come, first served Friday and Saturday
Gluten Free
There's an entire gluten-free menu, including chicken wings and gluten-free pastas.
Cradle to the Grave
With space for 160 in the banquet room, DeGidio's is home for school events, weddings, and funerals.
DeGidio's Restaurant & Bar
425 Seventh St. W., St. Paul, 651-291-7105, degidios.com