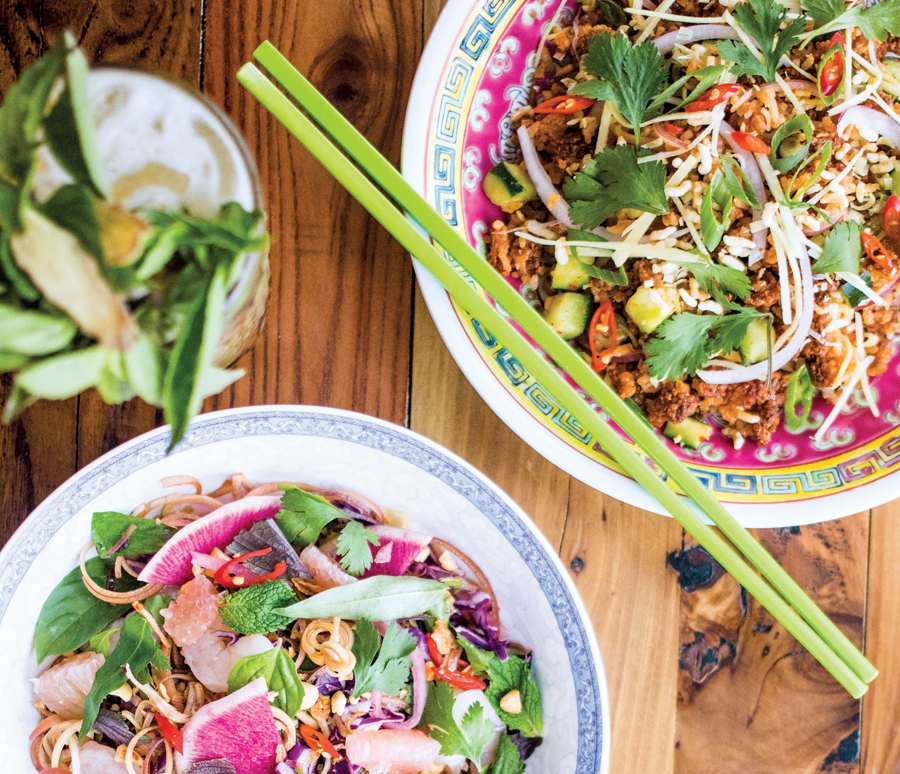 Banana blossom salad and crispy rice salad with the next up… cocktail
photos by Tj Turner
---
Jason: Huge flavors, bold cocktails, a brightly colored celebration of a restaurant: It's hard to believe that Hai Hai used to be the old 22nd Avenue Station (Deuce Deuce) strip club in Northeast Minneapolis. No surprise that Birk Grudem and chef Christina Nguyen, who have been transforming our taste buds with the inventive Latin flavors of Hola Arepa in south Minneapolis, did the trick with Hai Hai.
Joy: Hola Arepa began as a food truck, and the two would travel to Southeast Asia during the cold months when the truck was parked. All those flavors inspired Hai Hai's menu: tons of fresh herbs, punches of fish sauce, spikes of spice, and soothing, chewy rice dishes.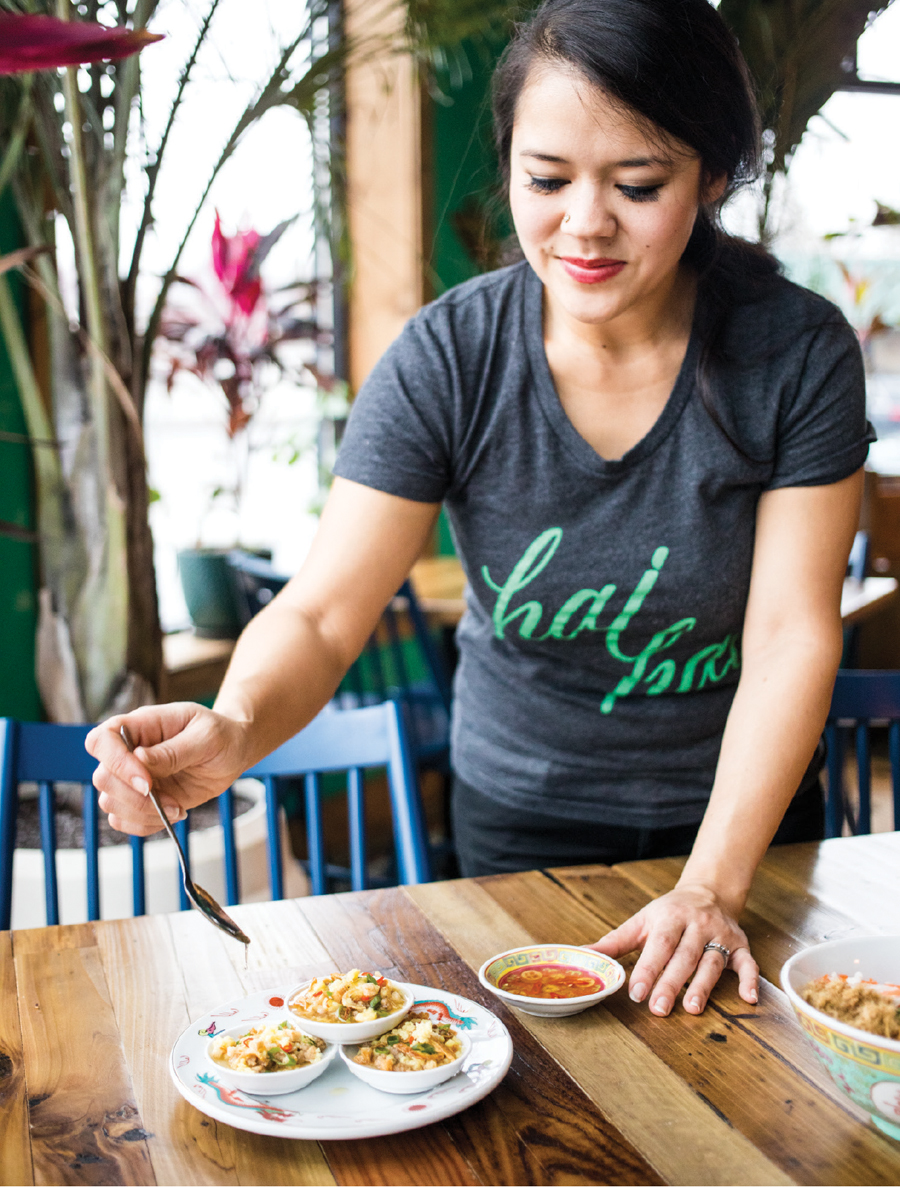 Christina Nguyen with water fern cakes
Jason: There is a 0 percent chance that I ever thought I'd be calling water fern cakes the "it" dish of the year, but here we are, Joy. Steamed rice cakes become almost gelatinous in a sea of scallion oil and nuoc cham (a slightly spicy, lime-flavored fish sauce concoction). It's topped with mung beans (kind of like a Vietnamese green pea) and ground pork, and manages to be funky and spicy and chewy and crispy all at once.
Joy: Yes! The innocuous name belies the depth of flavor that dish packs. The infinitely refreshing banana blossom salad does the same thing. Ditto the Hanoi sticky rice: little Chinese sausage slices, plenty of pork, and funky, tart, salty, sweet pickled bits on top. We ordered one on our way out the door, because banking an extra serving in the fridge is a gift you give your future self.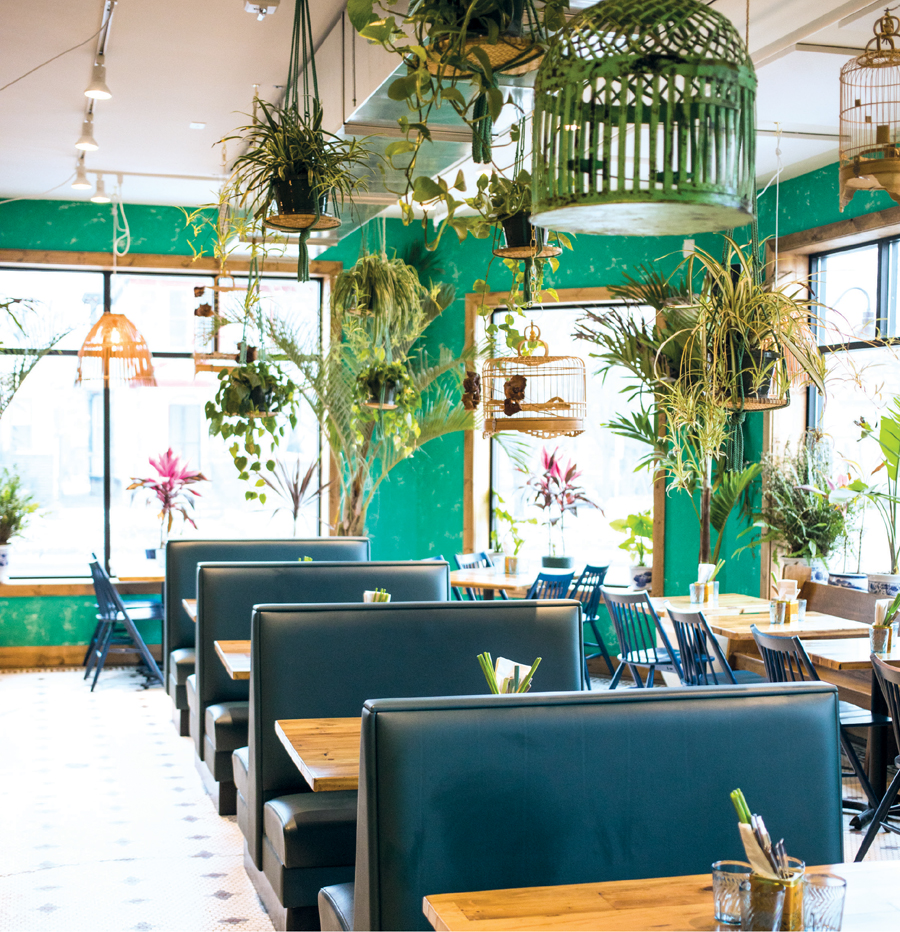 Hai Hai interior
Jason: It's hard to go wrong on this menu—and I've eaten most of it. The fried wontons stuffed with decadent chicken liver pâté, balanced with a passion-fruit chili sauce: spectacular. The crispy rice salad with red curry-flavored rice, cucumber, and ginger hits every flavor note imaginable. We ordered the fried potatoes just to have a sure-thing for our kids, and they were a revelation with fried garlic and shallots, a celery relish, a tofu sauce! So much attention to detail here, and technique: Nguyen won't be one of our most underrated chefs for long.
Joy: She's soft-spoken and carries a big flavor stick. I love her palate. Meanwhile, Grudem is one of the best cocktail creators in the city. Fresh sugarcane juice sweetens the Next Up…, made with ginger, lime, and the drinker's choice spirit. All booze is made better with that mix. Plus, the bar pours a fantastic booze slushie that will be the must-sip cocktail of the summer when Hai Hai's patio opens into an urban oasis. Unbelievably, all the top-shelf cocktails on the menu are just $9.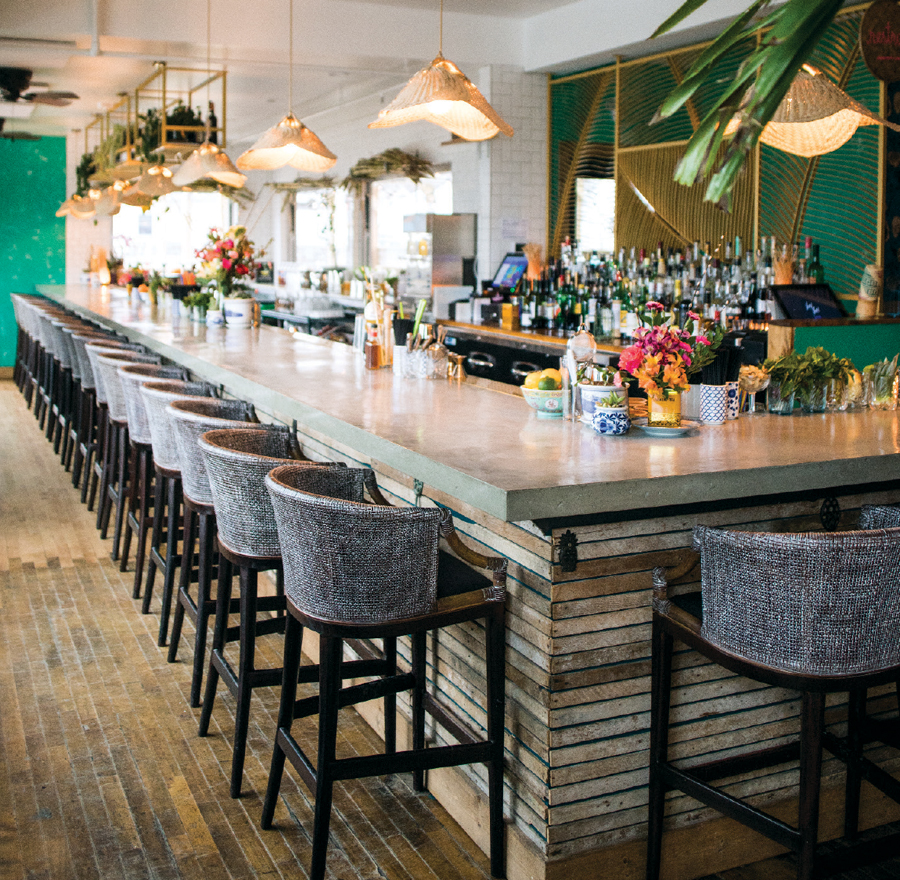 The bar at Hai Hai
Jason: The food is so much fun and so affordable. I loved the lettuce wrap section, with shrimp turned into a mousse and cooked on sugarcane. You can do beef wraps, too—both are $10.
Joy: Happy hour starts at 3 p.m., and this glorious room—with its palm fronds, vibrant wallpaper, and attentive service—is the kind of place I want to visit three or four times a week.
Jason: There are about 100 seats here, and in the warmer months a patio will almost double the seating. Good thing, because Hai Hai should be jam-packed for years to come. This is an excellent restaurant.
---
Hai Hai Quick Tips
Parking: Plenty on street and a big parking lot in back.
Reservations: Limited reservations for parties of 6-12, and you will not be seated until your full party arrives.
Happy Hour: Affordable food and drink costs even less from 3 to 6 p.m., Tuesday through Friday; 10 p.m. to close, through Sunday
Hai Hai
2121 University Ave. NE, Minneapolis, 612-223-8640, haihaimpls.com
Facebook Comments