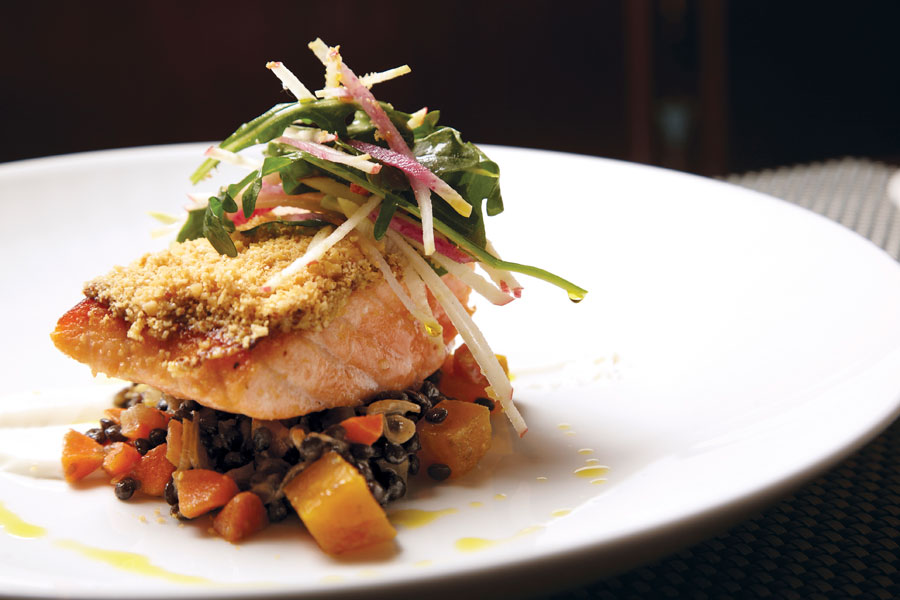 Photo by Todd Buchanan
Each month, in our Restaurants Revisited conversation, MnMo food critics Jason DeRusha and Joy Summers revisit an "old favorite" restaurant and assess how it's faring.
---
Joy: I have so much nostalgia for this restaurant and the location. It's just an idyllic little part of St. Paul with a gorgeous patio.
Jason: Muffaletta is so adorable inside, it's hard to fathom that it's Phil Roberts's first restaurant. Not sure how Muffaletta led to Manny's and Chino Latino.
Joy: It's its own thing: a small, slightly fancy bistro with quiet booths and an intimate privacy to most of the tables. What I love about it is also what could use some improvement: This place is aging.
Jason: The bread basket and garlic dip before the meal was a big hit with my kids who were STARVING (as per usual). And I loved the braised duck with olives and leeks on toast. A truly excellent appetizer. But the food here is uneven.
Joy: In the current burger-manic climate, the dry, overcooked one I received was disappointing. It would not take much to make it better.
Jason: A bad burger is a rarity these days! I hate to say I didn't like the muffuletta sandwich at Muffuletta, but the oil from the olive relish soaked through the bread—messy!
Joy: Our server was lovely, but we had to track her down with every request. Despite a nearly empty room, she kept disappearing. 
Jason: I liked the vibe: We brought our kids, made conversation with the people sitting next to us, saw friends arrive. Sitting at the window felt very comfortable.
Joy: But it was not encouraging to see a cook open a jar, sniff it, and make the "is this still okay?" face that I pull in front of my home fridge.
Jason: Joy, you hated everything! 
Joy: No, I didn't —I just didn't really like…most of what I ate. Though the calamari and duck fat–soaked popcorn were delicious!
Jason: Also, the key lime tart with whipped cream and lime curd is a thing of beauty! Tart and sweet, creamy and crunchy.
Joy: I hope Parasole gives this restaurant the attention it deserves. It's a beautiful part of our Twin Cities history and reminds me of the girl at the back of the gym during spring formal: Give her just a little attention and watch her bloom.
---
Muffuletta Quick Tips:
Good For Groups: The private wine room holds 30
Best Deal: At lunch, a duo of soup, salad, or half-sandwich costs $11
Outdoor Seats? One of St. Paul's prettiest patios
Muffuletta, 2260 Como Ave., St. Paul, 651-644-9116, muffuletta.com