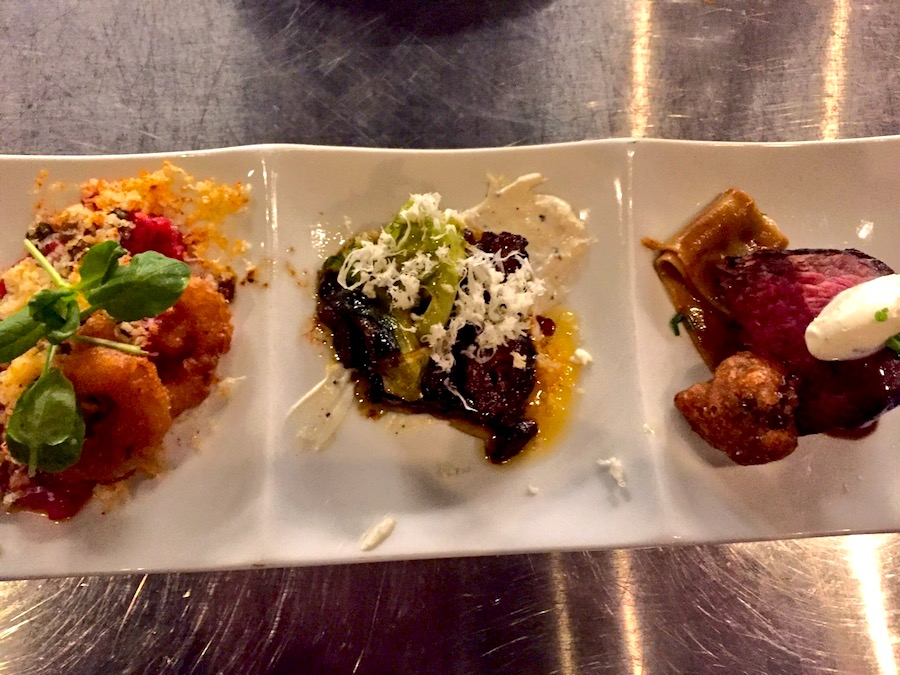 The beef trio at Icehouse MPLS. Photos by Jason DeRusha.
In general, I have mixed feelings about tasting menus. I love eating what a restaurant thinks are their best dishes, so I really enjoy having a chef decide what I should eat. But after a decade of preciously arranged, dripped and dropped and swooshed and tweezered food, I'm over it.
The Icehouse tasting menu is for people who love food, but just want the flavor without the fussiness.
No joke, they have a 10 course tasting for $40, and it lasts for about two hours. It's at the chef bar in the main dining room of one of my favorite Twin Cities restaurants. Chef Matt Bickford trained at Zander Cafe, Solera, La Belle Vie, opened Be'wiched Deli, and he's always been one of my favorite local talents. 
A low price isn't a good deal unless the food is good: but fortunately, the food is great, and I left with a full stomach.
Seriously: 10 courses and not a clunker in the bunch. Many of the items are from Icehouse's regular menu. You'll recognize the chorizo empenada with cilantro yogurt and chimichurri, or the brisket "burnt ends" that were a part of the beef trio. We loved the chicken & foie gras ravioli served in a broth made of oolong tea and mustard oil. The play on a spinach salad with warm bacon dressing, albacore tuna, and pickled egg was an amazing second course. The pork mole served on a sope was also stellar.

Salad with tuna
Latin flavors, a delicate pasta with Asian flair—the only thing that unifies this tasting is the fact that it was all fantastic.
Honestly, 10 courses were probably too many. The five course is an even crazier bargain (because it includes the amuse course so it's actually six) and that's just $25. I will absolutely do that again. Sitting at the bar is fun—you can talk with the chefs, you have a great server, they'll make cocktail pairings for just $5 a drink. This is probably the best deal in town.
The chef's bar has about 10 seats. It's not a set seating but it's a good idea to make a reservation ahead of time for dinner.
Icehouse MPLS
2528 Nicollet Ave. S., Minneapolis
612-276-6523
icehousempls.com

Pork mole served on a sope