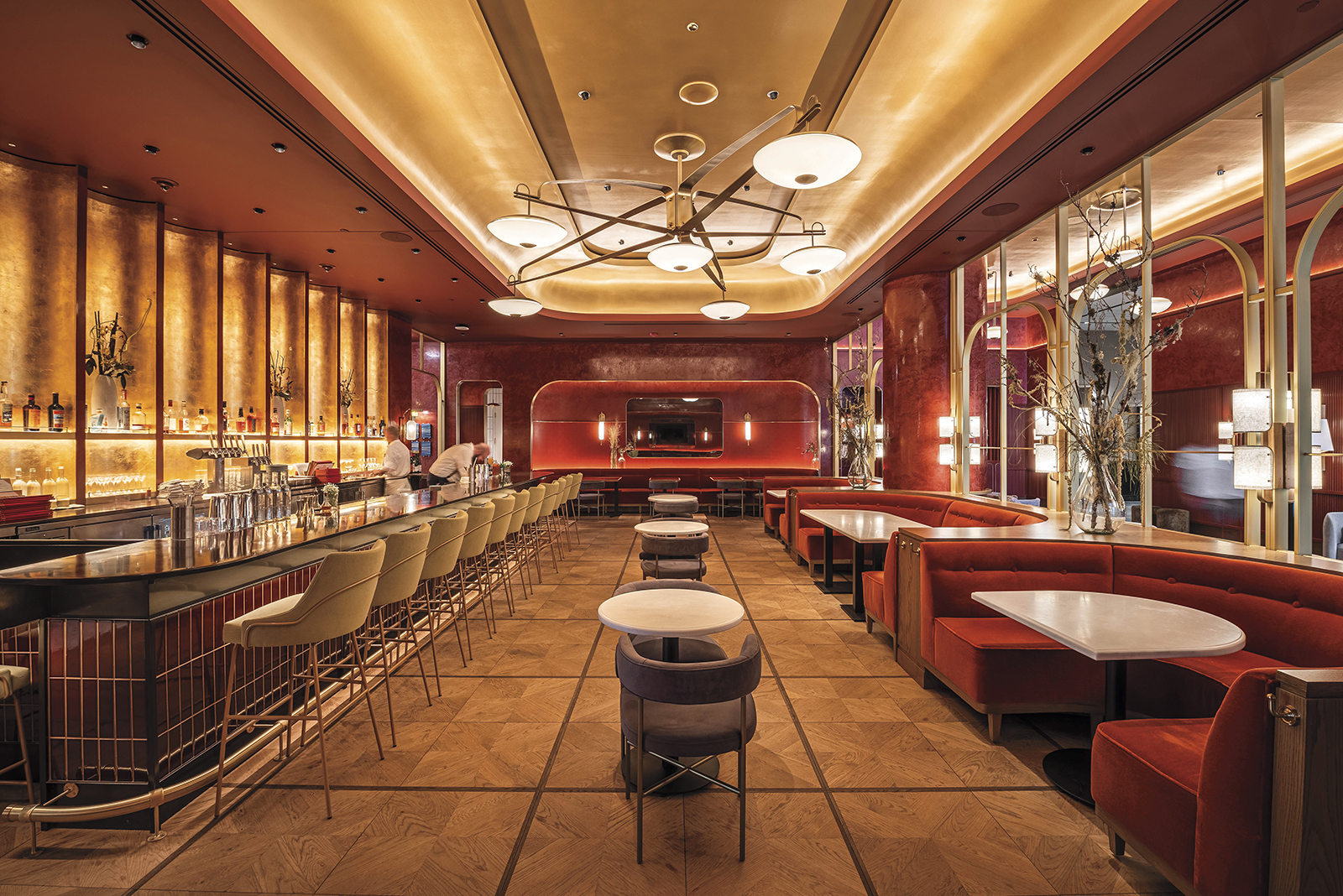 Restaurant of the Year: Mara
Just when many of us worried the end of fine dining was arriving in Minnesota with the closure of some of our biggest four-star restaurants during the pandemic, along comes a shimmering, golden beacon of hope. Mara by Gavin Kaysen is a glorious addition to our scene that serves as a salve for many wounds: It's in the heart of a downtown that has been struggling, it's unmistakably high-end and high cuisine, and it's a return to the soft touch of service.
I love how there are many entry points, too. If you want a truly top-notch cocktail in a sleek, sexy surrounding, you can slide into one of those comfortable seats at Adam Witherspoon's bar and spend just $15. If you want to be a baller and impress a date or client, it doesn't get much more elegant than that open dining room where you can see right into the kitchen, and everyone can see which local athletes or celebs are dining there, too. 245 Hennepin Ave., Minneapolis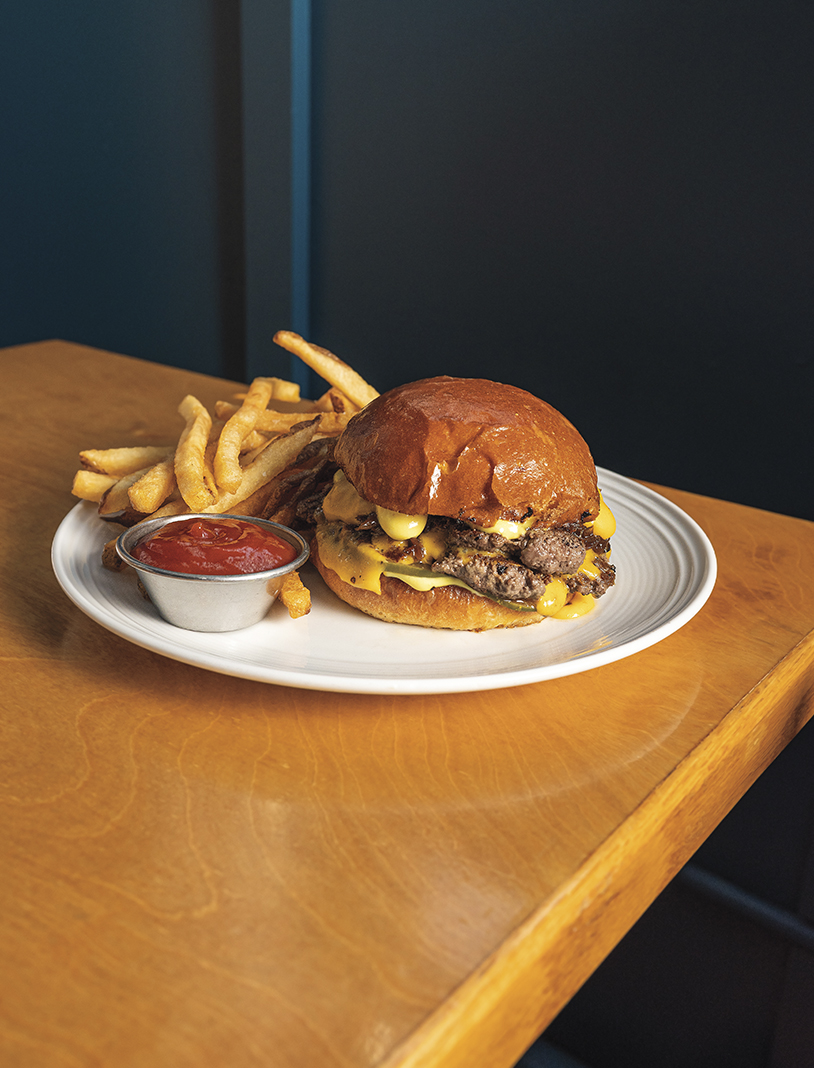 Best St. Paul Restaurant: Gus Gus
Whenever anyone asks me what new restaurant they should check out, I've been telling them Gus Gus. There's a combination of cheeky fun and high-quality cooking happening in the basement of an apartment building on the edge of the University of St. Thomas campus.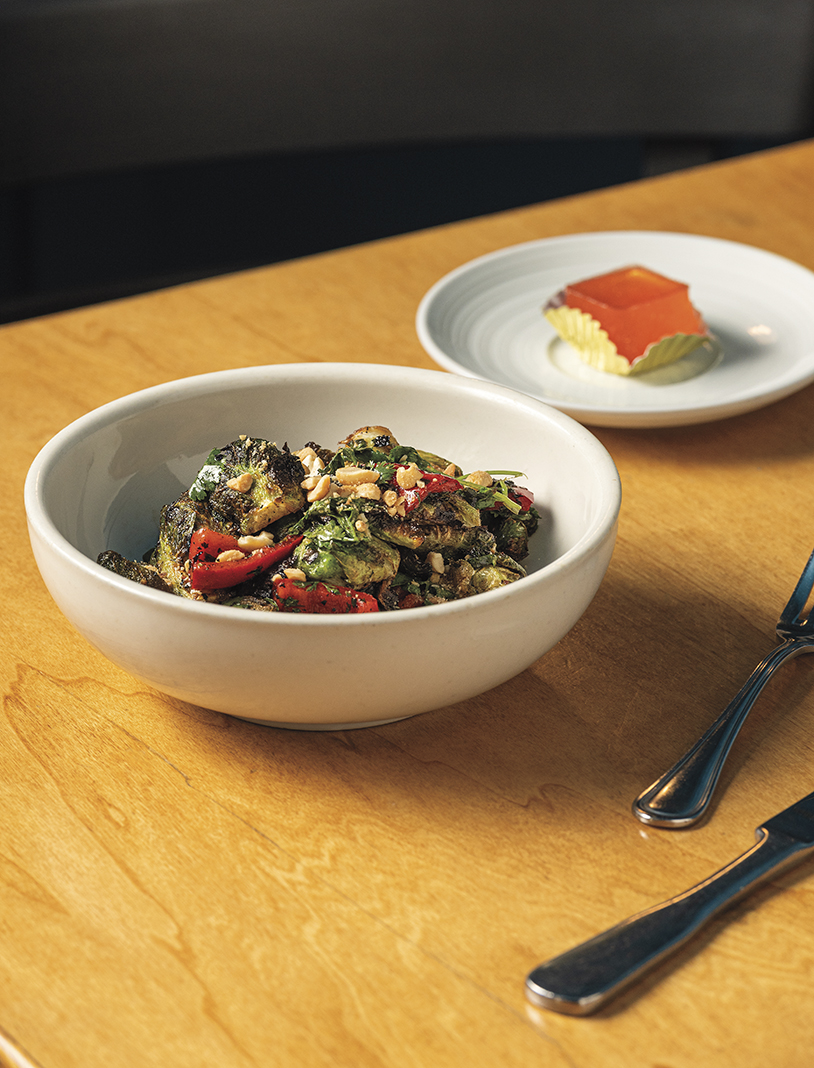 It starts with the bitter orange Jell-O shots—I dare you not to laugh and reminisce about your own college days while experiencing those layers of flavors. Then you advance to dinner with great snacks, like homemade spiced corn nuts and chips with speck and creme fraiche.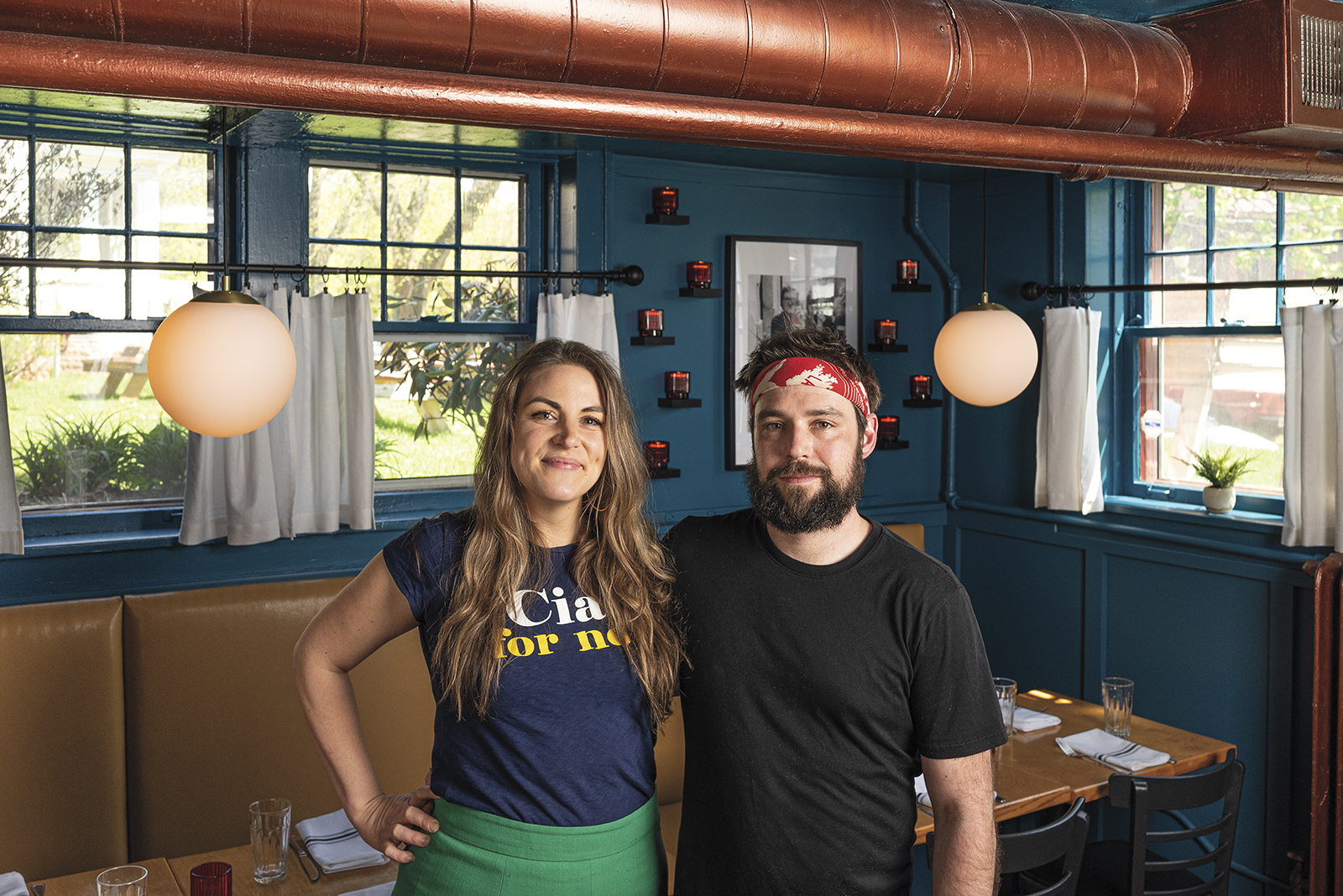 For entrees, my favorite is the sea bass on an incredibly creamy and flavorful white ragu. Chef Kevin Manley and his co-owner wife, Anna Morgan, have created a winner. 128 Cleveland Ave. N., St. Paul
Best Transformation of a Restaurant: Khâluna
When you walk into Ann Ahmed's glorious Khâluna, it's almost impossible to believe it was once a neighborhood sports bar, Harriet's Inn. Gone are the TVs and just about everything other than doors to the outside patio, which now has a roof and windows that open.
It's gorgeous despite the views of the gas station across the south Minneapolis street. Shea Design helped bring Ahmed and husband Tarique's vision of a Thai resort to life with stunning furniture and lighting and lush landscaping to create an escape right in our own town. The great looks are only part of the story, of course.
The updated design is the perfect backdrop for Chef Ahmed's precise and bold global flavors, along with one of the most interesting wine and cocktail lists in the area. 4000 Lyndale Ave. S., Minneapolis
Best

Suburban

R

estaurant

in H

ennepin County: Macanda

The restaurants that succeed in Wayzata all have one thing in common: They are places you go to see and be seen. Gianni's, CōV, and 6 Smith all attract various versions of power brokers and beautiful people with handbags more expensive than my car. So Macanda is a perfect addition to that scene—with a major shift because the bar, HiFi, has the potential to attract an under-35 crowd.
Chef Daniel del Prado (who is also our Chef of the Year) opened Macanda, and there are elements of this menu that feel familiar if you love Colita, or even Josefina up the street. Colita's guacamole uses guajillo salsa and peanuts; Macanda's uses a pistachio salsa. You'll go nuts for it anyway.
Smoked and grilled meats have always been del Prado specialties, and you'll see a beef long rib with a rich mole negro here. And similar to all of this very busy chef's restaurants, the cocktail program here is clever and exciting. I especially enjoyed the frozen cocktails on the stunning Lake Minnetonka patio. 294 Grove Lane E., Wayzata
Best
Suburban R
estaurant in
Ramsey County:
Churchill St.
What do you get when you take a bunch of alumni from the Bachelor Farmer, a civic-minded entrepreneur looking to improve her hometown, and an absolute restaurant desert? You get a first-class restaurant with almost non-stop crowds morning, noon, and night. Churchill St. is the restaurant you wish you had in your neighborhood.
Carly Gatzlaff knew Shoreview needed a place to gather, and she's certainly created that with this open, modern farmhouse aesthetic in what used to be a hardware store. It has terrific coffee service in the morning, an extremely talented baker making old-fashioned doughnuts that cost just $3, and a chef who has worked at Michelin-starred restaurants making burgers and avocado toast and a breakfast burrito.
Dinner is where Churchill St. serves both the neighborhood and those of us smart enough to travel from around the metro. You'll find a great fried chicken sandwich, but also a beautiful roasted walleye and a flat iron steak, all for around $30. 4606 Churchill St., Shoreview
It's so exciting to see the absolute revolution in locally owned, high-quality, high-fun restaurants in the south metro engineered almost single-handedly by restaurateur Tony Donatell. The guy who turned a gas station strip mall in Eagan into one of the coolest whiskey bars in the state has now brought farm-to-table food to Apple Valley. It's quite the upgrade from the Ruby Tuesday that used to fill this spot.
Farmer and the Fishmonger offers unusual and fascinating raw oysters, an excellent tuna crudo, and quality steaks. The steak frites dish features a 14-ounce rib eye for $36. Seared scallops have charred pickled corn and then a little local popcorn for crunch. It's fun, it's fresh, and a great option for people who don't want to drive to Minneapolis or St. Paul for a special dinner.
There are lots of sandwiches (including a Minnesota morel mushroom burger) and a decent kids' menu, too, to serve the weeknight diner. Cocktails, as in all of Donatell's restaurants, are out-of-this-world with lots of fresh ingredients that update the classics. 14883 Florence Trail, Apple Valley
Give the team at Travail credit for never resting on their laurels. They closed Pig Ate My Pizza down the street from their groundbreaking Robbinsdale restaurant to return to a more experimental pub establishment where cooks could play with more than just dough and toppings. I loved it.
A lot of the pizzas are back, but the revamp shines the light on the beer. Andy Goettsch brings a chef's perspective to brewing, with a food-friendly variety of light, hoppy, malty, and fruity beers. Grab a spectacular chicken sandwich, order a Piggie Pie, and sit down with a Vienna Lager or a Princess Peach sour. 4124 W. Broadway Ave., Robbinsdale
I never would have guessed that Edina's 50th and France would be the hottest party intersection in the Twin Cities—but where Nick Kosevich and Tommy Begnaud go, the party tends to follow. Mr. Paul's is fun, it's unpredictable, it's exciting. Even with its high-energy bar and high-energy servers, it's not annoying like an Applebee's on your birthday. Instead, the Mr. Paul's vibe that anything could happen here tonight is intoxicating.
Speaking of intoxicating, Kosevich's cocktails are perfect. He makes the best hurricane this end of the Mississippi River and an amazing Sazerac as well. You'll love the food, too. There are nicely done steaks mixed in with Creole classics like boudin balls and crawfish etouffee. Over the year, they've expanded the menu and offerings with a New Orleans-style brunch as well as ticketed experimental cocktail dinners at the back bar. During lunchtime, visit that back bar for po' boys and snacks along with a killer frozen Irish coffee. 3917 Market St., Edina
Want to be transported to New York's Lower Manhattan via West Seventh Street in St. Paul? You can, thanks to a couple of creative souls who met working together at Emerald Lounge's neighbor, Claddagh Coffee. Amanda Caruso and Molly Bard are serving one of my favorite martinis in town in a long, narrow, slinky bar that's become St. Paul's hot spot.
It's chill enough to serve Old Dutch potato chips with a killer house-made French onion dip, but fancy enough to serve an over-the-top braised pork shank and elegant mussels in a tom kha gai-inspired broth. Sit at the bar or nestle into a comfy chair and enjoy the Anne with an "e" cocktail, a gin and chartreuse drink named after Molly's mom, who owns Claddagh. 455 Seventh St. W., St. Paul
Cross the river to River Falls, Wisconsin, for an incredible showcase for an incredible distillery managed by Morrissey Hospitality. With more solar panels on the roof than any other distillery in the country, the real energy of Tattersall comes inside the large, open dining room.
River Falls has embraced it, and Minnesotans are crossing the border to enjoy the great cocktails and terrific food. A trout spread pays homage to the nearby Kinnickinnic River, and the brat burger reminds you where you are. It's nice to be able to buy a full bottle of one of my favorite gins after finishing dinner, too, a limitation to the Minnesota law that was partially behind Tattersall's expansion to the 715 area code. 1777 Paulson Road, River Falls, Wis.
Facebook Comments