It's a fabulous time to be a local-food geek. Here in the agricultural heartland, we have backyard access to some of the country's best grass-fed beef, organic milk, and high-lysine corn tortilla chips, along with chocolate bars that my friends in San Francisco beg me to bring every time I visit. The list that follows includes a mix of longtime classics and new discoveries, the essentials I find myself buying week after week and recommending time and again. Most ingredients are Minnesota-grown or -made, but we leaned into neighboring states for items that couldn't be sourced from within our borders (La Quercia prosciutto and Star Prairie rainbow trout among them)—and the thought of leaving out some of Wisconsin's world-famous cheeses when they're made practically right under our Juicy-Lucy-dripping chins, seemed a little bit cruel. Happy eating!
Cheese
Every style imaginable: from blue cheeses so blue they're navy to the sweet, easy-to-love Midwestern original Montamoré
Donnay goat, Hook's 7-year cheddar, Cow Caviar, Shepherd's Way Friesago, Northern Lights Blue, Jeff's Select, Good Thunder, and Flory's Truckle. handmade  potter's crackers and barsy's almond hotties—the spiciest of their roasted, seasoned nuts—contribute extra crunch.
As the cheese-making capitol of the country, Wisconsin's rather accustomed to national recognition for gems like its Alpine-style Pleasant Ridge Reserve by Upland Cheese Company and the cheddar-blue cross Dunbarton Blue by Roelli. Of course, the whole region is a bounty of fromage, from Donnay Dairy's soft goat cheese to sheep's-milk Friesago from Shepherd's Way Farms. Our dairy boon has created a sharp Cheddar for every palate: Hook's 7-Year has a smoky, almost meaty savoriness, the luxurious Cow Caviar is sweet with a funky tang, and Fini from the Cheese Caves of Faribault has the deepest flavor, musky with a slightly sour bite.  Flory's Truckle from Milton Creamery in Iowa is hardly recognizable as Cheddar, with its rustic, crumbly texture and Parmesan-like umami. Speaking of Parmesan, Sartori's SarVecchio is the most-lauded American-made variety—but its sweet, creamy Montamoré is also easy to love. There are just as many terrific blue cheeses: also from Faribault, St. Pete's Select and Amablu Gorgonzola make good everyday eating, as does the affordably priced Glacier Blue from Carr Valley. Northern Lights Blue is among the most intense local wheels, a navy-blue cheese with a pungent, ripe funk. Among the most recent arrivals on the local scene, Alemar Cheese Company's Good Thunder (a sister cheese to its Camembert-style Bent River) has the velvety texture of thickened cream (supplied by Cedar Summit Farm); its ripeness is tempered by a wash of Surly Bender beer, which lends a bright-grapefruit aroma of hops. BelGioioso's buttery cow's-milk burrata has become so popular it's now sold at Wal-Mart. But Faribault's Jeff's Select is made in much smaller quantities, so we'd rather keep that one close to the vest. Wouldn't want to trigger a run on this newfound favorite Gouda that's aged to take on a complex flavor almost like savory caramel.
France 44 & St. Paul Cheese Shops    
4351 France Ave. S., Mpls., 612-278-4422
1573 Grand Ave., St. Paul, 651-698-3391, france44cheeseshop.com
Grass Roots Gourmet    
920 E. Lake St., Mpls., 612-871-6947, midtownglobalmarket.org
Lake Wine & Spirits    
404 W. Lake St., Mpls., 612-354-7194, lakewinespirits.com
Surdyk's    
303 E. Hennepin Ave., Mpls., 612-379-3232, surdyks.com
Milk, Butter & Eggs
After sampling several flights of local milk—seriously, that's a thing, even restaurants are serving them now—Castle Rock Organic Farms floated, cream-like, to the top of the pack for its quintessentially rich texture and fresh flavor, equally suited for frothing for coffee as for drinking ice-cold from the fridge.
Kalona Organics may be best known for its yogurt—originally produced under the cheeky name Cultural Revolution—but the company produces all types of dairy, including cottage cheese, sour cream, and butter on par with the nostalgic waxed-paper-wrapped blocks from Hope Creamery. But the richest local spread is Organic Valley's European-style cultured butter, beloved for its pleasant sour tang.
If you haven't yet jumped on the backyard-chicken bandwagon, it's easy to find local layers' eggs on market shelves, with those from Larry Schultz's Owatonna farm the most widely available organic, free-range option. For an even richer yolk, try LTD Farms duck eggs. And for an irresistibly cute option, Johnson's tiny speckled quail eggs are perfect for accessorizing dishes—or serving to toddlers (though deviling is probably out of the question).
Meat
Dry-aged steaks, alpaca summer sausage, and more
To satisfy your primal urges, the dry-aged, bone-in rib eye from Hill & Vale Farms possesses the rich flavor of grass-fed beef with a tender, fat-marbled texture. Thousand Hills Cattle Company is a go-to for ground beef and hot dogs with no added nitrates or nitrites. When it comes to sausages, garlic-rich Ukrainian sausage from Kramarczuk's tastes of the Old World, while Butcher & the Boar cheddarwurst are a taste of the new—the Juicy Lucy of tube steaks, with a kick of jalapeño to cut through the richness. Whole, free-range Kadejan chicken are a roasting staple, and the tiny, doll-size loin chops from Lambalot Acres are as cute as their farmer's name, with a delicate flavor and tender texture. To expand your bacon repertoire, try Beeler's garlic-pepper bacon and Lorentz's British-style back bacon, a meatier cut that includes pork belly and loin. But the most delicate of pork products is La Quercia's prosciutto, which concentrates a nutty umami into gossamer slices that big-city chefs have said are the best they've seen outside Italy. For snacking, supplement the usual pork-and-bacon products with La Pacos alpaca summer sausage and Eichten's bison sticks. Clancey's and Surdyk's make their own duck confit, packed in fat and sold by the pound. They both also carry Au Bon Canard foie gras—a spendy but decadent luxury.
Clancey's Meats & Fish
4307 Upton Ave. S., Mpls., 612-926-0222, clanceysmeats.com
Everett's
1833 E. 38th St., Mpls., 612-729-6626, everettsmeat.com
Hackenmueller's Meats
4159 Broadway Ave., Robbinsdale, 763-537-4811, hacksmeats.com
Heartland Farm Direct Market
289 E. Fifth St., St. Paul, 651-699-3536, heartlandrestaurant.com
Kramarczuk's
215 E. Hennepin Ave., Mpls., 612-379-3018, kramarczuks.com
Seafood
Superior salmon, rainbow trout, and herring caviar
Thanks to Lake Superior's bounty, Minnesota has far better access to fresh seafood than its fellow landlocked states. Much of the salmon doesn't make it farther than the North Shore's restaurants, but some Twin Cities co-ops carry the more abundant lake trout, a member of the char family with a luscious texture and mild, salmon-like flavor. (Many sell whole Star Prairie farmed rainbow trout, too.) Salmon and trout are both terrific smoked, as are Superior's whitefish and herring—eat it on crackers or toss it in salads. And don't forget the herring roe, tiny orange bubbles with a briny-sweet flavor. Much of it's shipped to Scandinavia, where it's seen as an affordable alternative to sturgeon caviar.
Clancey's Meats & Fish
4307 Upton Ave. S., Mpls., 612-926-0222, clanceysmeats.com
Coastal Seafoods
2330 Minnehaha Ave. S., Mpls., 612-724-7425, coastalseafoods.com
Heartland Farm Direct Market
289 E. Fifth St., St. Paul, 651-699-3536, heartlandrestaurant.com
Bread & Pastries
Seed-studded, sourdough, savory, or sweet
The creamiest, tangiest cream cheese ever, from Castle Rock Organic Farms, makes a St. Paul Bagelry "everything" taste even better.
The Twin Cities' milling legacy has launched so many first-class bakeries that you can hardly swing a baguette without…hitting another baguette. The slender twists from the New French Bakery are favored for a savory, butter-complementing tang that has made them a breadbasket staple. The Salty Tart's milk-bread roll has also become a hallmark of seriously tasty sandwiches, such as Sonora Grill's bocadillos and Chef Shack bison burgers. The glossy, golden domes shaped from brioche-style dough will up any backyard griller's game. For a sandwich bread that stacks up to its filling, Rustica's multigrain loaf has a lovely nutty flavor and seed-studded texture. And if you're making French toast, the Wedge's challah (baked Fridays, sometimes along with mini challah buns) has an ideally tender, cake-like crumb and eggy-sweet flavor.
Nearly every culture has some form of flatbread, and Midwesterners produce all kinds of them: pillowy Holy Land lavash (use it for pizzas as an alternative to Boboli), lithe La Perla tortillas, Countryside Lefse that's thin as tissue yet never tears when spread with butter, and soft, spongy East African Bakery injera sold at Seward Co-op. And for fresh pasta there's Sunrise Creative Gourmet.
When it comes to breakfast pastries, A Baker's Wife cake donuts dusted with cinnamon sugar and Isles Bun & Coffee's puppy-dog tails made from cinnamon-roll dough have universal appeal—bring a box to share with your coworkers to make up for breaking the copy machine. But the sweetest new wake-me-up is a tossup between the orange-licorice Gibassier from Patisserie 46 and Angel Food Bakery's Gooey Baby, a frosting-glazed pull-apart of croissant-dough scraps. Its savory variant, the German-Austrian laugen croissant from Sun Street Breads, lends a pretzel's savory flavor and chewy crust to the flaky, buttery French crescent—the Old World's cronut.
A Baker's Wife
4200 28th Ave. S., Mpls., 612-729-6898
Angel Food Bakery
86 S. Ninth St., Mpls., 612-238-1435, angelfoodmn.com
Honey & Rye Bakehouse
4501 Excelsior Blvd., St. Louis Park, 612-844-2555, honey-and-rye.com
Isles Bun & Coffee
1424 W. 28th St., Mpls., 612-870-4466, islesbun.com
New French Bakery
2609 26th Ave. S., Mpls., 612-455-7507, newfrenchbakery.com
Patisserie 46
4552 Grand Ave. S., Mpls., 612-354-3257, patisserie46.com
Patrick's Bakery & Café
2928 W. 66th St., Richfield, 612-861-7570
6010 Lyndale Ave. S., Mpls., 612-861-9277, patricksbakerycafe.com
Rustica Bakery
3220 W. Lake St., Mpls., 612-822-1119, rusticabakery.com
Salty Tart
920 E. Lake St., Mpls., 612-874-9206, saltytart.com
Sun Street Breads
4600 Nicollet Ave. S., Mpls., 612-354-3414, sunstreetbreads.com
Sweets
Cookies, cakes, candies, and other treats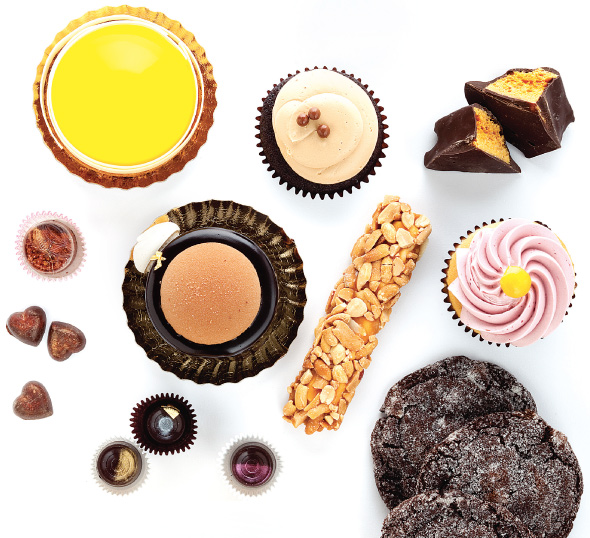 Patisserie 46 petits gateaux, Cocoa & Fig cupcakes, Groveland Confections sponge candy, Pearson's Nut Roll, Rustica bittersweet chocolate cookies, 185 chocolates, and Mademoiselle Miel bonbons
The 100-plus-year-old Pearson's is Minnesota's largest oldie-but-Nut-Goodie candy company, featuring its now-iconic Salted Nut Roll. The sponge candy from Groveland Confections resurrects another homey, old-fashioned confection: golden-sweet "fairy food," some call it, drenched in dark chocolate. For another grandmotherly favorite made modern, try A Gourmet Thyme Too's lemon-thyme shortbread: rich, buttery-sweet crumbles with a savory edge. Handmade marshmallows are hard to find, which makes the ones from Golden Fig even more special—especially the pink, heart-shaped version flavored with real strawberries. Wash it down with a strawberry-flavored Spring Grove Soda Pop, the state's only soft drink maker, which uses cane sugar to sweeten its product and distributes it only within 100 miles or so of its factory.  For party treats, pick up a box of Cocoa & Fig cupcakes (the secret's the frosting: Italian meringue buttercream) or for your fanciest affairs, go with the jewel-like petits gateaux from Patisserie 46 (serve their macarons as post-dessert desserts known as mignardises). They look too good to eat, but once you put a fork through the glossy, yolk-yellow dome of a Goldilocks or chocolate-enrobed, gold-leaf-flecked Lucia, you won't be able to stop yourself. When it comes to all things chocolate, B.T. McElrath's Salty Dog bars spike a smooth, dark slab with toffee and salt crystals. There are nearly too many local truffle makers to count, but among the new standouts are those from 185 Chocolat (try the caramel-filled swirls) and Mademoiselle Miel's bonbons, which marry bitter-black chocolate with honey from St. Paul rooftops. And Rustica's bittersweet chocolate cookies are so essential to a chocophile's existence that they're suspected to be the very dark matter from which the universe was formed.
Cocoa & Fig
651 Nicollet Mall, Mpls., 612-333-1485, cocoaandfig.com
Golden Fig
790 Grand Ave., St. Paul, 651-602-0144, goldenfig.com
Grass Roots Gourmet
920 E. Lake St., Mpls., 612-871-6947, midtownglobalmarket.org
Heartland Farm Direct Market
289 E. Fifth St., St. Paul, 651-699-3536, heartlandrestaurant.com
Local D'Lish
208 N. First St., Mpls., 612-886-3047, localdlish.com
Rustica Bakery
3220 W. Lake St., Mpls., 612-822-1119, rusticabakery.com
Pantry Essentials
Stock the larder with oils, honeys, pickles, preserves, and sauces
Whole Grain Milling's corn tortilla chips have a thick, rustic texture and robust corn flavor that stands up to the spiciest salsa.
Cold-pressed Minnesota-grown seeds give Smude's sunflower oil a nutty flavor that enhances salad dressings and distinguishes it from the bland supermarket stuff—and it's also terrific on popcorn.
Ames Farm pioneered the single-source honey approach, giving us a rainbow of floral flavors, including dark amber-colored buckwheat honey with a molasses-y depth. Wolf Honey Farm's extra-virgin honey has a spreadable, frosting-like consistency and a gorgeous glossy sheen. The "extra" extra-virgin version is studded with wax, propolis, and pollen, which add a chewy texture (and, some believe, health benefits).
Find old-time flavors in Minnestalgia lingonberry jam and chokecherry syrup, whose bright cherry flavor is a fun counterpoint to a classic maple syrup, such as those from the North Shore's Wild Country. Fruit acquires a feisty edge in Quince & Apple's preserves (especially the bittersweet orange marmalade with lemons) and Lucille's Kitchen Garden's raspberry pepper jam, which zips up a cheese plate or sandwich with its spicy-sweet vinegar bite.
Longtime favorite Daddy Sam's barbeque "sawce" skips the corn syrup that big brands often use in favor of a flavor profile that's a blend of hearty smoke, ample garlic, and lingering burn. For spice lovers, Lucky's hot sauce comes in a variety of flavors, such as the versatile garlicky, vinegar-kissed jalapeño blend. The birthplace of Chi-Chi's is now home to all sorts of locally made salsas, including Minnesalsa, Curt's, and Salsa Lisa. New favorites include Francisco's Pico de Gallo, a bright, raw, fresh flavor made by Francisco Morales of Willmar, and Chip Magnet's "Ghoulicious" spiked fiery ghost peppers (beware: Its heat is haunting).
If you can name it, you can find it pickled: sweet beets from Angelica's Garden, giardiniera from Ing Canning, super-sweet candied jalapeños from Viola's Vittles—certainly not what you'd expect the sweet granny on the label to drop on a hot dog.
Ice Cream
Several local dairies and ice-cream shops sell their wares in grocery freezers. Since Castle Rock makes some of the region's best milk, it's no surprise that its ice cream is dreamy. Sweet Cream is its purest expression, but don't miss out on the variety of fruit flavors, too. Pumphouse Creamery's small retail line includes a classic chocolate and vanilla, as well as its addictive salty caramel. Izzy's shops sell a whole line of beverage-inspired scoops, including Guatemalan Coffee, chai-like Blue Mountain Spice, and the local-beer-featuring Summit Oatmeal Stout. Sonny's ice creams, featured at Crema Café, are joined by a line of sorbets, which includes a lovely, refreshing cantaloupe-lime blend.
Favorite Ethnic & Locavore Markets
El Burrito Mercado
Photo by A. Steinberg/Sidecar
Buon Giorno
At the casual deli and market adjacent to I Nonni restaurant, Italy's culinary history is fully represented, from the toe to the top of the boot. Buon Giorno stocks a huge assortment of olives, salumi, fresh pasta, tomato sauces, as well as ready-to-eat or heat-and-serve meals. You can always pick up a bottle from the attached wine shop. • 981 Sibley Memorial Hwy., Lilydale, 651-905-1080, bgimarket.com
El Burrito Mercado
As the largest, most comprehensive Latin grocery in the Cities, El Burrito has produce aplenty (more chilies than you can imagine), specialty meats (including tripe), Mexican bakery goods (tres leches cake), fresh tortillas—oh, and piñatas. Even its smaller offshoot in the Midtown Global Market stocks three types of Latin-American crema, should you prefer Honduran, Salvadorian, or Guatemalan. Or pick up a hot meal from the deli if you don't feel like cooking. • 175 Cesar Chavez St., St. Paul, 651-227-2192, elburritomercado.com
Golden Fig
Local, handmade eats abound at the Golden Fig, from cheese to sunflower oil to an entire shelf full of regional salsas—and proprietor Laurie McCann Crowell is happy to share samples to help customers select just the right one. The refrigerator case is stocked with heat-and-serve take-home meals made from the same great local ingredients. • 790 Grand Ave., St. Paul, 651-602-0144, goldenfig.com
Heartland Farm Direct Market
Carrying the same fabulous ingredients used in the adjacent locavore restaurant, Heartland Farm Direct Market offers eggs, dairy, meat, and produce along with its own house line of value-added goods. Heartland's staff excels in preserving, so its larder is stocked with pickles, preserves, charcuterie, and stocks. The deli offers ready-to-eat soups, sandwiches, salads, entrées, and baked goods. • 289 E. Fifth St., St. Paul, 651-699-3536, heartlandrestaurant.com
Holy Land
Hummus is Holy Land's best-known product—popular enough that Costco sells it. But the main bakery/deli/grocery on Central Avenue (and smaller Midtown Global Market location) offers a depth and breadth of Middle Eastern foodstuffs, including a halal meat selection with hard-to-find cuts of goat, fresh-baked pita bread, and fresh dates, which crunch like miniature apples before they turn chewy and ripe. And if you work up an appetite while shopping, there's always the lunch buffet. • 2513 Central Ave., Mpls., 612-781-2627, holylandbrand.com

Local D'Lish
Ann and Yulin Yin run a small North Loop shop focused on local, organic produce and packaged grocery goods produced by small farmers and artisans. You'll find farmers'-market favorites such as Lucille's Kitchen Garden pepper jams as well as unexpected items—Minnesota-grown peanuts, for example. • 208 N. First St., Mpls., 612-886-3047, localdlish.com
Expert Pairings
Interviews by James Norton and Joy Summers
Mark Sobolik – the Wine Thief & Ale Jail
If I'm feeling a little swankier, I'll go with a goat cheese and then something like a saison or a geuze—something with a little bit of funkiness to it. That tanginess from the goat cheese pairs well with that funky flavor, and it's a lot creamier cheese so you need something that has those effervescent bubbles to clean your tongue. But in the summertime, nothing beats fried cheese curds and an Indeed Day Tripper. winethief.net
Dustin Harkins– France 44 Wines & Spirits
Comté is usually made from unpasteurized cow's milk. It's slightly nutty. When paired with wine from the Jura, it works very well. This is a pairing that's been enjoyed for hundreds of years, so it can't be too bad if they've been doing it for so long. france44.com
Jim Sebring – Blue Max Liquors
Aecht Schlenkerla of Germany has a Märzen smoked beer, and you can pair that with any pork off the grill—brisket or smoked chops. The smokiness from the charcoal grill and the smokiness from the beer just complement each other so well. bluemaxliquors.com
Derek Brammer – Surdyk's
I'd pair mussels in white wine with a Burgans Albarino from the northwest region of Spain, where that ocean air washes over the grapes. It's fruity without being sweet, crisp and clean with citrus zest flavors. surdyks.com
Paul Wilkins – Lake Wine and Spirits
We have Salty Tart baguettes, which work well with a beer like the Flemish Red Rodenbach Grand Cru, which is very wine-like. All you need is a hunk of cheese, and you'd be all set for dinner. lakewinespirits.com
Russell Fay – Cork Dork
The Crémant du Jura "Extra Brut" is a heavier-style sparkling wine produced by Andre Mireille Tissot with those great sourdough, sesame flavors with undertones of apple and pear. This would be great with toast points spread with paté. corkdorkwineco.com
Tyler Melton – The Wine Shop Minnetonka
Blandy's Alvada Madeira comes from an island south of Portugal. It's then barrel-aged and fortified with brandy. It's nutty, a little sweet with a nice salinity.  We sell it by the 500 ml, which is perfect for a dinner party, because even though it's fortified, after about three weeks Madeira will lose its fruit and fall apart. I love this paired with anything creamy, like a tiramisu. wineshopminnetonka.com
Michael Wagner – The Four Firkins
I love a big, citrusy, hoppy beer—Overrated from Surly—paired with carrot cake. You get this great marmalade flavor that goes great with the carrot sweetness and
the frosting. fourfirkins.com