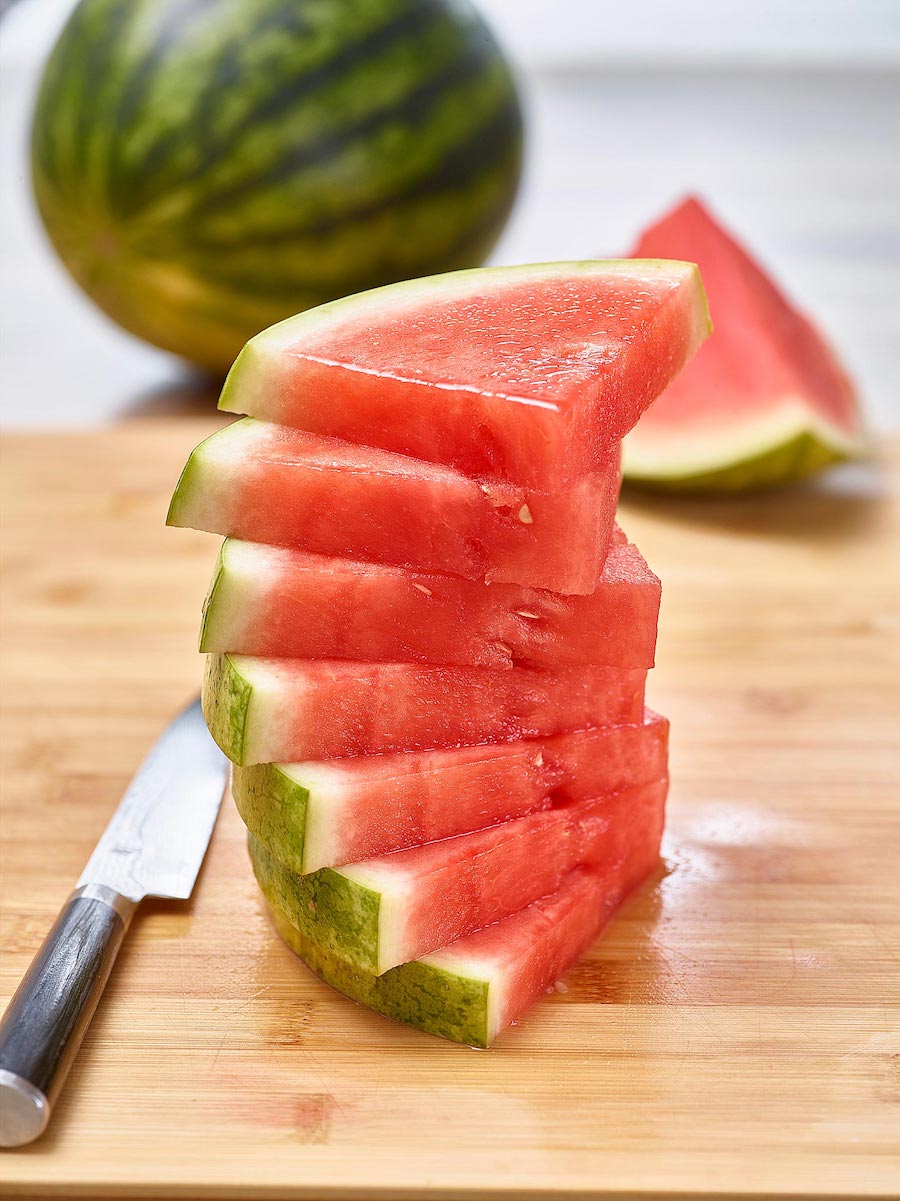 It's hard to beat the refreshment factor of watermelon. On a hot day, a slice of this cool fruit is not only delicious, but since it's 92 percent water, it can also help you stay hydrated. And in honor of National Watermelon Day, which is on August 3, I'm helping celebrate the occasion by showing the many different uses for it beyond just having a slice at a picnic.
Watermelon is cousins to cucumbers, pumpkins and squash, so it makes sense that it's delicious in lending a sweet touch to savory cheese appetizers, slow-cooked pork and chicken salad, plus makes a tasty twist on strawberry shortcake and the Paloma cocktail in these recipes, which are courtesy of the National Watermelon Promotion Board.
It's also good for you. Watermelon has only 40 calories per cup and is virtually fat and cholesterol free. It's low in sodium; is a good source of vitamins A, B6, and C; and contains potassium, thiamin, and magnesium.
Watermelon Fun Facts
Early explorers used watermelons as canteens.
According to Guinness World Records, the world's heaviest watermelon was grown by Chris Kent of Sevierville, Tennessee in 2013, weighing in at 350.5 pounds.
Watermelon Tips
Wash before use
Always wash melons with cool tap water and dry before cutting in order to remove any surface dirt and impurities on the rind that could be transferred from the knife to the flesh when cut.
Stick a stick in it
Almost every food is more fun on a stick. For an easy, fun take on the usual slice, cut watermelon into triangular wedge shapes about ½ to 1-inch thick and insert a popsicle stick into the rind. It makes clean up a breeze and kids love it. You can also freeze the sliced pops for an extra chilly, refreshing treat.
While August 3 may mark the "holiday," watermelon is, of course, a delicious addition to meals anytime throughout the summer. Check out these recipes and scroll down for more ideas to make the most of this fruit while there are still plenty around.
Watermelon Feta Caprese Bites
Makes 6 servings
Watermelon is a great substitute for tomatoes in this traditional Italian appetizer. And, cup for cup, watermelon packs a better dose of lycopene.
For the Caprese
15 slices watermelon, cut into rounds or squares approximately 3 inches wide x ½ inch thick
3 ounces fat-free feta cheese
¼ cup fresh basil leaves, chopped
Sprig basil, for garnish
For the Dressing
1/3 cup balsamic vinegar
1 garlic clove, minced
1½ tablespoons extra virgin olive oil
½ teaspoon Dijon mustard
salt and pepper, to taste
Mix all dressing ingredients and set aside to blend flavors.
Place watermelon slices on paper towels and cover with additional paper towels to absorb excess fluid.
On a large platter, place the watermelon slices and sprinkle with the feta cheese. Sprinkle the basil leaves evenly over the top. Drizzle with dressing. Garnish with a sprig of basil.
Watermelon Feta Skewers
Makes 4 servings
These bites are easy to make for a crowd and look fantastic. They're also easily customizable—this recipe uses feta with basil and mint, but mozzarella, halloumi or blue cheese would also taste amazing.
2 cups cubed watermelon
1 cup cubed feta
Basil leaves
Mint leaves
Balsamic dressing of choice
Toothpicks, bamboo skewers or similar
Skewer kabobs starting with watermelon, then cheese, herb of choice and then watermelon again. Plate before dousing with your favorite balsamic dressing.
Slow Cooker Korean BBQ Pork Lettuce Wraps
Makes 4 Servings
Hours in the slow cooker render this watermelon-spiked sweet pork as succulent as it is juicy. The cucumber watermelon salad gives these wraps a nice crunch while the sesame seeds completes the dish.
For the BBQ Pork
1½ to 2 pounds country style pork ribs
salt and pepper, to taste
¼ cup low sodium soy sauce
¼ cup rice vinegar
2 tablespoonshoney
1 tablespoon sesame oil
1 to 2 tablespoons gochujang or Sriracha hot sauce
1 cup seedless watermelon, cubed and pureed
2 heads Bibb lettuce, leaves separated
For the Cucumber Watermelon Salad
1 cup seedless watermelon, diced
2 mini cucumbers thinly sliced
2 teaspoons sesame oil
1 tablespoon soy sauce
1 tablespoon rice vinegar
2 tablespoons black sesame seeds
salt, to taste
¼ cup basil, thinly sliced
1 tablespoon mint, thinly sliced
Begin by seasoning the ribs with salt and pepper. Arrange the seasoned ribs in the bottom of a slow cooker.
In a small bowl, combine the soy sauce, rice vinegar, honey, sesame oil, gochujang (or Sriracha), and watermelon purée. Whisk until smooth and pour over the ribs. Cook on low for 8 to 10 hours.
Meanwhile, whisk together the sesame oil, soy sauce, and rice vinegar for the salad in a small bowl. Add the cucumbers and watermelon. Toss to combine and season with salt as needed. Add the sesame seeds, basil and mint and refrigerate until ready to serve.
When the ribs are done cooking, use two forks to shred the meat. To assemble the lettuce wraps, take a leaf of Bibb lettuce and fill it with the shredded pork. Top with the watermelon salad, and drizzle with additional gochujang or sriracha as desired.
Note: You can also use beef short ribs for this recipe.
Zesty Watermelon Chicken Salad Tortilla Cups
Makes 12 Servings
These cups look impressive and are easy to make—great for guests, game nights and brunches. This recipe is by Shannon Kohn from Simpsonville, South Carolina, and the Watermelon Board loved this spin on chicken salad so much they awarded it First Place in the "Flesh" category 2017 Recipe Contest.
4 (8-inch) flour tortillas
¼ cup softened cream cheese
2 tablespoons mayonnaise
1 tablespoon cayenne pepper sauce
2 tablespoons chopped green chiles
1 cup cooked, chopped chicken
1½ cups chopped watermelon
¼ cup roasted, salted pumpkin seeds (pepitas)
¼ cup sliced green onions
Preheat oven to 375°F.
Using a 4-inch cookie cutter or cup, cut rounds out of each tortilla. Press one tortilla round down into each cup of a 12-cup muffin pan.
Bake for 8 to 10 minutes or until tortilla cups are light brown and crispy. Remove from oven; allow to cool.
In bottom of large bowl, combine cream cheese, mayonnaise and pepper sauce until smooth.
Stir in chicken and green chilies. Fold in watermelon.
Divide and fill each tortilla cup with an equal amount of the watermelon-chicken mixture.
Divide and garnish with an equal amount of pumpkin seeds and green onion, respectively.
Strawberry-Watermelon Shortcake
Makes 6 servings
This twist on a traditional strawberry shortcake adds watermelon and is made with sweet cake or biscuits. Easily save time by using store-bought biscuits or whip cream, or both.
For the Fruit Topping
2 cups cubed watermelon, divided
1 cup strawberries, hulled and quartered
½ cup sugar
For The Biscuits
2 cups all-purpose flour
2½ teaspoons baking powder
1 teaspoon salt
1 tablespoon and 2 teaspoons sugar, divided
1½ cups and 2 tablespoons heavy cream
For the Whipped Cream
1 cup heavy whipping cream
1 teaspoon vanilla extract
3 tablespoons sugar
In a food processor, combine 1 cup of the watermelon and sugar. Pulse until smooth and transfer to a large bowl. Add the quartered strawberries and remaining 1 cup cubed watermelon, toss to combine. Cover with plastic wrap and let sit for 30 minutes and up to 2 hours.
Meanwhile, make the biscuits. Preheat the oven to 425°F and line a baking sheet with parchment paper.
In a large bowl, whisk flour, baking powder, salt and 1 tablespoon of the sugar together.
Add 1½ cups of the cream and stir just until the dough comes together. (It will be ragged at first but will smooth out as the dough is kneaded.)
Turn dough onto a lightly floured surface and gently knead until the dough is mostly smooth. Pat into a 3/4-inch-thick round.
Using a circular biscuit cutter or paring knife cut out 3 or 4 rounds in 3 to 4 inch circles and place them on your prepared baking sheet. Bring the scraps together and pat out to make more biscuits. Repeat until all the dough is used. You should end up with 6 biscuits.
Brush the tops of the biscuits with the reserved heavy cream and sprinkle with the reserved sugar. Bake the biscuits for 15 minutes or until golden brown on top.
While the biscuits bake, make the whipped cream. In the bowl of an electric mixer, combine the whipping cream and vanilla. Beat at medium high speed until soft peaks form, then, with the mixer running, slowly add the sugar until the soft peaks become slightly firmer.
To assemble the shortcakes, cut the biscuits in half. Place the bottom half on a plate and top it with whipped cream, followed by a spoonful of the strawberry-watermelon mixture. Cover with the top half of the biscuit and top with one last scoop of cream and strawberry-watermelon mixture. Serve immediately.
Watermelon Paloma
Makes 2 cocktails
Much better than a mixer, the watermelon gives this traditionally Mexican cocktail a sweet and colorful punch. Add a watermelon wedge for a festive garnish.
3 ounces silver tequila
¼ cup grapefruit juice
½ cup cubed watermelon
1 cup watermelon juice, frozen in ice cube tray (optional)
2 teaspoons agave nectar
1 tablespoon lime juice
club soda, to top
kosher salt, to top
sprigs mint or basil, for garnish
2 wedges watermelon, for garnish
Pour a generous amount of salt on a small plate. Line the rims of two glasses with lime juice and gently dip the rims into the salt. Combine the silver tequila, grapefruit juice, watermelon, and agave in a cocktail shaker. Use a muddler to mash the watermelon with the rest of the ingredients. Add ice and shake vigorously for 10 seconds.
Carefully add ice cubes of choice to the glass and, using a strainer, pour the tequila mixture over the ice. Top with club soda and garnish with mint or basil and a small watermelon wedge.
Note: To make watermelon juice, put 2 cups chunks in a blender and press go! (You may need to push the chunks towards the blades to get the liquifying started). Strain through a mesh strainer for a thinner juice if preferred. You'll get about 1½ cups juice before straining or about 1 cup if strained.
Hungry for More?
Refreshing watermelon moves from appetizers to entrees and desserts with ease in more recipes here:
The Savory and Sweet Sides of Watermelon
Facebook Comments