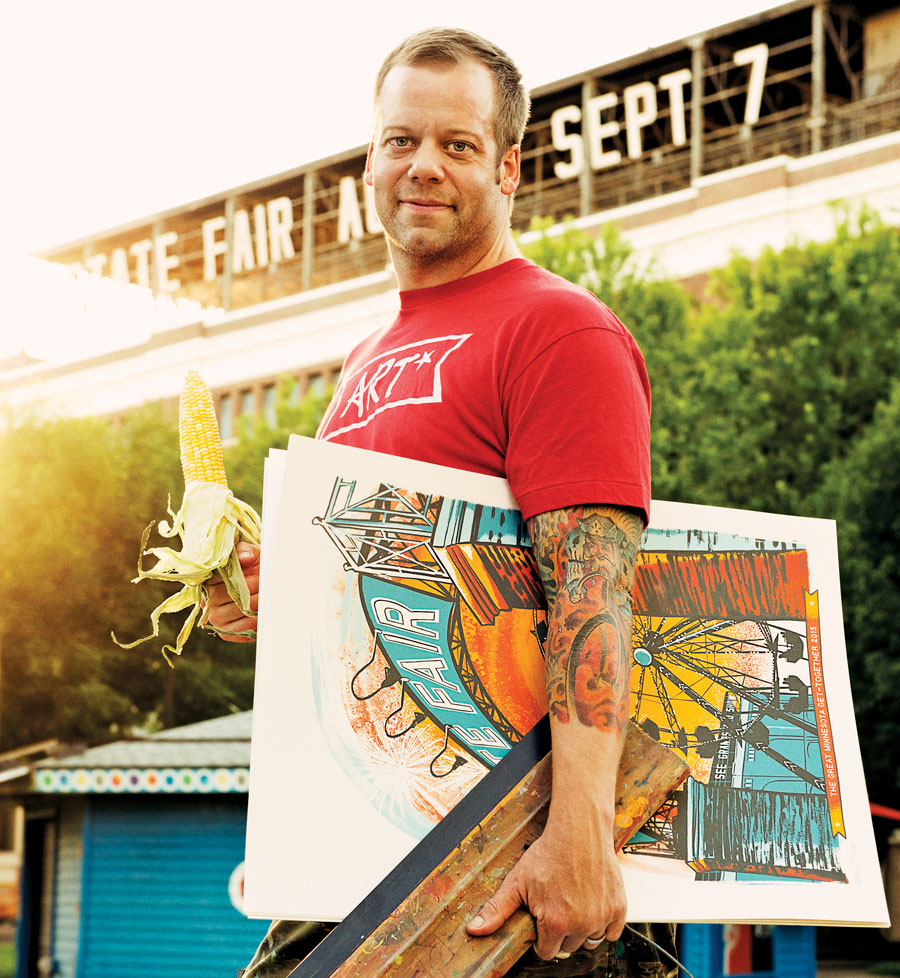 photo by kelly loverud
Adam Turman's bold, stylized illustrations have become a familiar sight on surfaces all over town: First Avenue posters, City Pages covers, 612Brew cans, and the exterior wall of Minneapolis restaurant Butcher & the Boar. Between his screenprints of local landmarks (the Stone Arch Bridge, Target Field) and commissions for major Minnesota brands (Surly, SPAM), Turman has become known for creating a hip iconography of Minnesota culture. This year, he was chosen to create the official commemorative posters and prints for the Minnesota State Fair.
"When I was 4, my mom found this art class for kids where they put these pieces of paper up on the wall, and you could just slap paint on them with few limitations. You could do whatever you wanted, and the instructors would come over and make suggestions. My mom still has those pieces hanging up in her house."
"We moved here in 1985—I'm a sixth-generation Californian, but I say I'm a Minnesotan. I'm a homebody. I don't mind traveling, but I don't want to go for too long. People ask if I'd ever move to a bigger art mecca, but I really like it here."
"My first client jobs were making T-shirts for high school dances. Kids would come to me with an idea of what they wanted, and I had to come up with a design and incorporate their names. I charged $5 a couple and usually came away with a few hundred bucks each time. So working with clients and working within those parameters is really what I've always done."
"I consider myself to be less an artist and more an illustrator. I tend to approach things from a more graphic-design aspect. I love having a problem to solve and a story to tell. I don't do a lot of art where it's just me trying to express myself—I think it's more interesting to take a client project and create something from that."
"[My work has] been described as You've probably seen at least one of his pieces in the course of your day. The work gets around a lot—I try to do that, because I'm really brand-oriented. I like that idea of branding myself and trying to be as consistent as I can, but if people are hiring me for their brand, it's got to be consistent with their brand, too."
"I've got to build a composition that makes sense for the layout and the client—[maybe] you have to put water towers at the top, no matter where they are geographically. When you see a bridge in a drawing, you might never be able to see that exact view in real life. But as a viewer, you know that scene and you remember the feeling of being there."
"My dream job would be to do some work for [heavy-metal rock group] Iron Maiden. However, in a way, I don't want to—if you meet your icons, you want them to be as cool as you've built them up to be. I don't want them to not live up to the standards they have in my head."
"The State Fair had been choosing artists by submission for awhile, but this year they decided to go back to cold-calling illustrators—I basically e-mailed the woman who contacted me back within 11 minutes because I was so excited about it. They're a huge Minnesota icon.…It's nerve-wracking, but I can't wait to hear if people like it."
Spotted a Turman piece around town? Instagram it and tag @mnmomag and @adamturman.
---
See more of Turman's art (shop prints):
Facebook Comments