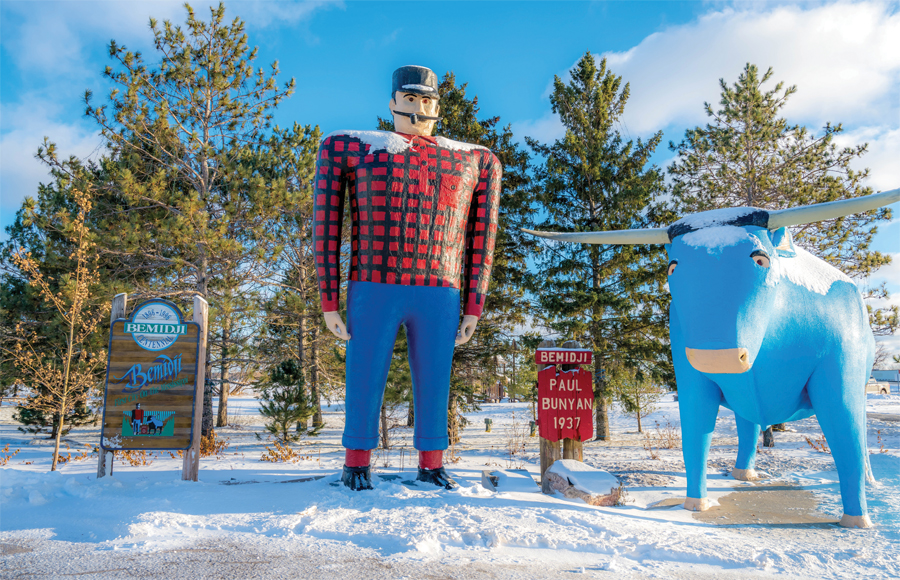 Paul Bunyan and his trusty companion, Babe, welcome visitors to Bemidji
Photo by Aaron Eickhorst
---
Forty-some Minnesotans, most of them strangers, meet in a spacious, fluorescently lit community center a mile north of downtown Bemidji, where they must mentally prepare to potentially disagree with one another.
They sit in office chairs, sloughing off coats after coming in from the dark November evening, and divide into small groups. An older woman, introducing herself, smiles and stammers, blue eyes fluttering, while a man wearing an insulated vest, sitting at her elbow, regards her politely, hands folded.
The Northwest Indian Community Development Center ordinarily schedules events for Native American locals—weekly drum sessions, for example, or support groups. Tonight, though, it's where residents take on the not-very-Minnesotan task of candidly discussing race relations in and around the roughly 15,000-person former lumber town (that draws about 100,000 regionally).
No surprise: Most here tonight are white. Bemidji is about 80 percent white, though the population's second largest ethnicity, Native American, makes up roughly 10 percent—much higher than the 1 percent at state and national levels. (Three Indian reservations form a close triangle around Bemidji.) After introductions, discussion leader and Bemidji State University professor of Ojibwe Anton Treuer raises a statistical red flag: Natives comprise a little more than 20 percent of Beltrami County (where Bemidji is county seat) but make up some 90 percent of the county's jail and juvenile detention population.
Tonight's "Courageous Conversation" is meant to get uncomfortable. Responding to a prompt ("Native Lives Matter"), locals vent about race and racism. To preempt accusation, Treuer offers a tool: "Keep it personal, local, and immediate," he says. Use "I" statements instead of "you."
This monthly "Courageous" discussion series is part of the Bemidji Truth and Reconciliation program, initiated last fall and intended to disseminate social strategies developed in past truth and reconciliation efforts—as in South Africa after apartheid and, recently, in Canada. In Minnesota, the "I"-instead-of-"you" tool averts accusation less than it simply gives participants a place to start. Treuer explains, "It's 'Minnesota Nice.' We're conflict averse. So much so that we're communication averse, right?" He paints a familiar picture: "We get a new neighbor, drop off a casserole, and give them their space. When it comes to dealing with race relations, people are so uncomfortable that you just kind of titter around and pretend it's not there."
Bemidji's willingness to confront the state's tough history partly explains why Minnesota Monthly has named it Best MN Town this year, the contest's first.
As the woman with blue eyes and the man in the vest nod, listening to a Native woman in their group lament the state's limited resources for Native women, along with many white Minnesotans' blindness to racial injustice in their own backyards, their alert, sincere attention demonstrates the part of "Minnesota Nice" we're proud to claim.
Unpacking "Nice"
Among three judges on our Best MN Town panel, Dan McElroy, president of service-industry association Hospitality Minnesota, points to togetherness in Bemidji as one reason he scored it highly: "They have strong community activities going on—whether it's a business, like the Bemidji Woolen Mills or the Minnesota Nice Cafe, or a really active senior center and the tourism industry. When you think about Bemidji, you think about energy…and people who are willing to work together to make things happen."

Downtown Bemidji
Photo by Aaron Eickhorst
---
Downtown, the Minnesota Nice Cafe makes the "Minnesota" part of its name obvious—photos of wintry wildlife hang between pine trees painted on the walls, and the burger with a specialty patty is made of wild rice and blueberries.
As for "Nice," a server chattily shares the recipe for their cheesy hotdish casserole, a regional French fry alternative and, she says, potluck showstopper: cream of chicken soup, sour cream, minced onions—"And you saved it for last!" She smiles. "Is it like a dessert?"
At the Keg N' Cork, one of two Irish pubs, senior regulars line the bar weekend afternoons and fold college students into their mix by evening, talking everything from finance to family squabbles. Along a side street, the famous-for-its-burgers Bar 209 boasts the same garrulous ambience—claiming, among its regulars, its own "Norm" from Cheers.
Bemidji's community tightness, nonetheless welcoming to strangers, could have to do with its location—both remote and accessible.
On the one hand, it's the "First City on the Mississippi"—the river trickling north into Bemidji Lake before flowing east—and abuts on the pinewood wilds of Lake Bemidji State Park, the "Lost 40" just an hour's drive away. (Late-19th century timber companies somehow mapped these 40 acres of forest as a lake, meaning their haunting old-growth trees escaped our busiest logging period.)

The weather is perfect for boating in the summer
Photo by Ackerman + Gruber
---
On the other hand, amid this north-woods history, the Bemidji Regional Airport sits 10 minutes from downtown. It sends flights to and from the Twin Cities twice daily. Newcomers otherwise wander in by boat, bus, bike, or after a hike. Every summer, canoers paddle through on Mississippi excursions, including two brothers from Boston last year who took Bemidji's first stop on their length-of-the-river canoe trip. They saw the town's niceness firsthand: The manager of the hotel where they stayed volunteered to drive them along the shore to point out where best to cross the lake.
Strangely enough, though, there's been actual pushback against the idea that Bemidji is "Minnesota Nice" at all. A Bemidji city manager's grievances went public after the mayor asked him, among others, to contribute to the Best MN Town contest application. He demurred, writing in an email that, in his two years living there, he didn't find the people nice and was "sick of the veneer."
"Veneer" sums up the downside to Minnesota Nice—the notion that it's fake. We disagree with the civil servant, thinking, in part, of resident Kelly Rust.
When the weather turns icy, Rust drives around town in his 1990 Suzuki Sidekick, offering free towing and jump-starting services. Retired after a work injury, he does this because he likes helping people and simply to get out of the house. He took almost 100 calls last winter, answering messages on Facebook, too, where posts tagged "#bemidjinice" bring more stories to light—anything from free tire service to a teen mowing his neighbor's yard to last fall, when residents, some wearing Bemidji plaid, helped reassemble a raft after it fell apart amid its rowers' mission to recreate the Huckleberry Finn route.
Long-term Investments
As charming as Bemidji is, it has grown a lot in the past decade, as per a plan set by a coalition of businesspeople and civic leaders, including Treuer, called Bemidji Leads. They saw Bemidji as more than a small town with a flagging timber industry. Funding since then has gone into a new civic center, heart and cancer centers at Sanford Health of Northern Minnesota, and broadband for all residents—among the most progressive internet services in the country's rural areas, set up to attract entrepreneurs.
The town works to win over artists, too. Kevin Kling, NPR-featured storyteller and a Best MN Town judge, recently wrote for one of the busy summer seasons at the Paul Bunyan Playhouse, putting on a new show every two weeks. He discovered patrons' deep investment in the state's longest-running summer stock theater. "I wrote one of the plays," he recalls, "and I was sitting next to two women, and one of them said, 'Oh, this is terrible.' And I said, 'Well, I hope you come back for the next show.' She said, 'Oh, yeah; we wouldn't miss it.' "
Besides Watermark Art Center galleries, artists can find work on the streets, too. Tourists associate Bemidji with its statues of Paul Bunyan and Babe the Blue Ox, but a downtown sculpture walk courts whimsy and controversy—from a giant, scrap-metal tarantula to a beaver with what many perceive as female genitalia painted across its front.
Near Paul and Babe, a 9-foot bronze of Bemidji's "first resident," Shaynowishkung, or Chief Bemidji, went up a few years ago with four plaques describing the region's history. Some city council members worried the plaques reflected too harshly on the town. Exposing 19th-century racism, one quotes a trader spokesman: "So far as I am concerned, if they are hungry let them eat grass or their own dung," he said of the Natives.
Nearby, Diamond Point Park juts into the lake with its own historical signage: Natives formed villages here 2,000 years ago, raising corn, beans, and squash.
Including both historic accounts, Treuer says, doesn't besmirch Bemidji. It owns up to a legacy Minnesotans are still figuring out. And we applaud that.
Yards from the Tourist Information Center, another Native statue, "Niiemii" (meaning "he dances"), rouses in rusted metal, his featureless face downcast. Residents at first wondered if Niiemii's proximity to Paul commented negatively on lumberjack-Native relations. But one city council member—describing the state of Bemidji, as it stands today for receptiveness, growth, and self-awareness—thought otherwise: "I like to think Paul is friends with everybody."
---
Honorable Mentions
Contenders for Best MN Town submitted applications explaining how they embody the spirit of Minnesota, based on their arts and dining scenes, along with community resources, hidden gems, and other distinguishing attributes. The public voted online (more than 350,000 times over four weeks), and our panel of three judges scored according to how well each answered the application's questions. Then we combined the results for a final tally. (Visit mnmo.com/bestmntown for more info about methodology.) Other stand-out finalists include:
Grand Marais
Before launching into the Boundary Waters Canoe Area Wilderness, learn traditional northern crafts at the North House Folk School or artistic techniques at the historic Grand Marais Art Colony.
Owatonna
Home of music acts Owl City, Har Mar Superstar, and Cloud Cult, this town's refurbished arts center keeps up its creative legacy while its Somali American Cultural Society adapts it to the times.
Waconia
In late January, thousands will attend the Waconia Ride-In vintage snowmobile show. Among wineries and breweries, the town also boasts Minnesota's No. 1 coffeehouse (according to WCCO viewers), Mocha Monkey.
Walker
Walker Bay Theater, dedicated to performances that uncover Minnesota history, and Ethnic Fest, devoted to Walker's various cultures, extend this lakeside town beyond its fishing heritage.
Facebook Comments