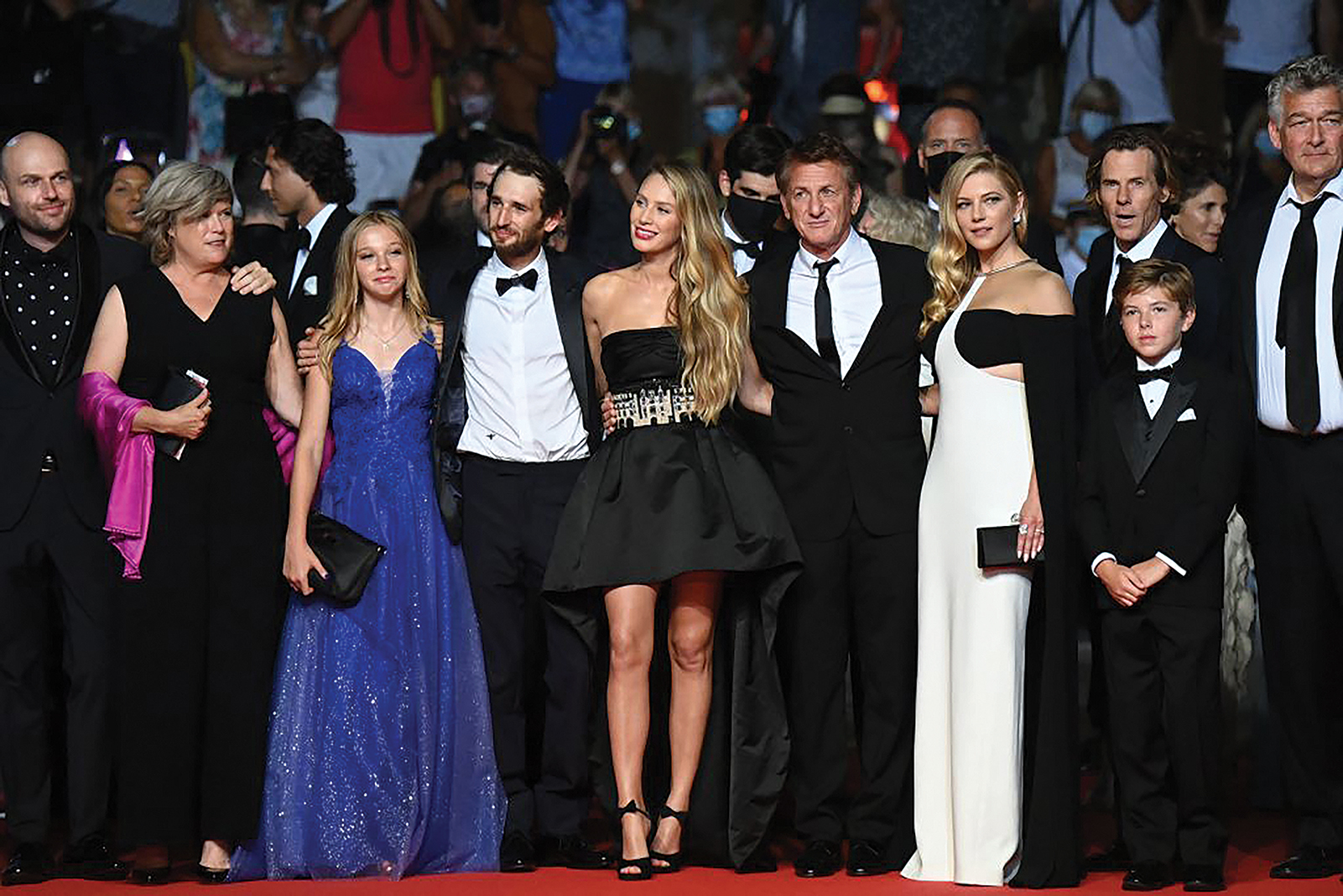 It was nearly 10 p.m. on a Saturday night in July and hot for France's Cote d'Azur. I stood at the foot of the Cannes Film Festival's famed red-carpeted runway, which leads to an imposing rack of crimson stairs. Every year, it seems, a star in heels trips and falls on those stairs, like a gazelle hit by gunfire.
The festival, pushed from its usual May slot by COVID-19, marked the world premiere of Flag Day, the film based on my long-ago memoir, Flim-Flam Man. It's directed by Sean Penn and stars Sean and his daughter, Dylan Penn. It's about a father and daughter, so the casting lends the project a current of realism. The father, like my own, robbed banks, started fires, and counterfeited millions. He also spent summers at a Minnesota lake cabin, sketched, cooked, and broke his daughter's heart.
The film was shot during 2019 in Winnipeg and other parts of Manitoba. I visited the set three times: once to film a cameo as a Spanx-wearing high school teacher (it was cut and replaced by a briefer, wordless cameo), again with my husband to witness the making of the cabin scenes, and last with my sister to watch the simulated arson fire of that same cabin.
Sean and Dylan strolled the carpeted path ahead of me, a set of perfect avatars, frequently stopping and turning to be photographed by hordes of shooters yelling, "Sean, Sean, Sean" and "Deelon, Deelon, Deelon. Left shoulder, Deelon!"
Standing among the dandied-up Flag Day cast and crew, my ensemble was adequate for the occasion. I wore a black, wide-legged jumpsuit and four-inch heels with round toes. My most glamorous accessory was a borrowed fuchsia silk wrap that kept sliding down my shoulders. It served as an eye catcher, enabling friends and family to spot me in the background of photos and videos of other people.
Several hours earlier, I sat in a bar at the Hotel Martinez with Flag Day producer Bill Horberg, a stalwart Chicago guy who first approached me about a film version of my memoir in 2003. A server behind us dropped a bottle of champagne and the contents washed over our table like a brute tsunami. It soaked a pair of Flag Day tickets, my purse, the back of my T-shirt, and my hair.
That was just before a pair of stylists arrived at my room door. The rolling-suitcase-wielding French glamour duo discouraged me from washing out the bubbly, assuring me it would lend my 'do "texture." The two curled my hair, powdered my face, and lined my lips, while chatting about Prince and French-versus-American standards for glamour. Americans tend to overdo it, they said, while the French are more subtle.
There was nothing subtle about my makeup, however, especially the flamboyant silver and blue eye treatment, which I can only describe as "battle ready." At the end, when they'd finished their work and were packing up their brushes and paint, they said I looked like "Meg Ryan, only younger."
Now, feeling rowdy in my disguise, I waited for a handler to tell me to march. More than once, I found myself standing on the hem of the gossamer blue dress worn by Jadyn Rylee (young Jennifer in Flag Day), who occupied the bullpen beside me. When she tried to walk forward, my firmly-planted foot kept her in place. Her dress stretched and then jerked her backward, a butterfly held fast by a pin.
When the Supertramp song, "Give a Little Bit," exploded from the loudspeakers, I turned to the Flag Day entourage around me and swept the small crowd with my index finger, singing, "I give a little bit of my life for you."
To say I had mixed emotions about the premiere is akin to calling Earth just another planet. I was about to relive one of the most difficult periods in my life, rewritten by a Brit and portrayed by actors, in front of an audience of critics, stars, and French film fans.
I was at Cannes as the "real Jennifer Vogel," the specimen, the stamp of approval. And as such, I'd been well taken care of—I'd been flown, driven, fed, housed, coiffed, counseled, and served very good champagne. In case you're wondering, by the way, I do like the film. It's hard for me to judge it objectively (I constantly compare scenes to real life), but I've tried to accept it on its own terms. I think it's a powerfully told tale.
Sean and Dylan finished with the photographers and gracefully ascended the red-carpeted stairs, where festival head Thierry Fremaux waited with hugs. Then, finally, the rest of us were given the green light to stroll forward, toward the Palais des Festivals.
Inside, we were herded into the packed Grand Theatre Lumiere and down the center aisle. We filed into our rows and I was directed to sit between Dylan and Jadyn, the two fictional Jennifers.
I can't claim to remember every minute of watching Flag Day that night, but some of the film's aspects cut through my apprehensive daze: the electric father-daughter conversations between Sean and Dylan; the more wistful motifs, like the lake waves and mayflies and birds; and the ending. I felt uniquely lonesome watching this version of my life while surrounded by strangers in ball gowns and tuxedos.
The clapping began as the credits rolled, and continued. When the lights came up, the audience again stood, some turning to face the Flag Day coterie, and clapped even more extravagantly. They clapped for four minutes, according to press accounts. It felt longer.
Sean, clearly pleased, was handed a microphone during the ovation. He said a few words, his face projected onto a large screen. He praised Dylan and then threw the attention my way. Attendees in the row before me turned to stare at me, clapping like mad. I found myself face-to-face with Oliver Stone. I gazed into his eyes and wondered, is this even real?
I don't thrive in the spotlight, but rather prefer the shadows like the blind salamander or the snipe eel. Finally, I put out my hand and mouthed, "Stop."
When the clapping died down, the Flag Day cast and crew filed out ahead of the audience. It was just about midnight. I'd hardly slept the night before, but I was alert and thirsty for more champagne. As I exited the theater, I spotted Spike Lee, the festival's jury president, wearing a colorful suit and perched on the back of a seat.
He held out his hand and I took it. All I could say was, "Wow."
Facebook Comments